Welcome to the @OriginalWorks sponsored writing contest! Status: CLOSED. Accepted Languages:
August 2018 11th ~ 14th
Start Time: ~8 PM ET, Saturday
End Time: ~8 PM ET, Tuesday
Special Twitter 0.5 STEEM bonus!
Details outlined at the bottom.
This is a call to all great Steemit writers! Caspian has sponsored a Steemit writing contest!
Caspian is on Steemit
~ @caspiantech
Please make sure to read the contest topic carefully. Good luck!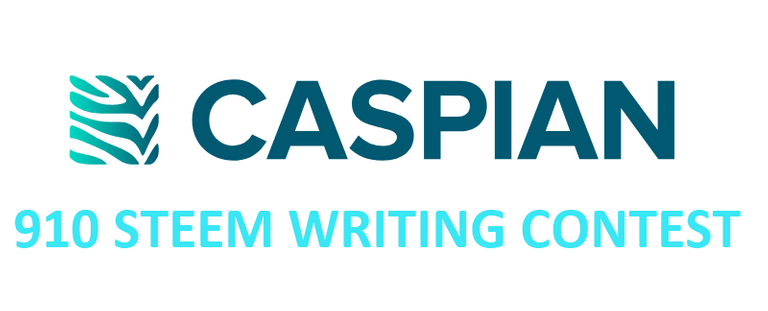 Prize Pool Total: 910 STEEM Prizes: 660 STEEM + 250 STEEM (100 bonuses of 2.5 STEEM!) + Twitter Bonus (Details Below) + Steemit Caspian Challenge (0.5 STEEM ~ Details Below)

1st Place: 70 STEEM
2nd Place: 60 STEEM
3rd Place: 52 STEEM
4th Place: 47 STEEM
5th Place: 36 STEEM
6th Place: 34 STEEM
7th Place: 28 STEEM
8th Place: 25 STEEM
9th Place: 22 STEEM
10th Place: 21 STEEM
11th Place: 20 STEEM
12th Place: 19 STEEM
13th Place: 17 STEEM
14th Place: 15 STEEM
15th Place: 14 STEEM
16th - 20th: 11 STEEM
21st - 25th: 8 STEEM
26st - 30th: 7 STEEM
31st - 40th: 5 STEEM
41st - 140th: 2.5 STEEM Bonus

Deadline: 72 Hours
All articles must be submitted within 72 hours of this post to be considered!
Changes in submission rules below
The world of crypto is continuously growing. There are a wealth of new exchanges and cryptocurrencies. Traditional investors, asset managers and traders have to navigate resources and tools individually in order to participate in the crypto-space. This creates a barrier to entry for individuals and institutions who could otherwise partake in this growing economy.
Caspian is a full stack of financial tools that integrates with major exchanges in order to offer users a single place to interact with the entire crypto-space.
Caspian targets the following three functions:
Execution
Position & Risk Management
Compliance & Reporting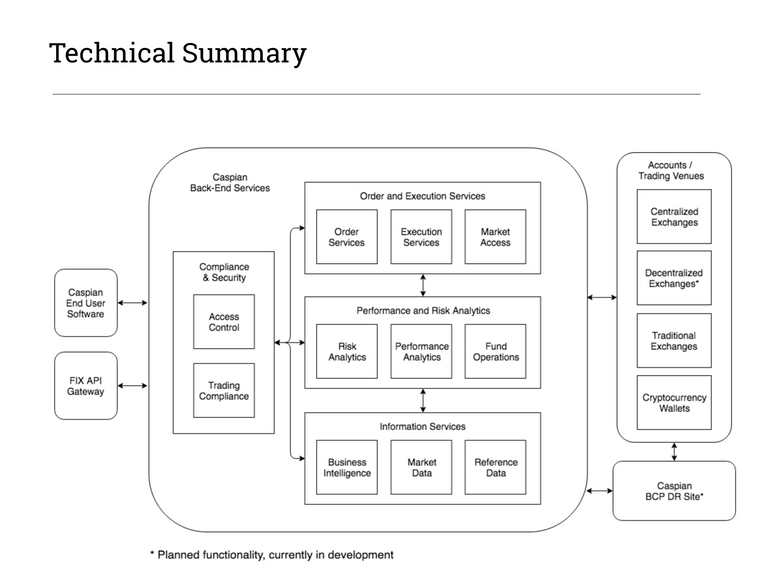 WhitePaper, Page 14
Caspian Order and Execution Management System
Caspian gives users access to the entire breadth of financial tools available on each individual exchange. Users can use the Caspian platform to access all the available exchanges and their respective functions through one platform.
As a trader or fund manager, this means that you can have access to the best rates available across all the markets as well as a broad choice of cryptocurrencies.
Caspian Position & Risk Management
One of the most difficult tasks facing an investor operating on multiple exchanges is managing their positions. The Caspian solution is unique in offering a view of all your current and historical trades in one view. Caspian makes it easy to compare positions, divest, reinvest and keep track of profit & loss across multiple accounts.
In terms of managing assets, this ensures that the investor can be constantly aware of their portfolio as well as shift assets and positions across exchanges.
A key component of this process is the reconciliation of positions against each individual exchange. With Caspian this is done for you; via the auto reconciliation tool you can be sure that the positions you see at the exchange and in Caspian match and are correct.
Caspian has built-in compliance features which ensure that users can set various rules and limits into their trading strategies.
Compliance consists of three limit types:
Warning Limit
As the name implies, a warning suggesting a rule is about to be broken.

Approval Limit
This requires a supervisor to enter a password to override the compliance alert.

Absolute Limit
The absolute limit is a limit that cannot be overridden by any means.
These compliance levels allow users to create and adhere to rules that are appropriate for their assessment of risk-reward and ability to withstand variance. All breaches are fully audit trailed and recorded.
One major part of running investor money (or indeed your own money) is to be able to analyze the trading and exposure of your positions. To successfully do that you need to be able to quickly and easily access reports.
The Caspian reporting product allows users, via a dynamic web based tool to
use, create, format and receive graphical reports on your current trading and position activity in multiple formats such as PDF or Excel, providing an easy snapshot the current status of the fund via various indicators.
All reports are also available as a web-based dashboard that you can access at any time and manipulate (pivot tables, filtering, drill-downs, etc.) to gain real-time insights into the workings of the fund.
Caspian has a demo with an overview of some functionalities.
This is an example of the compliance window: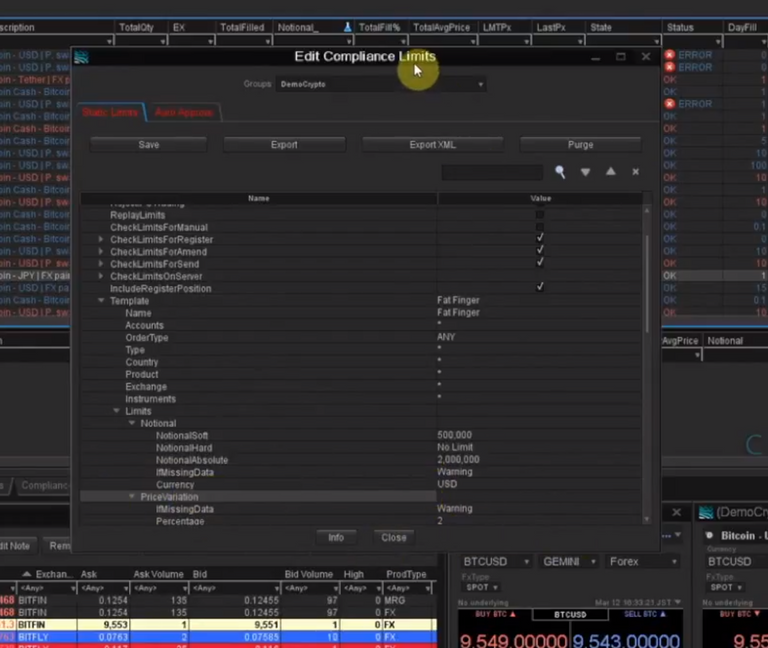 This is an example of the compliance alert:


This is an example of the compliance window: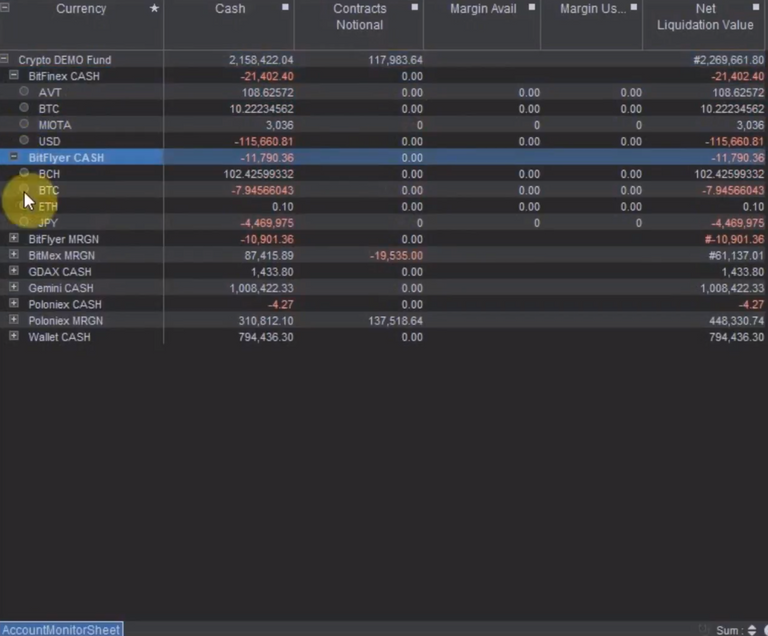 As you can see above, using the PMS interface, traders can view all balances across all exchanges from one place!
This is an example of the compliance window: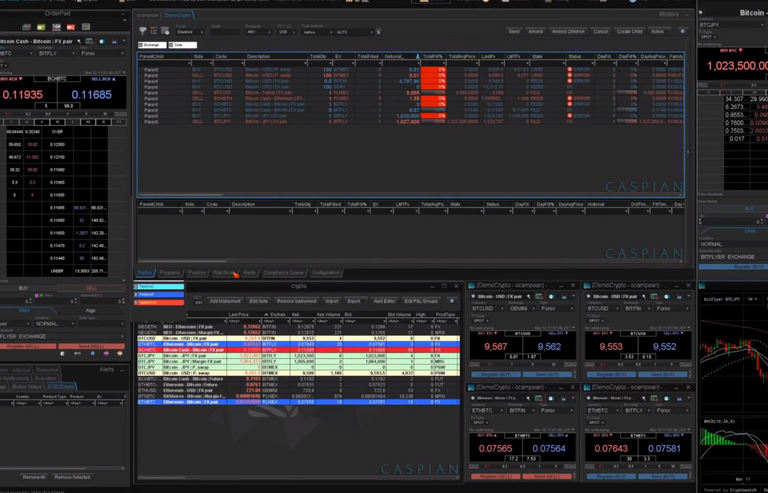 In the screen above, users can use various financial instruments as well as view market data live!
There are also customizable alerts and functions, such as a alerts that are triggered based on user-set preferences.
Caspian caters to a wide range of users. Unknowingly, many crypto-holders are traders and their own personal fund managers.
Here is an anecdotal example:
Meet Jessie. She has been involved with crypto for over 3 years, and knows her way around the markets. She is a fund manager for a large bank, and their institution has long been looking to get involved in cryptocurrencies. She has pitched her CEO about trading in crypto, but the CEO declined, saying that it would be an administrative and bookkeeping headache.
Fast forward a few years, Jessie stumbles upon Caspian!
The interface combines all the largest exchanges, has the financial tools that traders and fund managers are already familiar with, and even tracks trade data and history for accurate bookkeeping and tax preparation!
Excited, she shows her CEO Caspian.
Two weeks later, her bank rolls out cryptocurrency investments, increasing their clients exposure to a variety of investments, as well as attracting new clients who are interested in fund managers who specialize in cryptocurrencies!
Available to non-contestants as well (BONUS AVAILABLE FOR UP TO 5000 PEOPLE!)
Caspian is running a special challenge for Steemit users!
The Caspian Steemit Challenge starts and closes at the same time as this event or earlier if the cap is reached before the contest closes!
TO QUALIFY:
Complete the registration process, make sure to enter your Steemit username.
Begin the challenge by joining Telegram after you confirm your e-mail address!


You will receive a code to enter into Telegram. Once the code is entered, your entry will be confirmed.
Thank you Caspian for this generous Steemit bonus!
You will receive all the bounty rewards as well as an extra 0.5 Steem! Make sure to input your username to qualify!
Due to the offer being extended to up to 5000 Steemians, feel free to share this with your friends! No contest participation required to receive the 0.5 STEEM! Please make sure to enter your Steemit username in the challenge registration form as well as join Telegram following the instructions, otherwise you will NOT qualify for this giveaway. We will NOT be able to manually send bonuses to users who make errors due to the high volume. @OriginalWorks will receive a list of qualifying applicants to whom the bonuses will be distributed!
For more information watch this short feature intro:
More Information & Resources: Submission

Write an article about Caspian and how it will impact the way people interact with their cryptocurrencies! How will having access to all your portfolios in one place make it more convenient to manage assets? What is the benefit of being able to set limits and alerts? How can Caspian help cryptocurrency adoption for individuals as well as institutions? What are the shortcomings of having to manage multiple balances across multiple exchanges? As always, the topic is fairly open-ended, so be creative!

To submit please do the following:

Add the word "caspian2018" (without the quotes) at the very end of your article.
Link this post in your submission.
Post the link to your article as a reply to this post.
Resteem this contest post.

Rules

The article must be at least 250 words in length and it is recommended(not mandatory) that the length is under ~1500 words.

At least 70% of the submission must be original. Using "article spinners", and other word substitution tools is also not permitted.

All copied text must be in quotes. Feel free to copy links to resources from the contest post, but please be sure to not copy from other contestants.

Please keep discussions relevant to the contest topic. We would like to encourage a good vibe in the comments!
Please note, any users caught copy pasting or word spinning material without clearly showing that they took the work from somewhere, such as using quotes, will have their submissions disqualified.
Video Bonus

Feel free to use images and media from their website. You can even make your own video and have it in your submission! Videos have a chance of winning a separate bonus based on quality. Videos should be uploaded to YouTube. DTube or IPFS. Please do not remove the videos, or it might impact future eligibility. Feel free to make a new YouTube account for these. We really wanted to use DTube, but sometimes the videos were not view-able at all. We may change this in again in the future. For the time being please ensure whatever service you choose to use is working.

Twitter Bonus
For the Twitter bonus:
Tweet the link to your article on Twitter.
Tweet should contain article link, mention @Caspian_Tech and one of the cryptocurrency related hashtags such as #blockchain, #crypto etc.
Add the link to your tweet at the bottom of your competition Steemit post!
At the end of your article, add the word "caspiantwitter", without the quotes!
This is great because it will also encourage Twitter users to come join Steemit as well!
The bonus for this 0.5 Steem for every article that tweets and meets a level of quality and contest conditions.
How the winners are decided
The submissions will be passed along to the team at Caspian, and they will decide the best method for picking winners and the winning articles.
This can mean that the team judges the submissions, or they ask our team to judge it. Regardless of the method, the final say always lies with the sponsor.
More information & recommendations:

Pay attention to spelling and grammar!
Feel free to use informal language such as "I would, etc"
Use information and resources above to learn more about Caspian!
If you copy something, use quotes. This is an @OriginalWorks contest after all :)
Link the company's website: Caspian so that your readers can do research for themselves.
Articles can be edited up until the deadline.

After writing an article, within a few minutes you should get one of these as a response to your article post:

If you don't get one, let me know by adding a quick message after you submit your link as a reply here and it will be done manually. Sometimes it can take some time, so don't worry if it isn't instant! Rest assured, as long as your link is shared as a reply here, everything is double checked at contest close to ensure that all articles are submitted!
100 submissions will get 2.5 STEEM each. The article must meet the contest conditions such as word length and a level of quality.
Disclaimer: @OriginalWorks makes no claims as to the legitimacy or operating procedures of contest topics. @OriginalWorks does not offer any sort of investment advice. This is a writing contest. @OriginalWorks only guarantees prize payout. The contest topic company may choose to share the contest submissions that receive prizes. If for whatever reason there are over 500 submissions, new submissions will not be considered.
Good luck to all the contestants!