Register EOS As Soon As Possible!
This post is to bring awareness to the EOS Mainnet registration that is required by all EOS and eosDAC ERC 20 token holders before June 1st, 2018, in order to receive the coins on the EOS network.* It is critically important that you register your Ethereum address to a valid EOS public address so that the tokens you own will be credited. If you fail to register in time, your current holdings could wind up worthless. The registration process is very simple, but this is time sensitive as it's only a few days away. Please do this as soon as possible and share with anybody else that you know who holds this currency.
According to a recent article from Coin Insider, over 65% of EOS users are currently unregistered with the new network. This is very alarming and the number of unregistered has since dropped to ~52% unregistered. EOS has always had a very strong, supportive and friendly community - That the last thing we would want is for so many token holders to lose their wealth due to a simple mistake like not registering their tokens. Another [unconfirmed] reasonn to register the token is to be sure you take place in the number of EOS dAPP airdrops that will be taking place soon for token holders.
There have already been a couple great Steemit posts on how to register EOS and eosDAC ERC20 tokens, so rather than try to rewrite the instructions, I would rather link you to these two helpful articles by these two different authors. The first article explains how to register your EOS tokens using a few different methods, in only a few simple steps. The second article shows how to register if you have your coins in the Exodus software wallet.
How to Register EOS in Exodus Wallet
The Exodus wallet registration process has been made very easy, and if you open the wallet and follow the simplest instructions ever from my screenshot, you will be done in less than 5 minutes.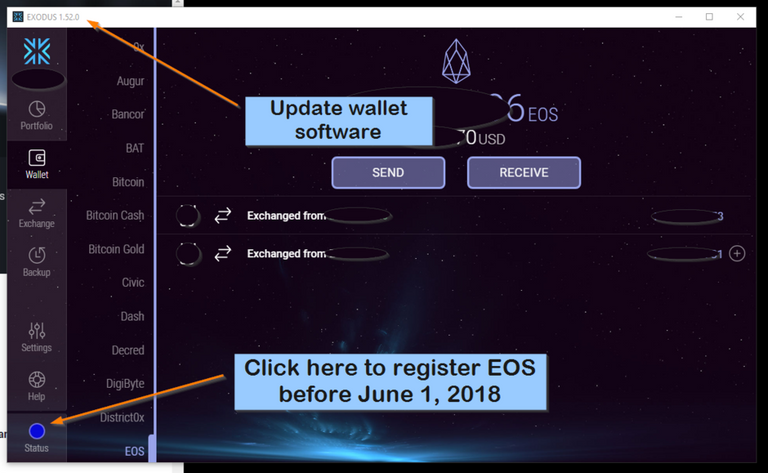 As long as you have the current version of the software wallet, you simply click the button in the bottom left corner of the wallet, and you will be prompted to complete a simple, one-click registration. After completed, you can check the registration status. If the registration is completed and up to date, Exodus will show a blue circle like you see in my screenshot. To check your Ethereum wallet address to confirm you have registered, you can use EOSAuthority, and just paste in your ETH wallet address.
Can I Leave My Coins on an Exchange?
Yes... but if you want to be safe, DON'T. Many exchanges have promised to automatically register all EOS that their users hold on the platforms, but it is always safer to store your cryptocurrency in a wallet, off the exchange. The only way to control, and own your cryptocurrency is to control your private keys. Holding crypto on exchanges is riskier, and means you are putting your faith into another party who will not be held accountable. Do yourself a favor and put your EOS in a wallet.
Share with Friends, Share in Crypto Groups, Make Sure Everyone's Coins are Safe
While you may have already knew this, your peers may not know. If this post helped you or brought it to your attention that EOS must be registered before June, please Resteem and share this article in crypto groups you are in on social media sites, apps like Telegram or Discord, and with any friends elsewhere that might not know about this. Don't let your friends lose money – knowledge is power.
Important Note from Exodus team's Medium article: "Beware of EOS Scams and Phishing Attempts... DO NOT GIVE YOUR PRIVATE INFORMATION TO ANY UNTRUSTED SOURCES... [and] If you're asked for your private keys, it's more than likely a scam and should be treated as such."
---
If You Like My Channel and Support Quality Content on Steemit, Please Follow, Upvote, Comment, Resteem, and SAY HELLO!
The support and feedback of the Steemit community, and my readers, is what keeps me going on here. Comments and interactions with fellow Steemians, and other authors, are my favorite part about this platform. I try to always respond to people who comment on my posts, and as much as I can, I look at their blog, and find something of interest to comment on myself. There are great people on this platform - don't be afraid to say "Hello!"
Other Posts By Me
Cryptocurrency Post-Post Announcement:
If you are new to crypto, and want to get invested in the market, help support this channel by using the referral links below to save money, and to join the best exchanges out there.
| Exchange Name | Coins Offered | Benefit | Link |
| --- | --- | --- | --- |
| Coinbase | BTC, LTC, ETH, BCH | $10 Free Bitcoin with First $100 Purchase | Join |
| Binance | Top Crypto-Exchange with BTC & Many Reputable Alt Coins | Trading Fee Discount with BNB | Sign-Up |
| Kucoin | Growing Crypto-Exchange with Unique Alt Coin Selection | KCS Token Dividends and Cheap, New Alts | Register |