The bitcoin market cap for the past year looks pretty bad: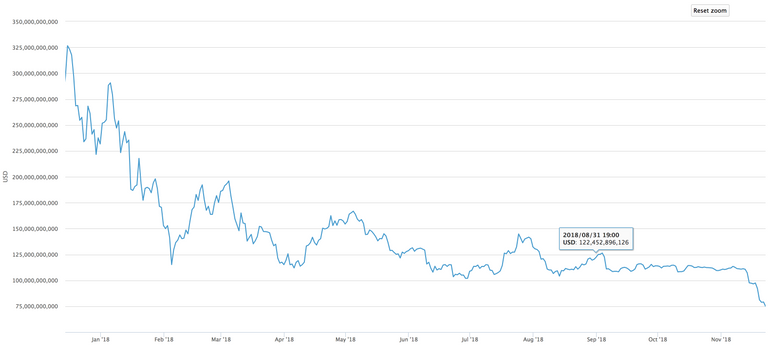 One way to look at this is billions of dollars in perceived value just disappearing from the space. The reality, I think, is a bit more nuanced.
Too much attention is put on market cap numbers. Depending on liquidity and market participation, things can change quickly if enough people refuse to sell or decide not to hold. Cryptocurrency enthusiasts who also trade justify their selling and shorting during bear markets in a sort of "everyone else does it, and I need to protect my upside" way. Is this short-term thinking?
What they don't talk about as often is how much influence they have as part of "everyone." Their shared story is what creates the reality of the market actions and eventually the market cap. If their market actions reflected their actual beliefs, wouldn't they hold since their ultimate goal with selling isn't to exit the market completely but to accumulate more at lower prices?
From that perspective, finding the floor price is really about the point where the actions of committed cryptocurrency advocates match their actual beliefs, irrespective of short term gains through shorting or selling and buying back in.
Or to think of it another way, if you own 10 BTC, would you rather sell at $6k and buy back at $4k (hurray, 5 more BTC for you!) or HODL and see new entrants buy in to increase the purchasing power of your 10 BTC and increase the global distribution and network effect which translates to real, long-term sustainable value? If holding could mean $10k BTC or even $20k BTC in a sustainable way, isn't that better than you having 5 more BTC but never reaching those valuations?
Some say, "But I know the value increase is inevitable in the future, so I prefer the option which increases my holdings now so I can take further advantage of the inevitable future." I wonder if this is really true. If price stability can't eventually be found, will the future we envision ever happen? Will the network effect increase or will people stay away, not wanting to be the next sucker who buys at the top, only to see their purchasing power disappear?
As always, this isn't trading advice, just some random thoughts on the cryptocurrency markets. If you're interested in similar posts I wrote last year, take a look. For extra fun, compare the bitcoin prices (which are really a proxy for the value in the whole cryptocurrency space) at those times.
It's also worth thinking about what financial value actually is anyway (hint: it's just a shared story we tell ourselves): What Is Financial Value?
In related (and contrary) news to my thoughts posted here, you might also be interested in this article by SFOX: How to Short Bitcoin. I'm not going to say I'm not tempted to use these methods to increase my holdings... maybe I should. Maybe we all should. It just feels wrong. It feels like we're playing the very financial games we're hoping to improve on by having stores of value not owned and controlled by violent governments. When we play short-term games, we win short-term prices. When we play long-term games, well that's when we start investing in the future instead of just speculating on it.
On a personal note, I had an amazing time at Steemfest3. I haven't put together my pictures and thoughts in a post yet, but I hope to do so soon. I've been really busy lately working with @eosdac to try and build the decentralized tools we need for a voluntary, DAC-filled future. We're also getting ready to move to Puerto Rico on December 4th, so things have been a bit crazy. We started getting serious about this move when the cryptocurrency markets were at all-time highs. Now, a year later, I find myself wondering, "Is this a crazy decision to move my family to an island?" Time will tell.
---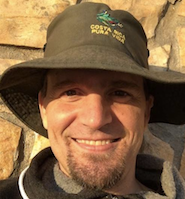 Luke Stokes is a father, husband, programmer, STEEM witness, DAC launcher, and voluntaryist who wants to help create a world we all want to live in. Learn about cryptocurrency at UnderstandingBlockchainFreedom.com




I'm a Witness! Please vote for @lukestokes.mhth