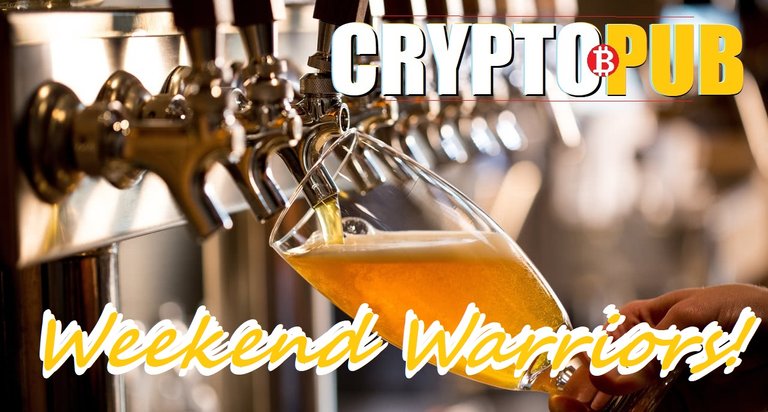 Trading veterans and those just getting into speculating over Crypto gather at the pub each Monday around noon to chat and analyse and share a social beverage. I am probably between both of those levels of prowess and welcome any noobie questions or veteran advice as I hone my analysis skills. We all can profit from eachothers eyes so lets take a look at the charts shall we?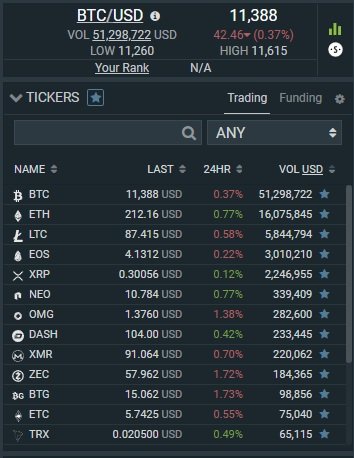 This morning the ticker is showing a refreshing mix of green and red as Bitcoin is a half point down from this time yesterday to JUST under $11,400 under very low trade volume. NEO and ETH seem to be locked in a pattern of larger alts, up 3/4 of a % whileZEC and BTG lock horns as GPU mined coins down ~1.7% on the day. In the Poodle Race of entertaining alts 0X Protocol, Lumens, Tron, ELF and FUN, we have FUN once again in the lead (up almost 6%) while aELF is down over 2% in last place.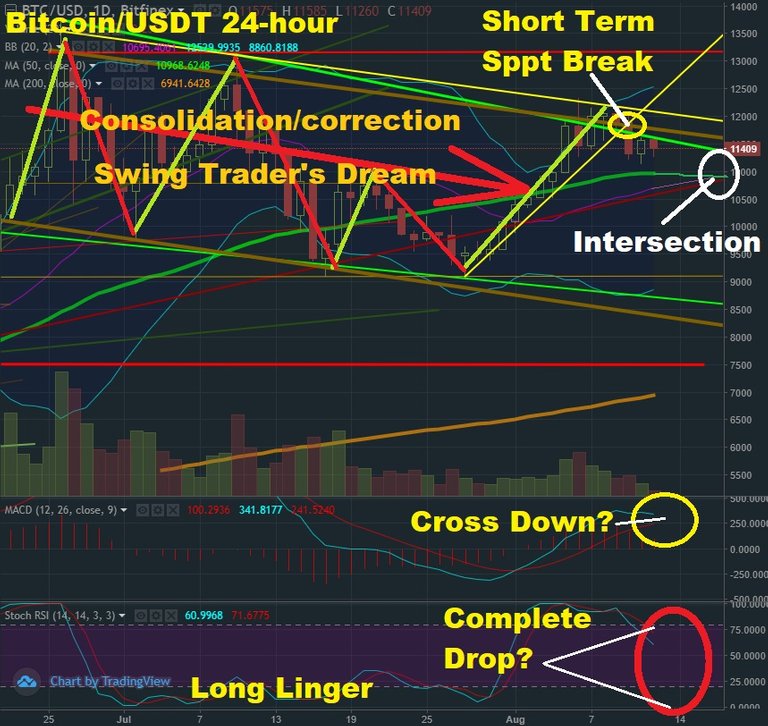 T&A today is brought to you by the OG from the West/West @broncnutz riding tough with Dtube and shining light on the neat stories https://steemit.com/dtube/@broncnutz/b6ejo22ftfh
The daily bitcoin chart I see in my dreams is again holding my attention as I prep for my entries and exits. As speculated after the big July pump, Bitcoin price has consolidated and corrected ever since in a swing traders dream of ups and downs. The STOCH is looking to correct down without mirroring the lingering on the top. This is a good sign as a correction down now may be brief and there may not be the fuel/sentiment at the top of the STOCH to break though that resistance. What is concerning me is how close we are to crossing down on the MACD and that usually is accompanied by a bigger drop. The key point for me will be right around the 11k mark where I am seeing my 4.5 month red resistance line intersect with the green 50-day moving average AND the purple Bollinger median line. It is good to be in FIAT now and be watching closely as a lazy August advances towards a generally busy Sept.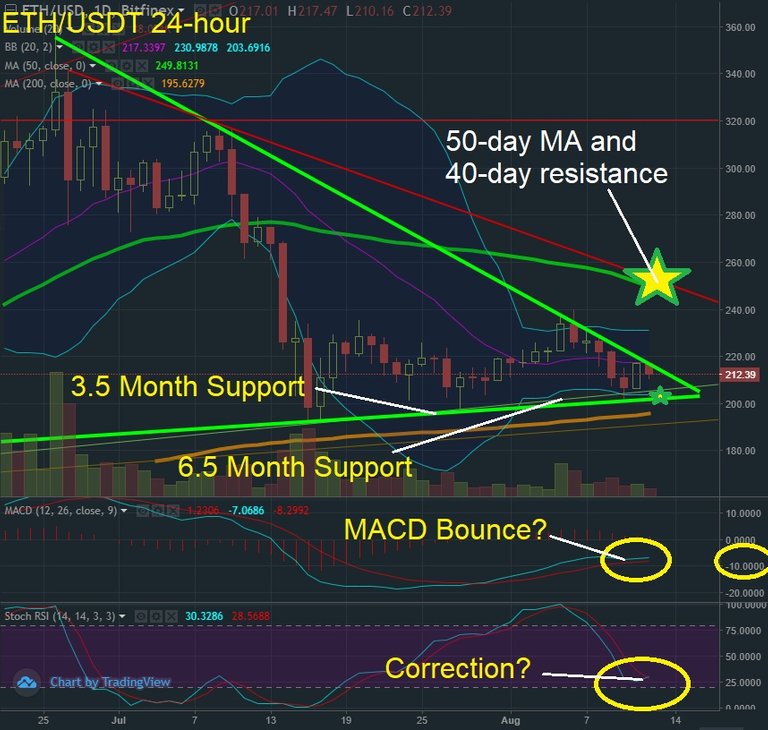 Bonus T&A brought to you by the triumphant return of @evileddy and his pretties with extra WEED Token! https://steemit.com/cannabis/@evileddy/outdoor-grow-update
In preparation for ALTS to break free of the BTC pattern, I am looking at the daily Ethereum chart in comparison. FOMO has drawn a lot of the trade action as ETH hasn't jumped back up like Bitcoin has. Support lines started May and Feb seem to be pretty close together as the MACD has bounced a little avoiding a break. The STOCH also looks like it may be correcting up just above oversold and we are knocking on the 40-day resistance as the Bollinger Bands have squoozen in (as @evileddy would have put it) and we are prime for a breakout of this descending wedge. Will it break down and follow BTC? Will Alt Season begin? We shall see but I may pick up ETH just above $200 if it gets that low with a very tight stop loss.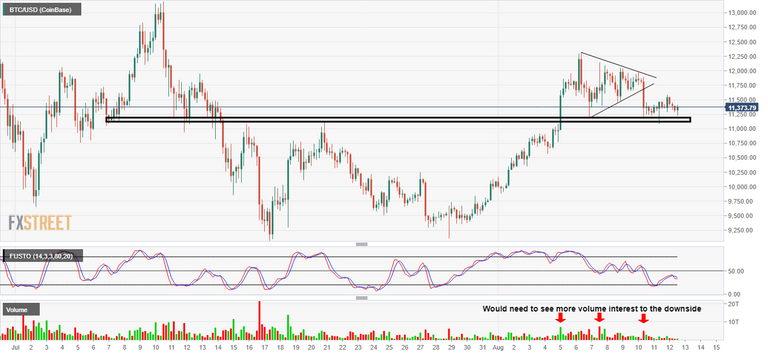 Source/News: FX Street watching key support levels for us as well https://www.fxstreet.com/cryptocurrencies/news/bitcoin-is-currently-rejecting-moves-lower-but-there-is-still-time-201908121400
Keep an eye out tomorrow for @slobberchops airdrop initiative! You can support the triumphant return of the CryptoPub Airdrop Initiative through a donation to one of the following addresses. We also accept alt coin donations that will be given away in the Airdrop!
Steem: @vanessav
SBD: @vanessav
Bitcoin: 1C6hMc172hbn1q9TFkkkaeeku3DxBju1eg
Ether: 0x27A5E16545fFf9301f52915A951C80D672717A12
SmartCash: SgsDm6PunExWcQKq2hDs7ruSGeiLAsSFLK
Monero: 42h5cfr1xVpgZhcksYZnq5BdXXrA42sCZFrZfz6se6SwHh8r5cX51gnJGqzqmcLS9145aNd3NPvYvMTRep7fxnYeGSmg95p
STEEMLeo - Delegations would be fantastic!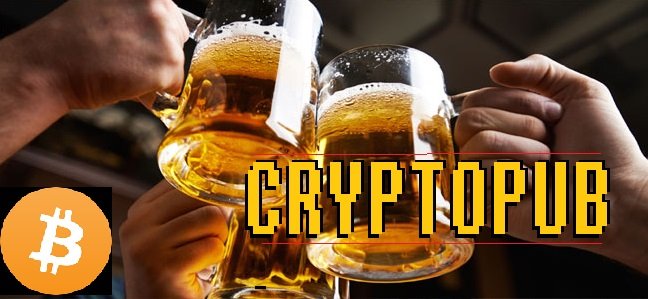 Congrats @detlev for getting Beer Token to the staking level. I will send @beerlover some steem today to help you reach the next level and stock the virtual fridge at the #Cryptopub