Let's meet
some of the newest
members of the
Steemit Community!

Welcome to my weekly curation feature
for @Msp-Curation!


This weekly blog brings your 5 new steemians # Introduceyourself posts. These are intended to share with the community a bit more about you and what you plan to blog about on Steemit!


I am an active human curator for three separate curation groups, @MinnowSupport Project, @OCD, and @Muxxybot. Each group gives me an opportunity to share with the curators new user content, and to hopefully help get these new users some more views to their intros.


The @MinnowSupport Project is a community you can join on Discord Chat with now approaching nearly 10,000 members. The community is part of the Peace, Abundance, Liberty Server, which is the theme of the group. Minnow Support is full of members who are very helpful, and you may make some friends as well! In my opinion, it is a great community to be a part of on Steemit.


Each week I find many good posts in the Introduce Yourself Tag in my curation travels. I find my favorite 5, and share them with you all in these weekly curation features as part of my curation with @MSP-Curation.


Please join me in welcoming these five new Steemians!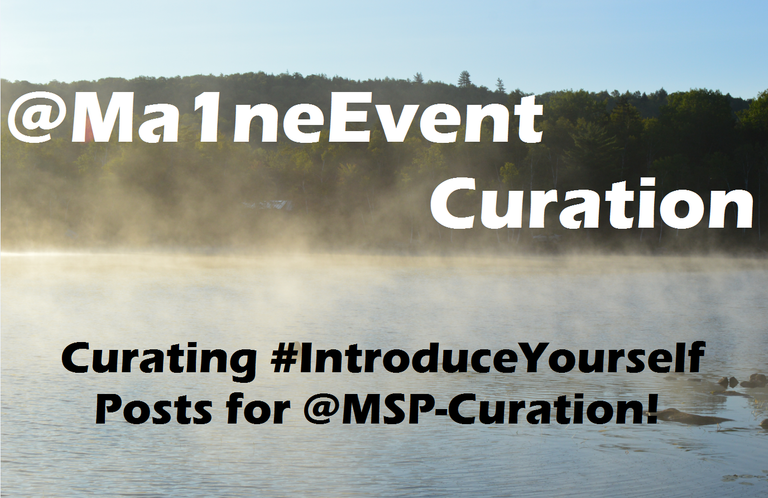 Our first featured Steemian is @artndesign, who join us from Venezuela! She shares with us that she loves music, and that she is a designer. She enjoys traveling, and also shared with us some of her other interests and hobbies. Her introduction post has many nice photos as well! Please join me in welcoming @artndesign to the community in her intro post below:
Our second new members to share with you is @shnau! She joins us from Venezuela as well. She is an artist, and shows us one of her recent works in her introduction! She hopes to connect with other people and artists using the Steemit platform. Check out her new introduction post, and say hello to her in the post below:
Our third new user to share with you this week is @penxelstudio! They join us from Kuala Lumpur! @penxelstudio shares with us that they are passionate about things like art and adventure. They also are a photographer, and an avid traveler. Check out thier introduction post in the link below, and join me in welcoming them to the Steemit Community!
Up next we have new Steemian @hazelwink to share with you! They come to us from Iligan City, in the Philippines! She shares with us some of her many hobbies, which include music, crafts, and are. She is a biology major in Botany. She shares many nice photos in her introduction post as well. Take a moment and say hello to her in her introduction post below!
Our fifth and final Steemians to present to you think week is @desisthename! She joins us from Los Angeles, in the United States! She is a self described Vlogger, Blogger, Singer, Actress, and more! She shares with us some of her history, as well as a few nice photos as well! Join me in welcoming @desisthename to the Steemit platform in her introduce youself post below!
A big shout and and welcome to all of these new members
of the Steemit Community!

You can check out the @MinnowSupport Project by visiting them on Steemit, or by joining the DISCORD CHAT SERVER. The group now has over 9,000 members that you can chat with, learn from, and maybe make some new friends as well! We hope to see you soon in MSP!


Thank you for reading,
and welcoming these new members!


Follow my blog for more content: