Hello, Today we are excited to announce a Photography competition for you all and it is going to be fun and rewarding for the users. Dapplr Alpha Team is helping us build Dapplr better and awesome for the whole HIVE community. We have already provided open access to Android application and we are working on new features, daily enhancements and bugs fixes. The time is very near when we will have one click sign in and other operations such as transfer, delegation and much more in one touch.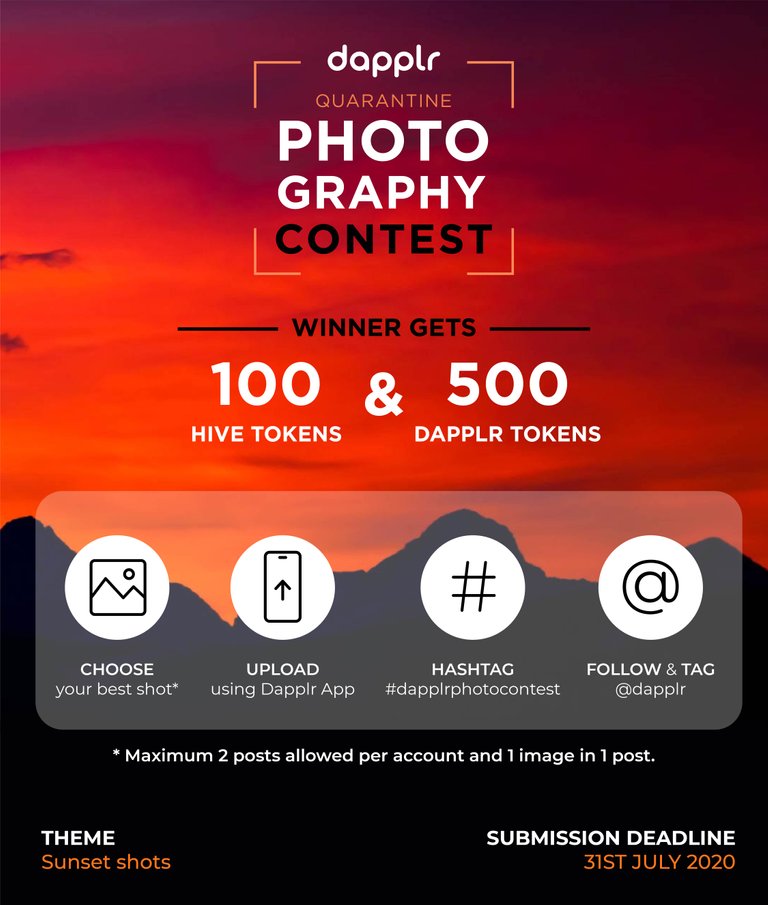 We want HIVE users to use Dapplr application and explore different parts of it. To keep this interesting, we are organising a photography competition where the winner will be rewarded and appreciated for its work.
The rules of Dapplr Photo Contest are -
1. Theme - Sunset Shots
The theme of the first Dapplr Photo Contest is SUNSET. All the people around the world love sunsets and especially sunset at the mountains and beaches makes it even more beautiful. Choose your best shot.
2. Upload and Use Filters
After choosing the best shot, upload it using Dapplr application. You can use any filters you want but make sure you include the filter name in the post. But it's your choice if you you want to use filters.
3. Use "dapplrphotocontest" tag
Use this tag before creating a post, otherwise it would be very hard for us to keep track of the posts.
4. Only original work
This is very important that you post only your own photography. In case, if a user is found plagiarising the content, he would directly be sent to the HiveWatchers for their account analysis and will be immediately disqualified from the contest.
5. Last two posts and only one shot in a post
Only one shot is allowed per post and in case if a user uploads more than one shot, the first shot will be counted. In addition, last two posts will be considered for evaluation.
6. Story Behind The Shot
People would love to hear your story behind the shot and what were you doing in that moment. Share your memories with the community and spread happiness. Sometimes the story behind a shot is more important that the shot itself.
7. Deadline
The deadline for the contest is 31st July 2020 (00:00 UTC) and post made after that won't be eligible for the contest.


The most important part of the contest is to appreciate each other's photography and enjoy the beauty of different parts of the world from different people. Sounds fun right? It is going to be so cool. We will be sending out additional HIVE and Dapplr rewards to the runner ups.
We will be organising these contests on regular basis with tons of different themes. We want to give every opportunity to the HIVE community to earn more and more of HIVE and Dapplr Tokens.
Final Result
The final result will be announced on 3rd August. The winner will rewarded with -
100 HIVE Tokens
500 DAPPLR Tokens
Appreciation and mention in our next blog post.
Open Access
After these fixes, Dapplr is more robust, reliable and efficient. So we are taking another step by giving the access to many more people of the community but we have set the restriction of 1000 people and we will see how it goes and how many issues come to us. Referral system is up and running so don't forget to refer your friends with your referral link. The application is not battle tested yet so we need your help in finding the bugs and we will resolve them on daily basis.
https://play.google.com/store/apps/details?id=com.dapplr.dapplr
Check Out our Site
Dapplr Site URL - https://www.dapplr.in
Support Us
The team is working very hard in making Dapplr app a successful application for the HIVE community to offer the best user experience. Support us with your upvotes on our 30HBD / day proposal to cover some of our server costs.
To know more about the team and their work
Dapplr Team Introductions
Total funds requested - - - > 4830 HBD (30 HBD daily)
Runs from - - - > Apr 17, 2020 - Sep 25, 2020 (161 days)
If funded, these funds will be used to cover our server costs.
Hivesigner - - - > https://hivesigner.com/sign/update_proposal_votes?proposal_ids=%5B%2295%22%5D&approve=true
HiveDao - - - > https://hivedao.com/proposal/95
Peakd.com - - - > https://peakd.com/proposals/95


Follow us on Instagram - https://www.instagram.com/dapplr_app
Follow us on Twitter - https://www.twitter.com/@Dapplr_app


Join us on Discord and help us with your inputs - https://discord.gg/gZzqvwQ