Hello Hives,
Now it's time to share the news of our latest Curation bot feature - Burn
VAULT Tokens
to receive 20% - Fixed Profitable Upvote via @hiveupme curation bot.
---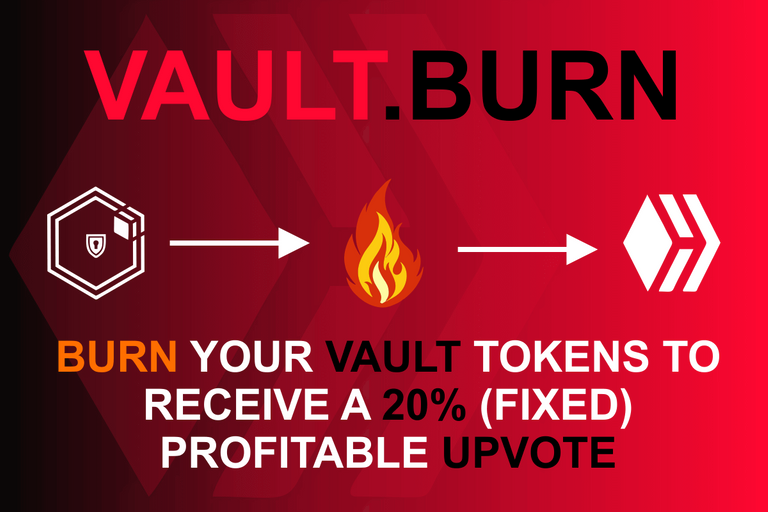 ---
How Burn-To-Upvote Works?
I hope you can remember how "bid-based votes" - bid bots, works at STEEM time. Here we are following some features of that concept, but the process differs from that mechanism.
Because here you can't find a bidding pool. What you can do is, send
VAULT Tokens
to @vault.burn & it will share an upvote that might be worth 220% of the sent amount. That means you might receive a 20% profit for that vote request.
Moreover, this mechanism will burn
VAULT Tokens
& it will share 70% from burnt
VAULT Tokens
worth
SWAP.HIVE
between delegators.
---
Steps to Burn-To-Vote
First of all, you should aware the
author is Whitelisted at @hivewatchers, @spaminator watchlist
. We are referring to the
Spaminator API
to retrieve Blacklist authors & we also keep upgrade the version of that list with our own Blacklist.
Accidentally, if you send a Blacklisted name, we refund you up to 3 times.
Then there will be no refunds
.
We hope now you are ready to go forward!
---
---
The Process
Step 01 : Check Author is in the Blacklist or not
Step 02 : Save to the Database
Step 03 : Check the latest bid to burn from Database
Step 04 : Check Vote Power reach the minimum Vote value, then calculate the Vote Value
Step 05 : If sent bid amount more than Vote Value, Full weight upvote & refund the extra
Step 06 : If bid amount less than Vote Value, calculate Vote weight & upvote
Step 07 : Burn bid VAULT amount to @null
Step 08 : Share 70% of Bid value between delegators
---
Limitations
The post should not exceed 12 hours from it's created time.
3 times max refunds.
The lowest bid to burn is 5 VAULT Tokens.
Posts upvotes use First in first out mechanism.
The maximum waiting time should be 22 hrs. (Then refund happens)
You can only share posts, no comments will get an upvote.
---
Delegators Benefits
95% Curation Rewards.
Delegators can earn free upvotes. (High probability to receive free votes)
70% Burnt Tokens worth SWAP.HIVE will share between delegators.
---
Refunding Process
Yes, we have created one of the best refunding processes if Burn-to-Vote failed. If any issue, please contact us here or at
Discord
.
---


"Delegate @hiveupme Curation Project To Earn 95% Delegation Rewards & 70% Burnt Token Rewards In SWAP.HIVE"
Contact Us : CORE / VAULT Token Discord Channel