Hi All,
With our
previous announcement of the launch of @HIVEUPME curation bot script version 1.0.1
, we introduced a curation bot which actively curating at
#GEMs
community (We could change the community if needed).
Today we would like to introduce you an upgraded version (version 1.0.2) of the script which is now working with
90% to 95% delegator reward sharing mechanism
, totally depends on the curation earning of the bot project.
---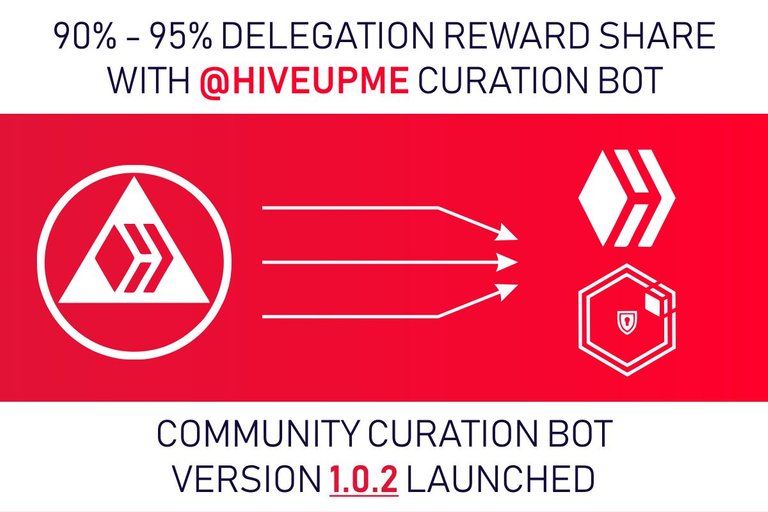 ---
The Case Study of Ver 1.0.2
With our previous script, we were managed to share Delegation rewards of the bot project. We set
APR
(Annual Percentage Rate) as
10%
, that's a defined value. But while we are processing Curation rewards, we have monitored the defined
10% APR
is not much accurate in 2 different scenarios.
When whale vote comes just after the upvote.
When post gets downvotes / flags just after the upvote.
Therefore, we tried to find a solution to share highly accurate delegator rewards with the latest upgrade of the script.
---
Guessed APR - No More?
Yes, with the latest version (1.0.2) of the Curation bot script we have removed the Guessed APR dependency. Therefore, now the script directly share
the curation income
with
delegations of the particular upvote
.
---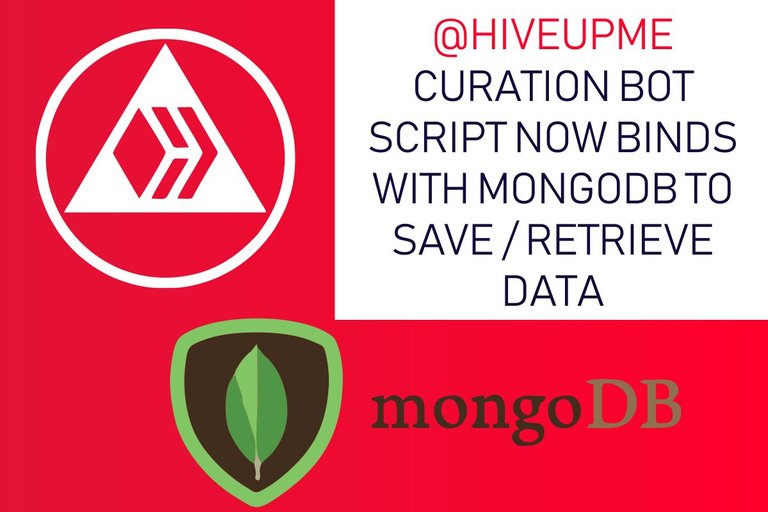 ---
To do this process, we have binds the script with MongoDb, which helps us to retrieve every single data related to delegator share & etc, more accurately. As a result of that, now we are capable to share delegation rewards which is related to the curation income of the upvote.
---
VAULT TOKEN?
We introduced
VAULT Token
for the delegators of
@HIVEUPME
. From the script 1
VAULT Token
PEGGED
to 0.1 HIVE coin. (10 VAULT = 1 HIVE)
The only way of earning VAULT Tokens is delegating to @HIVEUPME curation project.
Delegator's curation income shares once per day. You can sell
VAULT Token
at
HIVE-ENGINE
or you can
SWAP
VAULT to HIVE by sending tokens to
@SWAP.VAULT
account. (1 VAULT = 0.1 HIVE)
---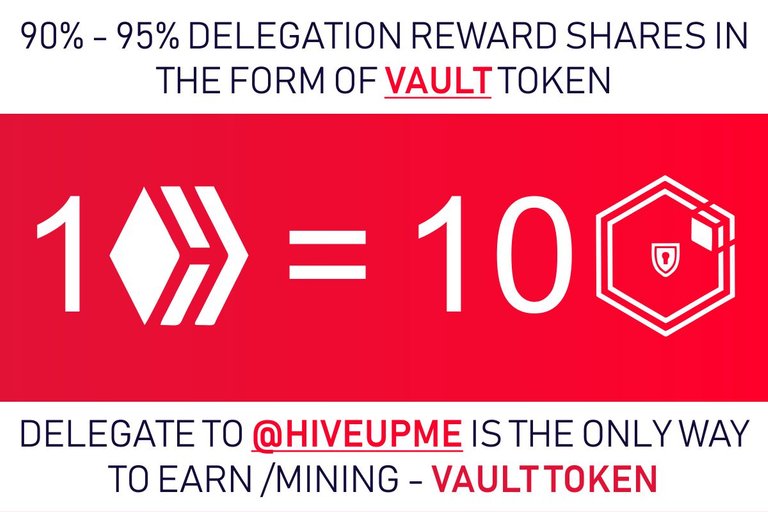 ---
How To Sell VAULT?
Now it's easy, you can go to
HIVE-ENGINE
-
VAULT Token Market Place
and sell your tokens at 0.1 HIVE market price. From the script we pegged
VAULT Token
at 0.1 HIVE market price & every week we pump SWAP.HIVE to the
HIVE-ENGINE
market place to buy VAULT tokens. Then we
burn each VAULT Token
that we bought from the market place.
---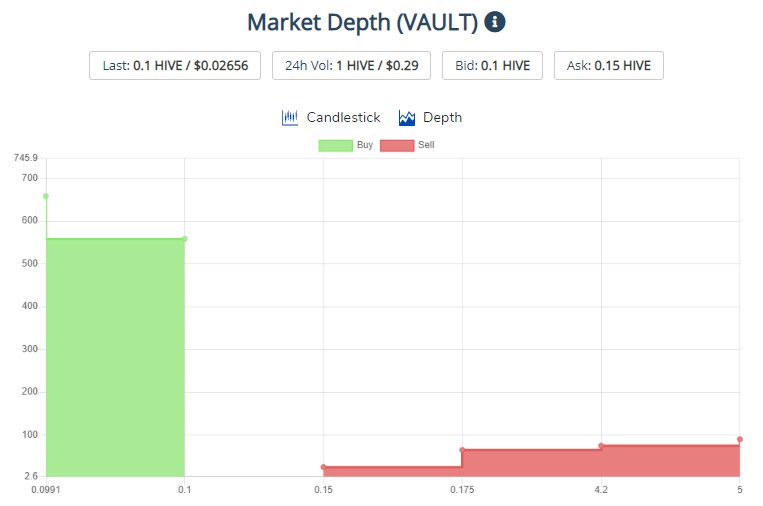 ---
Script?
To develop this bot script we have used
NodeJs
as the script language (back-end development). MongoDb is used to save & retrieve data as well. Here you can see a screen shot of back-end console output.
---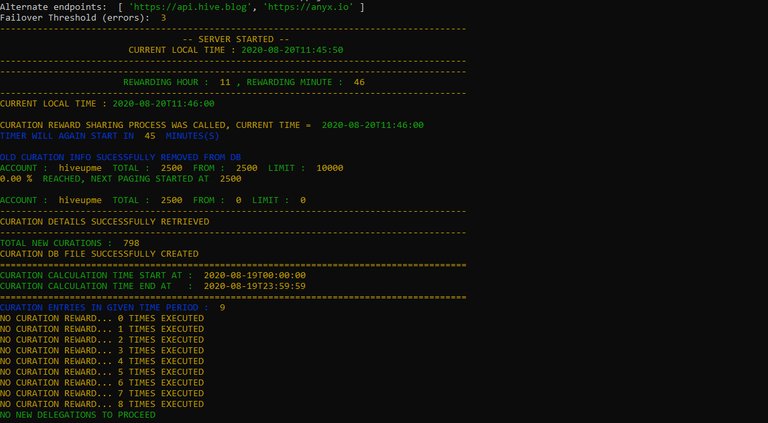 ---
Features?
The
latest version (v 1.0.2)
of the bot script contains below list of features as well.
Customized the curation community
Customized the size of upvotes
Customized the minimum post age for upvotes
Auto claim curation rewards
Add a curation trail (Will upvote 3 secs after the 1st vote)
Easy customization to curate HIVE-based Community Contents
Distribute delegator rewards.
Token minting feature if needed.
Send delegator rewards in HIVE form.
Swap VAULT to HIVE at 10 : 1 pegged price.
---
Upcoming Features
We hope to add below listed features with the next versions of the Community Curation Bot.
Front-end development
Time based curation upvotes
Curate listed content creators / trending content creators
Customized upvotes
---
theguruasia at TWITTER.COM
theguruasia at YouTube.COM
theguruasia at FACEBOOK.COM
theguruasia #8947 at DISCORD.COM