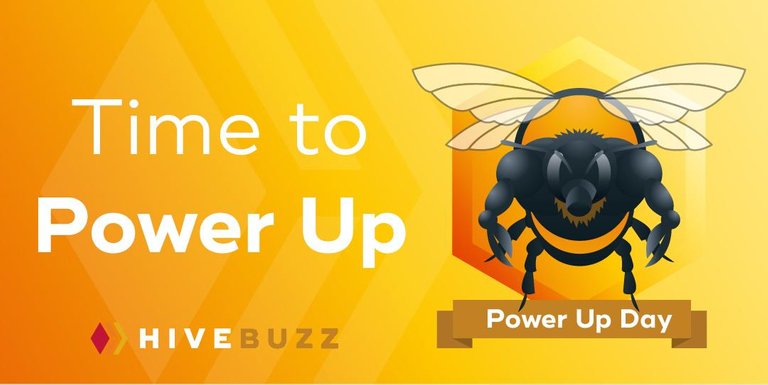 The Hive Power Up Day (PUD) is taking place on the first day of every month and the next one will occur in a few days, on September 1st!

Dieser Beitrag ist ins Deutsche übersetzt: hier


Este post está traducido al español - aquí


Une version en français de ce post est disponible - ici
Since the previous edition (August 1st), HiveBuzz has been supporting his great initiative by creating a funny new badge that you can get if you participate in the PowerUp Day.
Given the positive feedback we got and the buzz created around the last Power Up Day, we decided to make it even more fun and add a few new exciting things.
For more information about the next coming PUD, you can read this post from @traciyork.
What's new on the HiveBuzz side?
Those who follow @hivebuzz and read our last Activity Update Post might have seen this coming. To keep the fun and fire alive, we will add new challenges to each edition and make it more interesting for you to join!
Here are the changes for the September edition:
1. New Minimum Requirement
We want to onboard as many people as possible and found that for some, 100 HIVE is already a significant investment. As our main goal is to create fun and allow all to participate, we decided to lower the minimum amount of HIVE which has to be powered up to get the badge.
The minimum amount to power up and make the PUD badge yours is now 10 HIVE.
2. Be a big Power-Bee
What about showing others how involved you are when it comes to powering up? Surely not by trying to say the above title as fast as possible.
For this, we have created some variations of the PUD badge:

You guessed it, the more HIVE you will power up, the bigger your power-bee will be!
The trick here is that we won't reveal the level thresholds until the Power-Up Day is over! The only thing we can say is that the first level corresponds to a power-up of 10 HIVE.
Place your bets!
3. HiveBuzz Site Updated
To enable you to follow the various challenges you may participate in, we made a new «Challenges» tab where you can look up your achievements. The first challenge to be added is of course the Power-Up Day: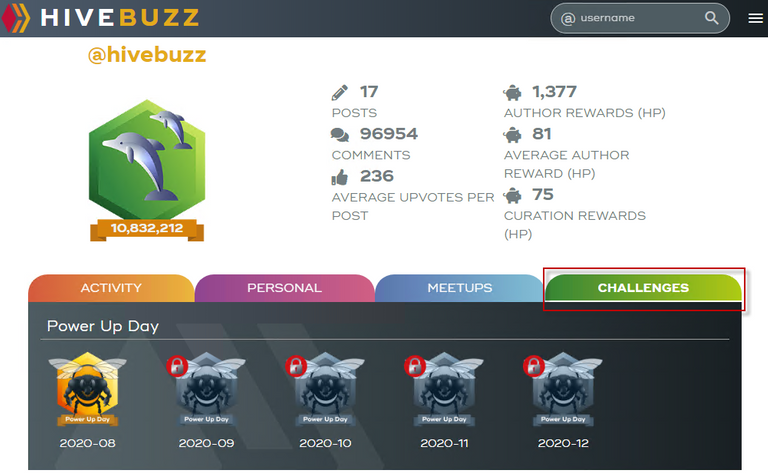 As you can see, the existing PUD badge has been transferred to this tab and HiveBuzz is ready for the next edition of the Power Up Day coming this year. This will enable you to see how often you participated in the PUD challenge.
Note: Maybe you should start to collect as many PUD badges as possible. Just saying...
How to get your Power-Up Day badge (September edition)?
You will have to power-up HIVE on the 1st day of September.

IMPORTANT:

HiveBuzz will use UTC date and time to validate when your powered-up. Therefore, check your timezone and convert your local time to UTC before powering up!


Power-up at least 10 HIVE. This will entitle you to the smallest power-bee. The more HIVE you power up, the bigger your power-bee!


You don't have to power them up in one step. All the Hive powered up will be counted together at the end of the day.

Strictly follow these rules and this badge will be on your board!
The badges will be distributed to the successful participants at the end of the Power Up Day.
Why participate in the Hive PUD
The first reason (for us) is to have fun together.
Then, in addition to making your vote more valuable and growing your curation rewards (as well as earning interest on your stake), you will also strengthen your influence on the blockchain.
Finally, some amazing members from the Hive community are offering prizes that include delegations, Hive giveaways, and other cool stuff to the Hive PUD participants.
---
Be ready and Power Up!
---
HiveBuzz is a project created by @arcange