Quello is a question and answer platform built exclusively on the Hive blockchain that allows users to ask, answer, and reward valuable questions. You can view and get started on here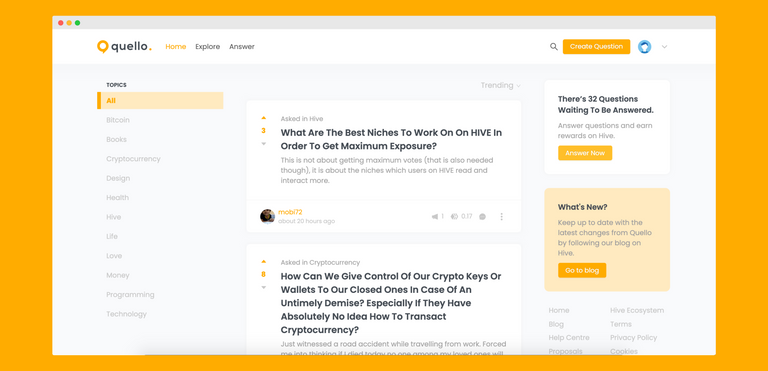 Proposal
This proposal aims to support the growth and development of Quello.io. Quello allows you to ask, discover, reward and answer valuable questions on the Hive blockchain.
Quello are seeking 70 HBD per day for 1 year. This equates to a monthly rate of 2100 HBD per month which is around $2050 using current prices.
The funds provided by this proposal will focus on the following key areas:
Infrastructure - Cover costs surrounding the infrastructure required to run Quello.io, this includes server and database costs required to our API and frontend. The funding would allow us to scale our servers in line with additional demand in line with other efforts detailed within this proposal.
Development & Design - Devote more resources to the development and design of Quello.io and hire additional development resources on a contract basis to help accelerate the feature set of Quello.io.
Onboarding - To allow for seamless onboarding we will convert and power up a portion of the proposal funds to allow new account creation and delegation to new users.
Marketing - Although the proposal amount specified will not allow for large scale marketing activities, it will allow for several social media and ad-based campaigns to aid the growth of Quello, results from these marketing efforts will be published on-chain to allow for learnings for other applications.
The following provides a typical monthly breakdown and monthly cost in line with the areas mentioned above, please note, this breakdown may change depending on priority and opportunities presented.
| Area | Percentage |
| --- | --- |
| Infrastructure | 5% |
| Development and Design | 70% |
| Onboarding | 15% |
| Marketing | 10% |
Note: To allow for additional development resources to be acquired in line with development budgets specified above, the rate for current development resources are heavily discounted from current market rates. The costs mentioned for infrastructure include short term improvements rather than minimum options that are currently being used now.
Roadmap
The following highlights some of the key features that we plan to deliver, by funding this proposal you're helping contribute to speed in which we can deliver these features.
Sign up and onboarding to Quello and the Hive blockchain
Adoption of the account referral program in line with other Hive applications
Weekly competition functionality to promote engagement and allow for non-curation based rewards throughout Quello.
Question and Answer analytics with content views and account growth information to allow users to track and understand how well their content on Quello is performing.
Question & answer donations and tipping to allow users easy methods for rewards valuable content outside of voting.
Curation tooling to enable a dedicated curation team to be added to Quello.
Lifetime rewards via ad revenue sharing
Support for multiple languages
Improvements to question feed and question exploration to allow for improved visibility of questions and answers.
Question promotion and sponsored questions.
Improvements to SEO to improve organic discoverability of questions asked on Quello.
Simple to use wallet functionality.
Please note: We will be continuing to add to the above as the proposal progresses, the above highlights some key features that we'll be working on, however, a number of other small improvements are planned alongside the above. We have been working to make changes based on community feedback and this will continue throughout this proposal.
Current State of Quello
Quello has been available on the Hive blockchain since 6th June 2020 and since it's the conception we have released the following features as detailed in the following posts:
Team
Quello was created, designed & developed by @tobias-g, however, there are plans to expand the team in line with the growth of the platform.
6+ years of experience in early-stage start-ups.
5+ years of development experience building enterprise-level applications.
2+ years experience leading product teams creating SaaS applications within the AI space.
Nearly 3 years on Steem & Hive
Worked on & contributed to multiple Steem based applications
Communication our progress
At Quello, we're focussed on providing you with regular updates surrounding the development and growth of Quello.io. To help you keep up to date with the latest from Quello we will do the following:
Weekly updates surrounding development
Weekly analytics reports surrounding growth and retention (Late July 2020)
Monthly updates that encompass details surrounding several activities carried out during the month and updates surrounding the items outlined within this proposal.
Upcoming Proposal Period
After looking at several proposals submitted we have decided to start this proposal on 1st August 2020 to allow for questions, feedback and iteration of the proposal based on community feedback.
Vote for this Proposal
Hivesigner: https://hivesigner.com/sign/update_proposal_votes?proposal_ids=%5B%22122%22%5D&approve=true
HiveDao: https://hivedao.com/proposal/122
Peakd.com: https://peakd.com/proposals/122
Support Quello
Join us on Discord: https://discord.gg/G2XZsau
Follow our blog on Hive: https://peakd.com/@quello
Join the Quello Community: https://peakd.com/c/hive-163099/created