Congratulations to AIRDROP Round 1 Claimers!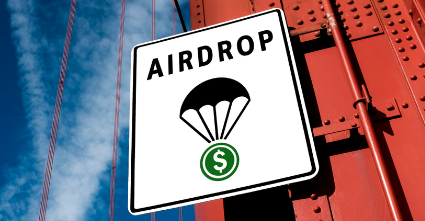 You've been tagged at the bottom of this post and have been awarded 5 DLUX! Now you are eligible for the really fun part: AIRDROP 3!!
Airdrop 3 is here!
We have a pretty cool "DLUX" platform set up here on HIVE. It's earning people tokens, they can trade them for very low fees, they can post dApps and experience virtual reality at a fraction of the cost of any of our competitors. Really the only thing that's missing is people who know about what we've been up to!
Airdrop 3 is quite simple: If you own DLUX Tokens Reblog this post and leave a comment. You will get 5 DLUX Tokens for unique (or first) accounts/comments replying to your comment. Any comment that earns you 5 tokens will also earn 5 DLUX.
That means if you're seeing this post, and you aren't tagged in it: You'll need to reply to somebody else's comment to get this airdrop... Maybe your friend, the funniest, or the one with the best story.
This Marketing frenzy will end on June 1st. We'll sift the reblogs, find the first replies to your comments, and credit the Hive Accounts with DLUX.
Don't Forget
Has more information in about, docs, and a dex and dapps to explore!
---
Airdrop Recievers
@kiokizz @edicted @erikah @urun @fronttowardenemy @ganjafarmer @hivetrending @squits @meanbees @buckydurddle @mes @antisocialist @galberto @taskmaster4450le @lalupita @riandeuk @ammonite @failingforwards @preparedwombat @bluerobo @appalachain @bil.prag @amr008.leo @klye @definethedollar @tamaralovelace @pfunk @tfranzini @kenny-crane @mba2020 @dagger212 @sanjeevm @no-advice @jfang003 @revisesociology @blezyn @borislavzlatanov @meesterboom @scooter77 @bozz @anarcist69 @mattclarke @arcange @lebah @masterthematrix @ericburgoyne @breezin @grey580 @droida @javiersebastian @crrdlx @torrey.blog @thebeardflex @shortsegments @iikrypticsii @khan.dayyanz @bagofincome @clayboyn @hykss @yeckingo1 @autobodhi @trumpman @notak @chuckrick @anaclark @kendewitt @minimining @hivebeliever @tobetada @miniature-tiger @d-zero
OG DLUX Holders
@a1-shroom-spores @abh12345 @achimmertens @acidyo @ackza @actifit-dlux @alexvanaken @altrosa @ammonite @amphlux @angelveselinov @antisocialist @apofis @ats-david @austindro @azuremoon @b-s @badcode @bil.prag @biq @bitduck86 @blaynescrypto @blockcryptochain @bobby.madagascar @bozz @brofund @bryan-imhoff @bubke @buckydurddle @cadawg @cadlux @caramaeplays @chekohler @chrismgiles @cowboys.angel @crimsonclad @crrdlx @cryptoandcoffee @cryptoandzen @d-pend @darkflame @deluxe-node @dera123 @deybacsi @direwolf @dlux-treasure @dluxfox @dluxminer @doon @drricksanchez @east.autovote @eastmael @ecoinstant @ecoinstar @ecosaint @elementm @elgeko @erikah @fbslo @fbslo.pay @fintechshark @flash07 @flauwy @flora-francis @fortnitefunnies @foxon @foxon.dlux @freebornsociety @fw206 @fyrstikken @gabbagallery @gabbynhice @gattino @hallmann @hexflex @heyhey @hive-123849 @hivecoffee @hivediver @hiveqa @igster @itstime @j85063 @janusface @javiersebastian @jenkem @juvyjabian @jznsamuel @kellie.leigh @kenny-crane @khan.dayyanz @kohost @kriptonik @lanmower @makemoneyhd @mannacurrency @marki99 @masterthematrix @meesterboom @michelios @nataboo @nekomuneca @netaterra @nickyhavey @novacadian @okean123 @onealfa @onthewayout @organduo @paint.baller @pangoli @phteven.withap @pizza-dlux @pocketrocket @ppextend @preevy @preludiocosmico @premiumsfx @preparedwombat @protegeaa @qwoyn @qwoyn-dlux @revisesociology @rishi556 @rishi556-dlux @rovill @runicar @seareader1 @sexist @shellyduncan @shmoogleosukami @shredz7 @sn0n @snubbermike @stackin @sunlakeslady @superlotto @surfyogi @suzanoslin @syedumair @tarazkp @taskmaster4450 @theb0red1 @theycallmedan @tkept260 @tombstone @tracilin @varia @vasqus @whatsup @yasu24 @z-allyourchain @z-isbelongtous @zachkriegs