dPoll SPUD 10 is coming February 1 2020. Are you in?
---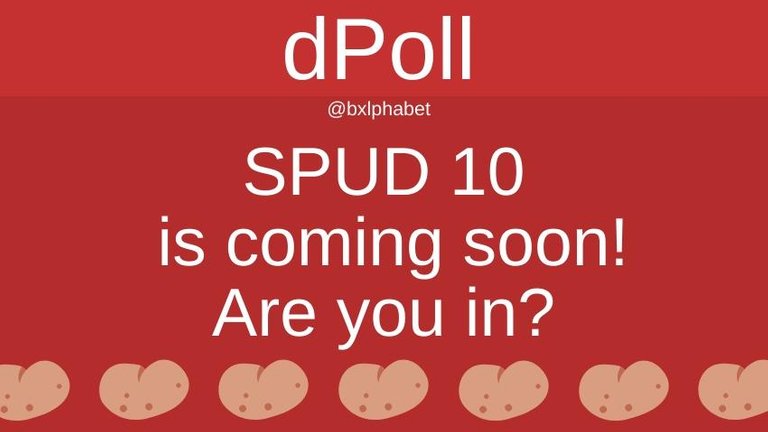 February 1 is the date of SPUD 10, and it's is not too soon to be preparing for it.
I will be participating again for this STEEM Power Up Day initiated by @streetstyle. He already has a post on his feed about SPUD 10:
https://steempeak.com/spud/@streetstyle/steem-power-up-day-10-spud-x-time-to-level-up-feb-1-2020-steem-blockchain-community
Be sure to take a look, since some of the rules have changed for this tenth SPUD.
If you are not eligible to SPUD, please consider offering a prize. This contest is very motivating for smaller accounts who are increasing SP. The more prizes, the better! Thank you to those offering prizes already. We are all so grateful to you!
@davedickeyyall
@xpilar
@sultan-aceh
@reflektor
@hingsten
@mcoinz79
@bippe
@streetstyle
@improv
@traciyork
@livinguktaiwian
The idea of this monthly challenge is that you power up some STEEM to SP each first of the month. I have been entering most of the SPUDs and power up as much STEEM as I can. The last few months I powered up enough to get into the top 20 SPUDers, and win some SBI shares. Thank you @improv for this very helpful prize.
I use the "Savings" area of my STEEM wallet to add some STEEM each time I claim rewards throughout the month. Instead of scrambling to find STEEM at the end of the month, now I have it ready to go.
I need to remember to get the savings transferred back to the regular part of my wallet 3 days ahead of SPUD Day since this is a limit on our STEEM savings account.
Aside from the benefit of growing your SP with SPUD you can win prizes too. One thing you have to do to be in line for the prizes is to have a post on your blog before the event, so be sure and publish one now if you are in and hope to win a prize.
How about you? Are you a SPUDer on STEEM? Please let me know your experience, and give me additional information in your comment if you have any. I want to hear from you.
---
I have done other SPUD's and I will power up SPUD 10 too.
---
I will power up for SPUD 10 and this will be the first time.
---
I have participated in other SPUDs but will not for SPUD 10.
---
---
I have not heard of SPUD before and now I will look into it.
---
I will be offering a prize for this SPUD as my participation.
---
Other (please tell me more!)
---
Answer the question at dpoll.xyz.