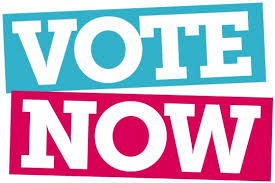 ATTENTION IMPORTANT CHANGES TO THE ELECTION:
1. NO REGISTRATION IS REQUIRED TO VOTE -
All Steem Users, whether they registered previously or not, can vote in this election. (scroll down to cast your vote - be sure to read each proposal).
Due to feedback from the community as well as concern that even though the need to register to vote was announced well in advance, it could have not been as clearly understood as it needed to be. This would possibly result in lower participation in this election and even though we had original reasons behind implementing the registration process, we felt (based on community feedback) that those benefits did not outweigh the cons of less of the community being involved in this decision. REGISTRATION IS NO LONGER REQUIRED.
2. ELECTION DATES EXTENDED - APRIL 10TH - APRIL 24TH (9:10 PM UTC)
Making a change in the middle of a process is never ideal, but we felt this was the best decision to ensure the community's voice is heard. Because of the change though, we will be extending the Election Vote end date by one week (April 24th). Hopefully this will ensure everyone has enough time to understand the changes in the process as well as ample time to review the proposal options below and make an informed decision.
Thank you.


Steem Alliance Structure Proposal Election
The deadline for voting is 14 days from the post, or around 21:10 (9:10pm) UTC on April 24th.
To see results with correct filters, click here
The final structure proposals can be found here, and will now be put up for vote.
There was also a contest to write up comparisons for the final structure proposals which you can find here with many excellent analyses.
Summary of Choices
(Presented in alphabetical order)
Main focus shall be the development of new self sustainable projects, being it business, NGOs or personal individual projects on the Steem blockchain.
https://steemit.com/foundationproposal/@alexvan/steem-foundation-a-decentralized-steem-incubator-for-the-future-proposal-v2-0
---
---
---
DeCentraSteem, a decentralised structure made of a network of ever-changing self-organised working circles. One purpose, strengthening communities, and nine rules make it work without a central board.
https://steemit.com/foundationproposal/@impactn/decentrasteem-final-proposal-for-a-decentralised-structure-in-favour-of-communities-on-stee
---
---
---
The goal of this proposal is to create and grow a sustainable ecosystem around Steem blockchain and to make Steem the leading blockchain for decentralized apps and communities worldwide.

The proposal features a robust fiat based management structure, fundraising through corporate and individual membership fees, various types of funding activities and on-chain advisory role for Steem community.
https://github.com/pauliusuza/steem-alliance
---
---
---
The goal of this proposal is to combine some of the best ideas put forward and work alongside Steemit Inc to build the most beneficial Community Foundation possible, through collaboration. The Foundation will be where community members, investors, developers, and influencers come together to advance the Steem ecosystem and underlying technology.
https://steemit.com/foundationproposal/@shadowspub/foundation-proposal-the-merger
---
---
---
Investment of Steem in FIAT industry is what will bring an assurancce of the demand for Steem. Creating industry and a chain owned (not privately owned) company in the FAT world providing local services provides an opportunity to have Steem used in a concentrated environment. As opposed to being used across continents. Growing hubs or localities that later can join and support each other. The growth of the Chain and the benefits of using it get amplified with compound growth over time, Reducing the reliance on and the influence of entities outside of the Chain. Let's Build it together.
https://steemit.com/thealliance/@thehive/i-made-a-proposal
---
---
---
Election Details
The Election will run for 7 days (final day being April 17th)
Voting Method will be stake weight with a cap at 250k More Details Here.
You must vote using the dpoll interface.
You can select multiple options to indicate approval for multiple choices.
You can see the current tally by selecting 'SA Stake Based Voting' as the result layout and 'steemalliance' as the community in the list of filters.
Once submitted, you cannot change your vote!
How To Ensure Fairness
The goal of this group from the beginning has been to be transparent, fair and accountable to the community. ALL transcripts from the inception can be found on chain and/or within The Steem Alliance Discord Server. There are no closed rooms, it all can be seen right there.
Due to feedback we have received we want to ensure this election has another level of transparency and accountability.
The election will have open audit logs (just like the working group election did) and will be released (just like before).
We ask that each Proposal Team form a group to review the election audits, as well as anyone from the community as well. This way there will be multiple eyes on the results, reviewing and ensuring fairness is achieved.
This election will be decided by the community vote, not the working group.
The community will decide.
In case of tie, there will be a run off election.
The working group (or anyone involved in the proposals) will vote just like everyone else. Their vote will be weighed based on the method detailed above. This is a community election.
Open audits will be available, we hope many groups step up to review them.
YOU MUST VOTE AT dPoll
Which structure proposal(s) do you support for the Steem Alliance?
You may select more than 1, and once submitted, you cannot change your vote!
---
"Decentralized Steem Incubator" Submitted By @alexvan
---
---
"Foundation Structure Proposal" Submitted By @upheaver
---
---
"People Survive By Supporting Each Other" Submitted by @thehive
---
Answer the question at dpoll.xyz.