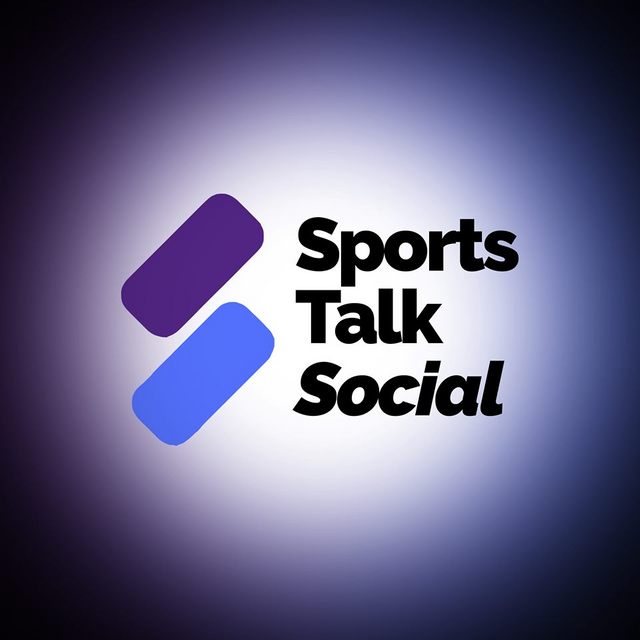 The #SportsTalk Community on Steem is in need of additional referees. Referees are an elected account that serves our platform by curating good content from the platform while also helping to moderate content that seeks to take advantage of the rewards pool by breaking our community guidelines. To accomplish this they monitor the #sportstalk tag and use their account to upvote or downvote content they find. For this they are compensated with SPORTS tokens themselves for serving the community.
#sportstalk is a sports focused community within Steem that distributes SPORTS tokens based on the community's consensus on rewards. To help moderate our community we have a group of users that we elect on the 1st and 15th of each month to simply vote on content with either upvotes or downvotes. The consensus of the 9 referees will then trigger action from @sportsvoter or @referee to either reward or punish actions on the platform. Referees are then rewarded with a portion of our token distribution for their efforts. You can read more about the referee system in our announcement post.
Currently we only have 7 accounts that have verified that they would like to run for referee.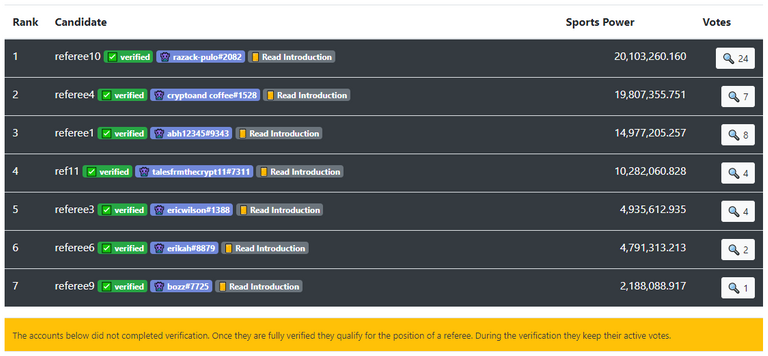 While our system can adapt to only 7 accounts I would prefer we have more inputs versus less inputs for our referee's consensus algorithm. That's why I'm writing this post. I'm hoping we can find, at the very least, 2 more users who would be interested in helping us moderate the ecosystem and reward quality content producers. If you would be interested in serving I'll list the steps for becoming a referee below. If you don't think that this would be for you then I'd be honored if you'd share this post with anyone you think might be interested in sporting content.
How to Become a Referee
Running for Referee is a very simple process. You'll need both a Steem account and also a Discord account. Once you have those you'll be able to verify your candidacy to become one of our Referees.
1.) Write a Referee introduction post with the tag #sportstalk attached. This will ensure you post is included on SportsTalkSocial.com.
2.) Visit the Sports Talk Social Discord verify channel.
3.) Initialize the link of your Discord account to your Steem profile by personalizing the following command with your information:
!verify @YourSteemRefereeUsername URLforSportsTalkSocialIntroduction
@YourSteemRefereeUsername - The account you will be voting with on Steem.
URLforSportsTalkSocialIntroduction - The SportsTalkSocial.com link to the post you created in step one.
4.) @SportsTalkSocial will respond in the verify room with a Steemconnect link for you to sign with your Steem account. This will finalize your candidacy and you will become eligible for voting.
5.) You will need to seek out SPORTS stakeholders to vote for you. The top 9 accounts will become the elected referees.
That's it! If you find yourself among the top 9 elected accounts you'll become one of our elected referees after the next election cycle passes.
Referee Elections
You can vote and track our elections at https://referee.sportstalk.social/.
Please Share This Post
Our first election snapshot will be taken in a few days on December 1st. That will lock in the accounts that are linked and voted on at that time. The next snapshot won't be until December 15th. I would love to have 9 referees in our first cycle so sharing this post as far as possible will help make that possible. I deeply appreciate everyone's support in that aspect!
If you have any questions about the election or how to get set up please don't hesitate to reach out on this post or drop a message the general channel of Discord. I would be happy to help anyone get set up for our first go around!