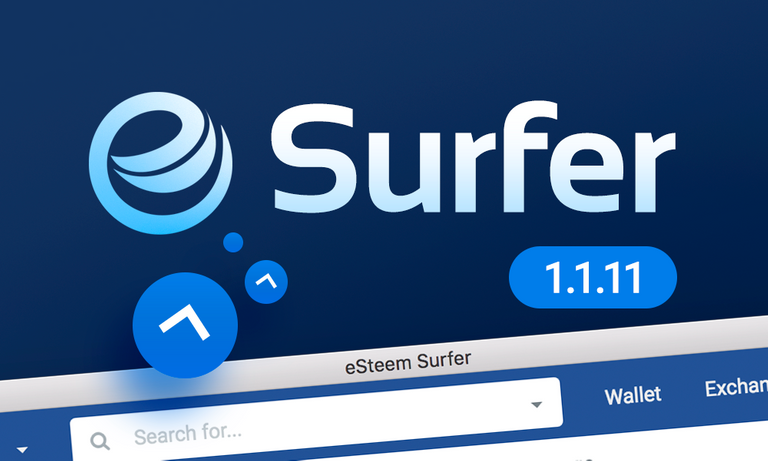 Announcing new version of eSteem Surfer: interface or client for Steem. We are improving our application every week adding new functions, tweaks, fixing issues you are reporting us in our GitHub Repo and working on something absolutely new...
Navigation Bar Redesign
Here is one of the samples how you can utilize our GitHub repo if you want to improve something, request for a feature or report a bug. This is the real usercase we are going to show you.
See that blue line in the top of Surfer application?
This is how our old Navigation bar looked in past versions untill 1.0.11.

If you will check this GitHub issue design improvement suggestion you can see an evolution of the changes and our discussion there.
fildunsky made couple of tweaks: made search box larger and lighter by changing the button color to white removing visual division between button and search field.

Second attempt was to move Discover to small arrow inside the search field since it's related to search thematics, change Wallet to credit card or wallet icon, shorten Token Exchange to Exchange and swap search and wallet+exchange places

After discussion we had made adaptation into code and came out with final variant for release.

It came out really great and if we would use utopian.io for this case we could get good and big upvote from them as well to support this open source initiative. You can use it to boost up your contribution posts that way but it needs some time to inderstand Utopian rules and guidelines to made your contribution be eligible for their upvote.
Roboto Font
Another change we've made is application font we are switching from Helvetica to Roboto because of two reasons mainly.
First one is we are using Roboto in our current designs for advertisings, posts/news image covers and it will made our brand more strong looking if we will implement this font into the Surfer as well.
Second reason was a bug in Helvetica not allowing to use it to Bold up the post titles in the Feed in Windows and Linux versions. Here is another issue on our git repo about it.
So that's it for now. Hope you are satisfied with new changes in recent version and let us know what you think in the comments after updating the app, please.
What is eSteem Surfer
In case you are seeing my blog for the first time...
It's a desktop client you can use on Windows, Mac or Linux to surf your steem friends feed/trending/hot/etc pages, upvote, comment, read replies, do all the other major Steem related stuff in your daily social surfing as well as wallet actions and of course few extras: search, discover different tags etc.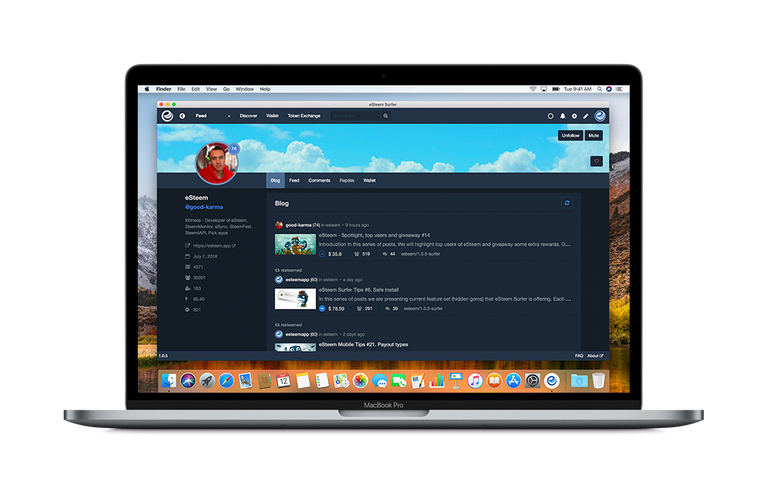 What's New in Surfer 1.1.11 Release
Improved Fresh look of top navigation bar
Improved Application font changed to Roboto
Improved Style for code highlighting with 3` symbols
Improved Tables look in Wallet pages
Fixed Images for post previews posted via Steempress
Fixed Wallet horisontal scroll for small window size
Fixed Activity center reply link clicking
exe file for Windows users
dmg file for Mac users
deb and rpm files for Linux users
Source code: https://github.com/eSteemApp/esteem-surfer
Report bugs: https://github.com/eSteemApp/esteem-surfer/issues

Looking for mobile experience?
Check eSteem Mobile for iOS and Android with push notifications, bookmarks, favorites and other handy functions synced with desktop version.

| iOS | Android |
| --- | --- |
| | |

[email protected]
🌐eSteem.app | 👨‍💻GitHub | 📺YouTube
✍🏻 Telegram | 💬Discord