July 31st, 2022
Five years on the Block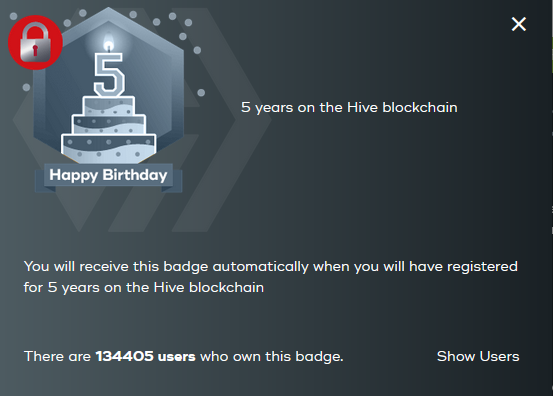 Image source: From Hivebuzz screen shot and edited by me
Soon, if not already, that will add one more user bringing the total to 134406.
---
I started 5 years ago over on the other chain, when the fork occurred, I moved and have not looked back at the other site.
I use to comment a lot more than I do now, and I also used to post a lot more than I have this year.
It has not been a good year, but I am still here, and still looking and reading and playing games. I am also still voting on content. There is a lot of things to see and do and participate in on the HIVE blockchain.
I was never much of a social media type person before HIVE. Like many I had a twitter, a facebook and of course a youtube access, I never really liked any of them. I went fro message boards, parachat, ICQ, POW-WOW and several other online social type sites. None of them offered what is available on HIVE blockchain. A place to share with people and a place to have fun with minimum trollish activity thus making it still a pleasure after these five years.
This year has not been very good for me at all. Starting with a collapsed lung, (Pneumothorax), and seven new holes in the right half of my body in the rib area.(one day I may do a selfie of them, but likely not). In total I spent 28 days in the hospital.
That lengthy hospital stay left me a few other problems that I am trying to resolve, and I am hoping that my kidney issues are going to be able to be resolved with out another hospital stay, still a few weeks away from know how that works out.
Cardio re-hab is not an easy thing, I lost a lot of muscle mass in that hospital stay and still find it difficult to walk very much or very far. My photography hobby is on the back burner for now until I have a bit more mobility and flexibility.
Getting old is a real pain at times, but I am still moving still growing and still learning, probably will be until the day I stop moving.
I am getting pretty tired of having to be at different doctors and have different test and such done. Since last Sunday, I did not HAVE to do anything on Wednesday, and today Sunday. Retirement I thought was the end of HAVE to go times, I thought my time was going to be my time, and while it is, spending time at doctors offices, clinics, and hospitals is not how I wanted to be retired. I would much rather be spending time in the mountains taking pictures, or on the beach taking picture.
---
I have gotten back into reading a lot lately due to my health issues. Just prior to retiring in 2012 I bought a Kindle reader, and read a lot of good free books and stories. I have caught up on a few of the series I was reading.
Currently one of the authors I have been reading is Rick Partlow and I just finished his Earth at War Book 5. book 6 will not be out until December. If you like David Drake you might want to give Rick a read. Along with his Earth at war series I have read his Drop trooper series, (10 books).
One of the things I do not like about Amazon Kindle Unlimited is that I have a tendency to forget which author I was reading. When you buy the books they stay in your kindle library, but unlimited is like borrowing from the library and you have to return them.
Well it is August first in UTC time so I may as well end this here.
Tiny Picture links back to my blog: