Japan, a land known for its unique mix of modern culture and tradition, has always been noted for good food and their commitment to quality and freshness. Thus, it is undoubtedly one of the most coveted food meccas in the world. A culinary journey to Japan, for instance, reveals that its food is not only one of the world's healthiest, but also most aesthetically appealing. This applies to a variety of fascinating Japanese cuisine.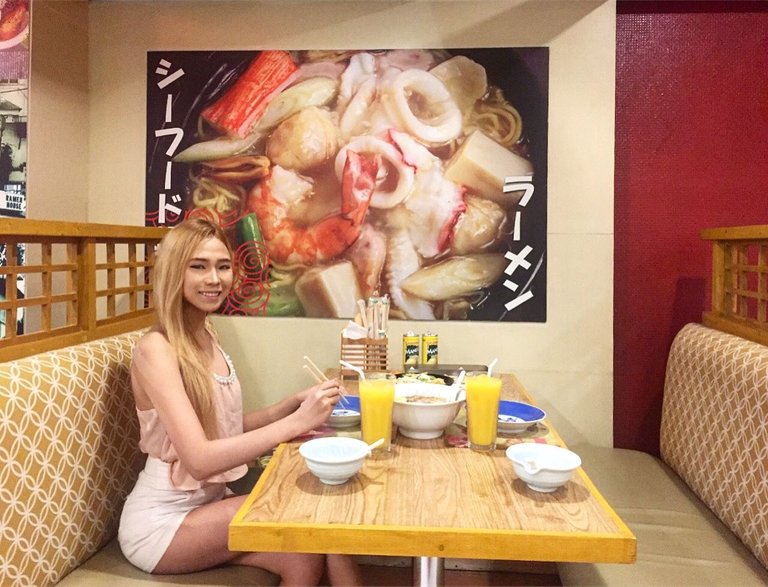 If you're in the Philippines, you don't have to go to Japan for a special Japanese dining experience! A restaurant dedicated to serving the best Japanese dishes opened another branch at SM City, Cebu! As one of the Philippines' most developed regions, Cebu has an inordinately large number of Japanese restaurants, thanks to a large expatriate community and a good flow of Japanese tourists.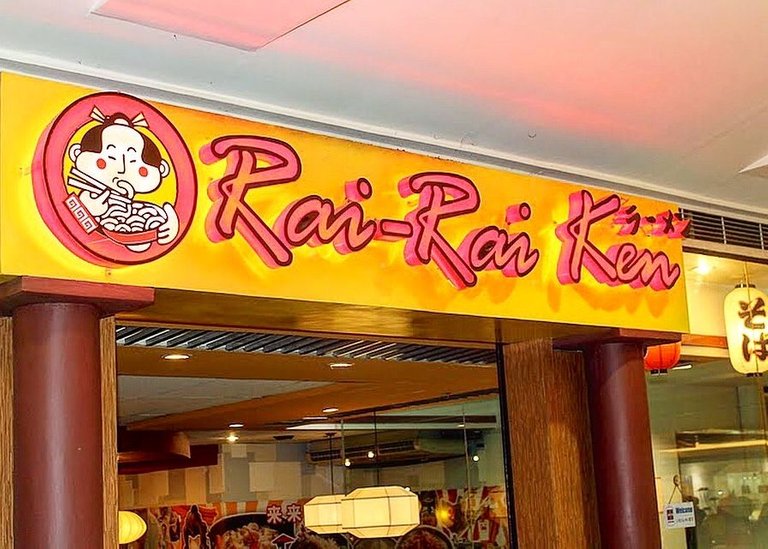 Rai Rai Ken is the first Ramen House established in the Philippines in 1993 and has been the market leader for 20 years. The chain's longevity can be attributed to their devotion to the traditional way of preparing and cooking Japanese food, as well as the kind of service and ambience that the Japanese are known for. Through the years, it has been embraced and savored by Filipinos who are well traveled, well read, more adventurous and open to trying something different.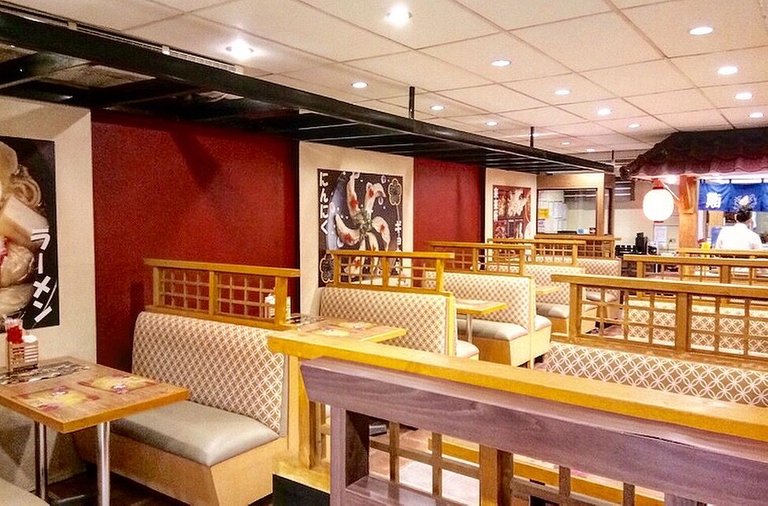 Rai Rai Ken has the traditional Japanese restaurant ambience that gives a serene feel, bringing the customers to a much engaging, but relaxing mood. The place is clean and organized; a lot of light wood is used in the fixtures and furniture making it easy on the eyes. The dining area includes a mix of benches, couches and long wooden tables resembling the traditional Japanese dinner tables. The restaurant's high ceiling adds to that airy, uncluttered and cozy feel. In addition, the restaurant swells with Japanese pop culture references. Instead of plain walls, they created facades of old Japanese businesses and stalls, including panels made of rusted corrugated iron sheets plastered with famous Japanese dishes, movie posters —mostly hinting at the country's icons and Sumo wrestling. It's a well-decorated restaurant that definitely attracts potential diners.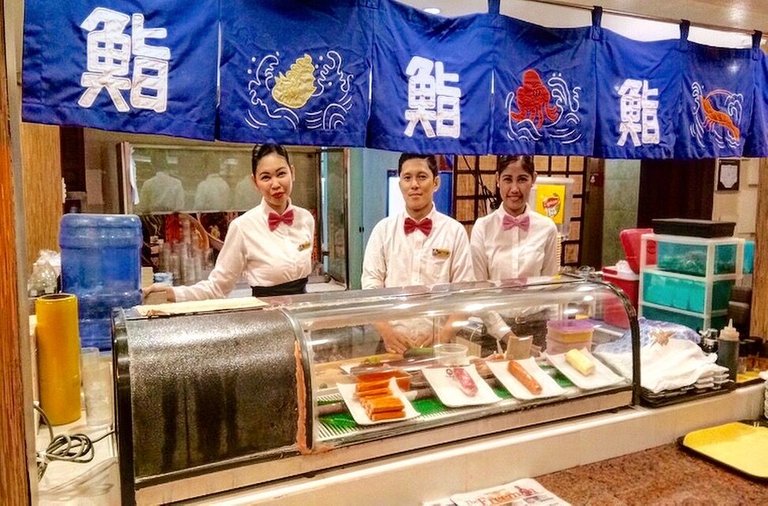 Aside from the plethora of dishes, Rai Rai Ken offers the Filipino palate a peek into the Japanese way of life and culture through its culinary techniques. Their small open kitchen lets you a glimpse on their operations. Patrons can sit around the chef and enjoy the art of preparing Japanese cuisine. It will amaze you of how confident and creative they are in what they do, which shows how well-trained their staffs on handling food. It will just make you drool as you watch them cook each savory dish!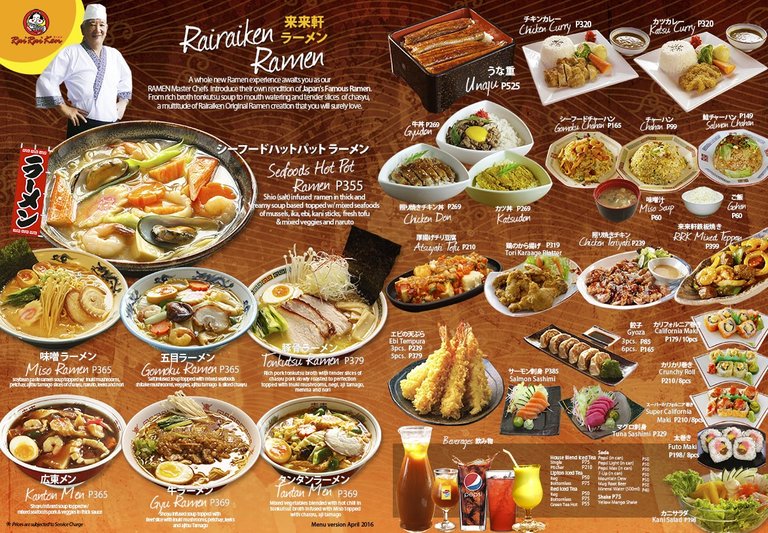 Bringing you a taste of culinary perfection in the art of Japanese cuisine, they have dared to combine traditional and modern techniques of Japanese cooking to give an exciting and unique taste to your favorite dishes. The restaurant prides itself in showcasing its flavorful dishes — from beef, pork and chicken, to seafood and vegetables. This is to incorporate Japanese dining traditions with Filipino sensibilities.
Go ahead and indulge in their extensive selection of Japanese food. While Rai Rai Ken has dishes with traditional flavors, they also have several original unique creations for you to enjoy. Let me introduce to you some of the Japanese dishes that you can taste available in Rai Rai Ken. As they say in Japanese, Itadakimasu!
Kani Salad
Start your meal with this Japanese crab salad! "Kani" is the Japanese term for crab. This juicy Japanese salad is made with crab sticks, match-stick-cut carrots, cucumber, lettuce, mango and lemon. The dressing is made with Japanese mayonnaise, which is known for being rich and creamy with a sweet and sour taste, and topped with caviar. It has an interesting touch of flavor which melts out an exquisite taste! This colorful crab salad will surely tempt you to have more after each bite!
Tonkotsu Ramen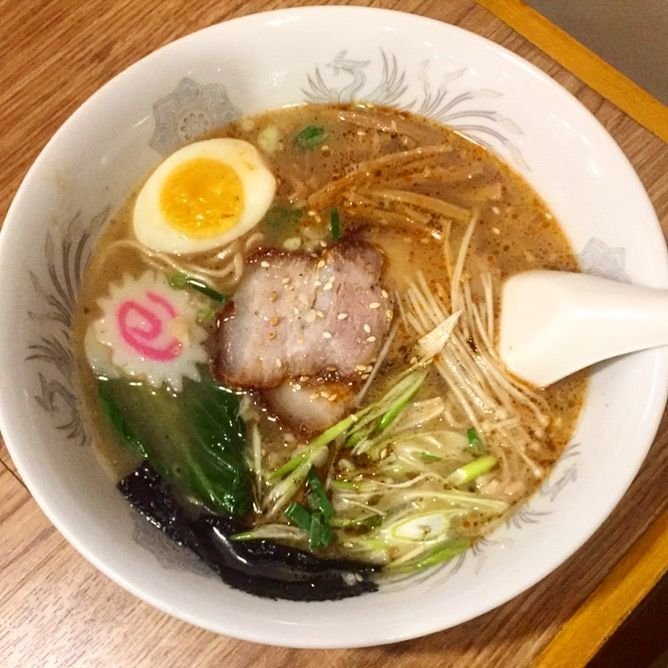 Ramen is one of Japan's best known dishes. It has so many varieties and every ramen restaurants has their own secret recipe to create special soup base. The soup broth for tonkotsu ramen is based upon pork bones (tonkotsu means pork bones in Japanese). Nutrient dense rich, delicious opaque pale and unctuous broth made from pork marrow bones leaves a sticky sheen of gelatin gloss on your lips as you devour them! Tiny fats swimming in the surface oomph the umami factor with fresh chewy and bouncy noodles, soft yolk eggs, cabbage and slices of thin, melt in the mouth pork belly. Toppings consist of narutomaki, sesame seeds, garlic paste and bean sprouts. Their ramen comes in huge servings and are good for sharing, too! Expect to take home a little bit of that savory scent with you!
Gyoza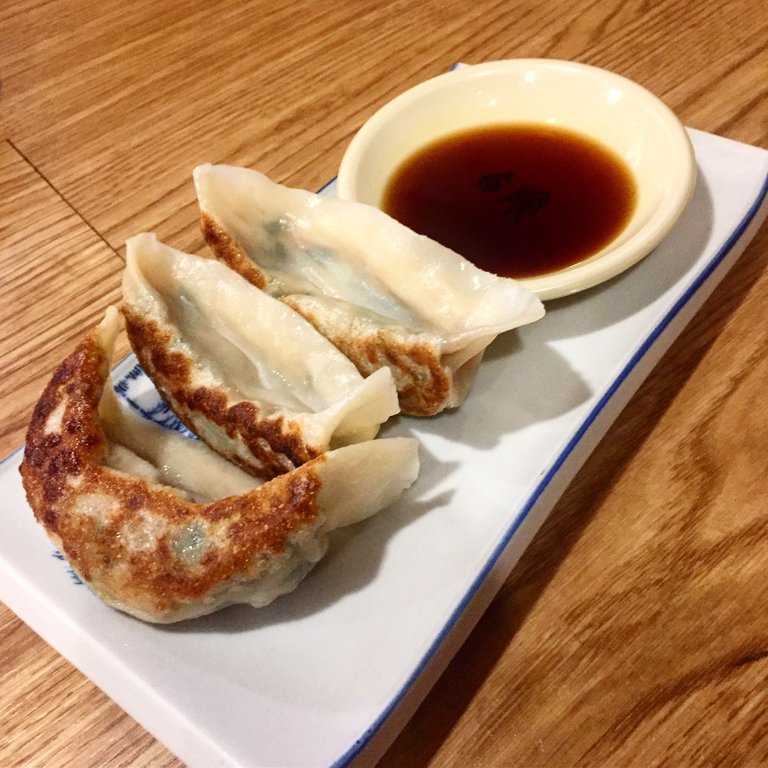 A good side dish for ramen that you'll find on most menus is gyoza. Japanese dumplings is as ubiquitous as ramen in Japan. You can find these mouthwatering dumplings being served at specialty shops, izakaya and ramen shops. These dumplings consist of juicy ground pork and cabbage, lightly seasoned with garlic, scallions, ginger, white pepper, salt and sugar that are wrapped into a thinly rolled piece of dough, which is then sealed by pressing the edges together. They are first fried in a hot pan until crispy brown on the bottom sides, then a small amount of water is added before the pan is covered to quickly steam the entire dumplings. It has the best mix of textures, where you get crispy bottoms and tender soft tops that encase the juicy filling inside. These delectable dumplings are best when enjoyed with a simple dipping sauce of soy sauce, rice vinegar and a bit of La-Yu (Japanese chili oil).
Katsudon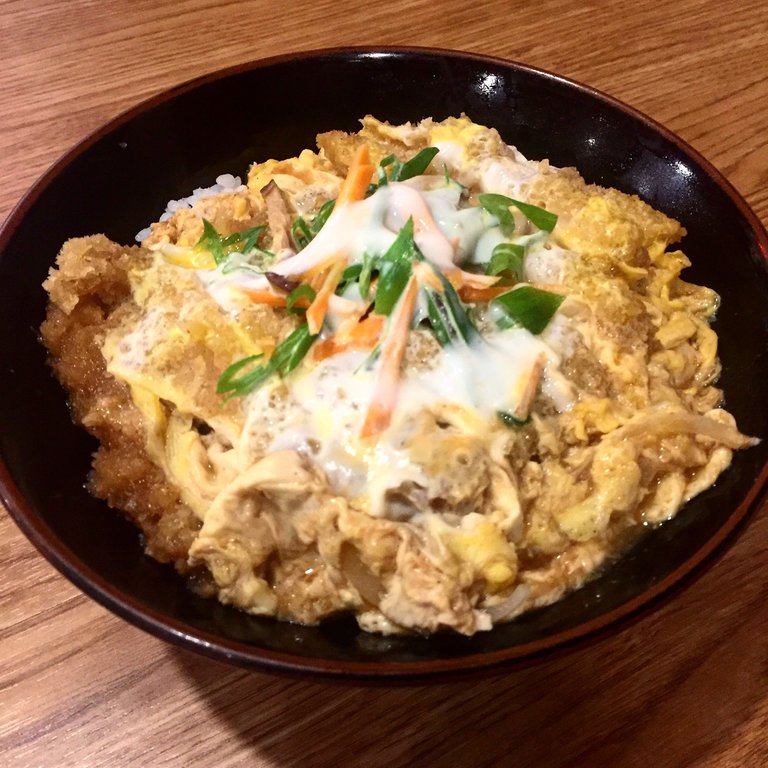 Katsudon is a popular Japanese food. It is a bowl of rice topped with a deep-fried pork cutlet, egg, vegetables and condiments. The dish takes its name from the Japanese words tonkatsu (pork cutlet) and donburi (rice bowl dish). Katsudon is portrayed as a hearty, soul food in Japanese culture. The panko (Japanese style bread crumbs) coating on the pork cutlets absorb the sweet and savory sauce while sautéed onions add big flavor to the dish. The egg not only binds everything together, it also absorbs the flavors in the sauce before percolating them into the rice below. Eaten together, katsudon is luscious, meaty, savory and sweet and has the remarkable ability to satisfy a handful of cravings in one bite!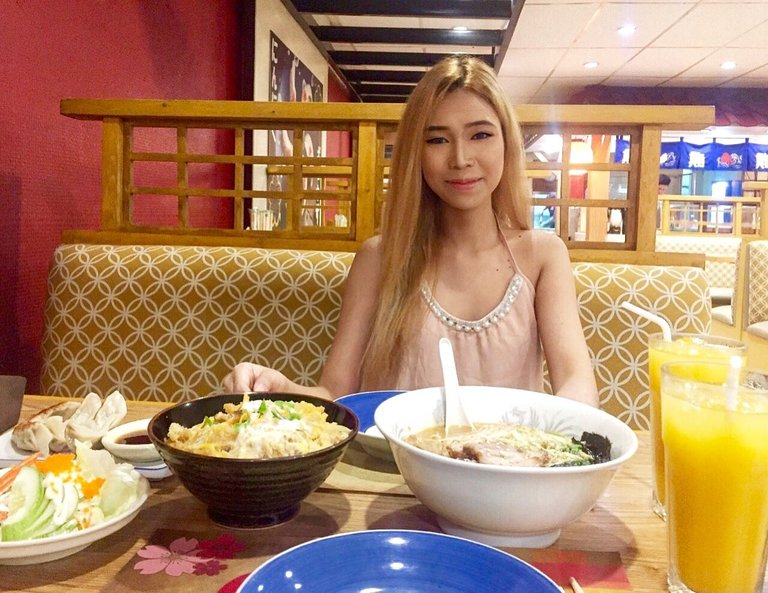 The cuisine of Japan is characterized by the aesthetics of food and harmony on the plate. The plating of Japanese cuisine showcases Japanese art forms such as porcelain, ceramics, lacquers, and basket-wares. However, the culinary skills of Japanese chefs exudes elegance in every aspect—the use of garnish, the arrangement of the food, the selection of tableware and the choice of ingredients. All are expressions of the joys of life and the beauty of their nature.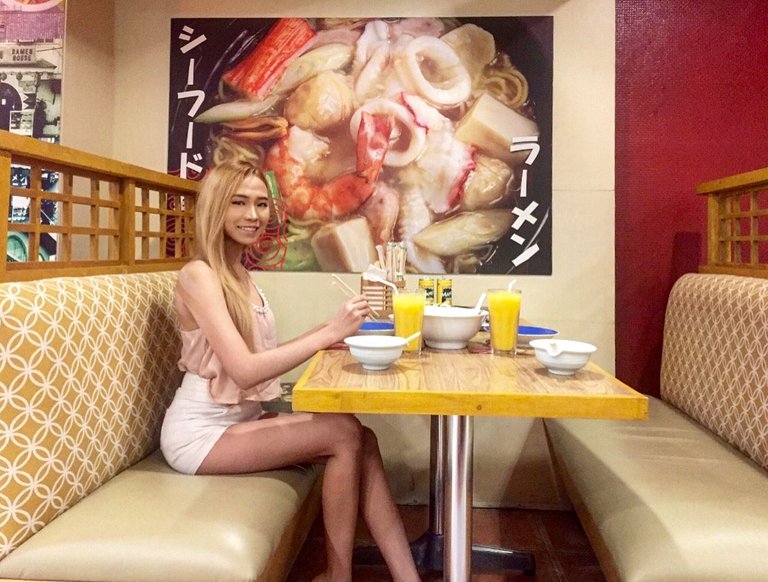 If you love Japanese food but do not have much to splurge on it, visit Rai Rai Ken! This Japanese chain of restaurants, which is spread throughout the country, is a nice place to enjoy bento and sushis at very reasonable prices. I would definitely come back to this place on my next gastronomic adventure and I hope everyone would share the same experience I had with this restaurant. Yonde kurete arigatou gozaimasu!