Recently, I love experimenting with pizzas and sourdough as a great way to ferment your dough. And since I tried several different methods to make the perfect pizza in home conditions with a traditional home oven, capable of 275 degrees centigrade only, I think I found the (almost) perfect recipe. Here I will give you the amounts for two individual pizzas.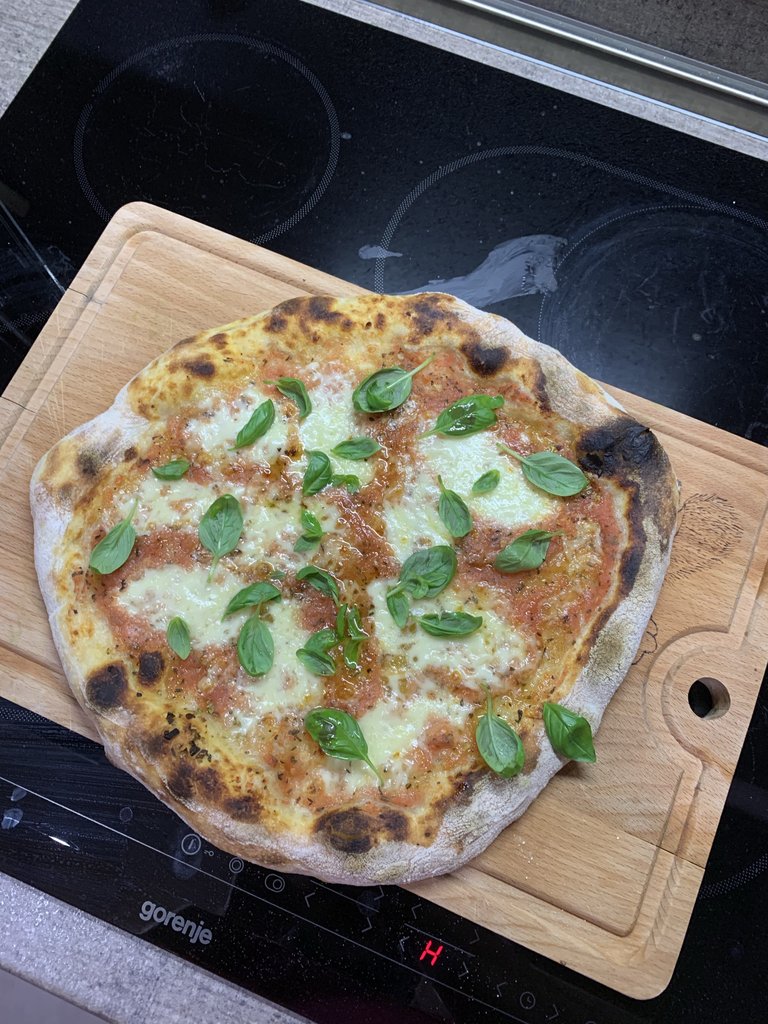 The ingredients:
350 g of all purpose flour
220 ml of water (lukewarm)
15 grams of fine salt
70 grams of sourdough starter
Olive oil
Tomato sauce
Other toppings (personal choice)
First of all you have to prepare the dough. And the sourdough, being slower than traditional cultivated yeast, needs more time to work with the flower. So, you need to be more patient and more careful working with it.
You need your water to be at 28 degrees centigrade in order not to stress the wild yeast in your starter. Higher temperatures can easily kill it and lower temperatures can stress it, so your results won't be good enough. So once you get your water at 28 degrees, you add the starter to it, and mix them well. Then you add all your salt and flour, and mix them. You need only to hydrate well the flour here, without paying much attention. The salt is added at this step, in order to relax the glutens and make the dough stronger. Do not forget to add the salt!
Once the flour is hydrated, you add about 10-12 ml of olive oil. It makes the dough easier to work with and not so sticky. But if you want to go for original neapoletana then you must avoid this ingredient. Now you will knead the dough for a minute or two until you see the oil is evenly distributed.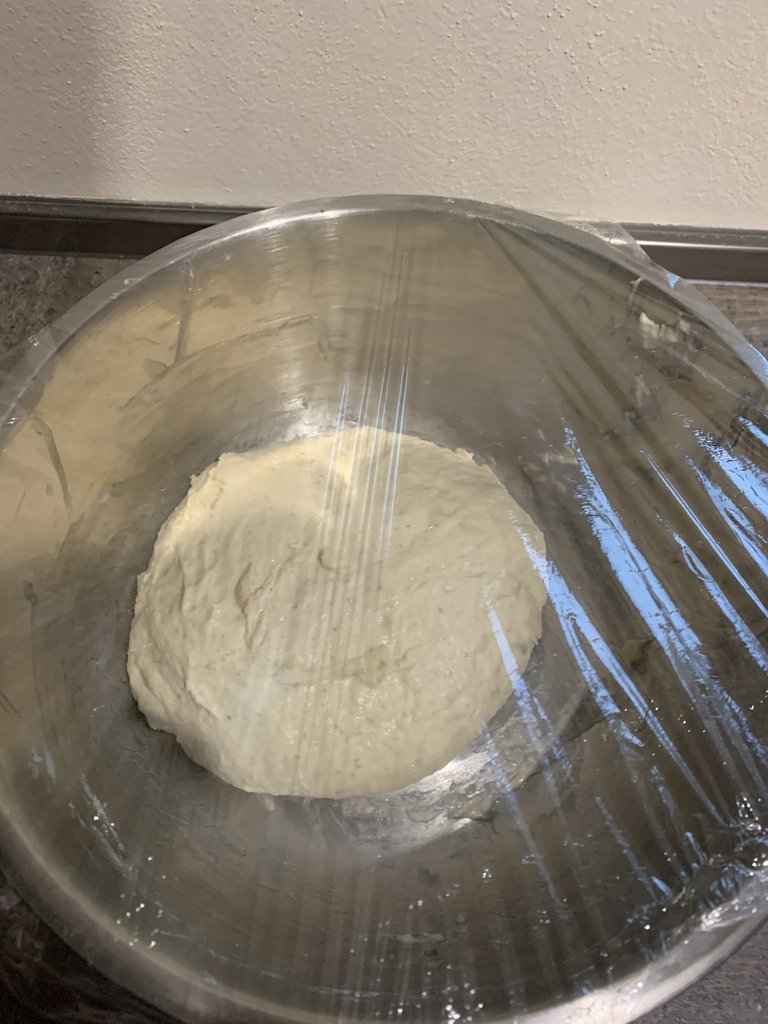 I now cover the dough with plastic wrap, or a cloth, to make sure the dough does not dry out at the top, and leave it for half an hour to relax a bit. After that it's time it's time for some more kneading. I do not pay much attention again, just a 2-3 minute act. Now comes the moment for bulk fermentation. You need 3-4 hours for the sourdough to work well. If your dough is at a warmer spot, you need less time, but don't go higher than 25-26 degrees centigrade. We need the wild bugs alive, right?
After the bulk ferment stage, your dough must have increased at least 50-60%. Its now time to shape the individual doughs. Using a bench scraper, I get the dough out of the bowl and divide it in half. Then pour some flour on the top of each dough and start folding it towards the back. When you fold it gently, about 10-15 times a small round ball must have formed. It is a good idea to have small bowls to put the balls in them after shaping.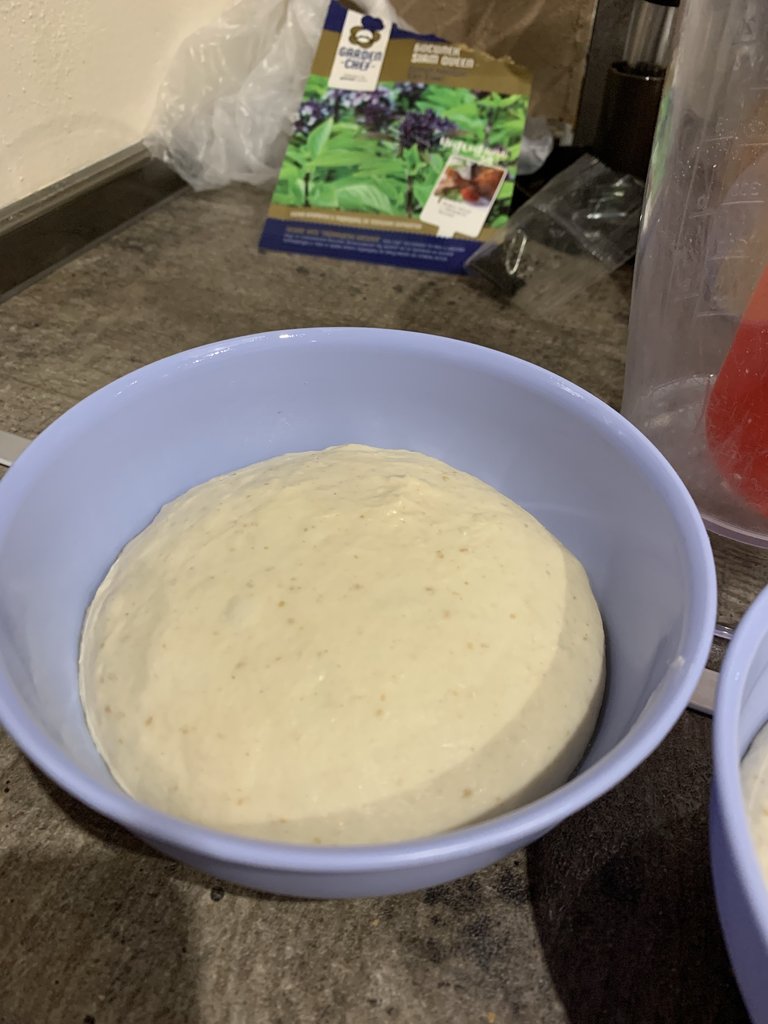 I bough these from a local supermarket for about $1 each. Make sure to put some olive oil in them just in order your dough doesn't stick to the plastic. Now you are done with this stage and you need to put your doughs in a refrigerator for at least 12-14 hours. I usually make the dough in the evening and leave it to rest until the afternoon of the next day. This is the stage of slow fermentation and developing of dough's flavors.
Now we made it to the next day's afternoon. You need to get out of the refrigerator at least 2-3 hours prior to shaping it. This will temperate it and get it ready for baking.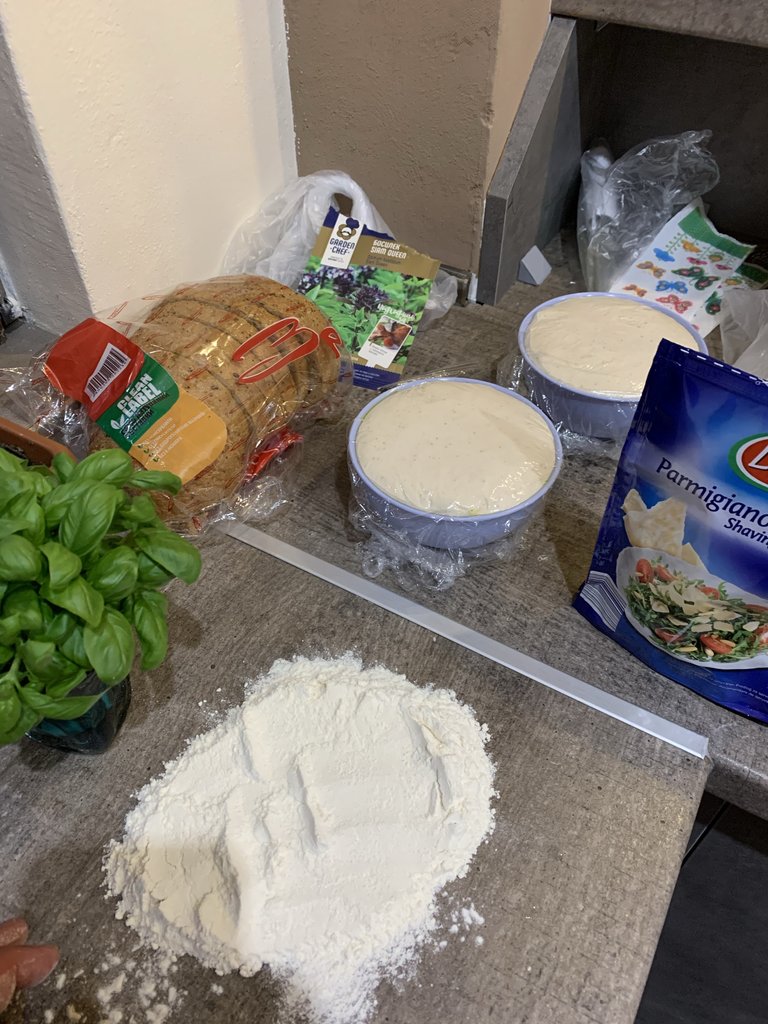 Now the dough has really gained size as you can see. It's ready for the oven. Use some flour on both sides of the dough. And then when shaping it, the excess will fall away. Make sure to leave the board not pressed and fluffy. Don't try to take the air out of it. This way it will become fluffy and crunchy on the outside while being soft on the inside.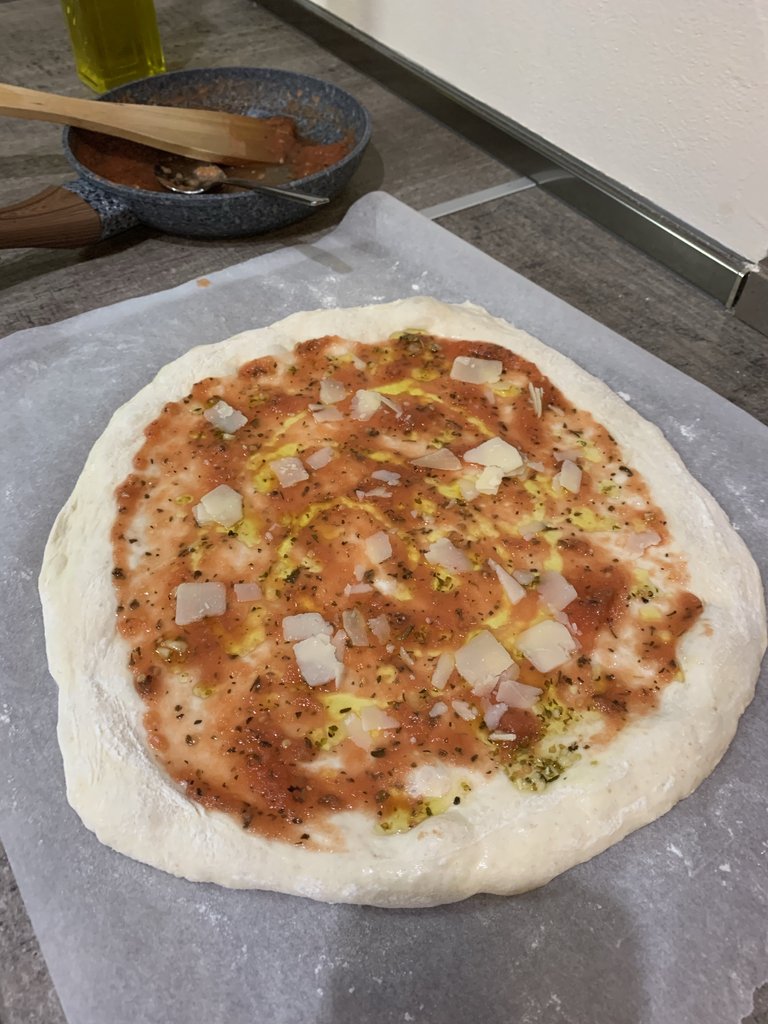 I tend to use fresh tomato paste lately. It makes the pizza taste fresher than with the addition of cooked paste. Add some garlic and Parmesan and the pizza is ready to go in the oven. It has to be preheated for at least 1,5-2 hours in order to make your pizza stone really hot. If you don't have a done I think this much time is not needed. Use the hottest temperature your oven can achieve. Traditional pizzas are baked in 500 degrees centigrade ovens!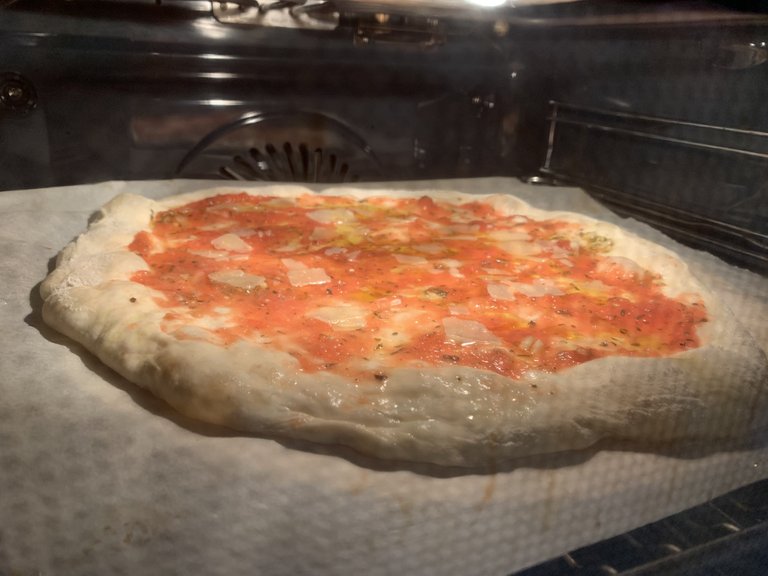 When the dough rises and starts to bake, add fresh mozzarella for a Margarita pizza. If you want another type, use other ingredients like sausage, mushrooms various cheeses. I add them later just to make sure they do not burn for the time pizza is baked.
Once your masterpiece is out of the oven, use some fresh basil on the top of it.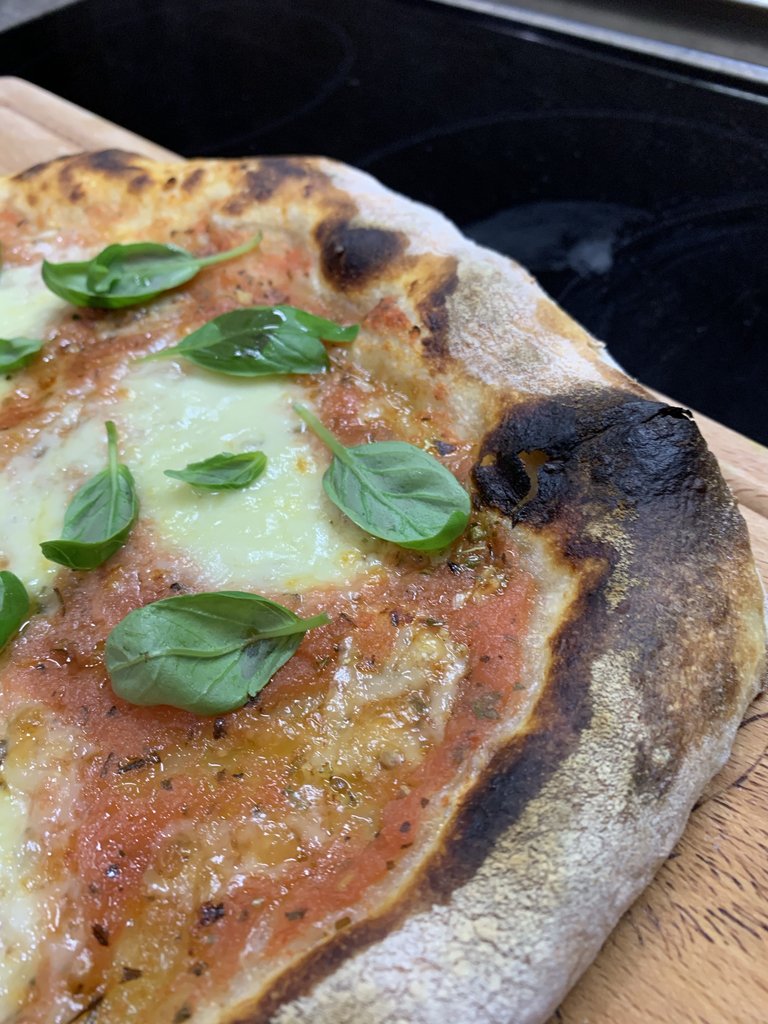 Here's an example with sausage and mushrooms: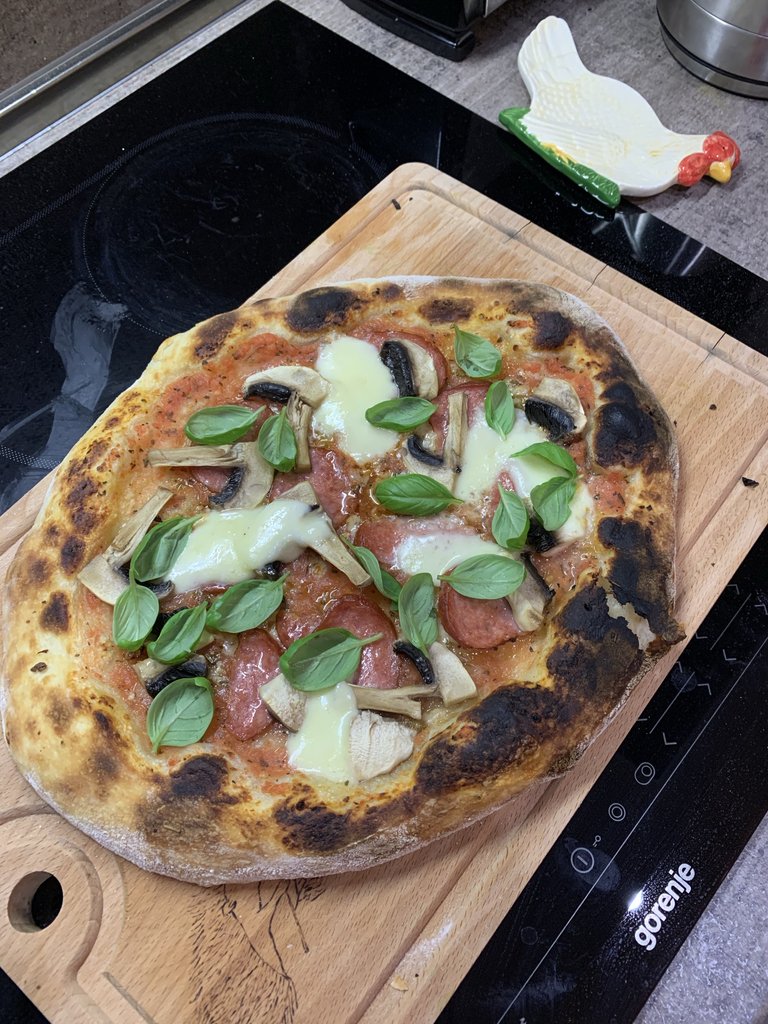 So this is my recipe. Please make sure you enjoy your bake. My recipe is a guiding one. You can alter any of the ingredients.
Bon appeti!