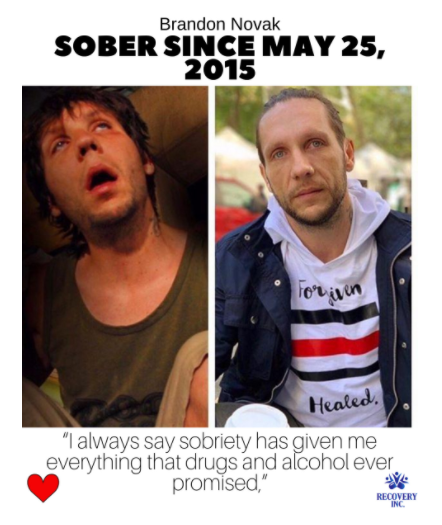 HUGE @recoveryinc shoutout to Brandon Novak and his sobriety!!!
Brandon Novak, professional skateboarder and MTV celebrity (Viva La Bam, Bams Unholy Union, Jackass) has struggled with alcoholism and drug abuse since he was a teenager.⁠
♠️⁠
From being a multi millionaire to ending up homeless on the streets of Baltimore, due to his heroin addiction. Now, with more than four years sober he is helping others in recovery.⁠
♥️⁠
"𝐈𝐟 𝐈 𝐜𝐚𝐧 𝐫𝐞𝐜𝐨𝐯𝐞𝐫, 𝐬𝐨 𝐜𝐚𝐧 𝐲𝐨𝐮. 𝐓𝐡𝐞 𝐝𝐢𝐬𝐞𝐚𝐬𝐞 𝐨𝐟 𝐚𝐝𝐝𝐢𝐜𝐭𝐢𝐨𝐧 𝐢𝐬 𝐧𝐨𝐭 𝐚 𝐝𝐞𝐚𝐭𝐡 𝐬𝐞𝐧𝐭𝐞𝐧𝐜𝐞. 𝐘𝐨𝐮𝐫 𝐡𝐢𝐬𝐭𝐨𝐫𝐲 𝐝𝐨𝐞𝐬 𝐧𝐨𝐭 𝐡𝐚𝐯𝐞 𝐝𝐢𝐜𝐭𝐚𝐭𝐞 𝐲𝐨𝐮𝐫 𝐟𝐮𝐭𝐮𝐫𝐞, 𝐚𝐧𝐝 𝐚𝐬 𝐥𝐨𝐧𝐠 𝐚𝐬 𝐲𝐨𝐮'𝐫𝐞 𝐛𝐫𝐞𝐚𝐭𝐡𝐢𝐧𝐠 𝐢𝐭'𝐬 𝐧𝐞𝐯𝐞𝐫 𝐭𝐨𝐨 𝐥𝐚𝐭𝐞."

Check out my Facebook or my Instagram

Hive Profile