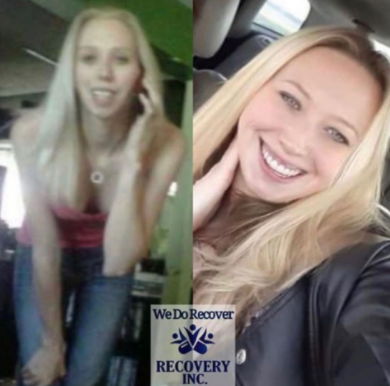 HUGE @recoveryinc shoutout to Ashley and her sobriety!!!
🌻Transformation Wednesday🌻
Hello I am 36 years old and my name is Ashley Nowell. I started using weed at age 13. I stopped when I got pregnant with my first child at 18. I was married to my husband and we used all kinds of drugs together. We had two beautiful kids together. ⁠
⁠
However, in 2006 he died from a coronary artery disease from using too many drugs in his life. He was only 26. ⁠
⁠
I was prescribed pain pills by the doctor for my back after having my son. I was taking them as prescribed by the doctor. By the next year I was taking 60 ten mg pills a day. It got to the point I was working just to pay bills and pay for my pills. ⁠
⁠
At this time my mom took me to a private doctor. They put me on Suboxone and I was able to stay off the hard stuff for 4 years. ⁠
⁠
In 2011 I was pregnant with my third child and I delivered her stillborn at 8 months. I had a friend bring meth to my house and told me it was better than pain pills so I tried it and loved it. I was taking pain pills and meth and when I couldn't find pain pills or meth I went to heroin a couple times. ⁠
⁠
But I loved it so much I knew I could never do it again. ⁠
⁠
Drugs made me make bad decisions and it had me pick the wrong guys. I had one guy beat me and then another one had me do things you wouldn't ask someone you love to do. ⁠
⁠
I hated the person I became. I hated looking in the mirror. ⁠
⁠
So on August 26th 2016 I took myself to a private doctor and got on methadone for a year then the next year I was on Suboxone. I tapered myself down until I was not taking anything.⁠
⁠
I am 4 years and 2 months clean off drugs. I am the happiest that I've been in years. I have all my family back in my life. I moved back home closer to my family. ⁠
⁠
I thank God everyday for my sober life. It's so amazing to wake up and not need to take a pill or a bowl to smoke to get out of bed. I pray for anyone who is addicted to drugs to become free from that Hell. ⁠
⁠
If I can do it so can you. God is good every day.

Check out my Facebook or my Instagram

Hive Profile