Update: there was a change since this was written. Now, you must reply to one of your own posts or comments.
Welcome to the official HBIT mine. Mining Hivebits here helps sustain the project.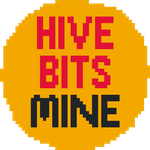 You can mine HBIT here by simply replying below with !hivebits or !HBIT or !hbit or $HBIT
You will receive 0.9 HBIT in your Hive-Engine wallet
The @hivebits.mine account will receive 0.1 HBIT
---
To mine HBIT, only two things are required:
A Hive account. (Need one? See below.)
You must comment on the Hive blockchain using one of the ! commands above, like !HBIT
A few rules:
One per day (more won't go through).
Don't reply to @hivebits (source account). Do reply to the official mine account: @hivebits.mine (just reply in comments below).
Include 3-or-fewer "!" commands in your reply. If more than three are included, HBIT (or LUV) will be skipped over.
Happy mining! :)
If you don't have a Hive account already, you can use my referral link at https://hiveonboard.com/dashboard?ref=crrdlx and I will support you as you start out. Or, go to the main Hive signup site at https://signup.hive.io and choose an option.
Note: this account is not monitored for notifications. If you have a question or problem...
...reach out to @crrdlx, contact info at bottom.
---
Q & A
Q: I want 100% of my mined HBIT! Can I do that?
A: That's fine, no problem! Just reply to one of your own posts or comments and you'll get 100%. Simple. You might consider setting up your own "my-hbit-mine" post specifically for mining HBIT in this way.
Q: So, why would I mine here and only get 90%?
A: Mining here helps support Hivebits (HBIT). There are real and continual costs involved to award HBIT and sustain it each day...
An initial 100 BEE cost to set up HBIT (about $60 USD at the time).
$5 USD every month for server fees to run the HBITbot.
There are costs in time spent daily to keeping things running.
So...mining here supports HBIT.
If you choose to mine here, thank you. :)
Contact
If you have any questions or comments, don't leave them here because they likely won't get seen.
This account is intended as a mining site only. To contact the admin, comment to @hivebits or better, respond to me personally, @crrdlx. For the best option yet, join the LUVshares/Hivebits Discord (best) or Telegram where there's live information or we can easily and quickly connect.
-@crrdlx
Info and contact: https://peakd.com/about/@crrdlx/about