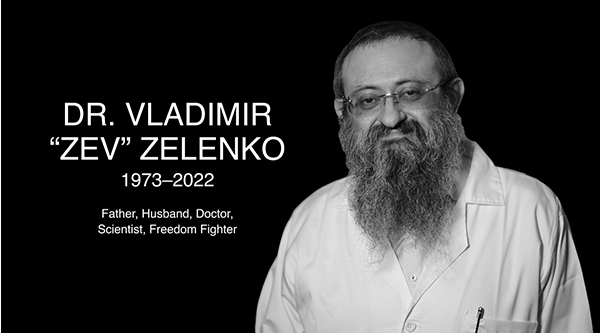 By Neenah Payne
On June 30, The Zelenko Labs emailed the following statement:
Boca Raton, Florida, June 30th 2022 - It is with immense sorrow that we announce the passing of Dr. Vladimir "Zev" Zelenko. Dr. Zelenko was a physician, scientist, and activist for medical rights who touched the lives of millions of people. Some were saved through his role as a doctor, and even more were inspired by his words. His "Zelenko Protocol" saved millions and earned him a Nobel Prize nomination and the admiration of a U.S. President, among other prominent world leaders.
Born in socialist slavery, and then immigrating to the United States, Dr. Zelenko was the embodiment of the American dream - the child of poor immigrants who rose to success as a physician and a businessman. But Dr. Zelenko was more than a physician. As an activist and a businessman, he was also a man of deep faith, incredible love for his family, and a tireless inspiration to the company. But, perhaps most of all, Zev was our friend.
The world knows the dynamic firebrand who never feared speaking truth to power or speaking up for issues he cared deeply about. Dr. Zelenko was a man of great, subtle humor and deep intellect. For every verbal jab he threw at the tired and incompetent establishment, a dozen more light-hearted laughs were spent with him and the team. Dr. Zelenko could laugh at himself as easily as others, and was always in great spirits, no matter the darkness that surrounded him - something that's easily overlooked in today's climate of hypersensitivity.
Some have already asked us what is next for Zelenko Labs. Though we have lost a leader, a friend, and an inspiration, the answer is simple: Keep Fighting.
This is not only what we think Dr. Zelenko would want, it is what he told us to do. And it is exactly what we will do. We will fight for his legacy. We will fight for the company that sustains his eight children and dozens of employees, and we will fight for you, our loyal customers and friends. Zelenko Labs will continue to deliver high-quality products, and we will protect Dr. Zelenko's legacy with the creation of the Z Freedom Foundation, which will support the causes that matter most to our beloved Zev.
Though Zev's chapters in the Book of Life have closed, his legacy is yet to be written. Join us and help write those next powerful and impactful chapters by helping us keep Zev's main mission of helping every single American live a healthier, happier, and more informed life, front and center. Help us keep that honorable vision a vibrant one in our hearts and woven into the very fabric of this great nation.
We look forward to standing shoulder to shoulder with you in the coming days. Stay tuned for more news from Zev's best and most powerful work.
- The Zelenko Labs Family
Learn about the Zelenko Freedom Foundation here.
Zev Zelenko Death, Noble Prize Winner Dr Zev Zelenko Is Dead
"Obituary: Zev Zelenko Cause Of Death - What Happened To Zev Zelenko? How Did Dr. Vladimir 'Zev' Zelenko Die? Earlier today, Dr. Vladimir 'Zev' Zelenko passed away. He has spent the last few months engaged in a protracted health battle."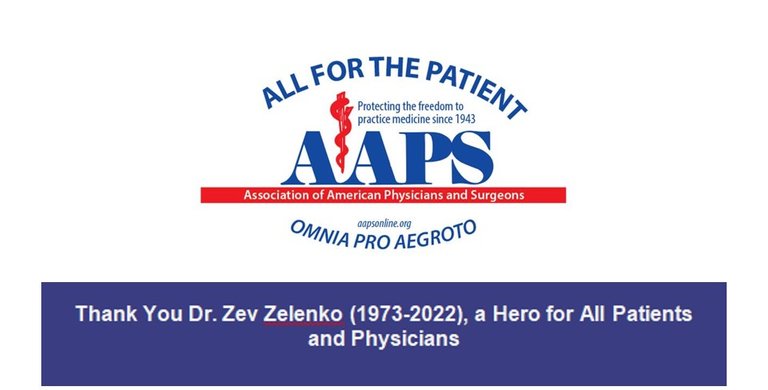 "AAPS mourns the passing away after a long illness of Dr. Vladimir 'Zev' Zelenko, who inspired physicians to save millions of lives by treating Covid-19 early with hydroxychloroquine. Dr. Zelenko's courageous stance in favor of patients and the ability of physicians to treat them will forever live on in his name.
As misguided public health authorities demanded that physicians not use hydroxychloroquine and other inexpensive medications for treating patients early for Covid-19, Dr. Zelenko did not waver in his dedication to patients. He generously shared his 'Zelenko Protocol' with all other physicians, thousands of whom used it to save the lives of millions of patients suffering from Covid-19.
Dr. Zelenko's leadership is timeless in how to treat Covid-19 patients, while not being intimidated by authorities who improperly interfered with use of his brilliant treatment protocol. Zev's shining example is what all physicians should aspire to be, and he will continue to be a model for the medical profession for generations to come.
Our gratitude and prayers go out to his family. Our work at AAPS with medical students will continue to urge that all reach for the immortal high standard set by Zev and seek to attain it as best we can.
Zev seemed like an angel sent to us, whom we could only obtain glimpses of how wonderful he really was and continues to be. He departs this world with our endless gratitude, and leaves our medical profession with a priceless legacy."
PHYSICIAN OF PRESIDENTS TAKES A BIG RISK BY TELLING ALL (video)
"Dr. Vladimir Zelenko and his team have successfully treated over 6,000 patients for COVID-19. He has trained hundreds of physicians who are now training their students, and as a cumulative group they've treated millions of patients successfully. Some of Dr. Vladimir Zelenko's high-profile patients include, President Trump, Rudy Giuliani, Rav Chaim Kanievsky, Mr. Litzman the Health Minister of Israel, and President Bolsonaro of Brazil. Dr. Vladimir Zelenko takes a big risk by telling all. He risks his very life for saying the things he is saying."
For more information about the power of Dr. Zelenko's courageous contributions to the world during the COVID era, see Thanks To Dr. Vladimir Zelenko.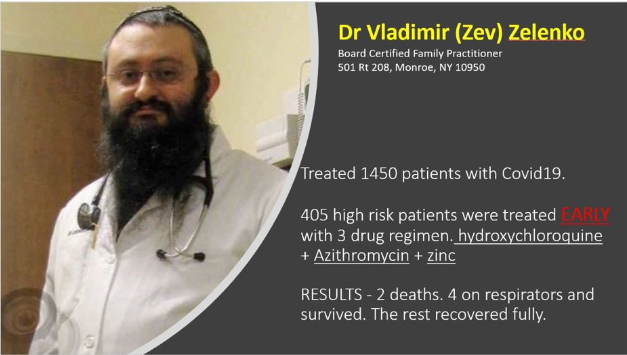 This is the statement from Mikki Willis, filmmaker of the Plandemic films.
"Of all the extraordinary humans I've had the honor of befriending through my work, Dr. Vladimir Zelenko, or "Zev" as we call him, shines like no other. He is a man of unshakable faith, love, compassion, integrity and courage. Zev was one of the first and loudest family physicians to speak out against the suppression of safe and effective medicines.
As a result, he saved countless lives worldwide, during a time when he was desperately fighting for his own. I had the honor of conducting several deep interviews with Zev, but it was his final interview that went the deepest. Knowing that his time was finite, he wanted to leave a message for his children and for all of us. May his words reawaken our gratitude for this gift we call life. In joy!"
Neenah Payne writes for Activist Post and Natural Blaze