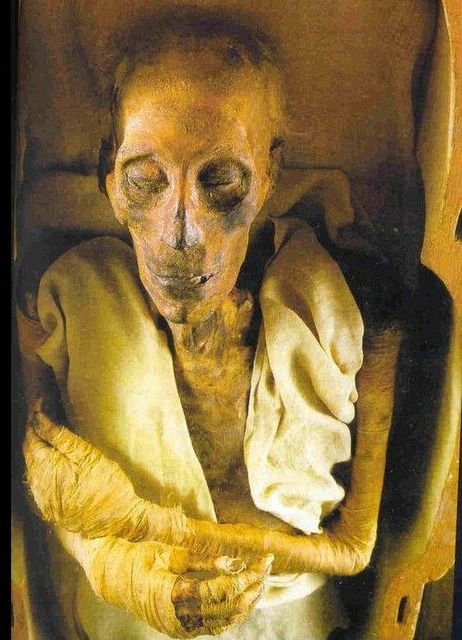 This is the Dead Body of Ramses II, The Egyptian King in the era of Prophet Moses (Peace be upon Him). Its age is approximately 3000 years old and it was found by the Red Sea in 1898 at the place called Jabalain, and is now on display in the Royal Mummies Chamber of the Egyptian Museum in Cairo.
The most amazing thing with this dead body is; it isn't a mummy. Scientists says that this dead body is amazingly preserved without any mummification, even all of the internal organs are not removed.
Photographs of mummies in egypt Even the mummies in the Egypt with so much of mummification process are not well preserved like the body of Pharoah.
Pharoah's body was inside the sea for more than 3000 years. Fish in the sea could have easily eaten the flesh, but they didn't.


SO WHAT IS THE SECRET OF SUCH GOOD PRESERVATION OF THIS BODY ?
The answer is in the following verse of the Quran where God says
"Today We will preserve (save) your body so you can be a Sign for people who come after you. Surely many people are heedless of Our Signs." "AL-QURAN 10:92".

WHAT DID HE DO ? WHY HIS BODY IS BEING PRESERVED BY GOD ?
HISTORY OF Pharoah
Firon was the famous and very cruel king of Egypt,
He declared that he was God,
He tortured the people who didn't worship Him,
God sent Prophet Moses (Messenger of God) to save the people from oppression and cruelty and to warn people to turn to the True Path (True God)
Pharoah and his people thought that Prophet Moses aim is to seize power by changing the traditional religion of Egypt.
Pharoah attained a great benefit from the traditional religion of Egypt, If that religion were to change, Pharoah will loose all his power.
Pharoah denied the existence of God.
So God sent various disasters to those people yet he didn't turn towards God and still he use to say that he is the God.
So God made him to drown in the Red sea and God preserve his body over 3000 years without any mummification process.
It was just recently in 1898 C.E that the body of Pharoah was discovered. It was only after the discovery of Pharoah body people including many scientists came to know that it is the same Pharoah body that the Holy Quran Talks about in great detail.

We brought the tribe of Israel across the sea, and Pharaoh and his troops pursued them out of tyranny and enmity. Then, when he was on the point of drowning, he [Pharaoh] said: "I believe that there is no god but Him in Whom the tribe of Israel believes. I am one of the Muslims(The one who believes in one God and his Messengers )." (Qur'an, 10:90)
The true story of pharoah is mentioned in the Holy Quran in Great detail.
May Almighty God Reward you with good.
@mohammad32