The Heiligenstadt Testament. According to the motto "Beethoven belongs to all", Vienna is celebrating for one year the 250th birthday of the great German composer Ludwig van Beethoven, who lived in Vienna for 35 years.
Heiligenstädter Testament"Beethoven gehört allen", unter diesem Motto feiert Wien ein Jahr lang den 250. Geburtstag des großen deutschen Komponisten Ludwig van Beethoven, der 35 Jahre seines Lebens in Wien verbrachte.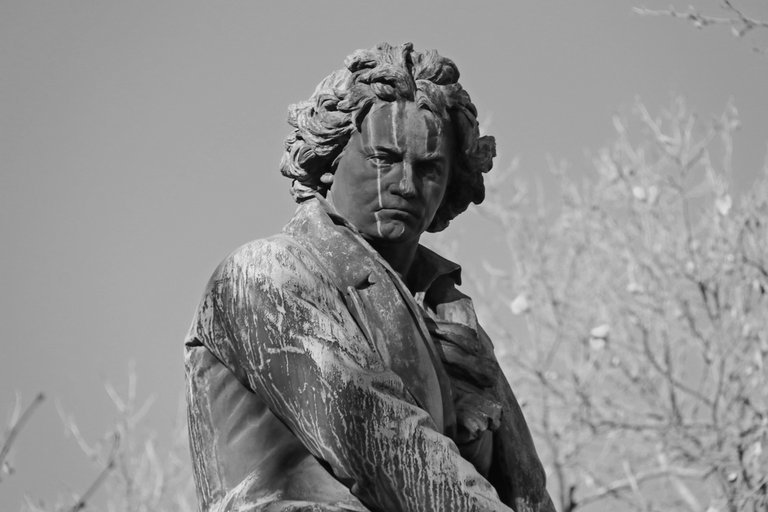 Numerous concerts and events, in which the life and work of the musician was to be presented in all its facets, have had to be cancelled or postponed due to the Corona crisis. The current dates are shown in
this overview
. Among them are musical tributes at the Musikverein, the Vienna Konzerthaus or the Vienna State Opera. Two major exhibitions should be mentioned at this point: "Beethoven - Menschenwelt und Götterfunken" in the National Library and "Beethoven bewegt" in the Kunsthistorisches Museum.
Zahlreiche Konzerte und Veranstaltungen, in denen Leben und Werk des Musikers in allen Facetten durchleuchtet werden sollte, mussten aufgrund der Corona-Krise abgesagt oder verschoben werden. Die aktuellen Termine zeigt
diese Übersicht
. Darunter finden sich musikalische Würdigungen im Musikverein, im Wiener Konzerthaus oder in der Wiener Staatsoper. Zwei große Ausstellungen seien an dieser Stelle erwähnt: "Beethoven - Menschenwelt und Götterfunken" in der Nationalbibliothek und "Beethoven bewegt" im Kunsthistorischen Museum.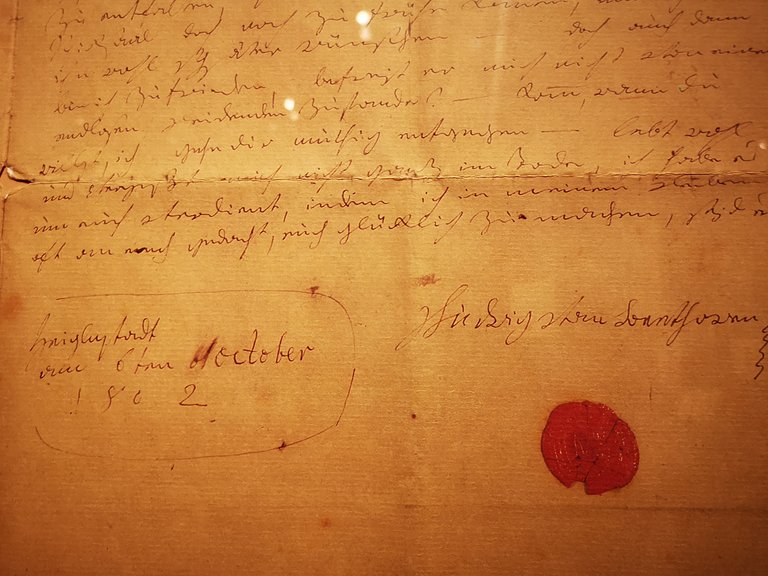 Heiligenstädter Testament, Faksimile (Haus der Musik, Wien)
This article deals with a depressive phase in the life of the musician, during which he wrote the so-called "Heiligenstadt Testament", impelled by the despair over his progressive loss of hearing. Already in his late twenties, Beethoven suffered from a hearing loss that worsened over the years and finally led to almost complete deafness.
Dieser Beitrag beleuchtet eine depressive Phase im Leben des Künstlers, in der er, angetrieben von der Verzweiflung über seinen fortschreitenden Gehörverlust, das sogenannte "Heiligenstädter Testament" verfasste. Bereits in seinen End-Zwanzigern litt Beethoven an einem Gehörleiden, das sich im Laufe der Jahre verschlechterte und schließlich nahezu zur völligen Taubheit führte.

Beethoven writing / Schriftzug (Haus der Musik, Wien)
The
Haus der Musik
in Vienna dedicates a separate area to the composer, in which his hearing-disorders is also addressed.
Das
Haus der Musik
in Wien widmet dem Komponisten einen eigenen Bereich, in dem auch sein Hörleiden thematisiert wird.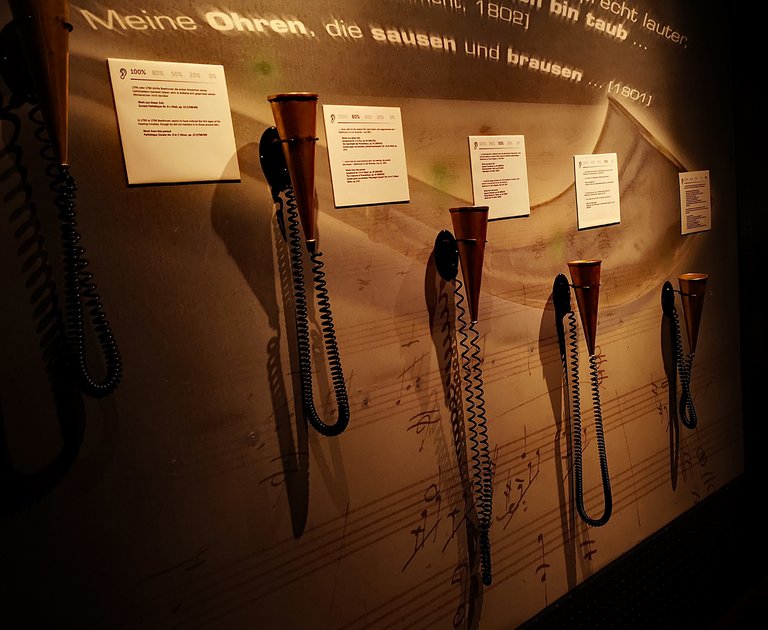 Haus der Musik, Wien
In June 1801, in a confidential
letter
to his Bonn friend Franz Gerhard Wegeler, Beethoven reported for the first time on his hearing loss:
"... only the envious demon, my bad health, has thrown a bad stone into my life: my hearing has been getting weaker and weaker for 3 years now [...] only my ears, which rush and roar day and night away; I can say, I spend my life miserably...."
At first Beethoven used ear trumpets, later he communicated with his environment via
conversation books
.
Im Juni 1801 berichtete Beethoven in einem vertraulichen
Brief
an seinen Bonner Freund Franz Gerhard Wegeler erstmals über seinen Hörverlust:
"... nur hat der neidische Dämon, meine schlimme Gesundheit, mir einen schlechten Stein ins Brett geworfen nemlich: mein Gehör ist seit 3 Jahren immer schwächer geworden [...] ... nur meine ohren, die sausen und Brausen tag und Nacht fort; ich kann sagen, ich bringe mein Leben elend zu...
" Zunächst behalf sich Beethoven mit Hörrohren, später kommunizierte er mit seiner Umwelt über
Konversationshefte
.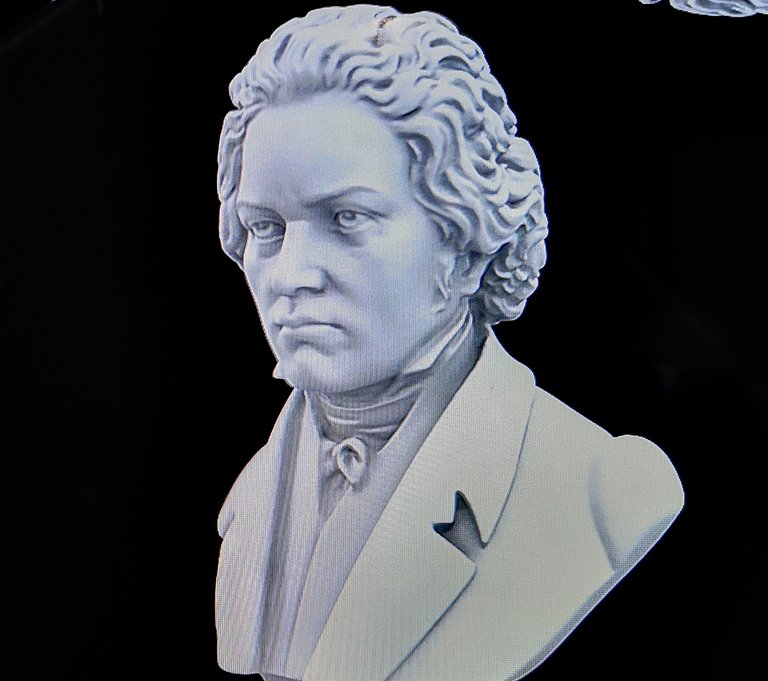 Beethoven hologram / Hologramm (Haus der Musik, Wien)
From May to October 1802, Beethoven frequented the mineral spring of the bathing establishment in Heiligenstadt near Vienna. He hoped that the cure would alleviate his gastric complaints and improve his hearing problems. But the success did not come about. The depression over progressive hearing loss reached a first nadir in the summer of 1802.
Von Mai bis Oktober 1802 suchte Beethoven die mineralhaltige Quelle der Badeanstalt in Heiligenstadt bei Wien auf. Er erhoffte sich von der Kur eine Linderung seiner Gastritis-Beschwerden sowie eine Besserung seiner Hörprobleme. Die erhofften Erfolge bleiben jedoch aus. Die Depression über den fortschreitenden Gehörverlust erreichte im Sommer 1802 einen ersten Tiefpunkt.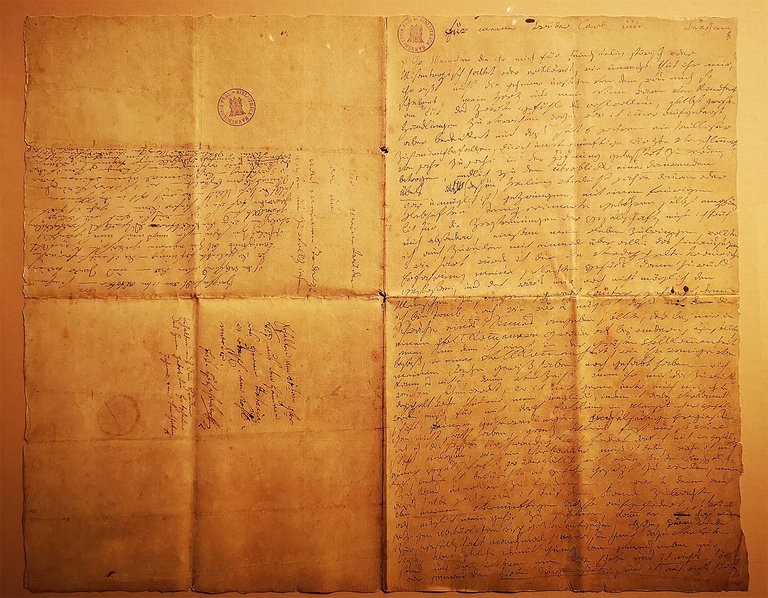 Heiligenstädter Testament, Faksimile (Haus der Musik, Wien)
On October 6 and 10, 1802, at the age of 32 years, Beethoven wrote his last will that is addressed to his two brothers. However, it is less a testamentary disposition in the legal sense. It is rather the expression of a deep life crisis. Passionate and pathetic in expression, he justifies his often brusque behavior towards his fellow men with the beginning of deafness, which he had kept secret from the public until then.
Am 6. und 10. Oktober 1802, im Alter von 32 Jahren, verfasste Beethoven sein Testament, das an seine beiden Brüder gerichtet ist. Es handelt sich dabei jedoch weniger um eine letztwillige Verfügung im juristischen Sinn. Es ist vielmehr Ausdruck einer tiefen Lebenskrise. Leidenschaftlich und pathetisch im Ausdruck rechtfertigt er sein oftmals schroffes Verhalten gegenüber seinen Mitmenschen mit der beginnenden Ertaubung, die er bis zu diesem Zeitpunkt vor der Öffentlichkeit geheim gehalten hatte.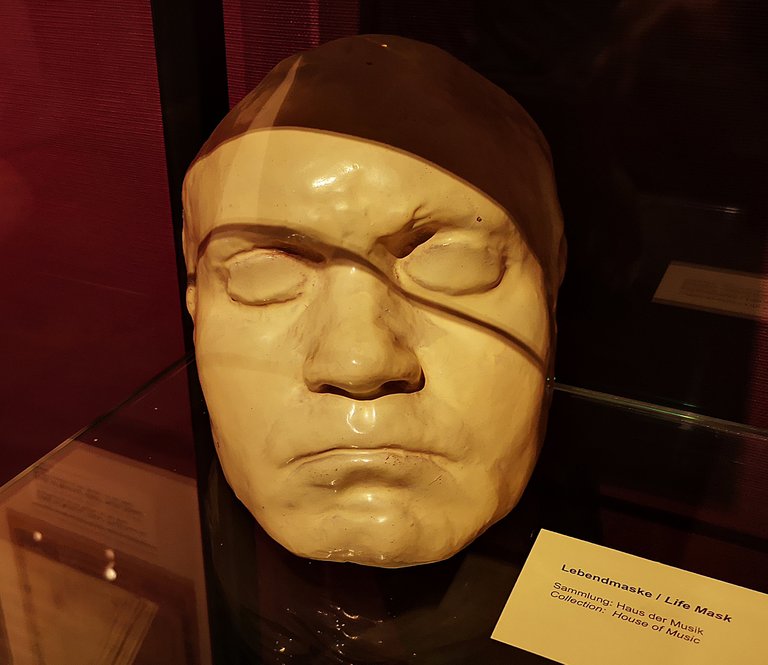 Life Mask / Lebendmaske (Haus der Musik, Wien)
"O you men who think or say that I am malevolent, stubborn or misanthropic, how greatly do you wrong me, you do not know the secret causes of my seeming [...] ... O how harshly was I repulsed by the doubly sad experience of my bad hearing, and yet it was impossible for me to say to men speak louder, shout, for I am deaf. "
. The full text can be read
here
. An audio version in German is available via this
link.
"O ihr Menschen die ihr mich für Feindseelig störisch oder Misantropisch haltet oder erkläret, wie unrecht thut ihr mir, ihr wißt nicht die geheime ursache von dem, was euch so scheinet [...] ... O wie hart wurde ich durch die verdoppelte traurige Erfahrung meines schlechten Gehör's dann zurückgestoßen, und doch war's mir noch nicht möglich den Menschen zu sagen: sprecht lauter, schreyt, denn ich bin Taub ..."
Der volle Wortlaut kann
hier
nachgelesen werden. Eine Hörversion ist über diesen
Link
abrufbar.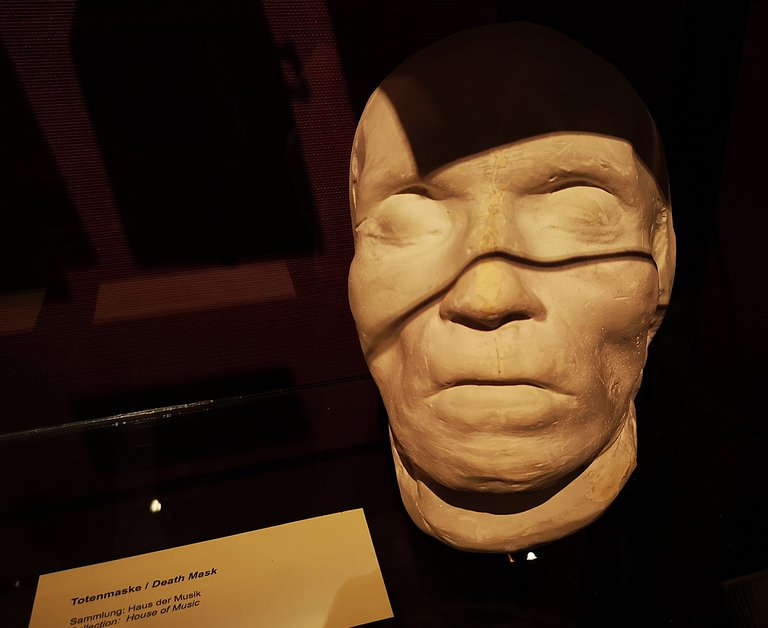 Death Mask / Totenmaske (Haus der Musik, Wien)
The sealed document was only found after Beethoven's death in March 1827 and has been kept in the Hamburg State and University Library since 1888.
Das versiegelte Dokument wurde erst nach dem Tod Beethovens im März 1827 gefunden. Das originale Schriftstück befindet sich seit 1888 in der Staats- und Universitätsbibliothek Hamburg.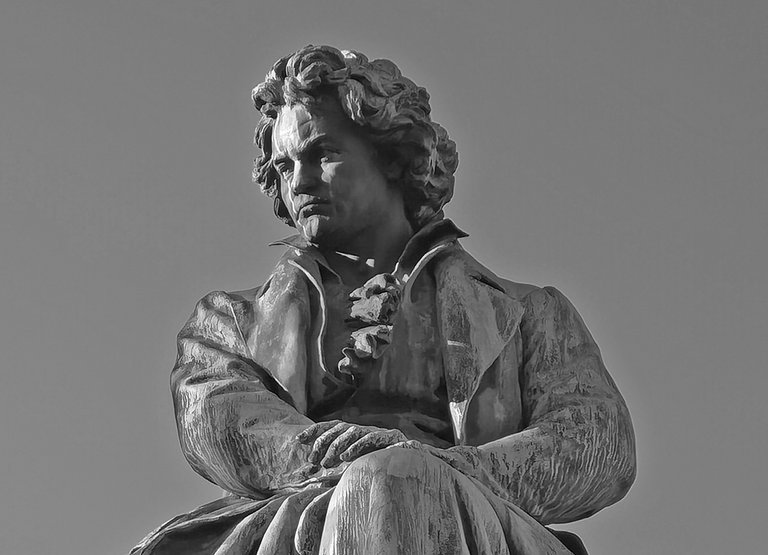 After the writing of the will a turning point has come. After Beethoven had written all the tortures from his soul and perhaps also had definitively given up hope of a cure, a new, creative period of work began.
Nach der Niederschrift des Testaments setzte eine Wende ein. Nachdem sich Beethoven alle Qualen von der Seele geschrieben und vielleicht auch die Hoffnung auf eine Heilung endgültig aufgegeben hatte, begann eine neue, kreative Schaffensperiode.