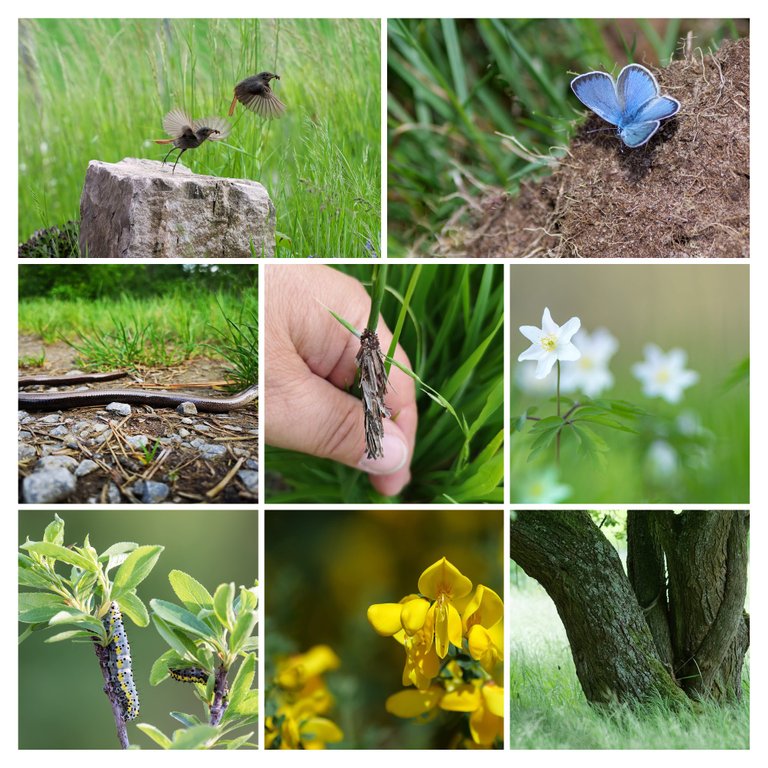 Für mich ist der Frühling die beste Jahreszeit. Alles frisch, Pflanzen und Insekten füllen die Natur mit Leben. Die Farben sind betörend und das frische Grün der Wiesen und Bäume ist ein Feuerwerk für die Augen. Motive finde ich nun in Hülle und Fülle. Wenn ich voller Neugierde durch die Natur streife, habe ich oft kein Zeitgefühl und lasse mich einfach treiben. Wenn ich müde von meiner Tour nach Hause komme, überkommt mich ein Gefühl von tiefer Zufriedenheit.
For me, spring is the best season. Everything fresh, plants and insects fill nature with life. The colors are beguiling and the fresh green of the meadows and trees is a firework for the eyes. I find motifs now in abundance. When I roam through nature full of curiosity, I often have no sense of time and just let myself drift. When I come home tired from my tour, a feeling of deep satisfaction overcomes me.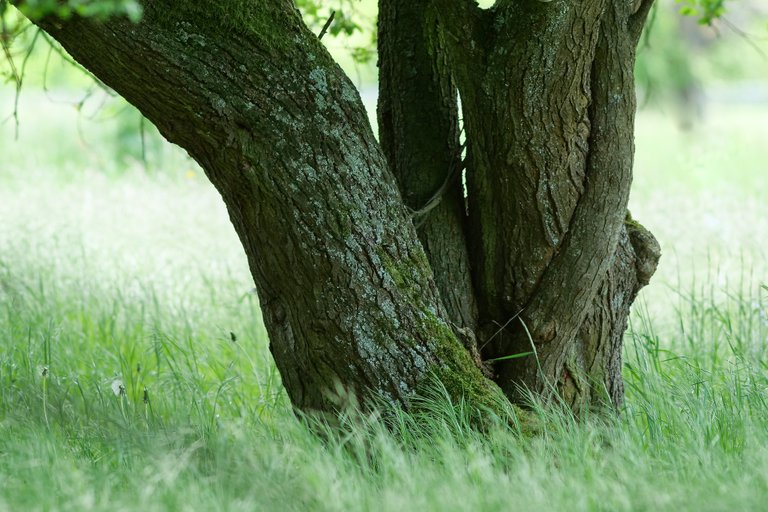 ▲ Click on the image for full resolution ▲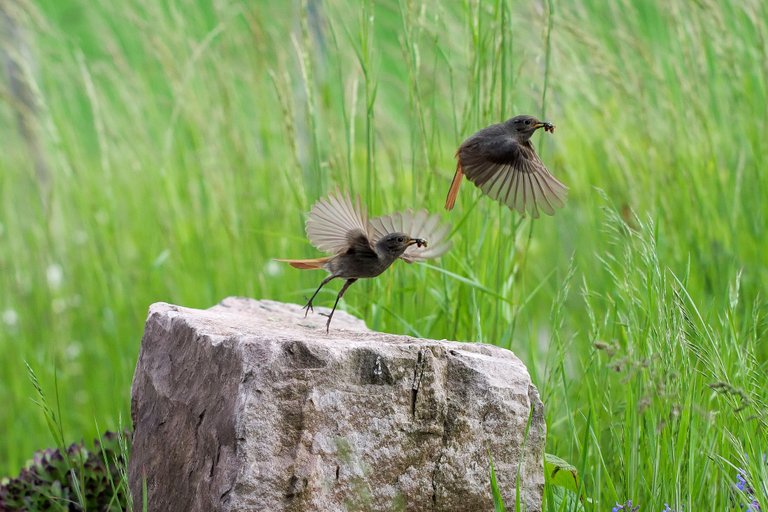 ▲ Click on the image for full resolution ▲
🦃 Hausrotschwanz ■ Black redstart
Phoenicurus ochruros
Wir hatten es uns nach einer Tour gemütlich gemacht, um unseren Hunger zu stillen. Ein Hausrotschwanz flog aufgeregt um uns herum. Über uns zwitscherte es und somit war klar, wir hatten es uns direkt unter einem Vogelnest gemütlich gemacht.
We had made ourselves comfortable after a tour to satisfy our hunger. A redstart flew excitedly around us. Above us it chirped and thus it was clear, we had made ourselves comfortable directly under a bird's nest.
〰️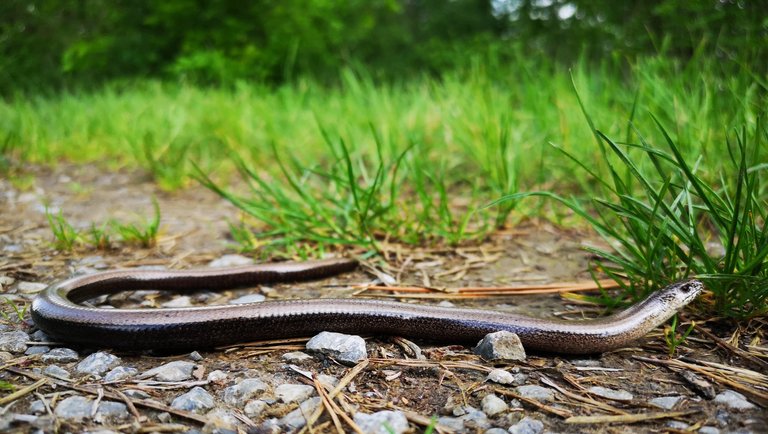 ▲ Click on the image for full resolution ▲
🐍 Blindschleiche ■ Blindworm
Anguis fragilis
Auf einer Wanderung gibt es immer etwas zu entdecken. Eine Blindschleiche kreuzte meinen Weg und so ist diese Aufnahme mit meinem Smartphone entstanden. Es musste schnell gehen, denn die kleine Eidechse suchte Schutz im nahen Gras.
On a hike there is always something to discover. A slow worm crossed my path and so this shot was taken with my smartphone. It had to go quickly, because the little lizard sought shelter in the nearby grass.
〰️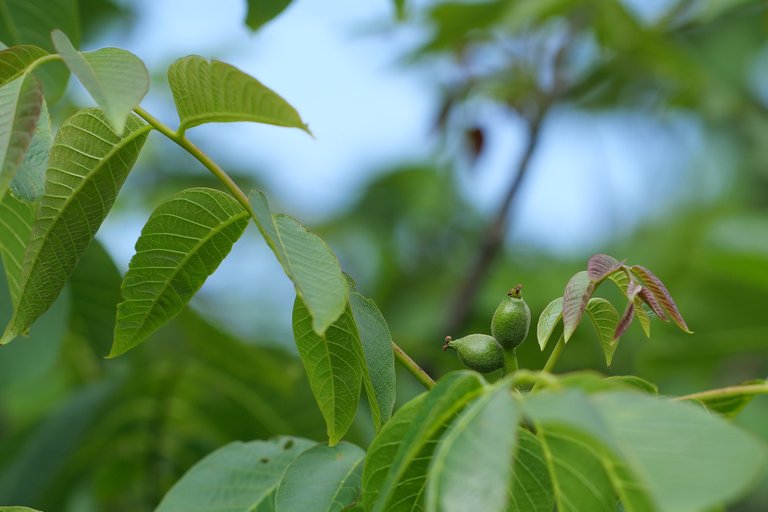 ▲ Click on the image for full resolution ▲
🌰 Walnuss ■ Walnut
Die Walnuss ist meine Lieblingsnuss und darf bei meinem täglichen Frühstück nicht fehlen. Aber auch die frischen Blätter verströmen einen fantastischen Duft, wenn man sie in der Hand zerreibt. Ein Baum, der mehrere Sinne betört.
The walnut is my favorite nut and must not be missing from my daily breakfast. But also the fresh leaves give off a fantastic scent when you grind them in your hand. A tree that beguiles several senses.
〰️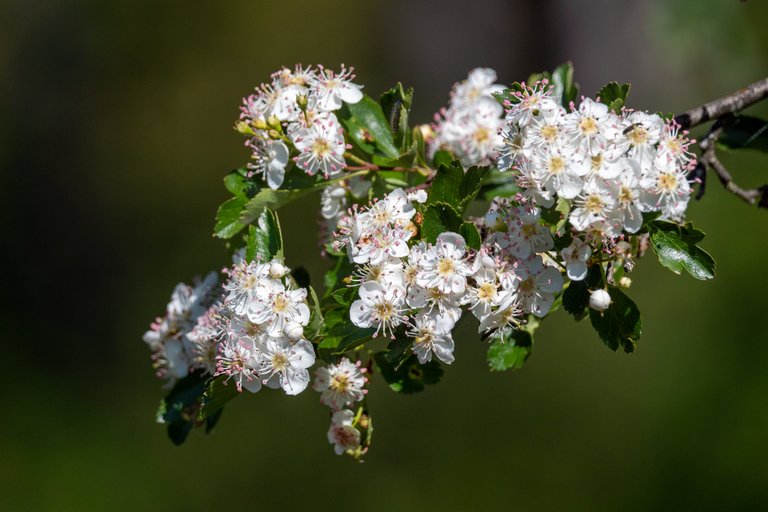 [
▲ Click on the image for full resolution ▲
🌼Eingriffeliger Weißdorn ■ Common hawthorn
Crataegus monogyna
Der Weißdorn ist eine Augenweide und zieht unzählige Insekten an. Auf den Blüten finde ich immer ein geeignetes Makromotiv.
The hawthorn is a feast for the eyes and attracts countless insects. On the flowers I always find a suitable macro subject.
〰️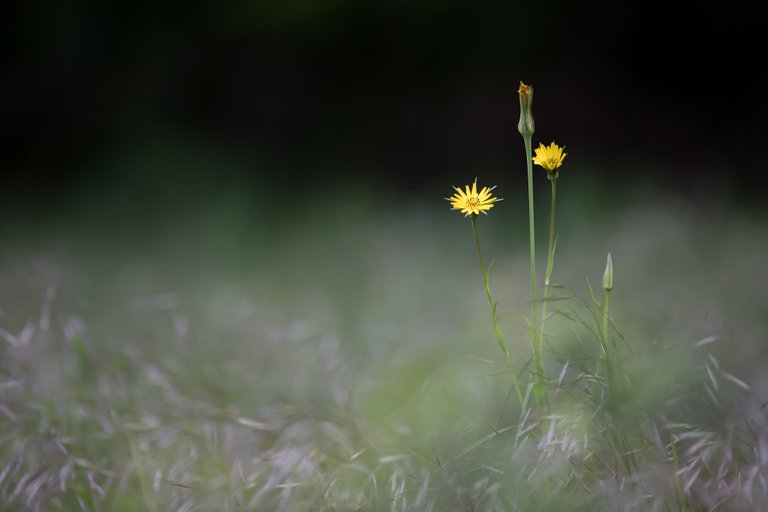 ▲ Click on the image for full resolution ▲
🌻 Wiesen-Bocksbart ■ Meadow salsify
Tragopogon pratensis
Der Wiesenbocksbart ragt über das Gras und setzt mit seiner gelben Blüte einen Akzent zwischen dem frischen Grün der umliegenden Gräser.
The meadow salsify towers above the grass and its yellow flower accents the fresh green of the surrounding grasses.
〰️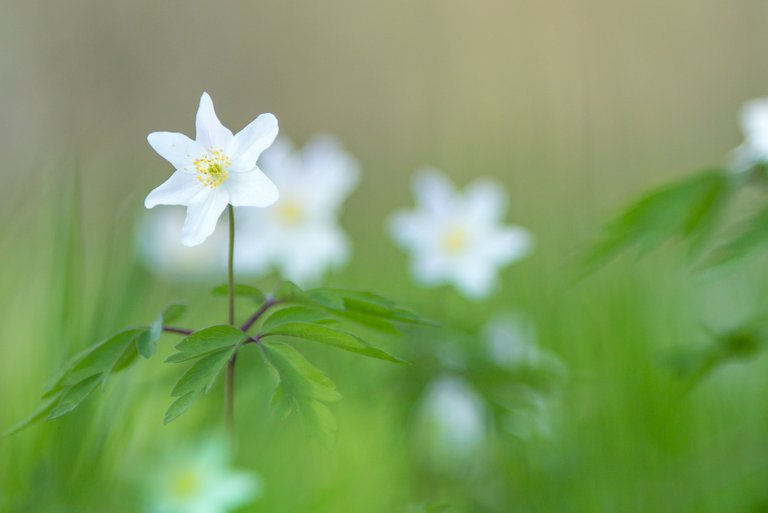 ▲ Click on the image for full resolution ▲
🌼 Buschwindröschen ■ Wood anemone
Anemone nemorosa
Zu den Frühblühern zählen die Buschwindröschen. Sie blühen, bevor das Blätterdach der Laubwälder geschlossen ist. Mit dem schwindenden Licht am Waldboden ist auch die Blüte der Buschwindröschen vorbei.
Among the early bloomers are the wood anemones. They bloom before the canopy of deciduous forests is closed. With the dwindling light on the forest floor, the blooming of wood anemones is also over.
〰️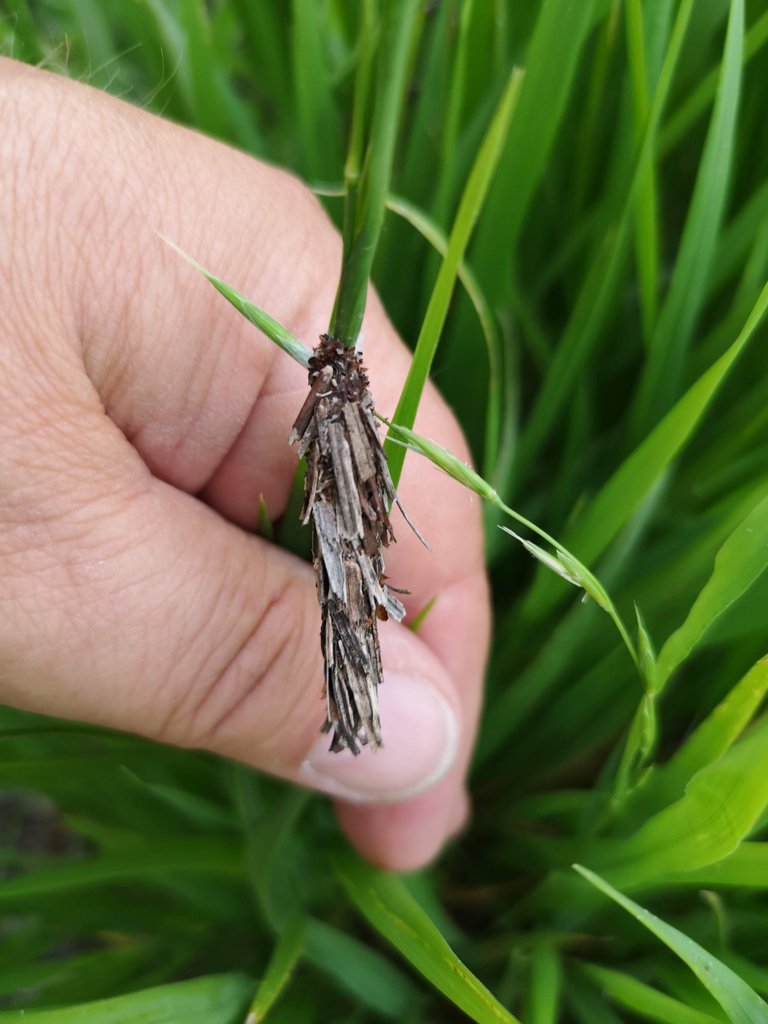 ▲ Click on the image for full resolution ▲
🦋 Große Rauch-Sackträger
Psyche crassiorella (Bruand, 1851)
Ein großer Rauchsackträger hat seine Behausung an einen Grashalm geheftet. Eigentlich ganz unscheinbar. Im Inneren befindet sich jedoch ein Nachtfalter aus der Familie der Sackträger.
A Psyche crassiorella moth has attached its dwelling to a blade of grass. Actually quite inconspicuous. Inside, however, is a moth from the Psychidae family.
〰️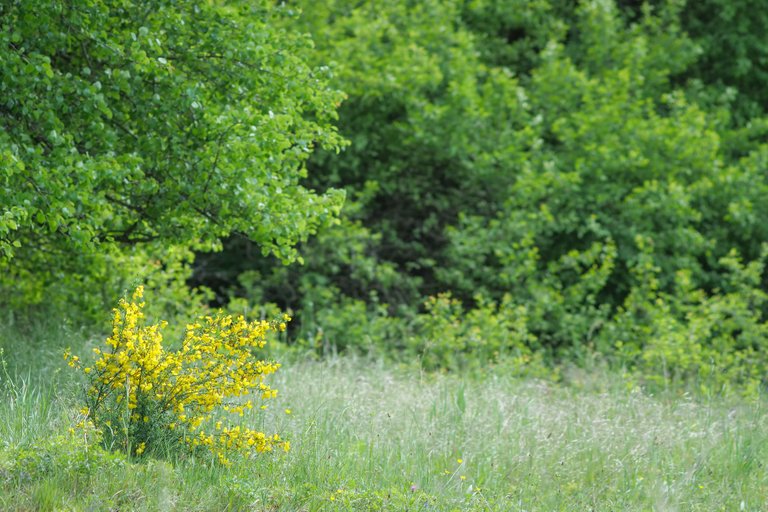 ▲ Click on the image for full resolution ▲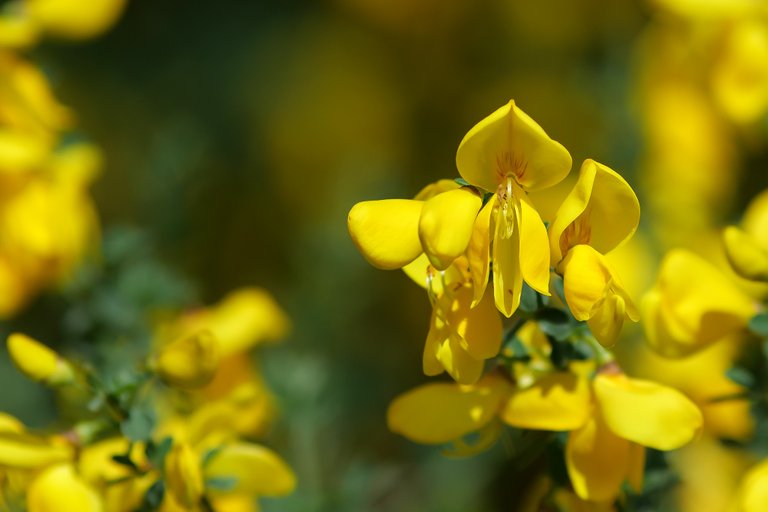 ▲ Click on the image for full resolution ▲
💐Besenginster ■ Common broom
Cytisus scoparius
Ein echter Hingucker ist der Besenginster Cytisus scoparius). Mit seinem leuchtenden Gelb hebt er sich deutlich vom satten Grün der der Blätter und dem Grün der Wiese ab.
_A real eye-catcher is the broom (Cytisus scoparius). With its bright yellow, it stands out clearly against the rich green of the leaves and the green of the meadow.
〰️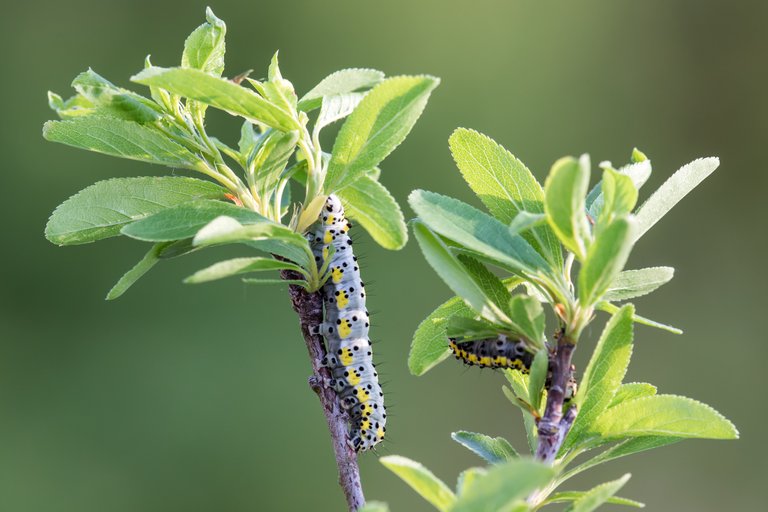 ▲ Click on the image for full resolution ▲
🐛 Blaukopf ■ Figure of eight
Diloba caeruleocephala (Linnaeus, 1758)
Am Schlehenbusch und der Felsenkirsche kann man die Raupe des Blaukopf finden. Über diesen zauberhaften Nachtfalter hatte ich schon einmal einen Bericht veröffentlicht.
On sloe bush (Prunus spinosa) and mahaleb cherry (Prunus mahaleb) you can find the caterpillar of the blue head. I had already published a report about this enchanting moth.
〰️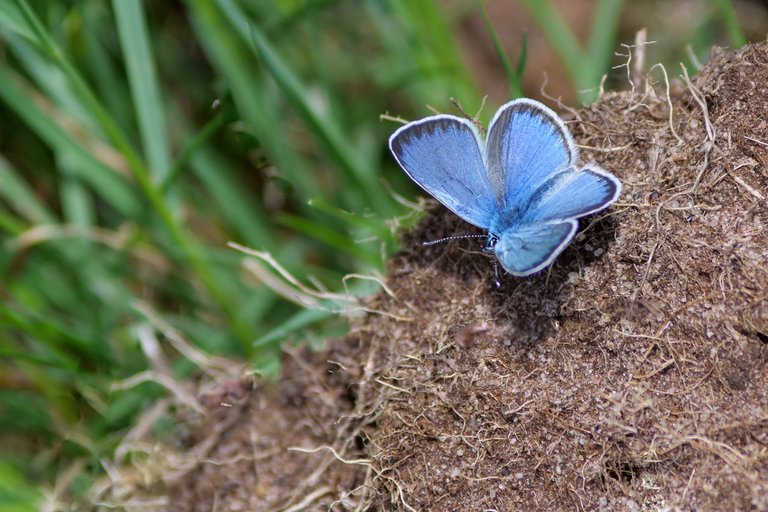 ▲ Click on the image for full resolution ▲
🦋 Alexis-Bläuling ■ Green-underside blue
Glaucopsyche alexis (Poda, 1761)
Dieser kleine Tagfalter genießt die Sonne und deckt seinen Bedarf an Mineralien am Boden. Sein leuchtendes Blau verrät, dass es sich um einen männlichen Falter handelt.
This small butterfly enjoys the sun and covers its need for minerals on the ground. Its bright blue color reveals that it is a male butterfly.
〰️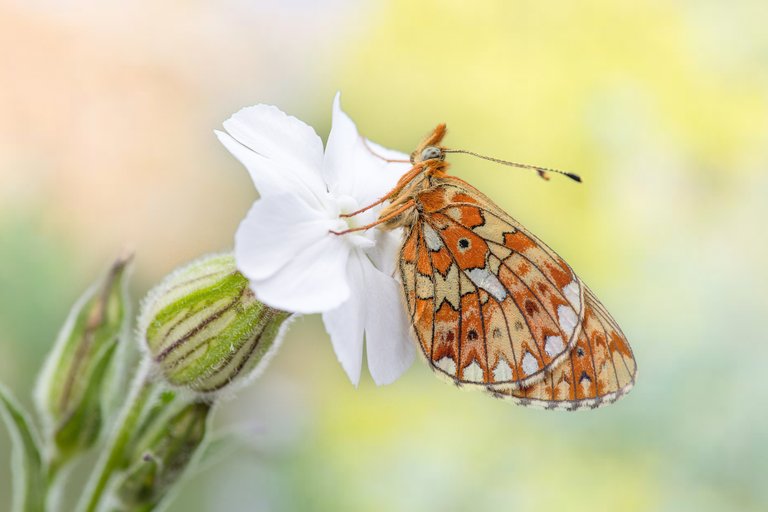 ▲ Click on the image for full resolution ▲
🦋 Silberfleck-Perlmutterfalter ■ Pearl-bordered fritillary 🐛
Boloria euphrosyne
Der Silberfleck-Perlmutterfalter ist auch ein Kind des Frühlings. Er saugt bevorzugt an kriechendem Günsel (Ajuga reptans). Die Raupe ist nicht so wählerisch und nutzt viele Pflanzen als Nahrungsquelle, an der sie sogar überwintert.
The Pearl-bordered fritillary is also a child of spring. It prefers to suck on blue bugle (Ajuga reptans). The caterpillar is not so picky and uses many plants as a food source, on which it even hibernates.
〰️
| | |
| --- | --- |
| Category: | Macro |
| Camera: | Canon 5D Mark IV - Canon EOS 60D - Panasonic Lumix DC-G9 |
| Lens: | Canon EF 200 mm 1:2.8L USM - Olympus M.Zuiko Digital ED 60mm 1: 2.8 Macro |
| Location: | Germany, Bavaria, Lower Franconia, Spessart |
〰️
Wenn dir mein Beitrag gefällt, freue ich mich über deine Nachricht.
Herzlichen Dank und viele Grüße vom @faltermann 🐛
If you like my contribution, I am looking forward to your message.
Many thanks and greetings from Germany 🦋
🔴 PeakD (Best user interface for the decentralized Hive Blockchain)🔴
🔴 [DE] HIVE FAQ German Community 🔴