Rotrandbär ■ Clouded buff
Diacrisia sannio (Linnaeus, 1758)
Der Rotrandbär ist ein Nachtfalter aus der Familie der Bärenspinner (Arctiinae). Der Falter fliegt in Waldnähe auf Wiesen oder auch auf Waldlichtungen. Beobachten kann man ihn von Mai bis August in zwei Generationen. Der Falter ist Tag- und nachtaktiv. Gut sind bei meinem folgenden Bild die gekämmten Fühler des Männchens zu erkennen.
The Clouded buff is a moth from the family Arctiinae. The moth flies near forests in meadows or even in forest clearings. It can be observed from May to August in two generations. The moth is day and night active. The combed feelers of the male are well visible in my following picture.
♂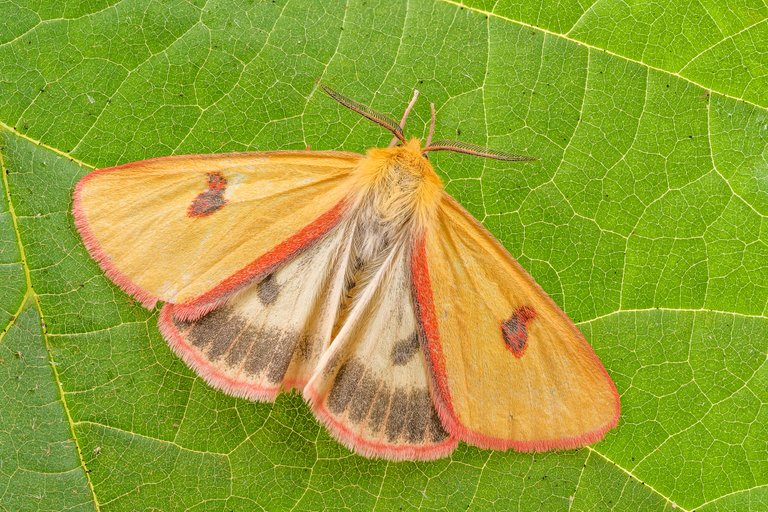 ▲ Click on the image for full resolution ▲
Das Weibchen legt seine Eier an an verschiedenen Pflanzen ab. In der Fachliteratur werden Labkraut (Galium spec.), Wegerich (Plantago spec.), Löwenzahn (Taraxacum sect. Ruderalia), Brennnessel (Urtica spec.) und Weidenröschen (Epilobium spec.) als Futterpflanze der Raupe genannt. Die Raupe überwintert in der Vegetation und verpuppt sich im Frühling.
The female lays her eggs on different plants. In the specialized literature, bedstraw (Galium spec.), plantain (Plantago spec.), dandelion (Taraxacum sect. Ruderalia), nettle (Urtica spec.) and willowherb (Epilobium spec.) are mentioned as forage plants for the caterpillar. The caterpillar hibernates in the vegetation and pupates in spring.
♀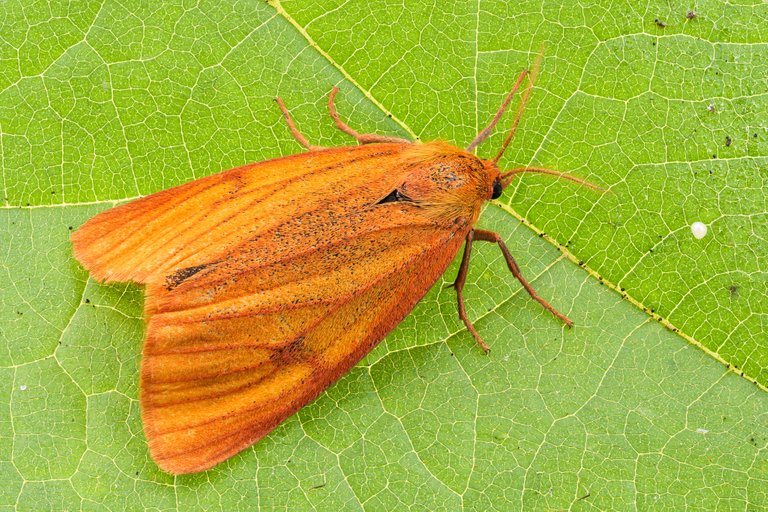 ▲ Click on the image for full resolution ▲
Obwohl die Bestände zurück gehen, kann ich den Falter noch regelmäßig beobachten. Er ist auch ein regelmäßiger Gast an künstlichen Lichtquellen. Leider steht er auch schon auf der Vorwarnstufe der gefährdetet Arten in Deutschland.
Although the population is decreasing, I can still observe the butterfly regularly. It is also a regular guest at artificial light sources. Unfortunately it is already on the early warning level of endangered species in Germany.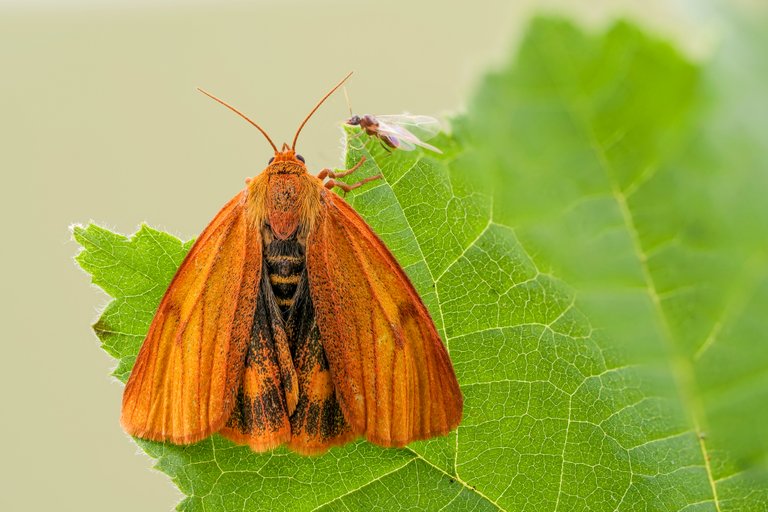 ▲ Click on the image for full resolution ▲
〰️
Literatur:
Günter Ebert: Die Schmetterlinge Baden Württembergs Band 5,
Nachtfalter III. Ulmer Verlag Stuttgart 1997
Manfred Koch: Schmetterlinge, 3. Auflage 1991

〰️
| | |
| --- | --- |
| Category: | Macro |
| Camera: | Panasonic Lumix DC-G9 |
| Lens: | Olympus M.Zuiko Digital ED 60mm 1: 2.8 Macro |
| Location: | Germany, Bavaria, Lower Franconia, Kreuzwertheim |
〰️
Wenn dir mein Beitrag gefällt, freue ich mich über deine Nachricht.
Herzlichen Dank und viele Grüße vom @faltermann 🐛
If you like my contribution, I am looking forward to your message.
Many thanks and greetings from Germany 🦋
🔴 PeakD (Best user interface for the decentralized Hive Blockchain)🔴
🔴 [DE] HIVE FAQ German Community 🔴
🔴 Fascinating Insects Community 🔴