Geordies party like it's 1996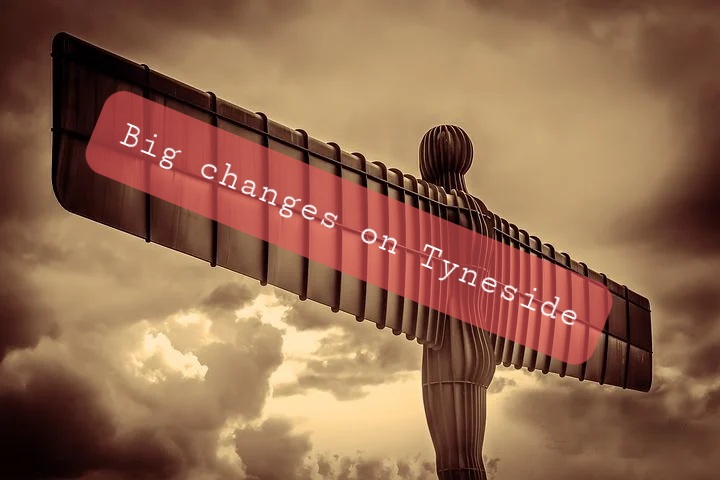 Ok, so unless you've been living under a rock someplace, you'll have heard by now that Newcastle United football club have been bought out by a Saudi Arabian wealth fund. If you are living under a rock someplace, let me know where and I'll come visit you, I love a good rock. That reminds me off Northern Rock actually, the sponsor that used to adorn Newcastle shirts back in the day, McEwans Lager was another and of course the famous beer of the NorthEast Newcastle Brown Ale, the less said about recent sponsors/scroungers Wonga the better. Anyone for a 1346% APR loan?
It turns out I know a lot about Newcastle and their football team, as my wife is a Geordie and I'm now good friends with some Geordie lads who are obsessed with their football. I'm going to kick this post off with some funny messages I got from these lads over the past few days.
Funny memes
Read this first one phonetically, it's exactly what a Geordie would come out with - pure gas 😅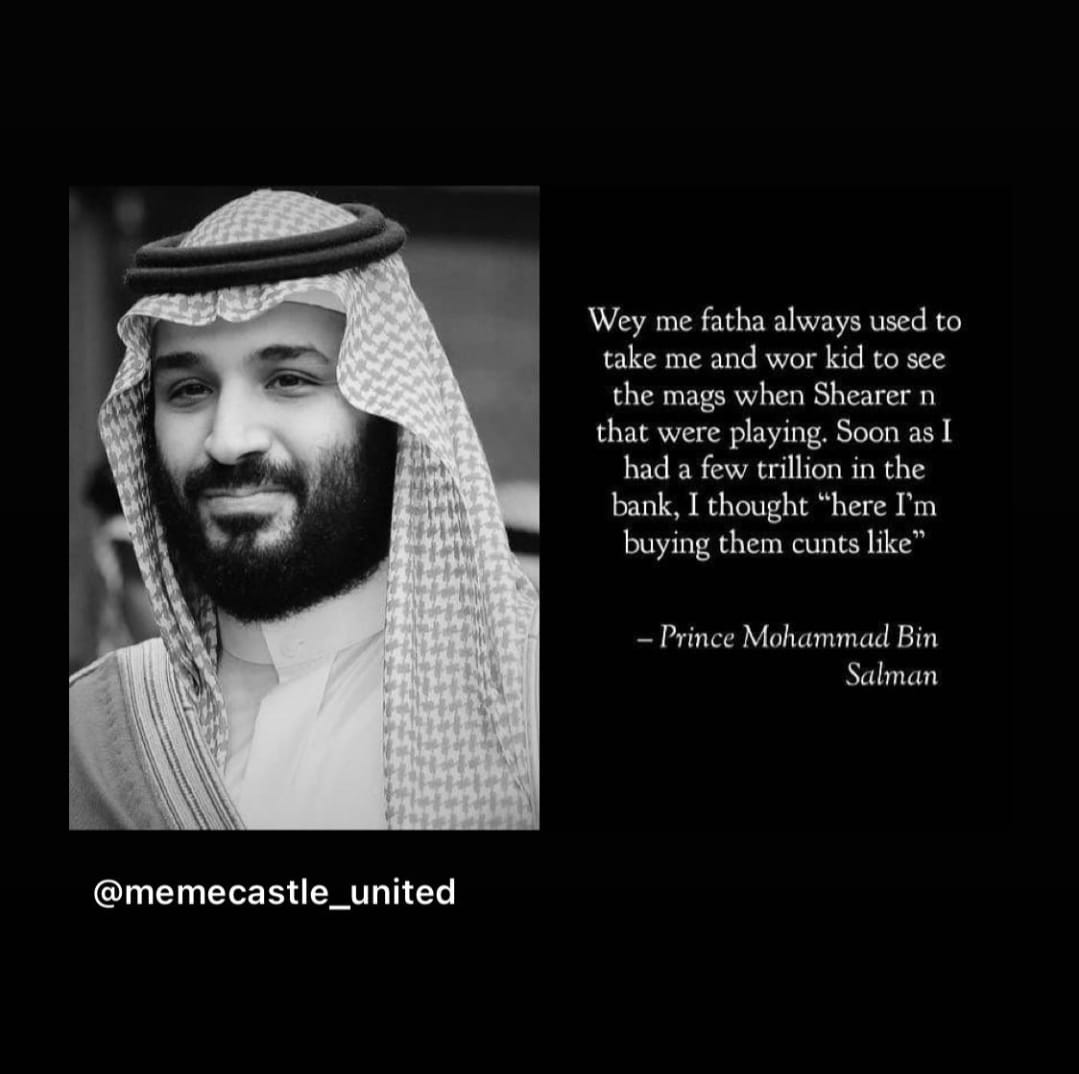 Poor auld Sunderland
While Newcastle look set to become title contenders, Sunderland are stuck in a time warp in League One, where they can't seem to escape from. A perfect chance for the Geordie fans to get the boot in.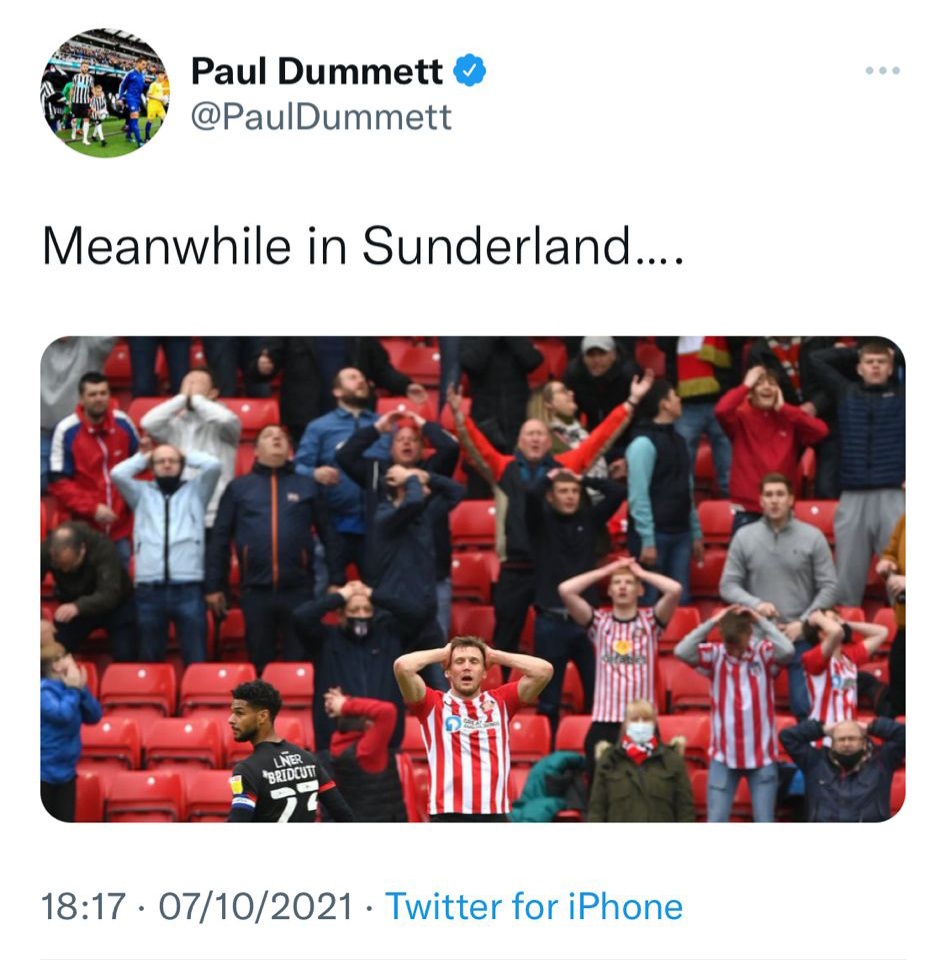 Steve Bruce
This one was doing the rounds a few weeks ago before the news broke! What a difference a few weeks makes, eh! Bruce won't be in the hot seat for long, one would imagine imagine. There's Christmas Turkeys walking around more confidently than poor old Brucie.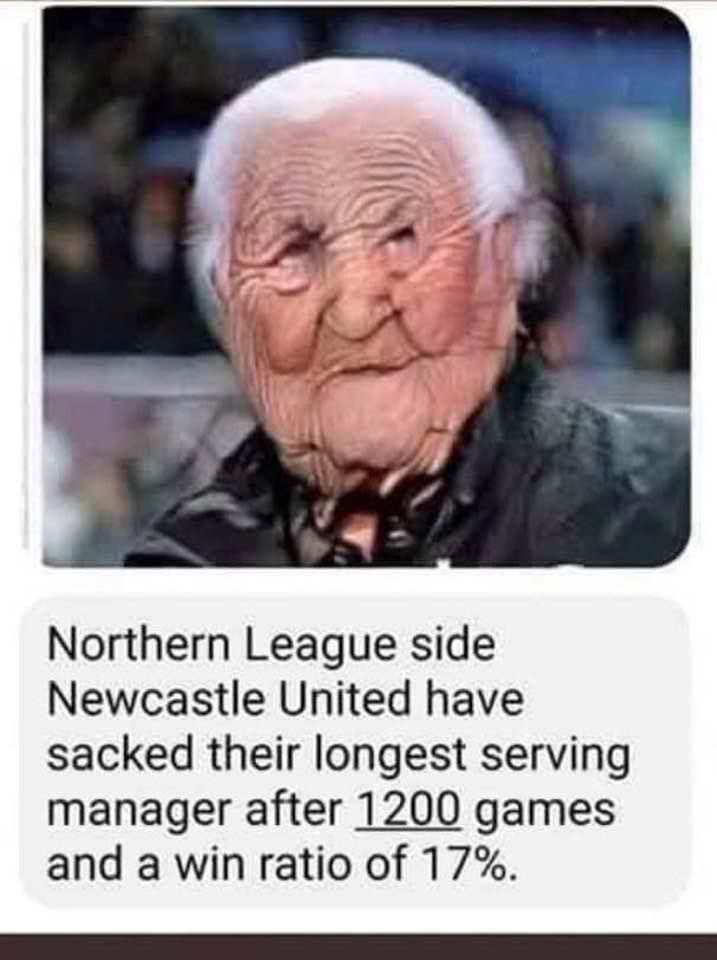 Dancing when the news broke
This fella that has a bit of the Peter Beardsley's about him is exactly the kind of dance that Newcastle fans up and down the North East would have been breaking into as the rumours became reality in the past few days.
Arsenal don't escape the ridicule
As an Arsenal fan, I had to laugh at this one, and cry just a little bit as well!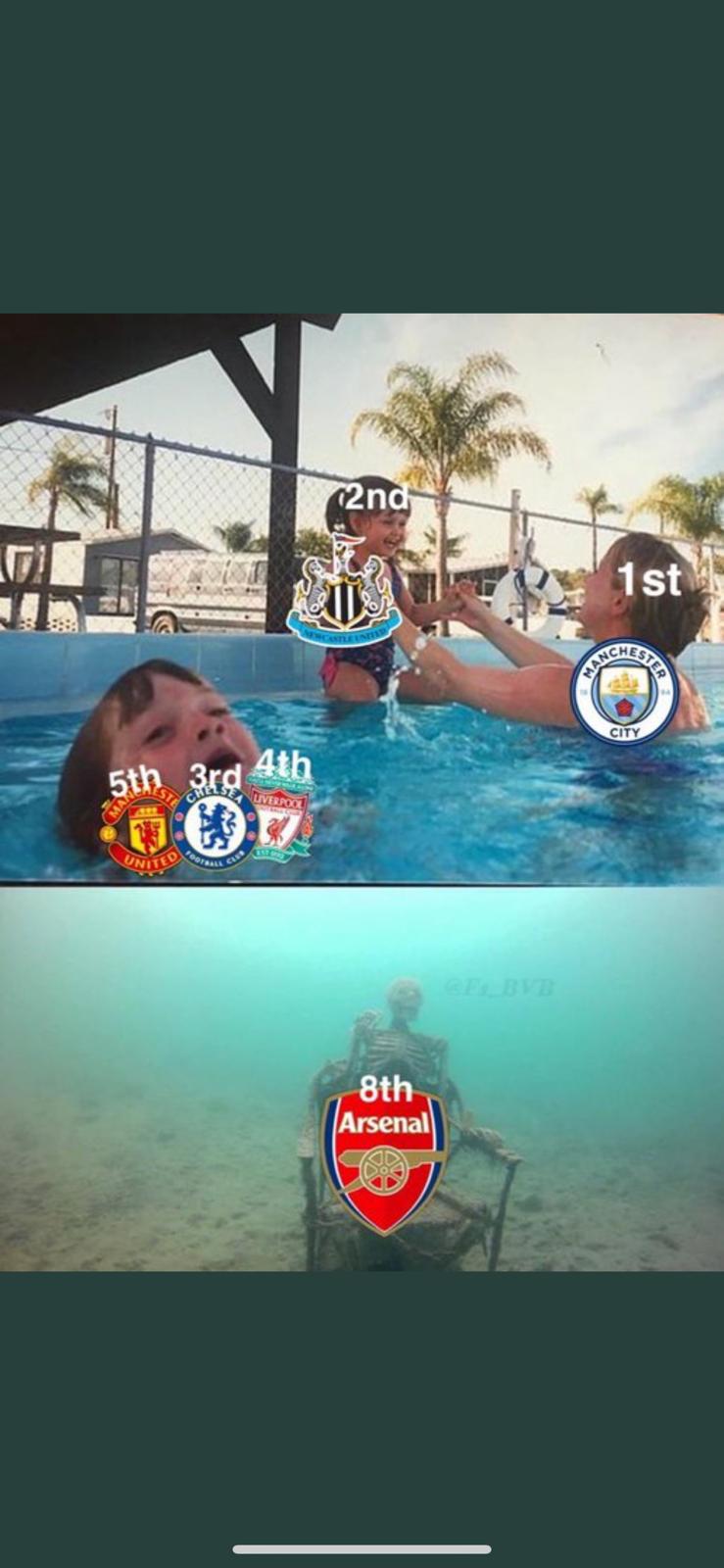 Well I hope that you got a laugh out of those. Now let's take a closer look at Newcastle and this takeover.
Newcastle History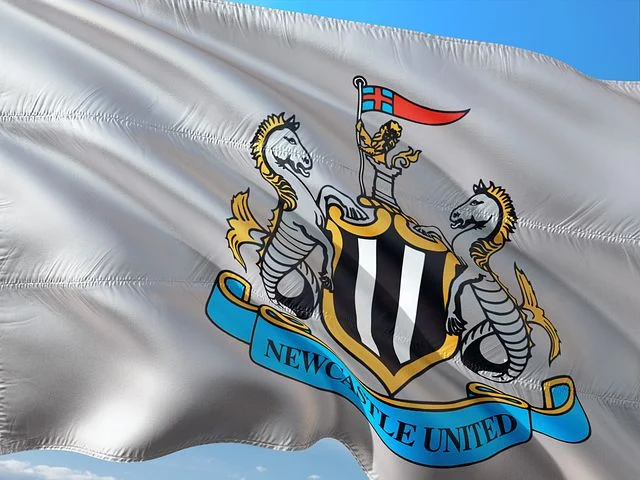 If you're as long in the tooth as myself, you'll remember a time when Newcastle were challenging for Premier League titles with flare players like David Ginola and Faustino Asprilla. They came 2nd in both the 1995/1996 and the 1996/1997 seasons and were one of the most exciting teams, if not the most exciting team to watch. You had Keith Gillespie flying up and down one wing and Ginola plying his trade on the other wing. Then with Shearer and Asprilla up front and magician Peter Beardsley making the impossible, possible through the middle. Let me tell you, that was a formidable force and many a ding dong battle they had with the top teams, the stand outs being the classic 4-3 marathons against Liverpool.
Those two close calls hurt a lot, along with the 1998 humbling in the FA cup final dished out by my own Arsenal. You need to step a long way back in history for their last top division league title and if you were 100 today, you'd have been 5 when they last claimed the then 1st division title in the 1926/1927 season. That was their fourth and final title having had s great run in the early 1900s picking up winners medals in the 1904/1905, 1906/1907 and 1908/1909 seasons. Their last taste of silverware was in the 1954/1955 season when they beat Manchester City 3-1 in front off a crowd of 100,000 onlookers at Wembley stadium in London.
It's quite fitting that it was City who they beat that year, as outside of the occasional recent title wins by Liverpool and Leicester, Man City have been the team to beat. The path ahead for Newcastle United may well be similar one paved by the Manchester side who were bought as a relative minnow in 2008 by the Abu Dhabi United Group and we all know whst happened next.
I will love it
Who can forget this famous outburst from passionate Newcastle manager Kevin Keegan in the aftermath of distasteful remarks from them Man United manager Alex Ferguson. I would have loved it if ye had beaten them too Kevin, as everyone loves an underdog story, we had to wait another 12 years for David and Golliath type story when Leicester City won the title.
The thing is, this time I'm not sure how many neutrals will love it if Newcastle shell out hundreds of millions and amass a top squad ans start winning titles? There's something not quite right about a team effectively buying a title in my opinion, but I guess time will tell. On a positive note, I have free accommodation in Newcastle for life and if they do turn into a top team, it will be sweet to head over for some of their games, I might even look at getting over to an Arsenal game if I'm lucky.
What this could mean for Newcastle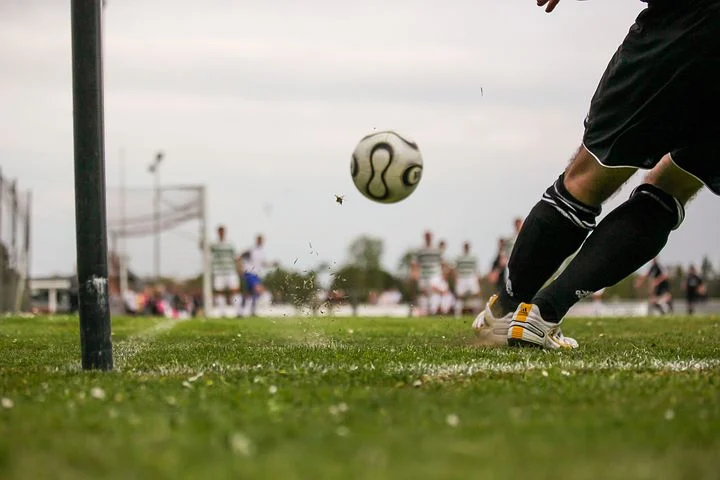 The sheer wealth of this investment fund is unprecedented and with 320 Billion worth of shillings at their disposal, they could potentially buy any player in the world. How much money will be made available to the gaffer? How long will current gaffer Steve Bruce last? Who'll be their first signing? So many questions to ponder. For me, I'd be Haaland I'd bring in. He's a goal machine and for me, he has the potential to be the best in the world, but he needs the right manager to nurture him and I'm sorry to say Steve Bruce just doesn't fit the bill. It's anyone's guess who will replace the ex United defender in the hot seat, but the bookies have Eddie Howe, Conte and Steven Gerard at short odds, though I don't see any of them coming in to be honest.
The fans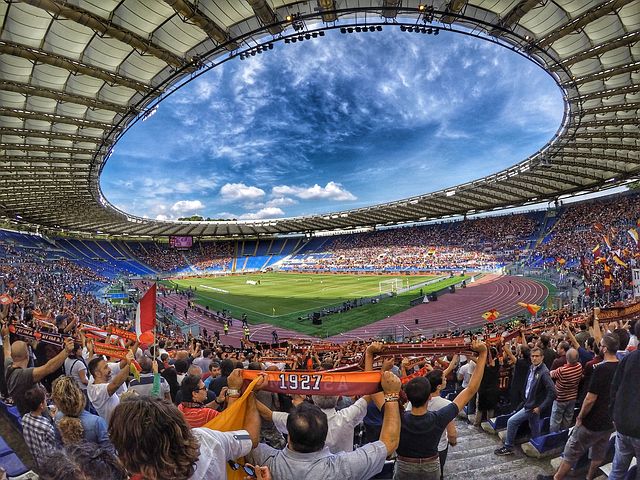 You hear things bandied about sometimes about these fans or those fans being the best in the world and often times it's a load of shite, but to br fair to the Geordies, they are up there when it comes to atmosphere and are certainly the most vocal fans in the Premier League. When you cast the net further though, there are Greek teams, Brazilian teams, German teams, Scottish teams with more vocal and passionate fans in my opinion.
However, having said that, I admire the Geordies and I've sat with them at matches over the years I've been travelling over and back to Newcastle. They bring passion, sense of humour and entertainment with them wherever they go and having not won anything since 1955, this Arsenal fan wouldn't mind seeing the Geordie faithful celebrating a premiership win in the next few years, so long as it's not pipping Arsenal into second place!
The images used throughout are not mine. I was sent them on Twitter and WhatsApp or downloaded them from pixabay.com
Thanks as always for stopping by.
Peace Out