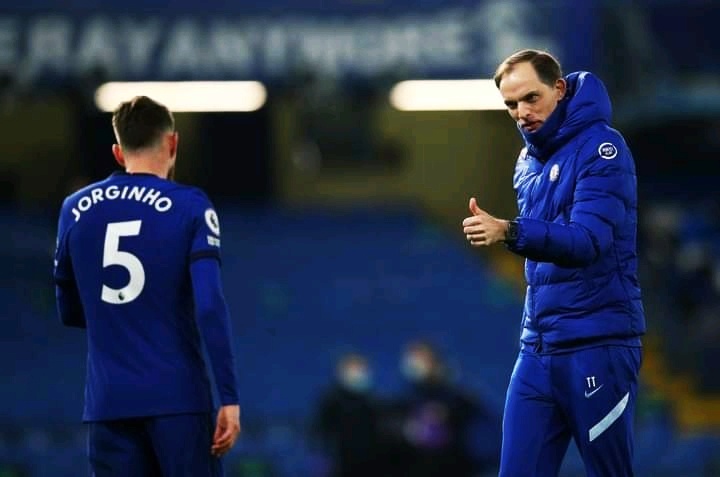 Chelsea put in an impressive performance under the leadership of Thomas Tuchel. Since Tuchel took over Chelsea coaching from Frank Lampard on 26 January 2021, the German coach has kept Chelsea unbeaten in 11 matches in all consecutive competitions.
Of these 11 matches, the Blues won eight wins and three draws. So far Tuchel has successfully passed tough tests, vs Liverpool 1-0, vs Manchester United 0-0 and the most recent is a 2-0 win against Everton through Ben Godfrey's own goal and a penalty from Jorginho.
In this match, Tuchel showed something new by applying the false nine formation. That position is occupied by Kai Havertz, then supported by Hudson Odoi on the left and Werner on the right. As a result, Havertz was named Man Of The Match at that match. Chelsea's two goals in that match all started with Havertz's movement.
The first goal, Ben Godfrey's own goal was born through the collaboration of Havertz and Marcos Alonso. Receiving feedback from Alonso, Havertz immediately passed it to Pickford's goal. Ben Godfrey intended to block the ball, but unfortunately, the ball instead headed towards the goal after hitting Godfrey's leg.
The second goal was scored by Jorginho from the penalty box. The referee awarded a penalty to the hosts after Pickford fouled Havertz in the penalty box.
Not only that, Havertz broke into Everton's goal. However, the referee disallowed his goal after seeing the VAR replay because Havertz first made a handball before putting the ball into the net.
The 2-0 win over Everton gave Thomas Tuchel a record. He became the first coach to keep a cleanheet in five home games in Premier League history. In addition, the clean sheet results also added a row of clean sheets for Chelsea goalkeeper Edouard Mendy in the Premier League to 13 matches.
Currently, Mendy is in third place in the list of Premier League goalkeepers who won the most clean sheets this season. The Senegalese goalkeeper lost only to Manchester City goalkeeper Ederson Moraes (15 cleansheet) and Aston Villa goalkeeper Emiliano Martinez (14 cleansheet).
With 10 games remaining, Mendy still has a chance to win the golden gloves at the end of the season. The condition is that Mendy only has to play consistently as he is today, while hoping to slip in the remaining 10 games.
Chelsea Semakin Mengerikan Dibawah Kepelatihan Tuchel
Chelsea semakin memperlihatkan performa impresif dibawah kepemimpinan Thomas Tuchel. Semenjak Tuchel mengambil alih kepelatihan Chelsea dari Frank Lampard 26 Januari 2021, pelatih asal Jerman itu telah membawa Chelsea tak terkalahkan dalam 11 laga di semua kompetisi secara beruntun.
Dari 11 laga tersebut, The Blues meraih delapan kali kemenangan dan tiga kali imbang. Sejauh ini Tuchel berhasil melewati ujian berat, vs Liverpool memang 1-0, vs Manchester United 0-0 dan yang terbaru adalah kemenangan 2-0 melawan Everton lewat gol bunuh diri Ben Godfrey dan satu gol penalti dari Jorginho.
Di laga itu, Tuchel memperlihatkan sesuatu yang baru dengan menerapkan formasi false nine. Posisi tersebut ditempati Kai Havertz, lalu didukung Hudson Odoi disisi kiri dan Werner disisi kanan.
Hasilnya, Havertz dinobatkan sebagai Man Of The Match di laga itu. Dua gol Chelsea di laga itu semuanya berawal dari Havertz. Gol pertama, gol bunuh diri Ben Godfrey lahir lewat kerjasama Havertz dan Marcos Alonso. Mendapat umpan dari Alonso, Havertz langsung meneruskannya ke gawang Pickford. Ben Godfrey bermaksud menghalau bola, namun sial, bola malah mengarah ke gawang setelah mengenai kaki Godfrey.
Begitupula gol kedua yang dicetak Jorginho dari kotak penalti. Wasit menghadiahi penalti untuk tuan rumah setelah Pickford melanggar Havertz didalam kotak penalti.
Bukan hanya itu, sebenarnya Havertz sempat membobol gawang Everton. Namum, golnya dianulir wasit setelah melihat tayangan ulangan VAR disebabkan Havertz lebih dulu melakukan handball sebelum menceploskan bola ke dalam gawang.
Kemenangan 2-0 atas Everton melahirkan rekor tersendiri untuk Thomas Tuchel. Dia menjadi pelatih pertama yang berhasil mencatatkan cleansheet di lima kandang pertamanya dalam sejarah Liga Inggris.
Selain itu, hasil clean sheet tersebut juga menambah deretan clean sheet kiper Chelsea, Edouard Mendy di Liga Inggris menjadi 13 laga. Saat ini, Mendy berada di posisi ketiga kiper terbanyak meraih clean sheet.
Kiper asal Senegal itu hanya kalah dari kiper Manchester City, Ederson Moraes, (15 clean sheet) dan kiper Aston Villa, Emiliano Martinez (14 clean sheet).
Dengan sisa 10 laga lagi, Mendy masih memiliki peluang untuk merebut golden gloves di akhir musim. Syaratnya, Mendy hanya harus bermain konsisten seperti saat ini, sambil berharap pesaingnya tergelincir di sisa 10 laga terakhir.