I'm maintaining a Raspberry Pi 4 Model B (4GB) to host some tools & applications at home.
Homebridge (A bridge to define non-Homekit accessories to Homekit)
AdGuard Home (Personal DNS server to block ads at the DNS level)
I've heard some CPU temperature problems at first, so in the first installation, I've bought this aliminium heat sink case.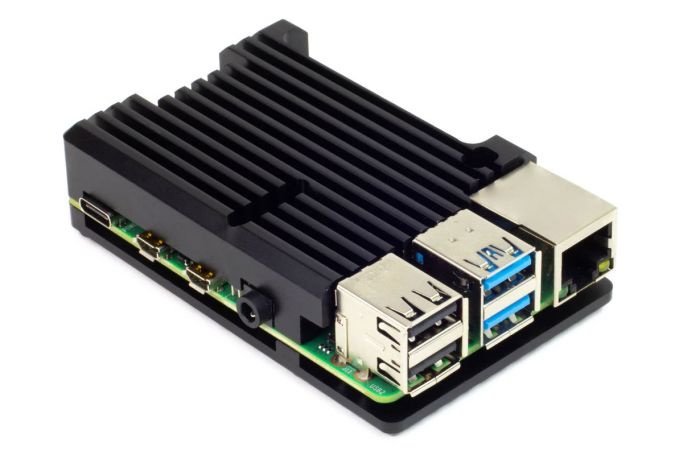 Image is taken from kiwi-electronics listing page
It looks quite cool and includes double fans to make sure the temperature of Pi in acceptable levels. However, after running this case and the fans a couple of days, I was disturbed by the level of noise of the fans. It creates a lot of noise. I store pi in the closed cabinet (working headless) below a closed door in the first floor. (I sleep in the second floor, yet, I can still hear the sound of the vibration created from the fans at nights.)
After running a couple of weeks like that, I see that the CPU was running around 38°, 40°. I also observed CPU load and ram usage, and it was all perfect. Since the RPi 4b is quite powerful, CPU load stays around %1-%5, and memory usage was like 10% at most. So I've decided to stop the fans. That made the Pi perfectly quite but the temperature is stable around 48°-50°, which is also acceptible.
However, I don't want to run Rpi more than 60°, so I'll be observing the temperature levels more. I've setup a couple of scripts for that, but also I've added a new "automation" rule to get notified if the CPU temperature passes a certain degree.

Homekit automations
---
I consolidate all my smart home appliances at Homekit so that I can manage all my automations in one place. (By the way, that's a good thing to do, since almost every brand want to force their automation structure, and it becomes a mess when you manage automations in different places.)
What I need for this specific automation are:
When Raspberry Pi CPU Temperature passes a certain degree (Trigger)
Switch on the lights, dim to 100%, and make the light red on my workspace (Action) (Hue light bulbs)
(If I am at the workspace) (Condition) (Via a tilt sensor on the chair.)
Normally, this kind of automation is not supported at the Apple Home app, however, Homekit specs support this. So, by using Eve app, I can accomplish this. (The app is free to use, works on the top of Homekit.)
However, there was one small problem, I need to expose RPi temperature to Homekit. Fortunately, this could be done via a homebridge plugin, exposes CPU temp. into Homekit.
Now that, I have everything I need, here are the steps:
| Operation | Action |
| --- | --- |
| Set scene | |
| Add trigger | |
| Add condition | |
| Final result | |
---
All set. :)
Smart-Home Community
---
We have Smart Home community in place for a while. Feel free to share your own experience and adventures on the topic.