Hello dear community, I had some time without doing an artistic makeup, I know this is super strange and out of the ordinary hahaha, but I will explain why I did it, the truth was not going to show you the process, I thought it would be a little weird but then I thought why not?
Hola querida comunidad, tenia tiempo sin hacer un maquillaje artistico, se que esta esta super extraño y fuera de lo comun jajaja, pero ya les explicare por que lo hice, la verdad no iba a mostrarles el proceso, creia que iba a quedar un poco raro pero, despues pense por que no?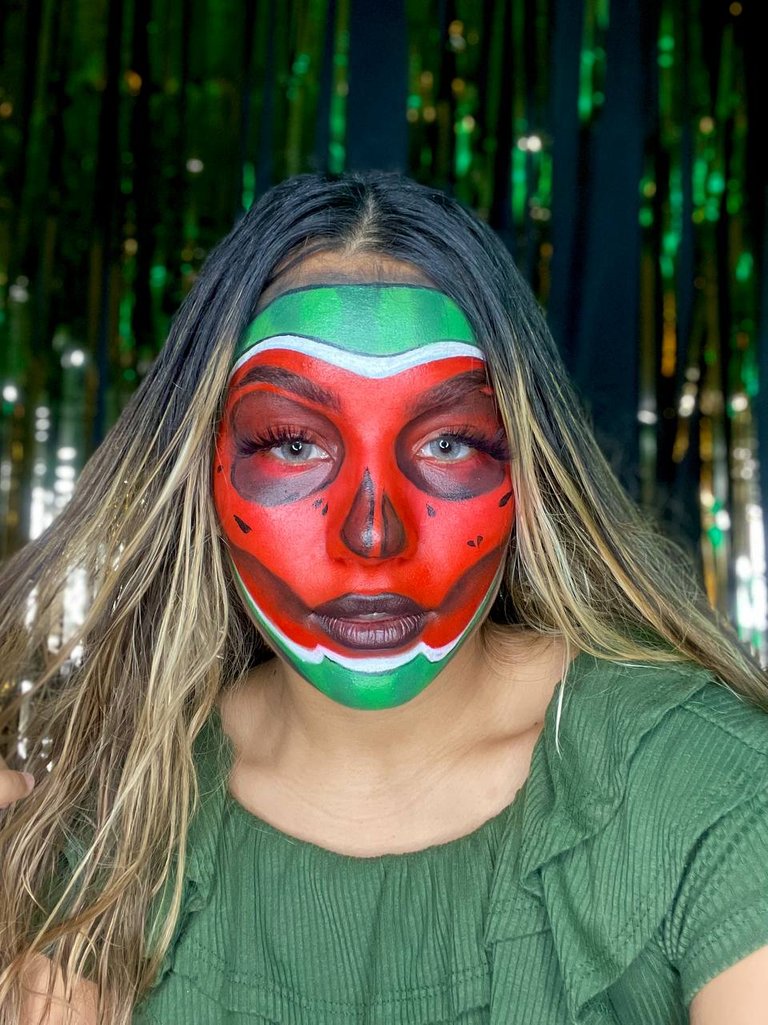 Remember the stream app I work for that I had told you about in previous posts, well, this is another of their makeups that they have made me do, it turns out that the broadcasters must do 4 mandatory official events per month and comply with the theme of each event, in this case the theme was what is your favorite fruit? the truth is this is not my favorite fruit, mine is the green apple but the most striking thing to make up was a watermelon or patilla as they say in Venezuela, it was horrible because I had to make up live and interact with people and in this type of events that I did for the first time many people enter and I had stage fright, but I managed to survive friends the event lasted 15 minutes and it went great.
Recuerdan la app de stream para la que trabajo que les habia comentado en post anteriores pues, este es otro de sus maquillajes que me ha hecho hacer, resulta que los emisores debemos hacer 4 eventos oficiales obligatorios al mes y cumplir con la tematica de cada evento, en este caso la tematica era cual es tu fruta favorita?, la verdad esta no es mi fruta favorita, la mia es la manzana verde pero lo mas llamativo para maquillar era una sandia o patilla como le dicen en venezuela, fue horrible porque debia maquillarme en vivo e interactuar con las personas y en este tipo de eventos que hacia por primera vez entra mucha gente y tenia miedo escénico, pero logre sobrevivir amigos el evento duro 15 minutos y salio genial.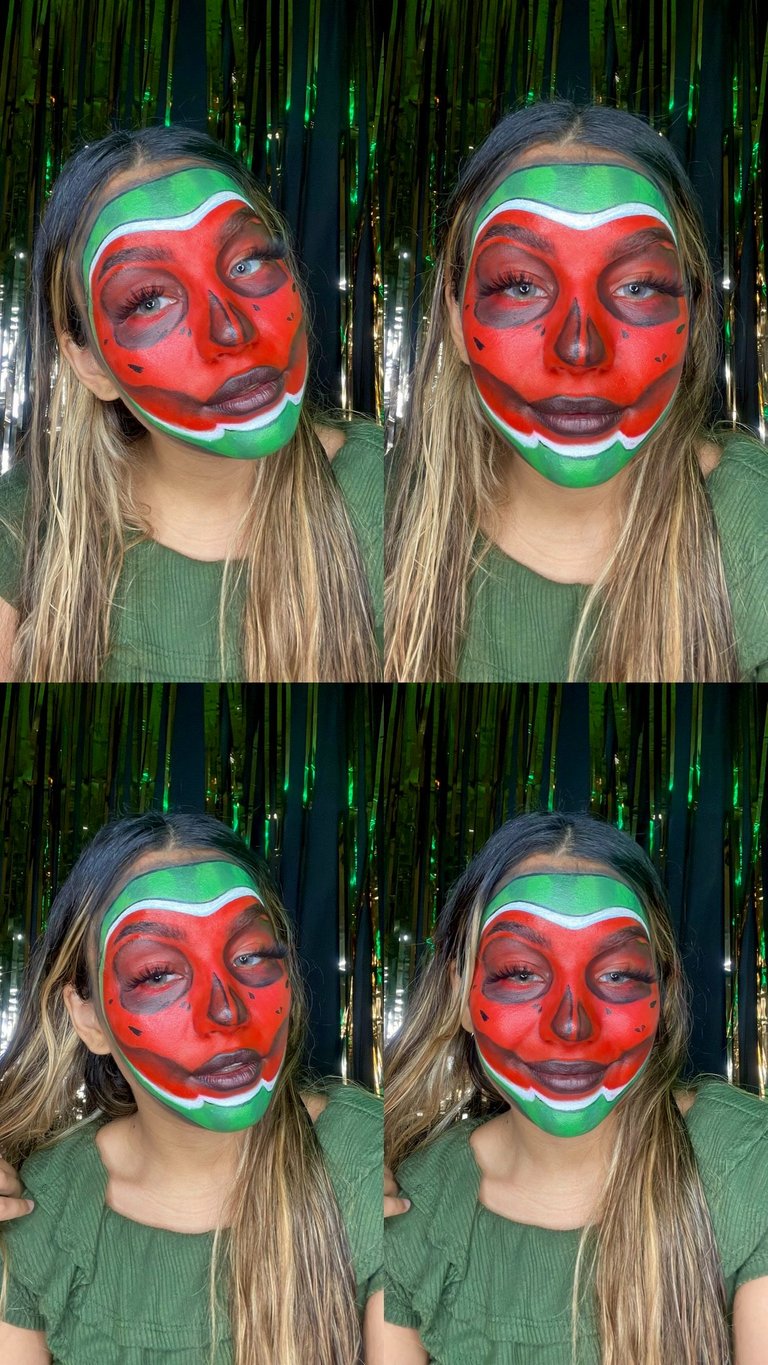 STEP BY STEP 🍉
To start with this look, more important than ever our skincare, since we will be using the body paints and they are super dense and difficult to remove, I applied some dark foundation of the brand maybelline on the edges of my face since the whole center would be made up to give a little depth, then with an eyeliner pencil, I happened to use a green one I made the shape I will do my watermelon makeup, and I put on my fabulous contact lenses, with a thick and hard cat tongue brush we started to fill in the green color and then the red, then the white and then the black.
Para comenzar con este look, mas importante que nunca nuestro skincare, ya que estaremos usando las pinturas corporales y ellas son super densas y dificiles de quitar, aplique un poco de base oscura de la marca maybelline en los bordesde mi rostro ya que todo el centro estaria maquillado para dar un poco de produndidad, luego con un lapiz de ojos, casualida que use uno verde hago la forma en la que hare mi maquillaje de sandia, y me puse mis fabulosos lentes de contacto, con una brocha lengua de gato gruesa y dura empezamos a rellenar comence por el color verde y luego el rojo, luego el blanco y despues el negro.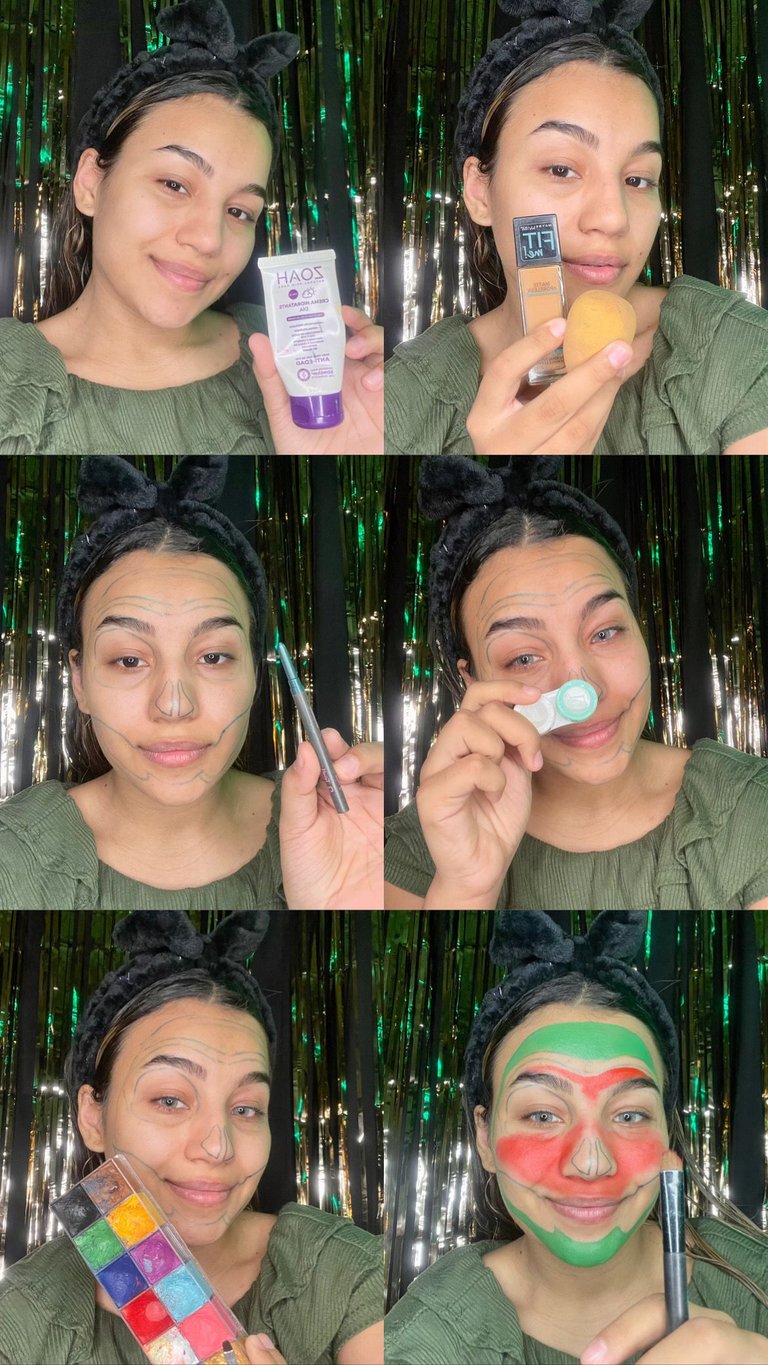 For the next step after applying the black tone with a very thin brush I will be blending it inwards to give a gradient effect of color with the red and so on all the parts where I applied black, with an eyeliner I will make the edges of my face and basically outline all the parts where there was black, and also apply black on the lips, then apply eyelashes with the same eyeliner that is like a marker I drew the seeds of the enchanted watermelon, and then mixing black and green I made the details of the shell of the watermelon and finally with a blending brush I applied black everywhere sealing it and also along the edges of the watermelon to give depth.
Para el siguiente paso luego de aplicar el tono negro con una brocha muy delgada lo estare difuminando hacia adentro para dar un efecto en degradado de color con el rojo y asi en todas las partes donde aplique negro, con un delineado hare los bordes de mi rostro y delineee basicamente todas las partes donde habia negro, y tambien aplique negro en los labios, para luego aplicar pestañas con el mismo delineado que es como un marcador me dibuje las semillas de la sandia encantada, y luego mezclando negro y verde hice los detalles de la concha de la sandia y para finalizar con una brocha para difuminar aplique negro en todas partes sellandolo y tambien por los bordes de la sandia para dar profundidad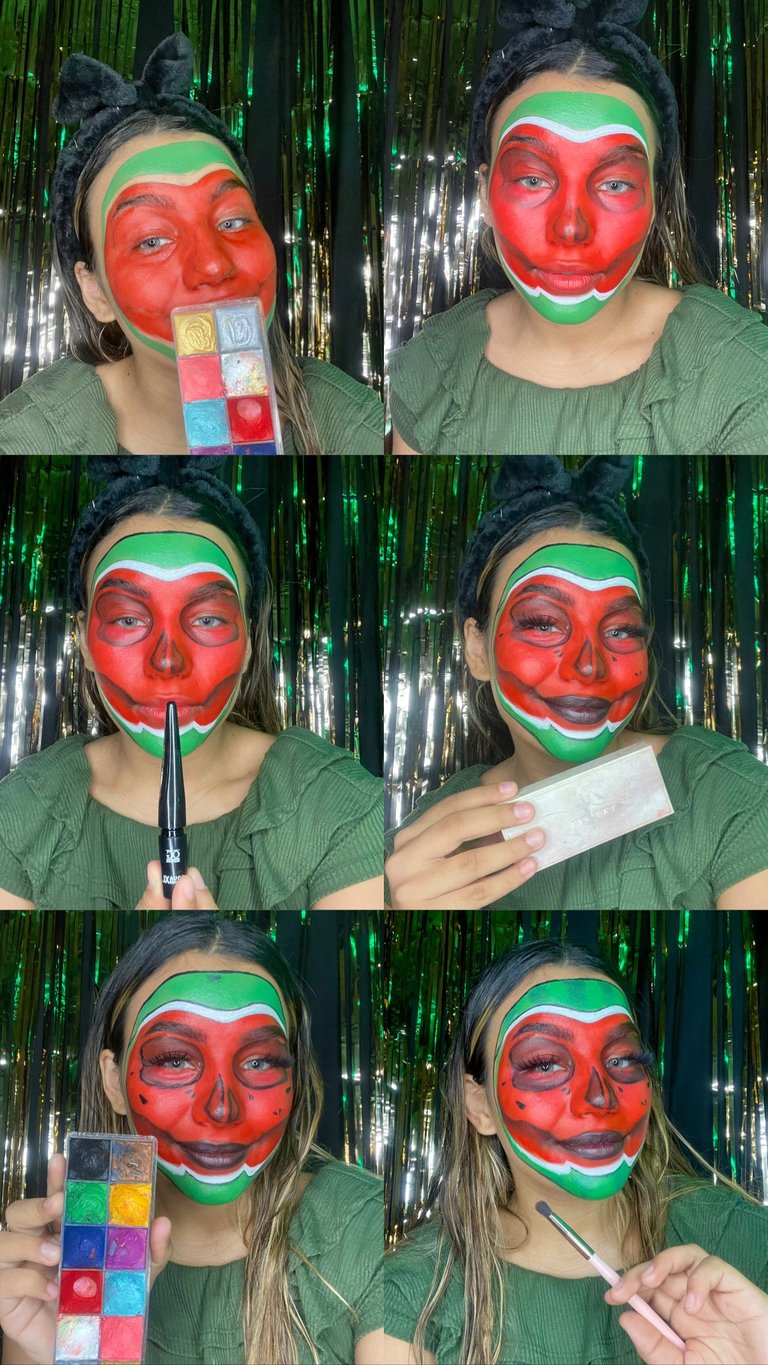 Artistic makeups have a lot of detail, I think that's the most important thing for them to look good, brushes like the one I'm using make life a little easier for us make-up artists, they help us to achieve the effect we want.
Los maquillajes artisticos llevan mucho detalle, yo creo que eso es lo mas importantes para que se vean bien,pinceles como el que estoy usando nos facilitan un poco la vida a los maquilladores la verdad, nos ayudan a lograr el efecto que queremos.
In these videos as I did everything by hand and you can't imagine how nervous I was, my hand was shaking a lot, but I felt satisfied with the result, I feel that I achieved what I wanted from the beginning.
En estos videos como hice todo a pulso y no se imaginan lo nerviosa que estaba, me temblaba mucho la mano, pero me senti satisfecha con el resultado siento que logre lo que queria desde un principio.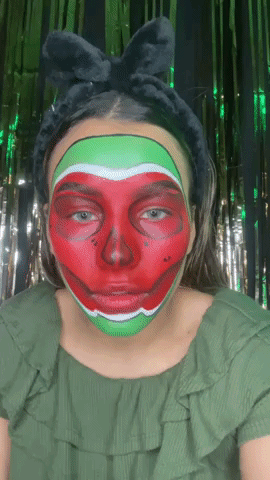 FINAL RESULT🍉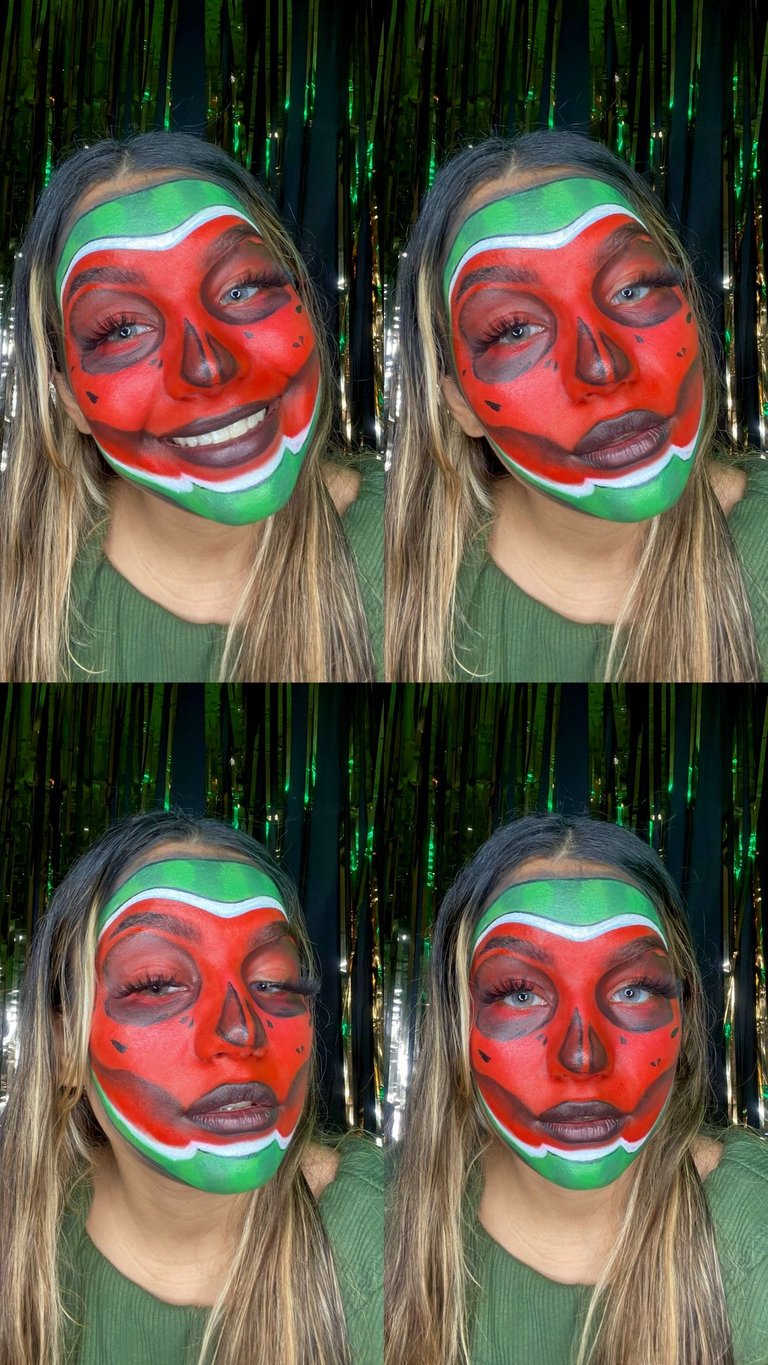 These are the final results that I took only and exclusively for you, whoever says that working as a stream doesn't make you a little crazy doesn't know what he's talking about, I hope you liked it, I love doing these makeups even if you don't believe it, they are very easy and fast to do them.
Estos son los resultados finales que tome unica y exclusivamente para ustedes, el que diga que trabajar de stream no te vuelve un poco loco no sabe lo que dice, espero les haya gustado, yo amo hacer estos maquillajes aunque no lo crean se me hacen muy facil y rapido hacerlos.
It gives me like panic to upload these photos although I really liked them, this makeup I did in about an hour and that's pretty fast for a makeup artist, I hope to deign to upload it if you want to find me on instragram you can do it in @fanxybeauty and thanks for coming here.
Me da como panico subir estas fotos aunque a mi me gustaron mucho la verdad, este maquillaje lo hice aproximadamente en una hora y eso es bastante rapido para un maquillaje artistico, espero dignarme a subirlo si quieres encontrarme en instragram puedes hacerlo en @fanxybeauty y gracias por llegar aqui.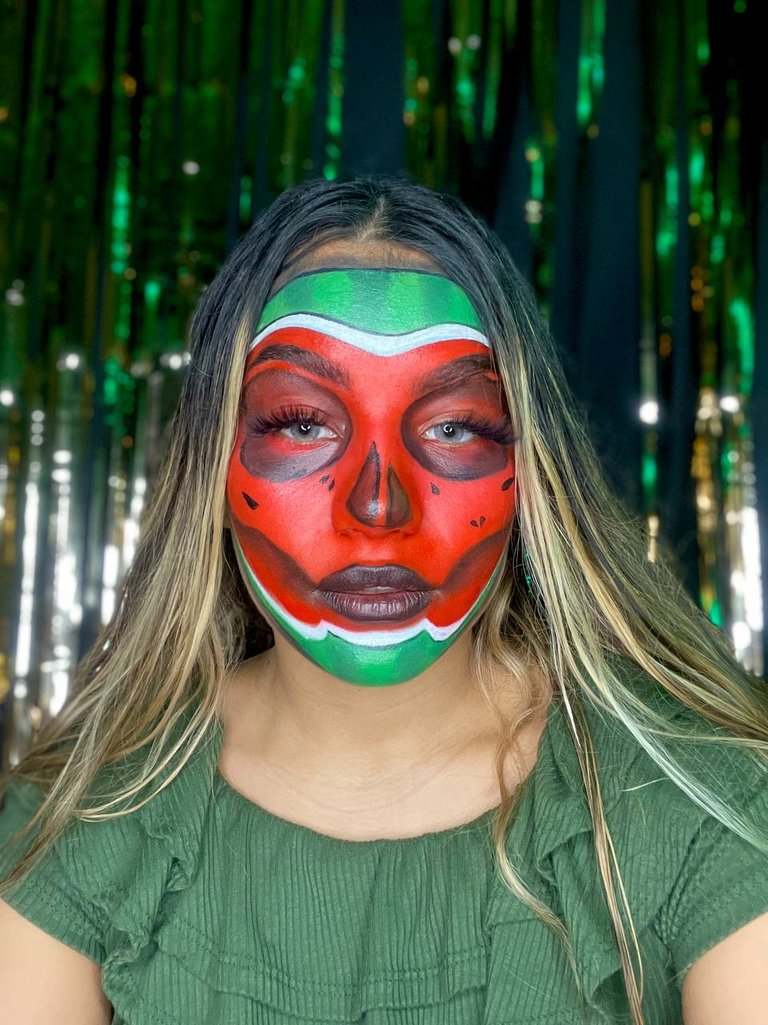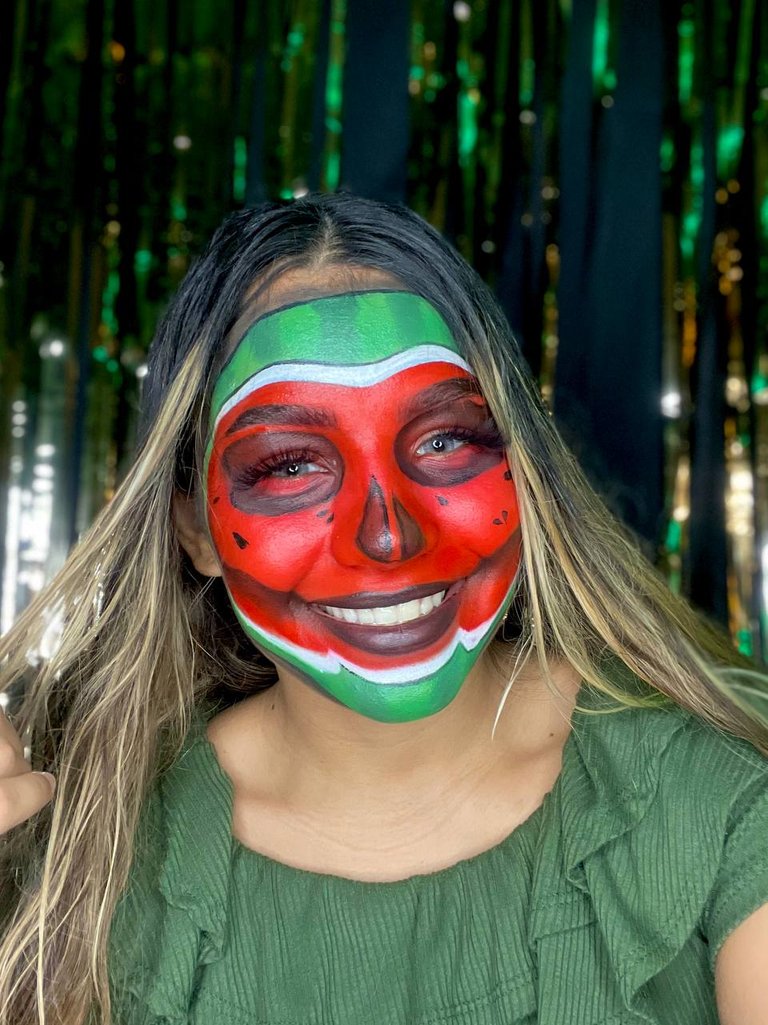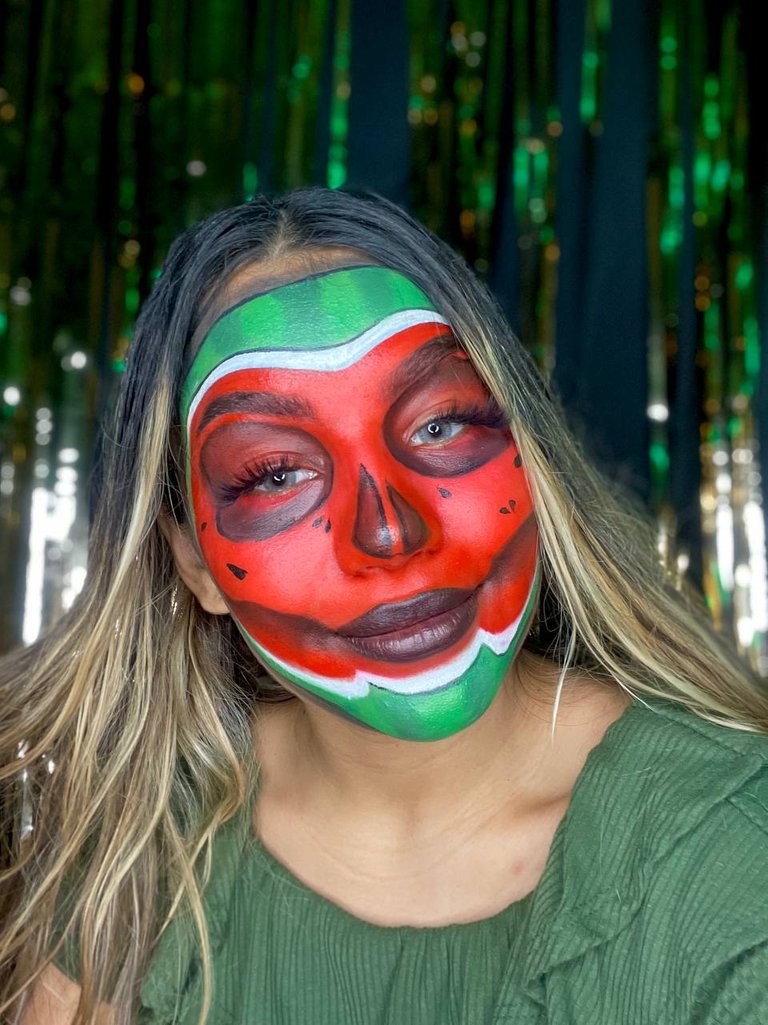 All these photos and videos were taken by me and my phone an iphone 12 in the comfort of the studio that is located in my room, thanks for coming this far let me in the comments if you liked that madness, kisses see you in a next post xoxo.
Todas estas fotos y videos fueron retratados por mi y mi telefono un iphone 12 en la comodidad de el estudio que se encuentra en mi cuarto, gracias por llegar hasta aqui dejame en los comentarios is te gusto esa locura, besos no vemos en un proximo post xoxo