Hello friends and greetings, I had abandoned my dear community makeup power, you can not imagine how much I missed posting, but I have had a series of crazy things that I will be telling you in this post, as you can see these are my first nails using this material and will be the last in a long time unfortunately.
Hola amigos y amigas saludos, tenia abandonada mi querida comunidad makeup power, no se imaginan cuanto extrañe publicar, pero me han pasado una serie de cosas locas que les estaré contando en este post, como pueden ver estas son mis primeras uñitas usando este material y seran las ultimas en mucho tiempo lamentablemente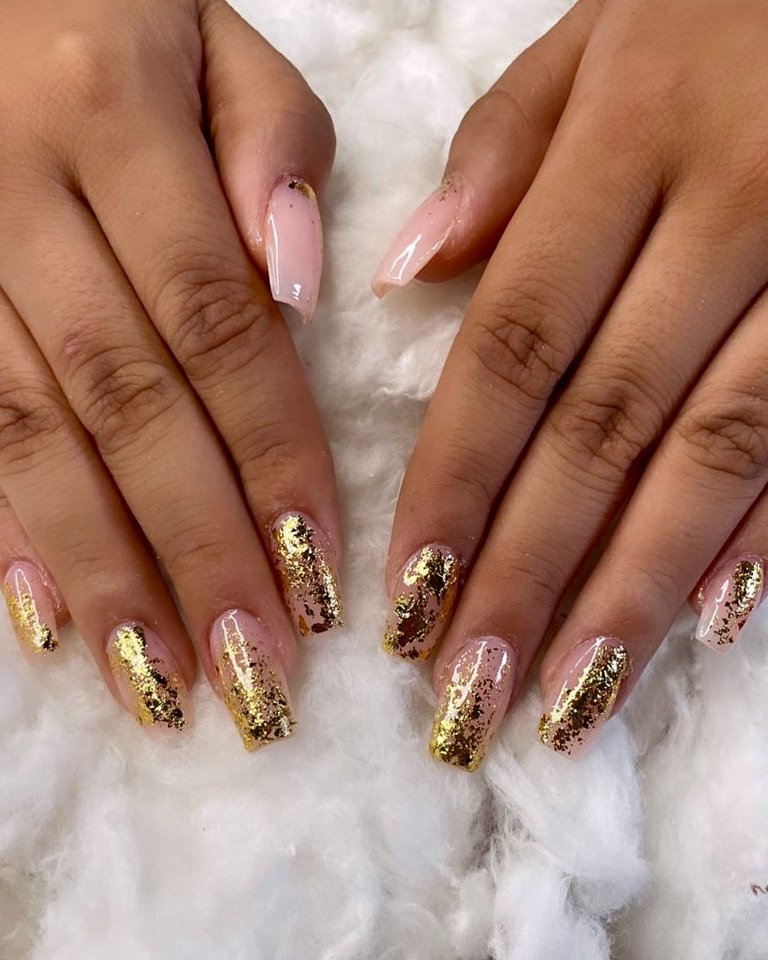 Incredible how beautiful and natural these nails were, it turns out that behind them there is history, these nails are from my dear client paola, I had made her a system of acrylic nails before, but she had already a month without coming to her appointment and just had an event that weekend that I got sick and wanted to be attended, in my city we are in the rainy season and unfortunately I suffer from asthma, and the change of weather, chemicals, strong odors, dust and whatever hurts me a lot, ironic that I am a manicurist right? well my job makes me be in constant exposure to all these things that hurt me, but while I do not have a crisis I was working normal in fact I finally finished the nail course I was doing and finally I am a technician, just gave me an asthma crisis and I could not attend her with acrylic, so I made the sacrifice of attending her using polygel because the poly does not smell is a material that works with using alcohol but I still felt bad, but duty calls and I did it because she is my loyal client but I would not have attended her.
Increible como quedaron de lindas y naturales estas uñas, pues resulta que detras de ellas hay historia, estas uñitas son de mi querida clienta paola, a ella yo le habia hecho un sistema de uñas acrilicas anteriormente, pero ya tenia un mes sin venir a su cita y justamente tenia un evento ese fin de semana que me enferme y queria que la atendieran, en mi ciudad estamos en la epoca de las lluvias y yo por desgracia sufro de asma, y el cambio de clima, los quimicos los olores fuertes el polvo y lo que sea me hace mucho daño, ironico que sea manicurista verdad? bueno mi trabajo me hace estar en constante exposicion a todas estas cosas que me hacen daño, pero mientras no tenga una crisis yo estaba trabajando normal de hecho al fin termine el curso de uñas que estaba haciendo ya por fin soy tecnico, justamente me dio una crisis asmatica y no podia atenderla con acrilico, asi que hice el sacrificio de atenderla usando polygel ya que el poly no huele es una material que se trabaja con usando alcohol pero igual me sentia mal, pero el deber llama y lo hice porque es mi clienta fiel sino no la hubiera atendido.
STEP BY STEP✨
Normally if you don't have a manicurist's mask the most recommendable thing is to use a mask, but I am an irresponsible asthmatic manicurist and I never do it, this time I did it, but in spite of that I felt very bad my lungs were super sensitive I didn't keep the correct rest when working and I relapsed with the crisis and I felt bad when working but as a responsible professional I finished my work, for the step by step I had to do a removal, for this I remove the acrylic almost in its totality and using aluminum foil some cotton suckers and acrylic remover, I apply them in the nails that I want to remove for 10 minutes.
Normalmente si no tienes un estractor como manicurista lo mas recomendable es que uses un tapabocas, pero yo manicurista asmatica irresponsable no lo hago nunca, esta vez si lo hice, pero a pesar de eso me senti muy mal mis pulmones estaban super sensibles no guarde el reposo correcto al trabajar y recaí con la crisis y yo me sentia mal al trabajar pero como profesional responsable termine mi trabajo, para el paso a paso tuve que hacerle un retiro, para esto desbasto el acrilico casi en su totalidad y usando papel aluminio unos chupones algodon y removedor de acrilico, los aplico en las uñitas que quiero retirar por 10 minutos.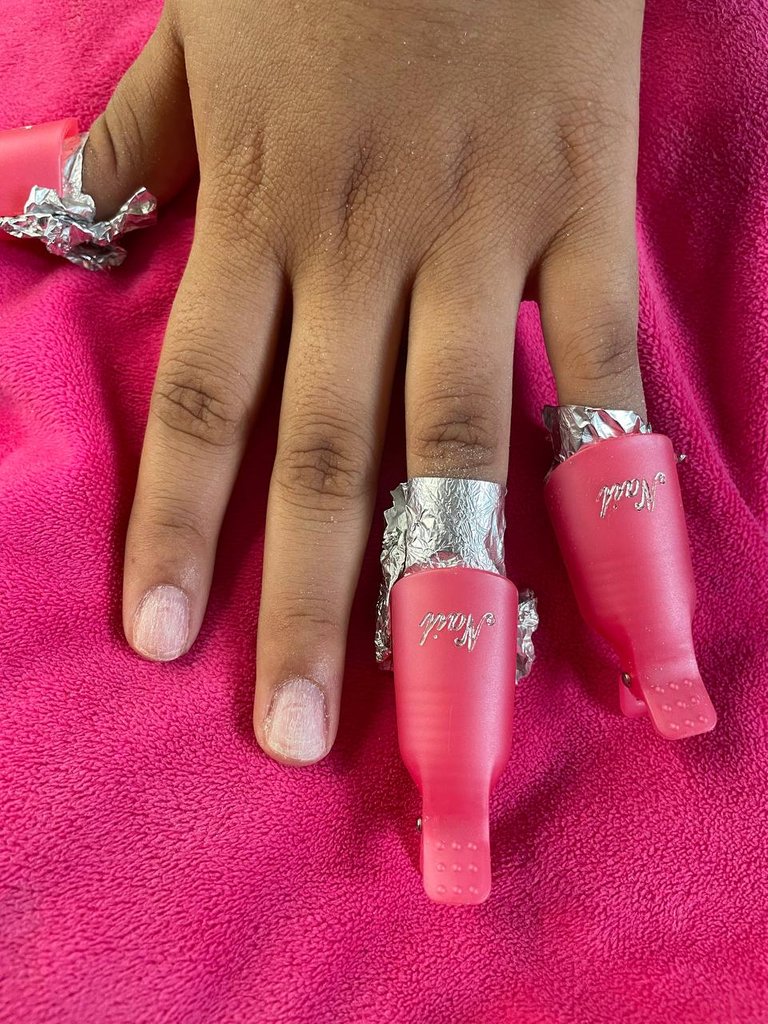 While I wait for the 10 minutes I take advantage and prepare my natural nail, on the nails that fell off since I had a month and a half without a refill or touch up, I do my cuticle cleaning with my pusher and my cuticle cutter and I open my adhesion channels filing vertically as you can see in the video.
Mientras espero los 10 minutos aprovecho y preparo mi uña natural, en las uñas que se le cayeron ya que tenia un mes y medio sin hacerse relleno ni retoque, hago mi limpieza de cuticula con mi empujador y mi cortacuticula y abro mis canales de adherencia limando de forma vertical como pueden ver en el video.
I made her a system in tips she wanted a coffin nails and then I filed the plastic nail and the edge on top as well to create a kind of bridge in the nail that but the plastic disappears and it looks like a natural nail.
Le hice un sistema en tips ella queria unas uñitas coffin y pues lime la uña plastica y el borde por arriba tambien para crear una especie de puente en la uña que pero que la plastica desaparezca y parezca toda uña natural.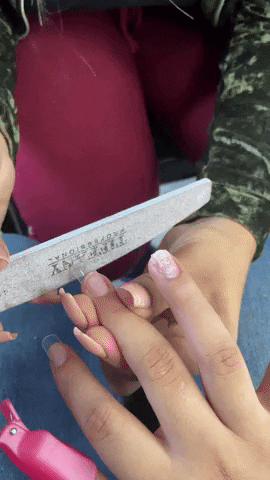 Here the 10 minutes had already passed, and look how easily the acrylic comes off without having to mistreat the natural nail, and it is easily removed with the help of a pusher.
Aqui ya habian pasado los 10 minutos, y miren la facilidad con la que sale el acrilico sin tener que maltratar la uña natural, y se quita con facilidad con ayuda de un empujador.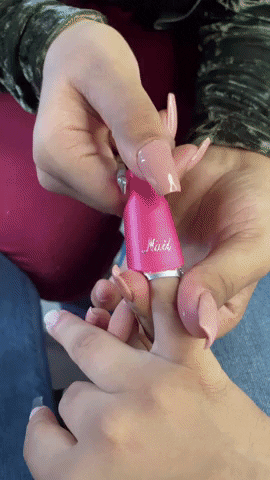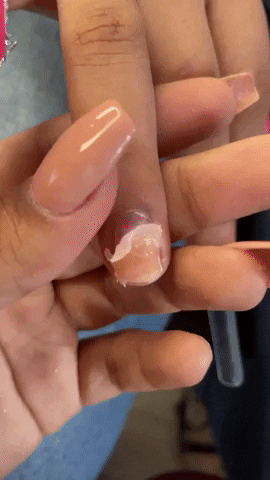 Here I had already filed the edges to give the coffin shape, created all the adhesion channels of these little nails and filed the plastic nail ready to apply my nailprep and bonder preparers.
Aqui ya habia limado los bordes para dar la forma coffin, creador todos los canales de adherencia de estas uñitas y limado la uña plastica lista para aplicar mis preparadores nailprep y bonder.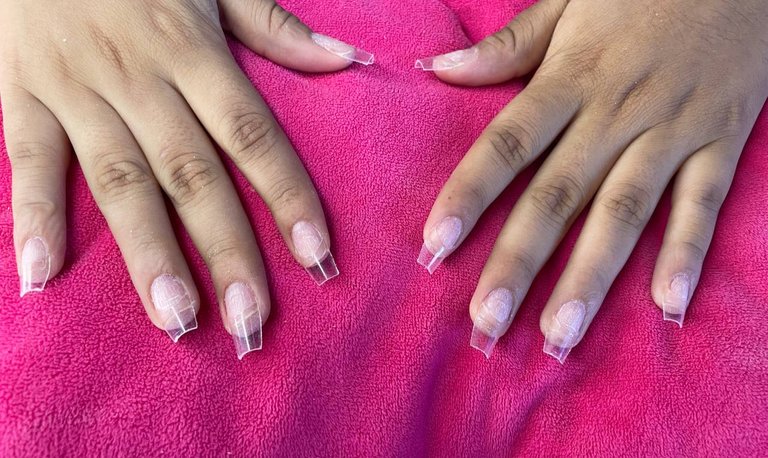 The polygel is not like acrylic, it is alcohol based and can be worked with alcohol or a special odorless liquid, the idea was that it would not hurt me but they are all chemicals and I ended up feeling terrible, to work it cures in a lamp for 60 seconds, so I did it in parts.
El polygel no es como el acrilico, el es a base de alcohol y se puede trabajar con alcohol o un liquido especial inoloro,la idea era que no me hiciera daño pero igual todos son quimicos y me termine sintiendo fatal, para poder trabajarlo se cura en lampara 60 segundos, por eso la hice por partes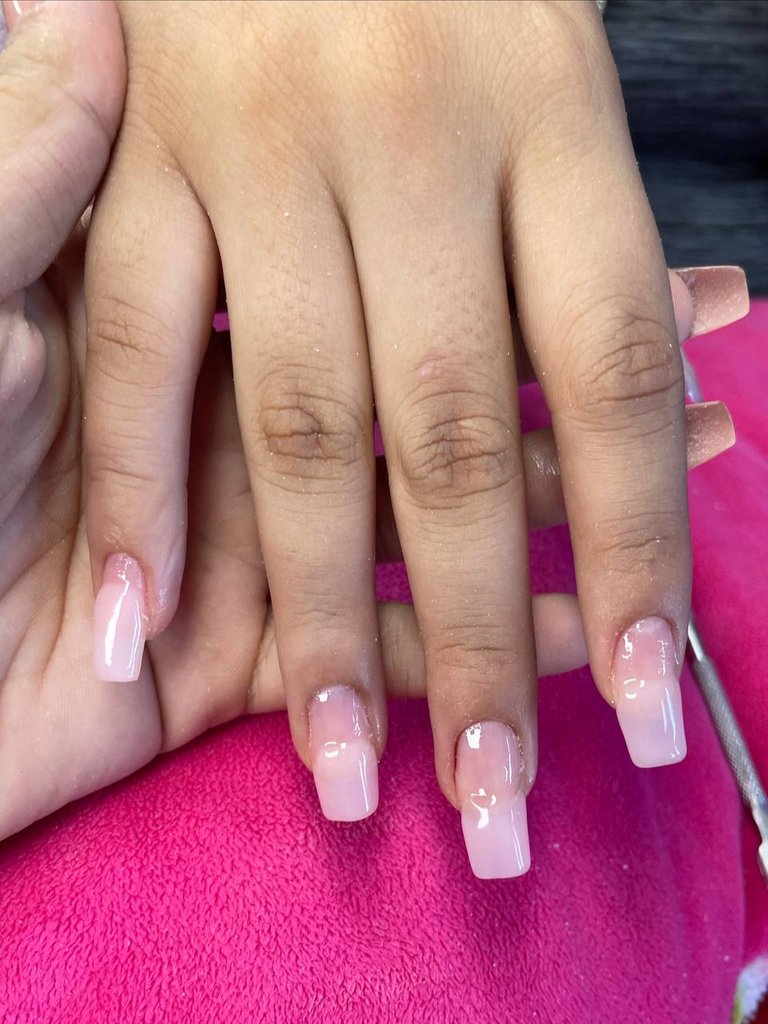 As you can see it is a gel, that I can work with a brush or with an orange stick, I used both, although I don't like the brush because it gets dirty and looks like a chewing gum and opens, and the polygelse moves or expands in no time so you have to work it fast and precise.
Como pueden ver es un gel, que puedo trabajar con pincel o con palito de naranja yo use ambos, aunque el pincel no me gusta porque se ensucia y queda como un chicle y se abre, y el polygelse mueve o se expande de nada asi que hay que trabajarlo rapido y preciso.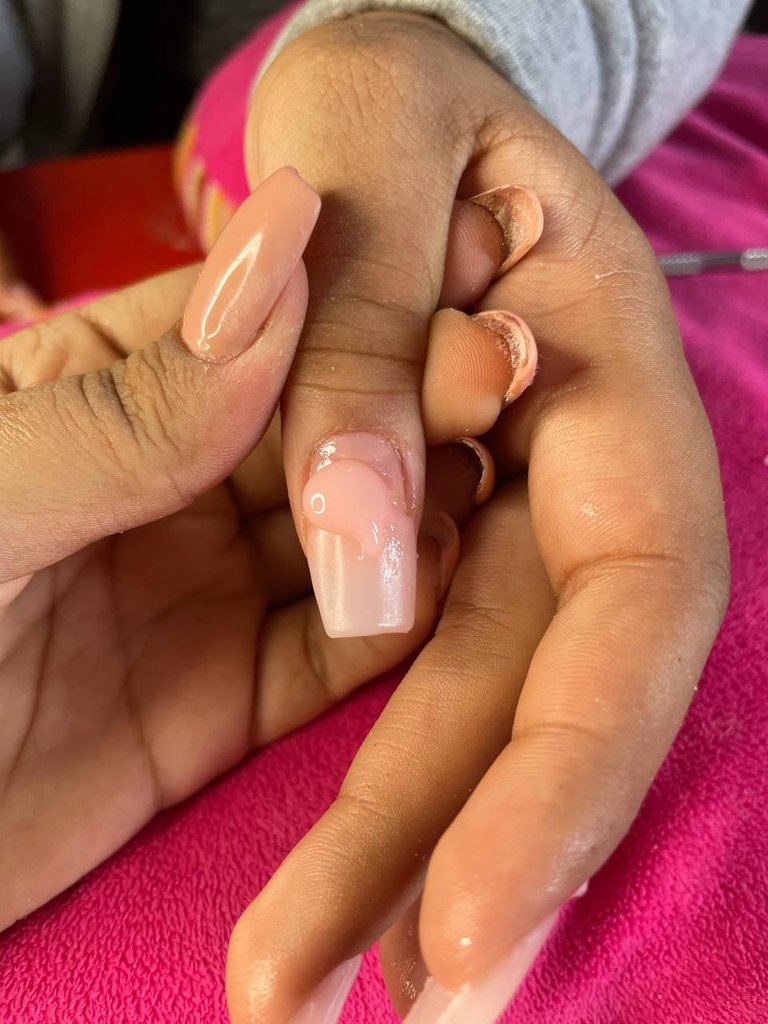 The benefits of this work on the acrylic are that the difference in the smell is barbara, and it works more easily, the truth in terms of durability should last the same, although personally I consider that the acrylic is more resistant, but the polygel over time is not toasted as the acrylic so that could be another advantage, and one of the bad things about the polygel is that it releases too much dust to file and I think that was what killed me, despite having mouthpiece was too much and it affected me a lot.
Los beneficios de este trabajo sobre el acrilico son que la diferencia de el olor es barbara, y se trabaja con mas facilidad, la verdad en cuanto a durabilidad deberian durar igual, aunque personalmente considero que el acrilico es mas resistente, pero el polygel con el tiempo no se tosta como el acrilico asi que esa podria ser otra ventaja, y una de las cosas mas malas del polygel es que suelta demasiado polvo al limar y yo creo que eso fue lo que me mato, a pesar de tener tapaboca era demasiado y me afecto bastante.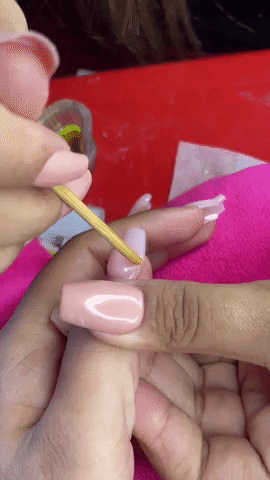 Here I was ready to apply my acrylic, I think the hardest part was the lack of experience and the cuticle sealing, I really hope that my client's nails will last a long time because I was forbidden to do nails for a long time.
Aqui ya estaba lista la aplicación de mi acrilico, creo que lo que mas seme hizo dificil era la falta de experiencia y el sellado de cuticula, de verdad espero que a mi clienta le duren bastante sus uñitas porque me prohibieron hacer uñas en mucho tiempo.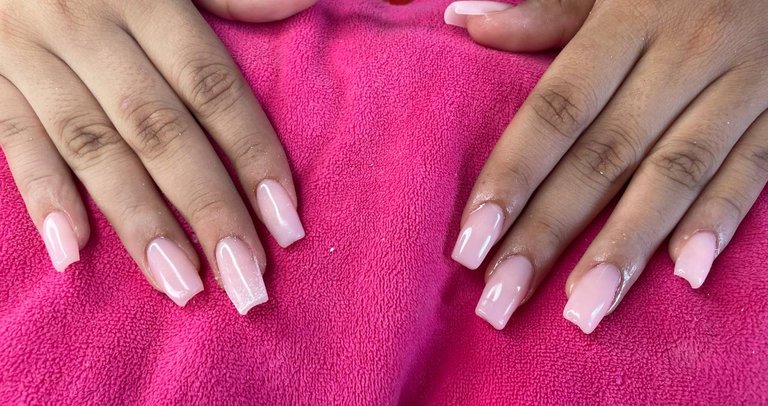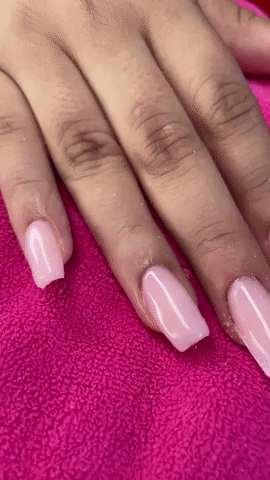 For the final design she only wanted gold paper and so I filled it with gold paper all over, for this we only apply base coat and then in the inhibition layer we place the paper in the desired shape and then finish and it's ready.
Para el diseño final ella solo queria papel oro y pues la llene de papel oro por todas partes, para esto solo se aplica base coat y luego en la capa de inhibición colocamos el papel en la forma deseada y luego finish y ya esta listo.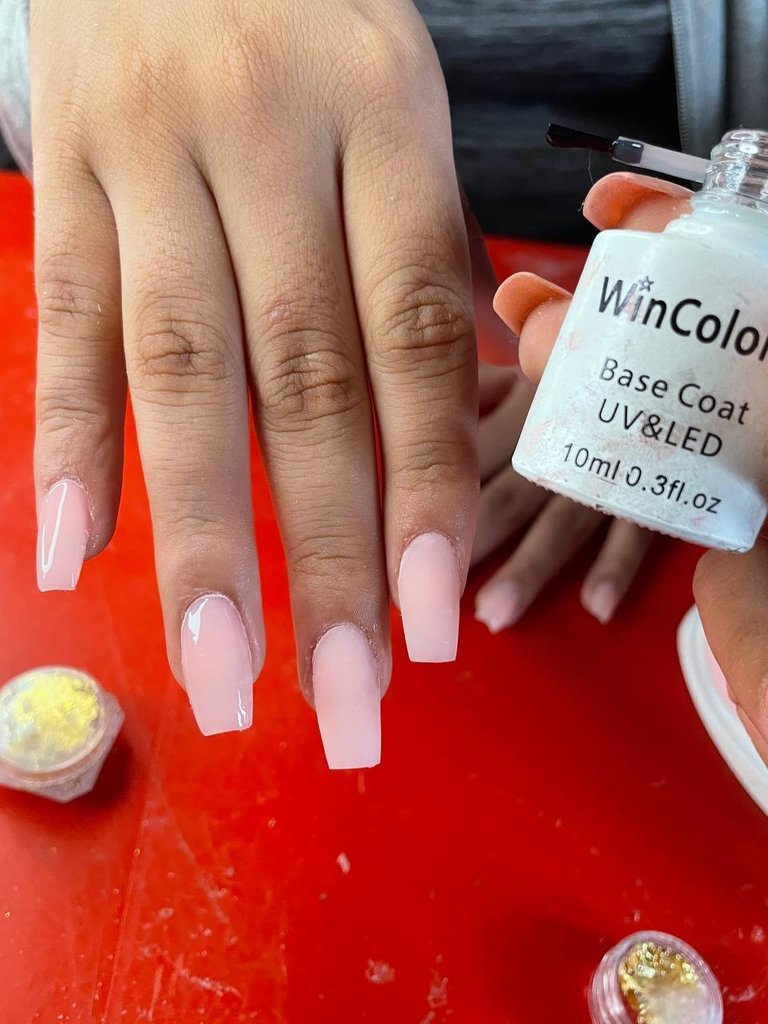 I love to apply a lot of oil to them when they are ready, I love how much the nail changes and looks perfect.
A mi me encanta aplicarles bastante aceite cuando estan listas,me encanta demasiado la uña cambia y se ve perfecta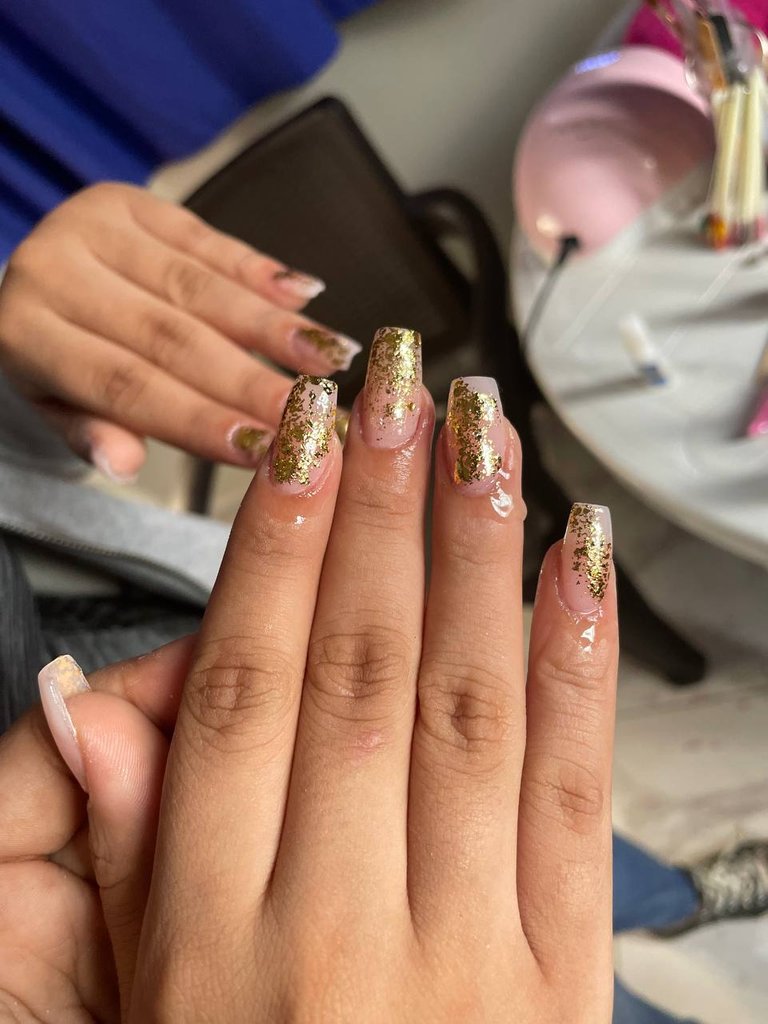 FINAL RESULT✨
This is the final result my loves I hope you liked it as much as me, it would mean a lot to me if you leave me in the comments what you think about this whole process and what you think is more beautiful if the acrylic or polygel, if you want to find me on instagram you can do it as @Fanxynails_ or @tovardaniela8
Este es el resultado final mis amores espero les haya gustado tanto como a mi, significaría mucho para mi si me dejan en los comentarios que les parece todo este proceso y que les parece mas bonito si el acrilico o el polygel, si me quieren encontrar en instagram pueden hacerlo como @Fanxynails_ o @tovardaniela8