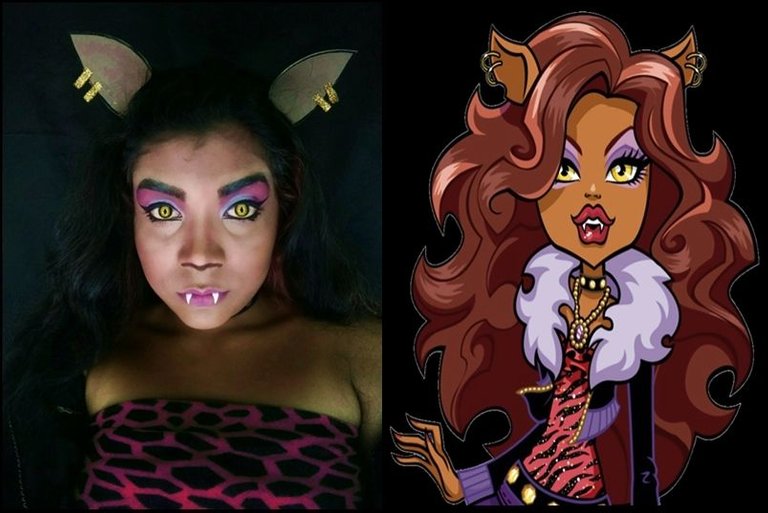 ¡Hola amantes del maquillaje!
Hello makeup lovers!
---
Estoy emocionada de poder compartir mi primer challenge en la comunidad de #makeuppower, este espacio lo usamos para compartir nuestro amor por el maquillaje, desde hace tiempo tenía ganas de crear alguna iniciativa para incentivar la interacción, quería que fuese una idea divertida y que nos permitiera explorar nuestra creativa, "Monster High" makeup challenge fue viral el año pasado en tik tok, creo que muchos conocemos esa serie de monstruos que están a la moda, existen personajes femeninos y también masculinos, así que este reto va dirigido a todos los que hacen vida en #makeuppower.
I'm excited to share my first challenge in the #makeuppower community, we use this space to share our love for makeup, for a long time I wanted to create an initiative to encourage interaction, I wanted it to be a fun idea that would allow us to explore our creativity, "Monster High" makeup challenge was viral last year on tik tok, I think many of us know this series of monsters that are fashionable, there are female and male characters, so this challenge is aimed at all those who make life in #makeuppower.
---
El reto consiste en recrear la imagen de uno de los monster high, pueden recrear el maquillaje o hacer un cosplay sean creativos, lo importante es lograr representar al personaje elegido, además deben seguir algunos parámetros para participar.
The challenge is to recreate the image of one of the monster high, you can recreate the makeup or make a cosplay be creative, the important thing is to represent the chosen character, you must also follow some parameters to participate.
---


REGLAS: || RULES:


▪️ En el título debe ser de la siguiente forma: "Monster High" Makeup Challenge. (Nombre del monster high que elijan)
▪️ In the title should be as follows: "Monster High" Makeup Challenge. (Name of the monster high of your choice)
---
▪️ Hacer una imagen comparativa de su maquillaje y el monster high que elijan, y colocarla de imagen principal.
▪️ Make a comparative image of their makeup and the monster high of their choice, and place it as the main image.
---
▪️ Mostrar el proceso del maquillaje y compartir su participación en los comentarios de esta publicación.
▪️ Show the makeup process and share your participation in the comments of this publication.
---
▪️ Usa #Makeuppower y rebloguea para que llegue a más hivers.
---
Este challenge vence el 18 de Abril, los tres maquillajes más creativos recibirán un premio de 4 Hive cada uno.
This challenge expires on April 18, and the three most creative make-ups will receive a prize of 4 Hive each.


Clawdeen Wolf.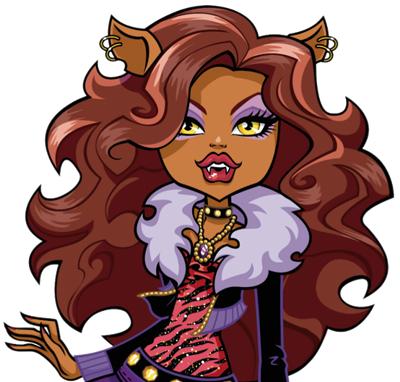 SEARCH
Clawdeen es hija del hombre lobo, en la serie animada se caracteriza por ser segura, enérgica y feroz. Es una fanática de la moda y siempre logra destacar, tiene una piel morena y cabello castaño oscuro, por lo general largo y con rizos, además posee colmillos blancos filosos, orejas puntiagudas, y largas garras afiladas.
Clawdeen is the daughter of the werewolf, in the animated series is characterized by being confident, energetic and fierce. She is a fashion fanatic and always manages to stand out, she has dark brown skin and dark brown hair, usually long and curly, she also has sharp white fangs, pointed ears, and long sharp claws.


Paso a paso: || Step by step:


Como es costumbre al realizar un maquillaje, primero es necesario lavar el rostro he hidratarlo para preparar nuestra piel, seguido de ello apliqué un poco de jabón en mis cejas para mantenerlas firme hacia arriba.
As usual when doing a make-up, first it is necessary to wash the face and moisturize it to prepare our skin, then I applied a little soap on my eyebrows to keep them firm upwards.
---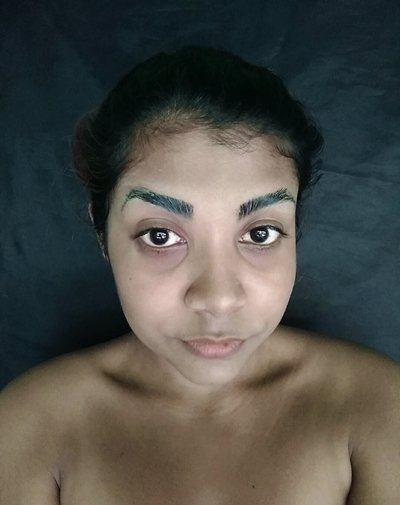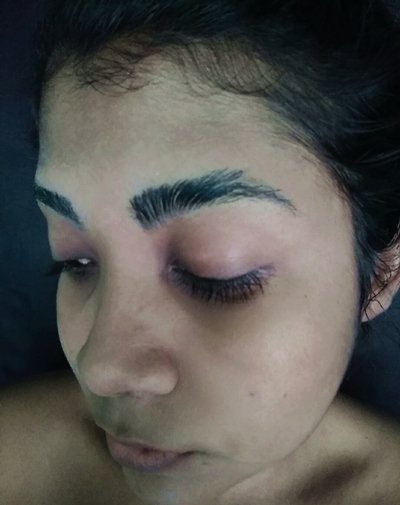 ---
Para terminar las cejas apliqué un poco de sombra café, seguido de ello maquillé mis ojos, apliqué corrector en los parpados, luego apliqué un color fucsia seguido de ello creé un tono tornasol mezclando azul claro y plateado y lo aplique en el centro del parpado, hice un delineado alargado y apliqué base de maquillaje en el rostro.
To finish the eyebrows I applied a little brown shadow, followed by my eye makeup, I applied concealer on the eyelids, then I applied a fuchsia color followed by a litmus color mixing light blue and silver and applied it in the center of the eyelid, I did an elongated eyeliner and applied foundation on the face.
---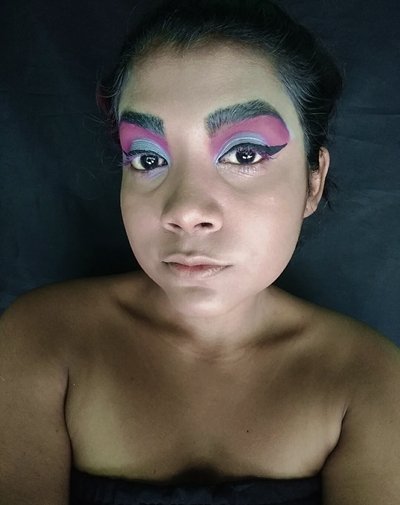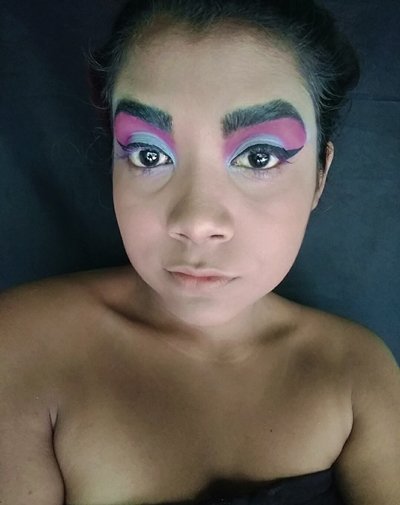 ---
Sellé el rostro con polvo suelto y bronceé el rostro, creé pestañas inferiores usando delineador, hice contorno en la nariz y apliqué lápiz de ojos en la parte baja de la nariz, para crear una nariz de animal, luego apliqué labial fucsia y dibujé dos colmillos usando sombra blanca. El toqué final fue crear el look, para ello me puse una chaqueta negra, una camisa con estampado animal print, agregué orejas, un collar, y finalmente edité las fotos colocando los ojos en el color del personaje.
I sealed the face with loose powder and bronzed the face, created lower lashes using eyeliner, contoured the nose and applied eyeliner on the lower part of the nose to create an animal nose, then applied fuchsia lipstick and drew two fangs using white shadow. The final touch was to create the look, for this I wore a black jacket, a shirt with animal print, added ears, a necklace, and finally edited the photos by placing the eyes in the color of the character.
---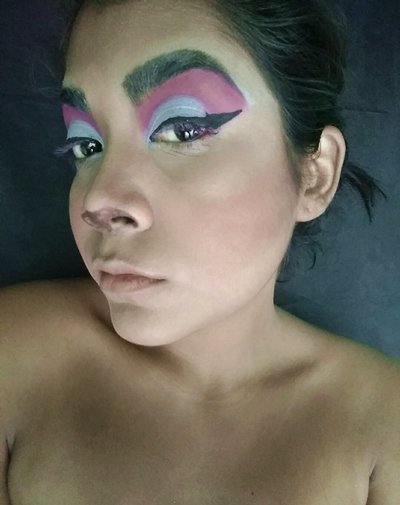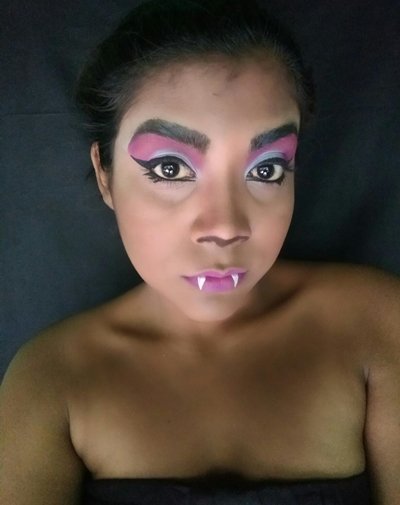 Clawdeen Wolf.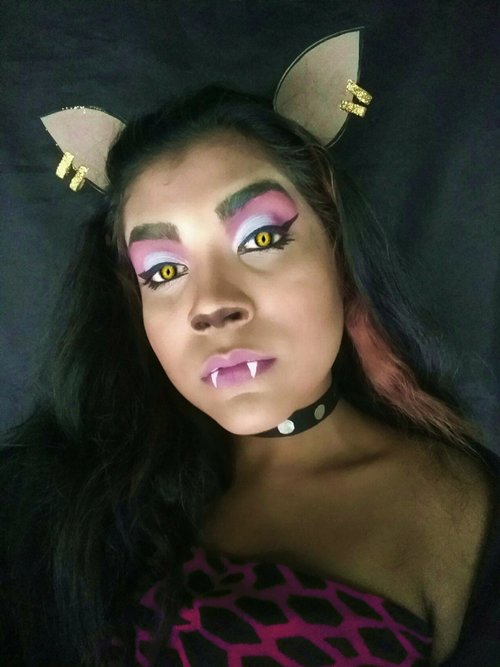 ---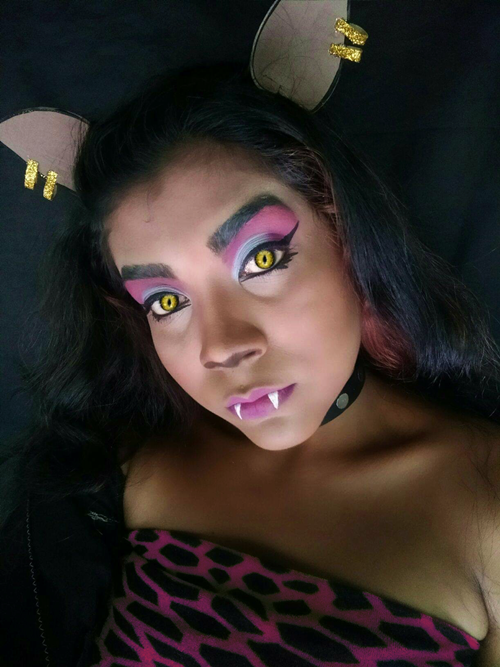 ---
---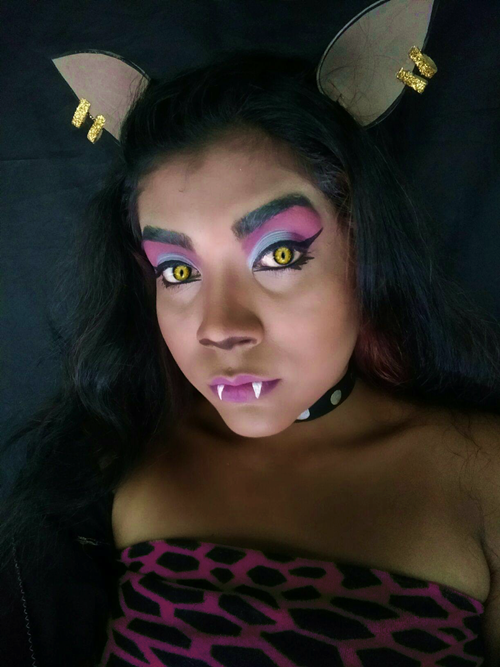 ---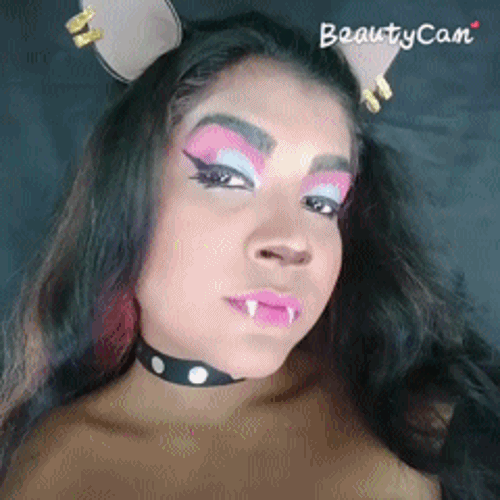 ¡Atrévete a participar! || Dare to participate!


Extiendo una invitación a: || I extend an invitation to:
@josehany @lucianav @ambarvegas @alexa.art @marytp20 @maryed @mariajcastro28 @kiutvariedades @raineth0224 @yulsy @keilis @veronicamartinc @alejandroxg @genesishealthy @desireeart @justeli @alejandria12 @mavis16 @genice @lis0426csm @cleydimar2000 @nathyortiz @glowshine @lolysacc @gabygonz @sofiaquino98 @mayifiestas @rubc @kimbi09 @gigi8 @mariangeltarg @alexiscova @scarletlopezj @tefyart @gilliatt @creativemary @naty16 @aguilaazul7777 @yolimarag @lililuki @mayifiestas @dali13 @lqch @enmy
Espero que se animen en participar, sigamos haciendo comunidad.
I hope you are encouraged to participate, let's continue to build community.


Thank you for reading this publication!


Imágenes tomadas desde mi Alcatel One Touch Idol 4. || Images taken from my Alcatel One Touch Idol 4.
Separadores hechos en PhotoScape. || Dividers made in PhotoScape.
Ediciones hechas en Photoscape. || Editions made in Photoscape.
Translator Deepl.