Good, good my bloggers stars 💫.
Ancestors tell us that makeup has been around since ancient times and today I think... 🤔 How would it have been to use fruits to make up, I admire the Roman makeup, their outlines, they are something impressive, nowadays women show their mood through makeup, being an art of expression, the physical appearance influences a lot nowadays, I particularly like to do simple makeup for the day to day because of the time that is invested, and as I regularly always fall asleep 😴🫣 hahaha 😂 I'm late to go out, what I do then is very makeup super fast, but for my evening outings if I invest enough time and I like to show my inner glow, that my makeup expresses how I feel internally, which is why today I want to share with you this makeup hoping you like it.
Buenas, buenas mis blogueros estrellas 💫.


Cuentan los ancestros que desde las épocas remotas existía el maquillaje hoy en día pienso... 🤔 ¿Como habrá sido utilizar las frutas para maquillarse?, admiro los maquillajes romanos, sus delineados, son algo impresionante, actualmente las mujeres demuestran su estado de ánimo a través del maquillaje, siendo así un arte de expresión, la apariencia física influye mucho hoy en día, yo particularmente soy de realizarme maquillajes sencillos para el día a día por el tiempo que se invierte, y como regularmente siempre me quedo dormida 😴🫣 jajaja 😂 se me hace tarde para salir, lo que hago entonces es un maquillaje súper rápido, pero para mis salidas nocturnas si invierto suficiente tiempo y me gusta mostrar mi brillo interior, que mi maquillaje exprese como me siento internamente, es por ello que el día de hoy quiero compartir con ustedes este maquillaje esperando que les guste.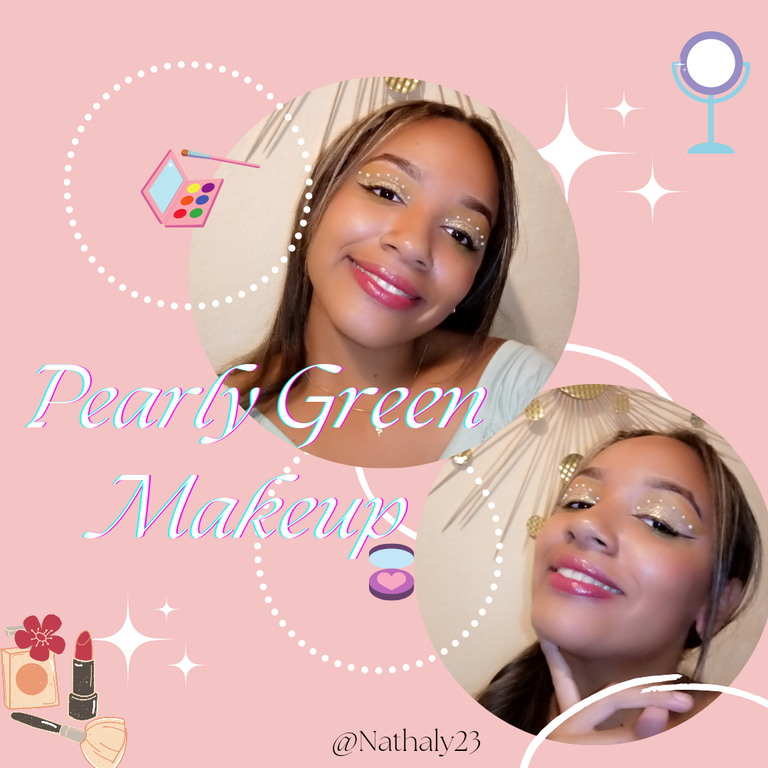 First of all you have to keep in mind that all women are beautiful for the right eyes, but that does not mean that we don't like to dress up to make an impact, I particularly focus on creating a look of impact, that's why I focus on the eyes. Now let's get to work:
Antes que nada hay que tener en cuenta que todas las mujeres somos bellas para los ojos indicados, pero eso no quita que nos guste arreglarnos para impactar, yo particularmente me enfoco siempre en crear una mirada de impacto es por eso que me enfoqué en los ojos. Ahora bien vamos manos a la obra: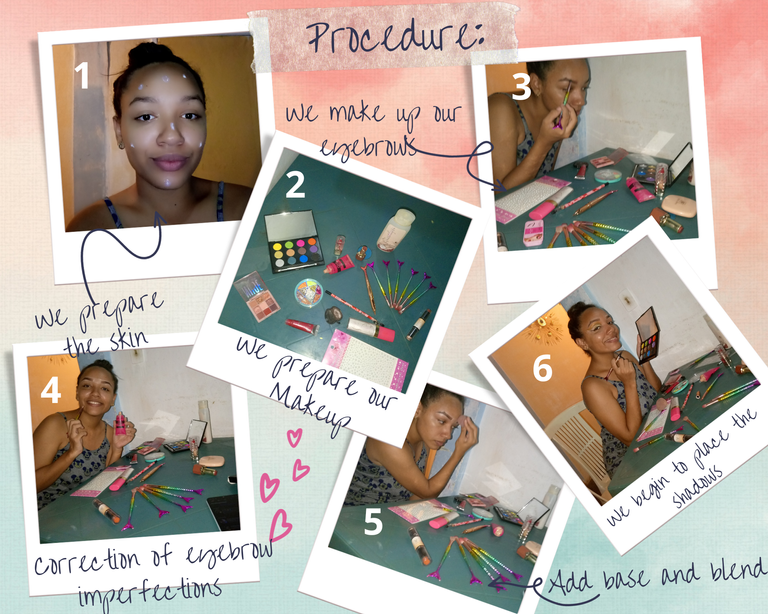 The first step is to prepare the skin, I used a moisturizer; then I made up my eyebrows and corrected the imperfections with concealer, once my eyebrows are ready we proceed to apply foundation on the eyelids, spread it and seal it with powder, here is the fun part, let's play with our palette, I had never done a green makeup 💚 because I had none and this weekend I took advantage of an offer in Jadu and bought the palette that you can see, although I confess that I was a little disappointed I expected more pigmentation from it, but this was not going to stop me to finish my makeup so I applied shadows, using brown 🟤, green 💚, orange 🧡 and yellow 🟡 once the shadows are spaced we proceed to blend to unify the colors and create a gradient, correct imperfections with foundation and blend again.
El primer paso es preparar la piel yo utilice una crema hidratante; posteriormente maquillé mis cejas y corregí las imperfecciones con corrector, una vez mis cejas están listas procedemos a aplicar base en los párpados, esparcirla y sellarla con polvo, he aquí la parte divertida, juguemos con nuestra paleta, yo nunca me habia hecho un maquillaje verde 💚 porque no tenía y este fin de semana aproveché un oferta en Jadu y compré la paleta que pueden observar, aunque les confieso que quedé un poco decepcionada esperaba más pigmentación de ella, pero esto no iba a impedir que terminara mi maquillaje por lo que apliqué sombras, usando el color marrón 🟤, verde 💚, naranja 🧡 y amarillos 🟡 una vez espaciadas las sombras procedemos a difuminar para unificar los colores y crear así un degradado, se corrigen las imperfecciones con base y nuevamente difuminamos.
Here comes my favorite part to add the glitter ✨ and take the makeup to another level, using the glitter, let's put it on, I chose green 💚 as a base and with a little bit of gold I mixed it, next I made a very pronounced eyeliner, I put black pencil on the tear trough and to enhance the makeup and give to see that glitter I added half pearls, I finished my look with my eyelashes, applying mascara and ready we finished our captivating look.
Viene mi parte favorita colocarle el brillo ✨ y subir el maquillaje a otro nivel, utilizando el glitter, ¡vamos a colocarlo!, yo escogí el verde 💚 de base y con un poquito de dorado lo mezcle, próximamente realicé un delineado muy pronunciado, coloqué lápiz negro por la parte del lagrimal y para realzar más el maquillaje y dar a ver ese brillo agregué media perlas, terminé mi mirada con mis pestañas, aplicando el rimel y listo terminamos nuestra mirada cautivadora.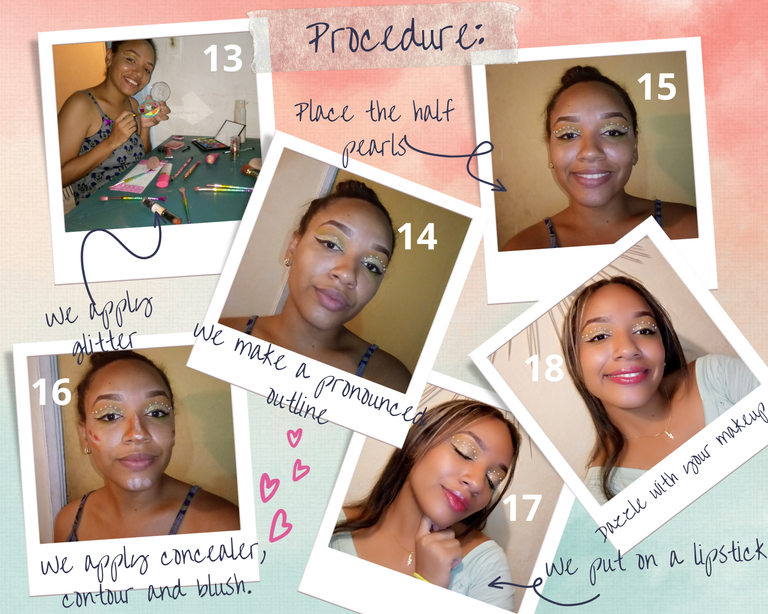 But in a make up it is not enough just the look we have to finish the facial features and that's why we helped ourselves with concealers and contours at first I laughed because I looked like an Indian 😂😂 with a modern eye make up but at last Indian because of the contour marks 😂😂 but well sisters you have to trust the process, I almost forgot the blush, I used a liquid one, you can use the one you have at your fingertips, we blur and tarán ✨☺️ our face changed, we seal with pressed powder or it can also be loose and to give finality to our makeup we add a lipstick. Now yes! we are ready to stop looks and hearts 🥰 😂 to go out to dazzle with this makeup.
Pero en un maquillaje no basta solo la mirada hay que terminar de realizar las facciones del rostro y por eso nos ayudamos con correctores y contornos al principio me reí porque parecía una india 😂😂 con un maquillaje en los ojos modernos pero al fin india por las marcas del contorno 😂😂 pero bueno hermanas hay que confiar en el proceso, casi se me olvida el rubor, yo utilicé uno líquido, ustedes pueden usar el que tengan a su alcance, difuminamos y tarán ✨☺️ nuestro rostro cambió, sellamos con polvo compacto o puede ser también suelto y para darle la finalidad a nuestro maquillaje agregamos un labial. ¡Ahora sí! estamos listas para detener miradas y corazones 🥰 😂 a salir para deslumbrar con este maquillaje.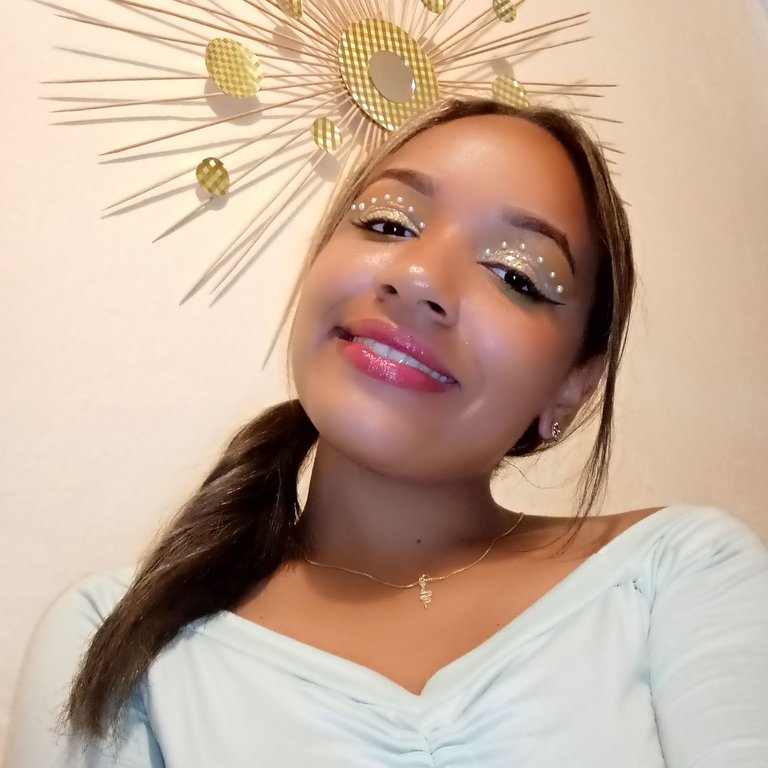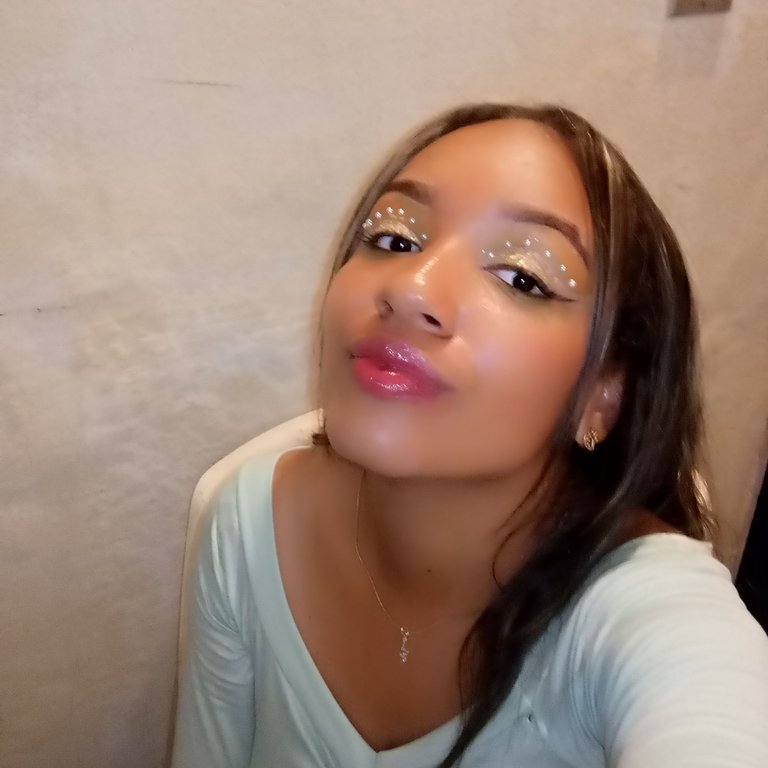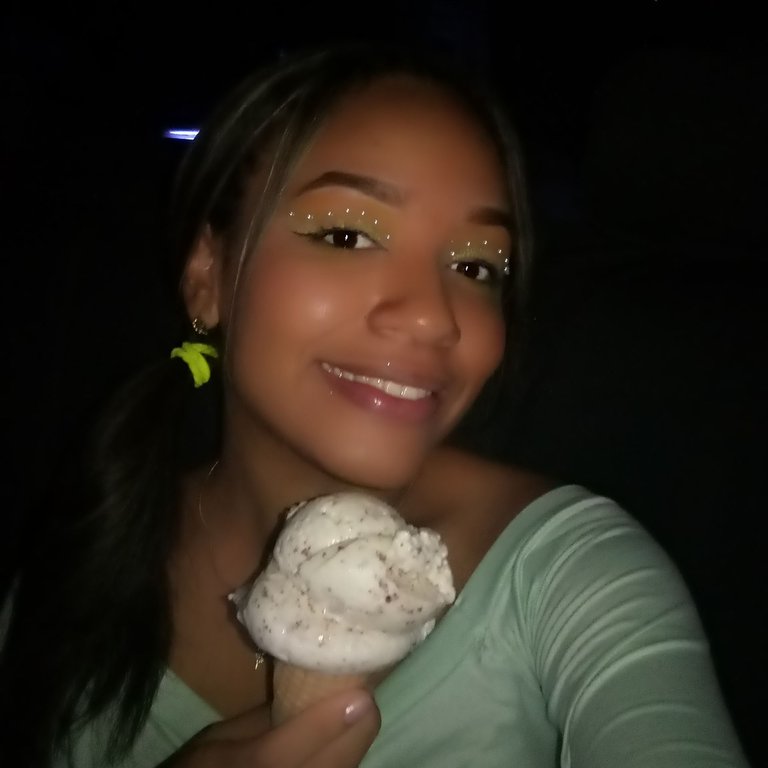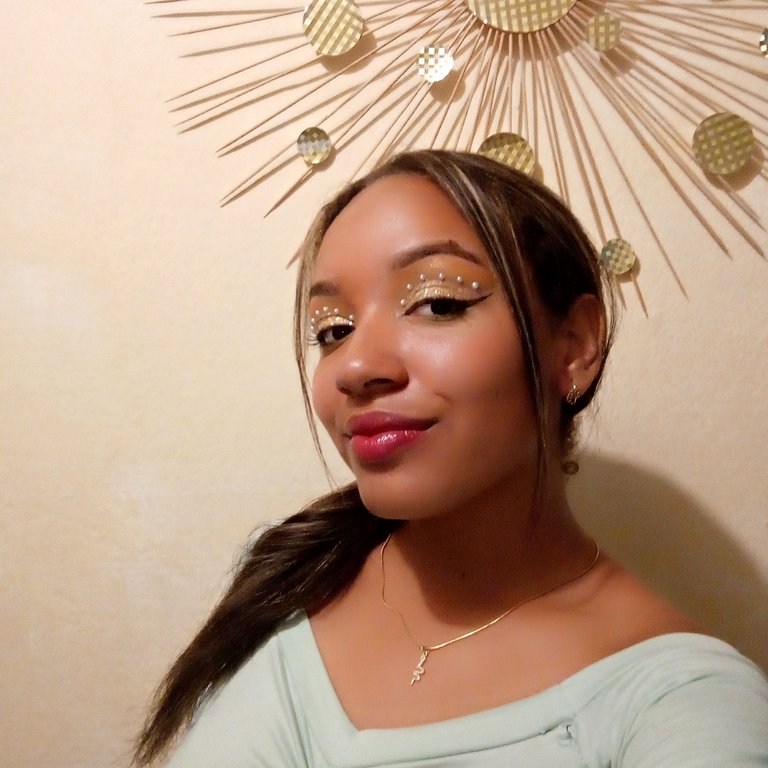 Bloggers every woman has a light and brightness ✨ inside that characterizes us, being that the point that makes us different and stand out from others, that inner glow we must learn how to externalize it, girls let's use the art 🎨, makeup, you have to make the world see 🌍 what we carry inside, I hope you like this makeup and dare to do it.
Blogueros toda mujer tiene una luz y brillo ✨ interior que nos caracteriza, siendo ese el punto que nos hace diferente y resaltar ante los demás, ese brillo interno debemos aprender a como exteriorizarlo, chicas utilicemos el arte 🎨, el maquillaje, hay que hacerle ver al mundo 🌍 lo que llevamos dentro, espero les guste este maquillaje y se atrevan a hacerlo.
All photographs are my own, captured with my Infinix Smart 7 mobile device, some taken by me with the help of the timer and others by Robert Crespo, the cover photo and collages were edited with Canva.
The text and summary is entirely my own.
Text Translated with DeepL
Todas las fotografías son de mi autoría capturadas con mi dispositivo móvil Infinix Smart 7, algunas tomadas por mi persona con ayuda del temporizador y otras por Robert Crespo, las foto de portada y los collage fueron editada con Canva
El texto y resumen es totalmente de mi autoría.
Texto Traducido con DeepL