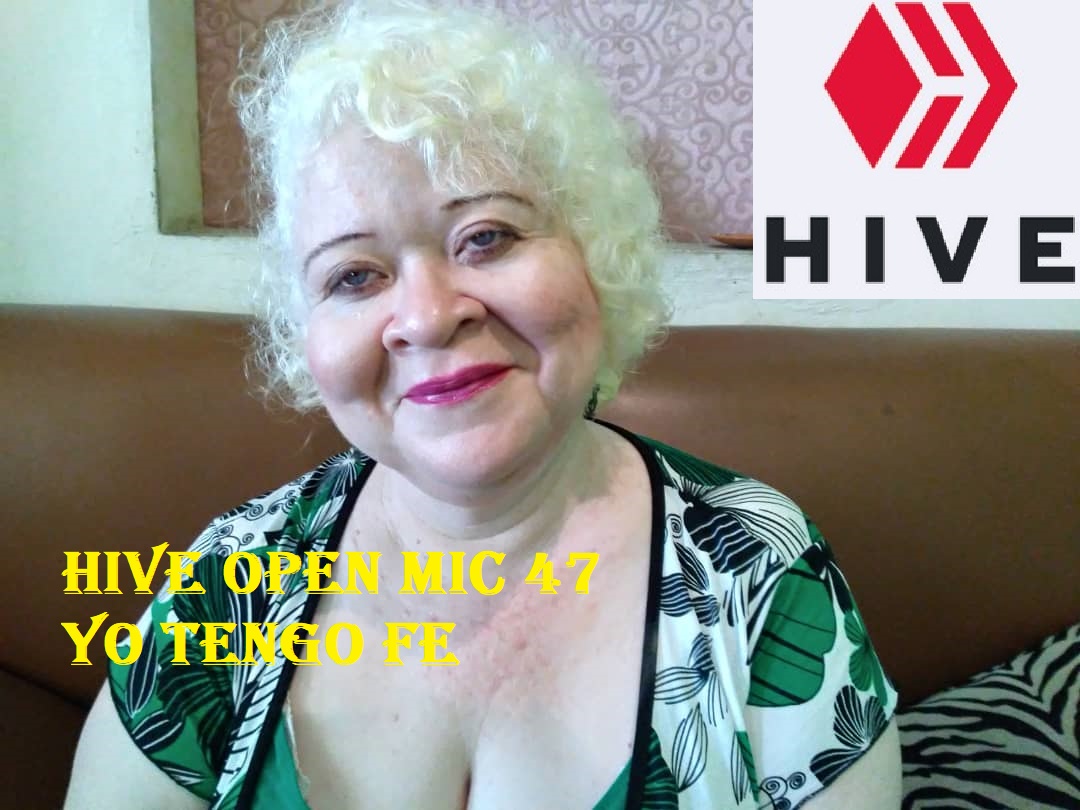 Greetings, My name is Iris Linares and this is my first post on hive. I came to this community motivated by my nephew
@alinares
and his wife
@cochanet
from him, who constantly encouraged me to take this big step.
I found the dynamics quite attractive and I am very happy to be part of it from today. When they told me that the weekly theme is faith, I could not think of another type of faith greater than the divine hope that God gives us through all things, so I chose to present a wonderful song called "I have faith "by Pablito Ortega, which is very beautiful and full of positive energy.
I hope you can receive me in this community with the same love with which I am joining, since here I already feel as a family, because in addition to my nephew and his wife there are my beloved brother
@armandolnrs
and his wife
@zorajr
, as well as his eldest son
@jesuslnrs
and his wife
@jhoxiris
who were the ones who began to attract us to this community little by little and well, here we are.
Saludos, Mi nombre es Iris Linares y este es mi primer post en hive. Llegué a esta comunidad motivada por mi sobrino
@alinares
y su mujer
@cochanet
, quienes me animaron constantemente para dar este gran paso.
La dinámica me pareció bastante atractiva y me siento muy feliz de formar a partir de hoy parte de ella. Cuando me dijeron que el tema semanal es la fe, no pude pensar en otro tipo de fe mas grande que la fe esperanza divina que nos regala Dios a través de todas las cosas, así que opté por presentarles una canción maravillosa llamada "Yo tengo fe" de Pablito Ortega, la cual es muy hermosa y llena de energías positivas.
Espero puedan recibirme en esta comunidad con el mismo amor con el que me estoy uniendo, ya que aquí ya me siento en familia, porque además de mi sobrino y su mujer están mi amado hermano
@armandolnrs
y su esposa
@zorajr
, así como también su hijo mayor
@jesuslnrs
y su mujer
@jhoxiris
quienes fueron los que comenzaron a atraernos a esta comunidad poco a poco y bueno, aquí estamos.

Yo tengo fe, que todo cambiará
Que triunfará por siempre el amor
Yo tengo fe, que siempre brillará
La luz de la esperanza, no se apagará jamás

Yo tengo fe, yo creo en el amor
Yo tengo fe, también mucha ilusión
Porque yo sé, será una realidad
El mundo de justicia que ya empieza a despertar

Yo tengo fe porque yo creo en Dios
Yo tengo fe será todo mejor
Se callarán el odio y el dolor
La gente, nuevamente, hablará de su ilusión

Yo tengo fe, los hombres cantarán
Una canción de amor universal
Yo tengo fe, será una realidad
El mundo de justicia que ya empieza a despertar

Yo tengo fe, que todo cambiará
Que triunfará por siempre el amor
Yo tengo fe, que siempre brillará
La luz de la esperanza, no se apagará jamás

Laralara-lalara-lara-la
Laralara-lalara-lara-la
Laralara-lalara-lara-la
Lalara-lara-la-la-la-la-lara-la

Yo tengo fe, yo creo en el amor
Yo tengo fe, también mucha ilusión
Porque yo sé será una realidad
El mundo de justicia que ya empieza a despertar

Laralara-lalara-lara-la
Laralara-lalara-lara-la
Porque yo sé será una realidad
El mundo de justicia que ya empieza a despertar








I have faith that everything will change
That love will triumph forever
I have faith that it will always shine
The light of hope will never go out

I have faith, I believe in love
I have faith, also a lot of illusion
Because I know, it will be a reality
The world of justice that is already beginning to awaken

I have faith because I believe in God
I have faith it will be all better
Hatred and pain will be silenced
People, again, will talk about their illusion

I have faith, men will sing
A universal love song
I have faith, it will be a reality
The world of justice that is already beginning to awaken

I have faith that everything will change
That love will triumph forever
I have faith that it will always shine
The light of hope will never go out

Laralara-lalara-lara-la
Laralara-lalara-lara-la
Laralara-lalara-lara-la
Lalara-lara-la-la-la-la-lara-la

I have faith, I believe in love
I have faith, also a lot of illusion
Because I know it will be a reality
The world of justice that is already beginning to awaken

Laralara-lalara-lara-la
Laralara-lalara-lara-la
Because I know it will be a reality
The world of justice that is already beginning to awaken