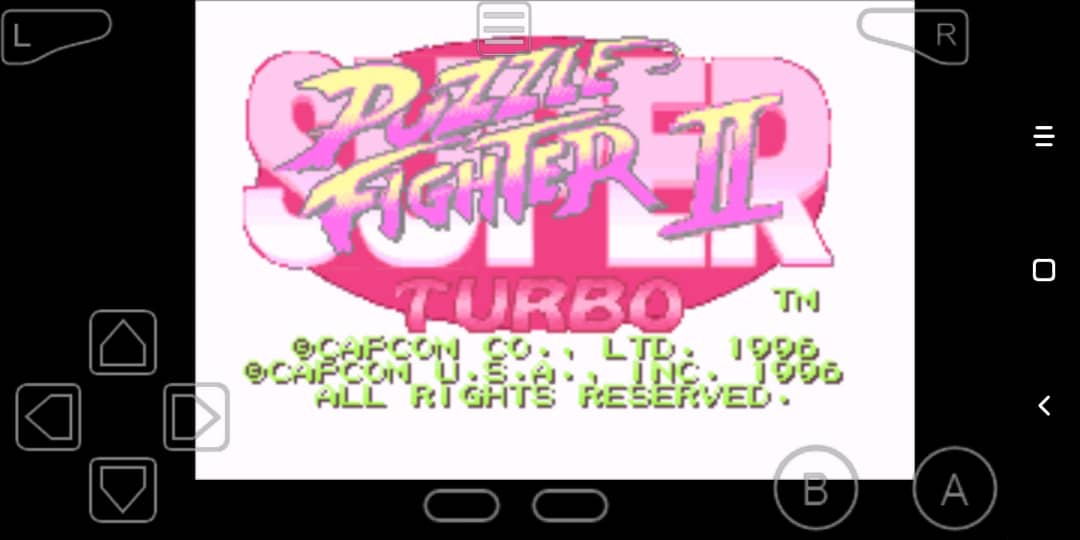 Foto capturadas de mi celular

Buenas espero que todos se encuentren bien, el día de hoy les traigo otro juegito de Game Boy Advance, saben que soy una apasionada por los juegos retro, y este es uno de mis favoritos ya que es sencillo, este juego tiene un aire al clásico tetris pero con muchas cosas que lo hacen mas entretenido, como estamos acostumbrados a ver en los juegos de puzzler y rompecabezas.
Good morning, I hope everyone is well, today I bring you another Game Boy Advance game, you know that I am passionate about retro games, and this is one of my favorites since it is simple, this game has a classic air Tetris but with many things that make it more entertaining, as we are used to seeing in puzzle and puzzle games.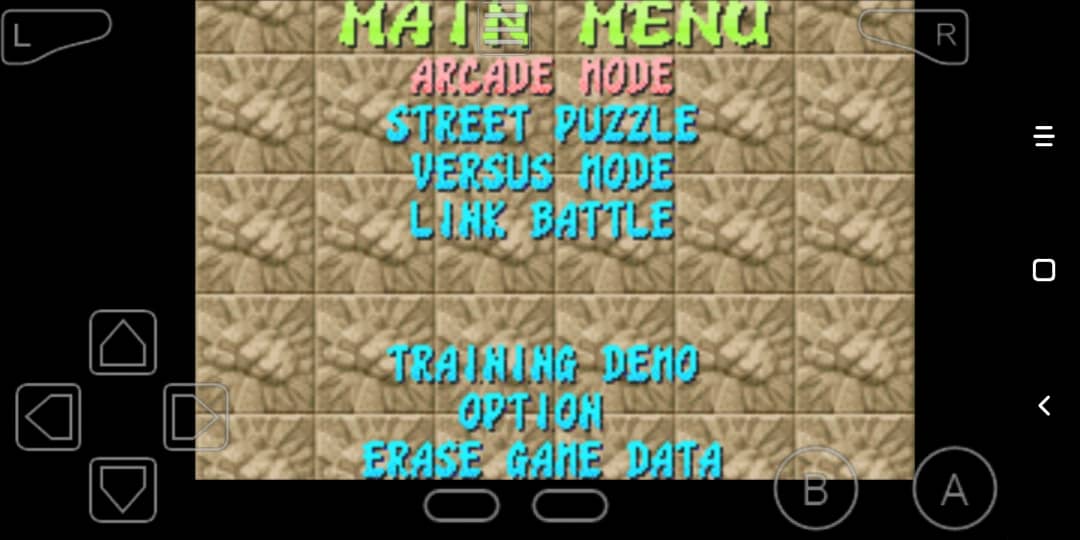 Foto capturadas de mi celular
Este juego tiene una particularidad y es que esta inspirado en el juego de Stret Fighter II turbo. pero no es un juego de peleas , es un rompecabezas en donde cada personaje tiene su propia combinación y mediante estas combinaciones vas atacando a tus rivales lo cual vas saboteando el juego del rival mediante combo que vas creando con las combinaciones de los colores y cristales que van cayendo.
This game has a particularity and it is that it is inspired by the game of Street Fighter II turbo. But it's not a fighting game, it's a puzzle where each character has their own combination and through these combinations you attack your rivals, sabotaging the rival's game through combos that you create with the combinations of colors and crystals that they are falling
Tiene varios estilos de juegos pero el mas popular es el Arcade en el cual seleccionas un personaje y vas superando una serie de escenarios en la cual vas enfrentando a cada uno de tus rivales en combates de 3 round, para ganar 2, otro de los modos de juegos que mas llaman la atención de este juego en particular es la de Link Batle en donde te conectas a otra persona mediante el cable de Game boy para hacer conexiones entre dos consolas, aunque en los emuladores actuales tiene una Opcion de emular este cable mediante WIFI o Bluethoo.
It has several styles of games but the most popular is the Arcade in which you select a character and go through a series of scenarios in which you face each of your rivals in 3-round combat, to win 2, another of the modes One of the games that most attracts the attention of this particular game is that of Link Battle where you connect to another person through the Game boy cable to make connections between two consoles, although in current emulators you have an option to emulate this cable through WIFI or Bluetooth.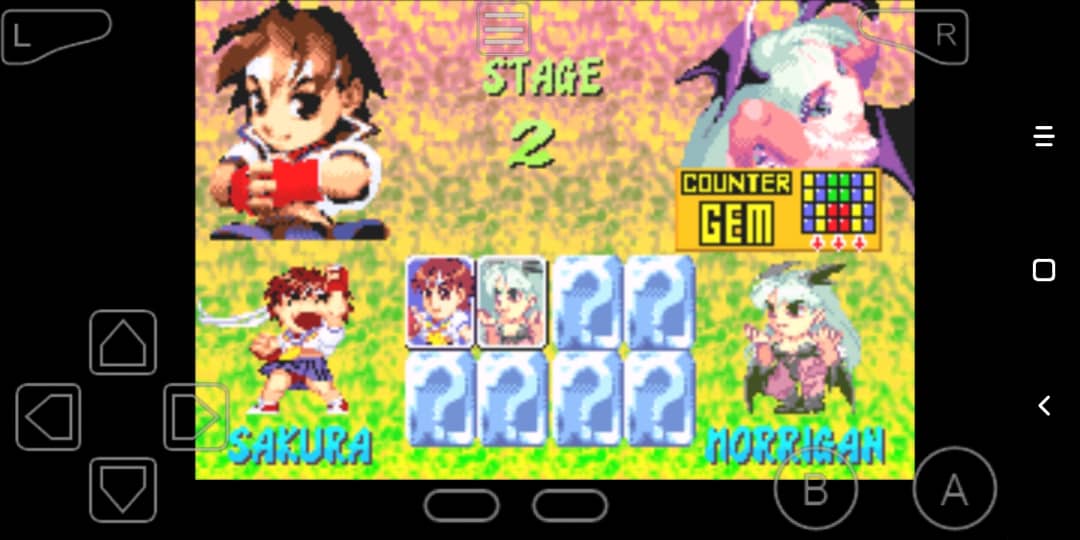 Foto capturadas de mi celular
En este juego nos encontramos 8 personajes clásicos de Street Fighter 2 turbo, en los cuales tenemos a Riu y Ken, en versión Chibi así como Dan que es uno de los personajes que salio específicamente en la versión turbo 2 junto a Sakura.
Cada personaje tiene su propia combinación de colores el cual se hace para hacer un contra ataque o simplemente para arrojar un poder a tu rival.
In this game we find 8 classic Street Fighter 2 turbo characters, in which we have Riu and Ken, in a Chibi version as well as Dan, who is one of the characters that specifically appeared in the turbo 2 version along with Sakura.
Each character has its own color combination which is made to make a counter attack or simply to throw a power at your opponent.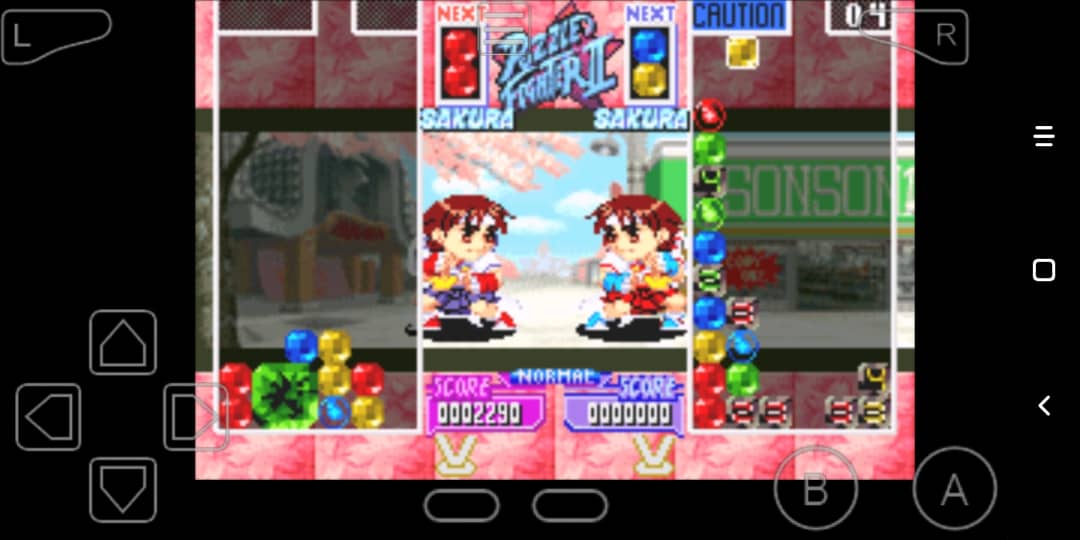 Foto capturadas de mi celular
La idea principal de este juego es ir juntando cristales del mismo color para que al estar en grupos de 4 en adelante se creen cristales de mayor tamaño esto es fundamental para el desarrollo del juego ya que mientras mas grande es este cristal el saboteo que se le hace a tu rival es mayor, así como las posibles combinaciones que puedas hacer cuando este cristal de mayor tamaño sea destruido, ya que estos son destruidos con un cristal especial del mismo color de la combinaciónes que has hecho, un cristal especial que nos arroja aleatoriamente es el que hace destruir cualquier color sin importar si tengas combinaciones o no.
The main idea of this game is to go joining crystals of the same color so that when being in groups of 4 or more, larger crystals are created. This is essential for the development of the game since the larger this crystal is, the sabotage that will be does to your rival is greater, as well as the possible combinations that you can make when this larger crystal is destroyed, since these are destroyed with a special crystal of the same color as the combination you have made, a special crystal that randomly throws at us It is the one that destroys any color regardless of whether you have combinations or not.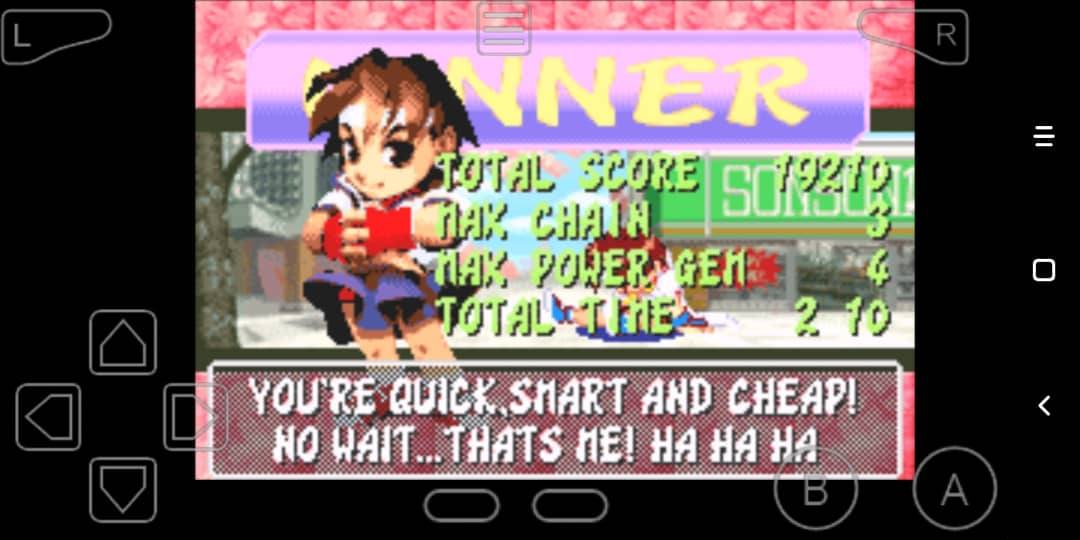 Foto capturadas de mi celular
La victoria en este juego se obtiene igual como ocurre en el tetris cuando tu zona de juego se llena de cristales y ya no puedes agregar mas entonces es cuando se detiene el juego y se da a un vencedor, para ganar el combate tienes que ganar 2 combates de 3, ya que esta es otra de las particularidades que tiene este puzzler , ya que simula un combate por Rounds, y solo gana el que tenga mas victorias.
Victory in this game is obtained just like in Tetris when your game area is filled with crystals and you can't add more, then the game stops and a winner is given, to win the fight you have to win 2 fights of 3, since this is another of the particularities that this puzzler has, since it simulates a fight for Rounds, and only the one with the most victories wins.
Gracias por leer mi publicacion.
Thank you for reading my post.