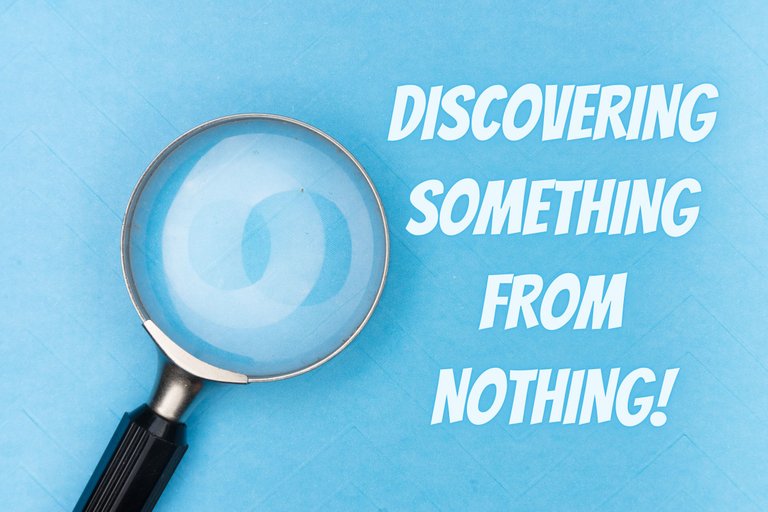 IMAGE BY MARKUS WINKLER FROM UNSPLASH
DISCOVERING SOMETHING FROM NOTHING
"Discovering something from nothing" is a skill that I comprehended from a 13 years old boy. The best time period was when I broke the prison for the first time. I Escaped from the reluctant environment where each stuff entangled me into restrictions.

HOW THE ENVIRONMENT BECOMES TOXIC
We have not been confined in these enclosures since our birth but we got these chains from family, society, and the world because of several factors.
We are being asked to follow the steps of others but trendsetters should not acquire the already paved paths. This confidence makes him tangled in troubles.
No one speculates about the future, especially getting independence but still, some people don't want to feed on the things, ideologies being conveyed by others.

GOING AGAINST THE SEA WAVES
Before meeting this competent guy I was already in the middle of intuition, have I done right or wrong by acquiring escape? Working the whole day and getting only a few pennies was the livelihood of this guy. Having a physique like a willow, he was the individual for whom attaining everything before time was significant. He has to represent himself maturely as it was the precise time to show adolescence because harsh circumstances don't benefit toddlers.

MISERIES INSCRIBED IN FATE
It is said that shooting bullets always kills the poor, they are also devoid of promising fate. He was having a second-hand bike but it got stolen, he can't complain as he was underage to get a license. Silence for his misery, no affordability for getting a new source for transport. Everyone speaks about child labor but why you can't eradicate it. 'Lack of knowledge is not exactly because people only employ their words, not the energies or money they have.

INITIAL STEP FROM MY SIDE
Knowing that he was hungry I decided to feed his tummy so that this would make him comfortable. Although he was most pleased with his life, being grown up in a poor family with a burden of responsibility. Not having an adequate source of income. Dimmed future and present-day circumstances were his hurdles according to me. But did he consider this brutal? not at all. His analyses surprised me. He didn't have a qualified education, he learned from life, the environment, and society.

TOP DOCTRINES OF BEING RICH
But still, his thoughts could win against the philosophers. Why can't the poor become philosophers because they have no money to advertise their philosophies. Do we all depend on money? Yes, we are, imagine if someone would give you a tip as its cost is free, you wouldn't act upon this because you paid nothing for that. But when you will have the exact advice by taking a healthy amount you will act upon this. Now comparing the same situation, I am evident that beggars are somehow more ethical and credible to give you advice but we don't listen to them. As they don't merit our level of a mentor. For example, a well-dressed person teaches you nothing but you are impressed by his personality. But the old chap who gave you all the knowledge but hasn't infiltrated your heart by his superficial appearance. You wouldn't remember the latter person. We are so judgemental. Running behind brands we have forgotten about real life. This is what I still miss. That poor guy had nothing like me but still, he was richer than me.

APPETITE AND AMAZEMENT
I ordered a burger, fries, and cold drink. But before that, I saw suspicion in his words regarding food quality. He can't afford health issues because his sickness would give his family a shortcoming and they have to pay the cost for this. How difficult life he was attending to. In a moment I found I had a dearth of money, I would be embarrassed if I couldn't feed him. In a hurry, I cross-checked my pockets and surprisingly I found some cash which I had forgotten. It was his good luck that I found cash because it belonged to his fate might be sent by Lord in his name. Don't know how this magic occurred but I was recouped from embarrassment. When he glanced at the burger his expression got altered. For the first time he was viewing such a thing and he couldn't govern his facial expression, surprise, gratitude, delight, or fear. I noticed all these reflections on his face. He segregated all the stuff from the burger and ate them one by one. It was awful for me but I knew this can happen, somehow I was also a survivor in this society. In the meantime, I wanted to explore him.

INTELLECTUAL YET ILLITERATE
He couldn't read anything, maybe he would be the kid who got expelled from school because of not paying the tuition fees. Or might be he would be the victim of grades phobia, in this syndrome teachers only appreciate and facilitate the crammers. Being unprivileged he persisted uneducated. He listened to my viewpoints and profession-related knowledge carefully. He couldn't think beyond that whole day of labor in which his hands and eyes were affected badly. Too young to bear all this torture. I couldn't glance at his physique, and tan color because of the hectic routine where sun and fire shouldn't influence your work. A delicate flower getting faint because of brutal conditions. Painful moments as multiples are losing their delicacy in front and in the background too.

CONCERNING VIEWPOINTS
A satisfied lifestyle where there is no thought regarding the future, what is happening now is the nicest time so celebrate this with full zeal.
Having a firm belief in the Lord, if He has promised for livelihood no one can snatch anything from you which is already inscribed in your fate.
You can win against everything but can't beat poverty if you inherit this. So it's better to live a satisfying life instead of running before privileges and luxuries.
No supervision should be acquired if death is penned for you. It can't be overthrown. Hence little things shouldn't be prevented by saying that its side effects would occur in prospect. Just abide by the moment.
Not each time, worldly degrees and badges are expected to get a reputation. Your goodness of character speaks for itself.
Don't hesitate to make good terms by enabling others as you can also require their help for the upcoming time.
Make your heart and mind receptive to everyone and everything.
Remaining within the shell can also become prosperous if you are living a content lifestyle.

WHERE I AM STANDING
I am nothing in front of that content guy, we all are chasing more success each time. Having no acknowledgment for what we are having now. In our thoughts, regarding a bright future, we obstruct the existing delights.
We think about ourselves but our hearts are not having the space to tolerate other beings.
I am a well-known blogger, but when I get a downvote or the least value of my work. No one can take me out of this anxiety. But he was not anxious about losing the only thing he had till now. He knew that it was the Will of the Almighty to give him this and he can't compete with fate.
It's already a blessing if I am getting money for only typing and conveying my knowledge. I have done nothing labor as he was doing to earn a few pennies.
No gratitude even if I am having everything, the future haunts me but I can't enjoy happiness sometimes.
I have done all the investments for the future but what if I don't have a chance to enjoy it.
It is better to remain unaware of the things which hurt you if they restrict you to enjoy yourself.


Also, Check out my BuyMeBerries Supporters on Hive:
Bhattg
LifeSkills-TV
Ayesha-Malik
MahirAbdullah
Also, Check out what my supporters say about me: