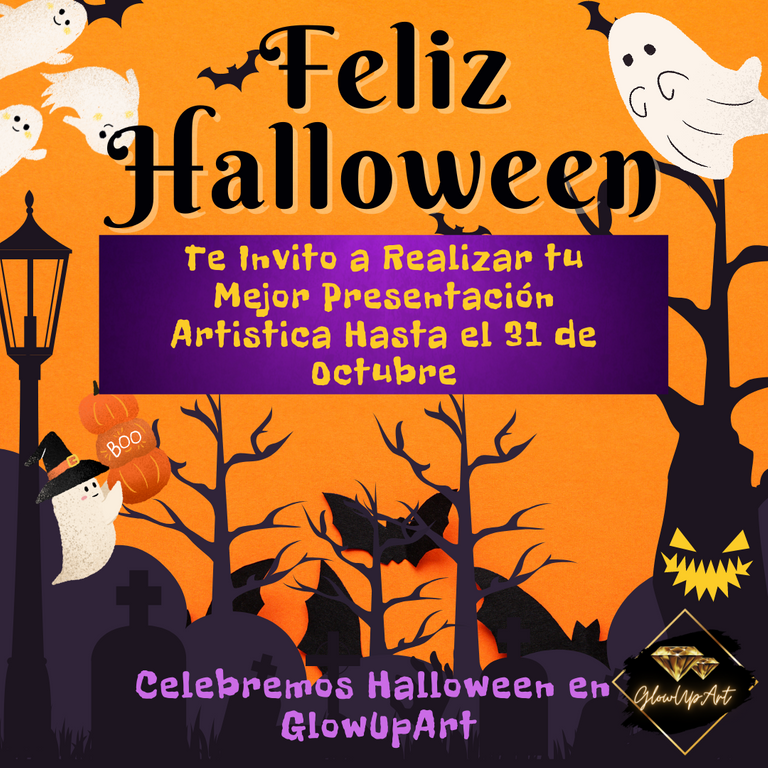 Greetings friends of

#hive

one more week that ends and another one begins and the glowupart we continue to bring new initiatives, the previous one was incredible and had a lot of receptivity that's why we bring it to you, lover of artistic makeup a new initiative.
The celebration of Halloween is already very close and that is why we want the rest of the month to bring us make-up proposals dedicated especially to the celebration of this date, we want incredible make-ups that kill with terror and fright, develop all your creativity, let yourself be carried away by your imagination and show off your best terrifying makeup.
If you like to dress up this is the ideal time to do it, you can also create a complete proposal if you wish, do not limit yourself, if you feel very inspired create a complete look and make us live Halloween through your post.
Halloween is a date that lends itself to letting magic flow, imagination, that's why in your makeup we want you to let your imagination fly, because the sky is the limit, dazzle us with your creation, we will be waiting.

🎃🎃🎃RULES🎃🎃🎃
-The images in the post must not be opaque or blurry.
-You must show the step-by-step of your makeup.
-You must vote, comment and reblog this post so that this initiative has more reach and so more people can join this great activity.
-You must place the hashtag #glowupart between the tags of your post.
-Share your post on twitter and put #glowupart
@glowupart, this will send your post directly to our telegram channel.
-You must invite two or three people to participate.

We are anxious to see your creation so we are waiting for you and for now we have to say goodbye with these famous words, which we want you to make them yours:
"DISCIPLINE BEATS TALENT "
If you feel passionate about this branch, put all the effort in the world to see your goal fulfilled.
⭐LUCK⭐
THE PRIZE WILL BE 5 HIVES TO THE BEST ENTRY.

---
---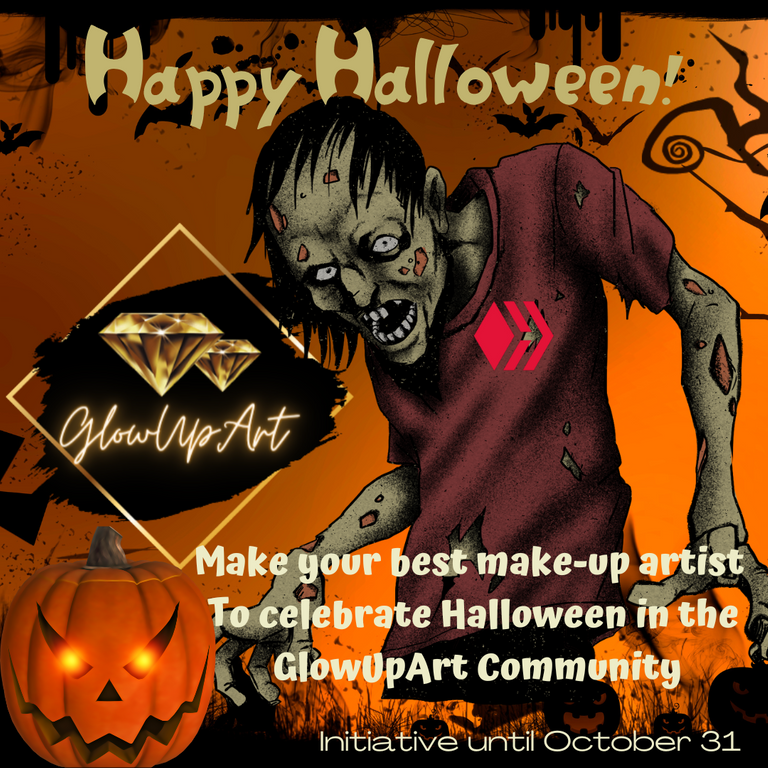 👻🎃[ESP] 🎃👻
Saludos amigos de

#hive

una semana más que termina y otra de inicia y el glowupart seguimos trayendo nuevas iniciativas, la anterior fue increíble y tuvo mucha receptividad por eso traemos para ti, amante del maquillaje artístico una iniciativa nueva.
Ya está muy cerca la celebración del Halloween y por eso queremos que el resto del mes nos traigan propuesta de maquillajes dedicadas especialmente a la celebración de esta fecha, queremos maquillajes increíbles, que nos maten de terror y del susto, desarrolla toda tu creatividad, déjate llevar por la imaginación y muestra tu mejor maquillaje terrorífico.
Si a ustedes les gusta disfrazarse este es el momento ideal para hacerlo, también podrás crear una propuesta completa si lo deseas, no te límites, si te sientes muy inspirado crea un look completo y haznos vivir el Halloween a través de tu post.
Halloween es una fecha que se presta para dejar fluir la magia, la imaginación por eso en tu maquillaje queremos de dejes volar tu imaginación, pues el límite es el cielo, deslumbrarnos con tu creación, estaremos esperando.

🎃🎃🎃REGLAS🎃🎃🎃
-Las imágenes del post no deben ser opacas ni borrosas.
-Debes mostrar el paso a paso de tu maquillaje.
Debes votar, comentar y rebloguear este post para que esta iniciativa tenga más alcance y así más personas puedan sumarse a esta gran actividad.
-Debes colocar el hashtag #glowupart entre las etiquetas de tu post.
-Comparte tu post en twitter y pon #glowupart - @glowupart, esto enviará tu post directamente a nuestro canal de telegram.
-Debes invitar a dos o tres personas a participar.

Estamos anciosos por ver tu creacion así que te esperamos y por ahora nos queda despedirnos con nuestras estas famosas palabras, las cuales queremos que las hagas tuyas:
"LA DISCIPLINA SUPERA AL TALENTO"
Si sientes pasión por esta rama, pon todo el esfuerzo del mundo para ver tu objetivo cumplido.



⭐SUERTE⭐
EL PREMIO SERÁ DE 5 HIVE A LA MEJOR ENTRADA.

---
---
We make a closing video of the initiative every week, do you want to appear in it? Then send us a video fragment of your finished work, through our telegram group.
Hacemos un video de cierre de la iniciativa cada semana, ¿quieres aparecer en él? Entonces envianos un fragmento de video de tu trabajo terminado, a través de nuestro grupo de telegram.
🎥🎞️
https://t.me/glowup_art