Greetings beautiful people of

#hive

receive a greeting from this your

#Glowupart

community, we are finishing another week and we are more than satisfied with the result and the participation of so much talent in our initiatives.

But this does not end here, we have another great initiative in which we are going to get very creative, this week we will be inspired by the four elements of nature which are: water, fire, earth and air.
Saludos gente linda de

#hive

reciban un saludo de esta su comunidad

#Glowupart

, estamos terminando otra semana y estamos más que satisfechos con el resultado y la participación de tanto talento en nuestras iniciativas.

Pero esto no acaba aquí, tenemos otra gran iniciativa en la que nos vamos a poner muy creativos, esta semana nos inspiraremos en los cuatro elementos de la naturaleza que son: agua, fuego, tierra y aire.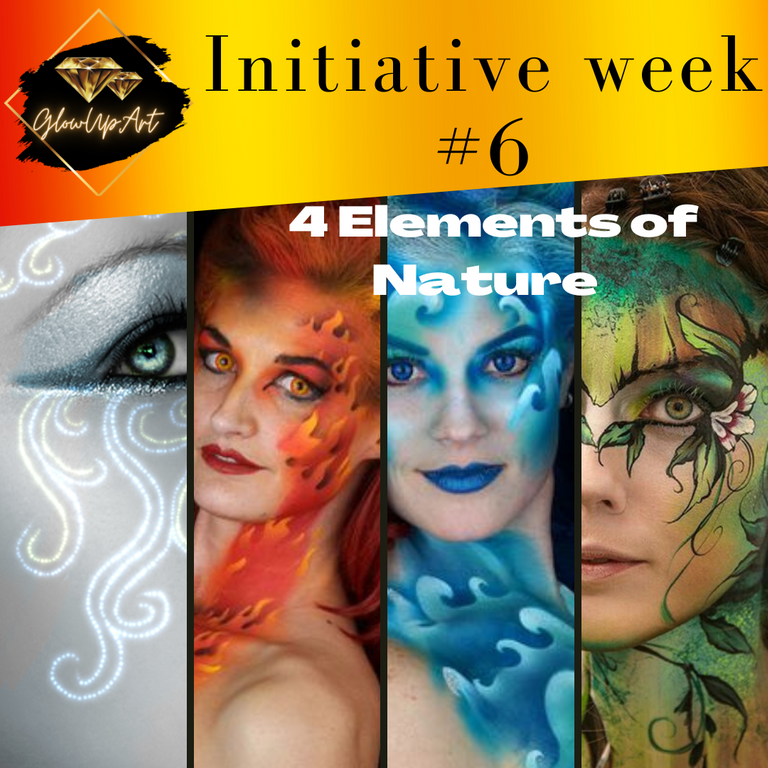 We want you to choose one or two of these four elements to create your great presentation, and we want you to tell us a little bit about your inspiration.
Queremos que elijas uno o dos de estos cuatro elementos para crear tu gran presentación, y queremos que nos cuentes un poco tu inspiración.

Contest rules
-The images in the post must not be opaque or blurry.
-You must show the step-by-step of your makeup

-You must vote, comment and reblog this post so that this initiative has more reach and so more people can join this great activity.

-You must place the hashtag #glowupart between the tags of your post.

-Share your post on twitter and put #glowupart
@glowupart, this will send your post directly to our telegram channel.

-You must invite two or three people to participate.
THE PRIZE WILL BE 5 HIVES TO THE BEST ENTRY.

Reglas del concurso
-Las imágenes del post no deben ser opacas ni borrosas.
-Debes mostrar el paso a paso de tu maquillaje.
-Debes votar, comentar y rebloguear este post para que esta iniciativa tenga más alcance y así más personas puedan sumarse a esta gran actividad.
-Debes colocar el hashtag #glowupart entre las etiquetas de tu post.
-Comparte tu post en twitter y pon #glowupart, @glowupart, esto enviará tu post directamente a nuestro canal de telegram.
-Debes invitar a dos o tres personas a participar
EL PREMIO SERÁ DE 5 Hive A LA MEJOR ENTRADA.

We say goodbye making our own these famous words, which we also want to be yours:
"DISCIPLINE TRUMPS TALENT "
If you feel passion for this branch, put all the effort in the world to see your goal fulfilled.
Greetings from the @glowupart team.
Nos despedimos haciendo nuestras estas famosas palabras, que también queremos que sean tuyas:
"LA DISCIPLINA SUPERA AL TALENTO "
Si sientes pasión por esta rama, pon todo el esfuerzo del mundo para ver tu objetivo cumplido.
Un saludo del equipo de @glowupart.