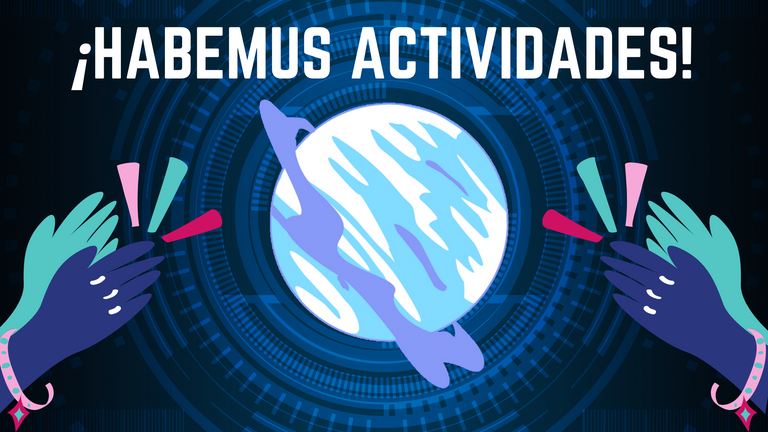 ¡Saludos, Hivers! El día de hoy queremos realizar unos anuncios importantes desde el proyecto @aliento motivado a diversos cambios e ideas que están naciendo en nuestro Servidor de Discord.
Nuestro equipo está trabajando árduamente para poder hacer que la comunidad se sienta totalmente feliz y complacida en nuestros espacios, entonces, motivado a esto, acá tienen las últimas noticias sobre el proyecto.
Greetings, Hivers! Today we want to make some important announcements from the @aliento project due to several changes and ideas born in our Discord Server.
Our team is working hard to make the community feel totally happy and pleased in our spaces, so, motivated by this, you have the latest news about the project.
---
Cambios en Discord | Discord Changes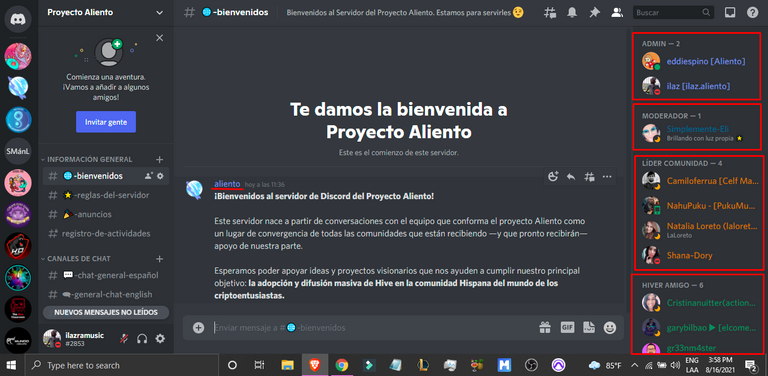 El primer cambio que pueden notar las personas que se encuentran en nuestro servidor de Discord, es que hemos hecho una actualización de los roles del mismo; ya estamos un poco más organizados y pudimos mejorar incluso la visibilidad de los mismos al utilizar colores acordes a cada dinámica de cada rol pertinente.
Decidimos separar las categorías de roles en la lista de usuarios activos para llevar del mismo modo un buen control de cada tipo de usuario que tenemos en la comunidad.
The first change that people who are in our Discord server can notice is that we have made an update of the roles of the same; we are already a little more organized, and we could even improve the visibility of them by using colors according to each dynamic of each relevant role.
We decided to separate the role categories in the list of active users to control each type of user we have in the community.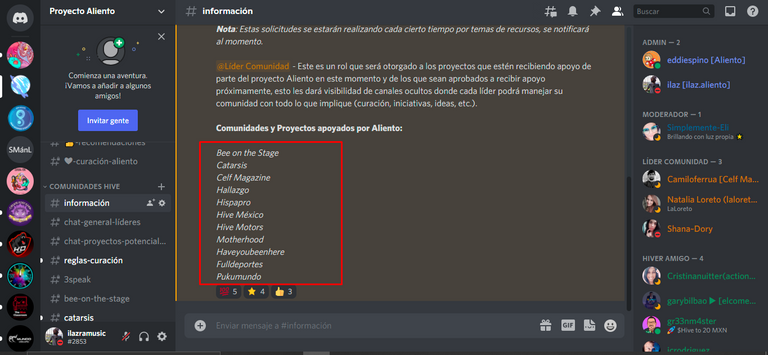 ¡Ya hemos activado la curación para los diversos proyectos que están bajo nuestro apoyo!
Tenemos varios canales donde cada líder de cada proyecto que apoyamos puede postular publicaciones diariamente para que reciban un voto de parte del proyecto @aliento.
Diariamente estamos votando a muchos autores de gran calidad y poco a poco vamos desarrollando mejores dinámicas de curación para poder repartir nuestro VP entre la mayor cantidad de autores posibles.
Si quieren ver con más detalle las publicaciones que apoyamos en este momento pueden entrar al siguiente enlace: https://peakd.com/@aliento/trail.
We have already activated the curation for several projects that are under our support!
We have several channels where each leader of each project we support can post publications daily to receive a vote from the @aliento project.
We are voting many high-quality authors daily, and little by little, we are developing better curation dynamics to distribute our VP among as many authors as possible.
If you want to see in more detail the publications that we support at the moment, you can enter the following link: https://peakd.com/@aliento/trail.
---
¡Nuevas Actividades! | New Activities!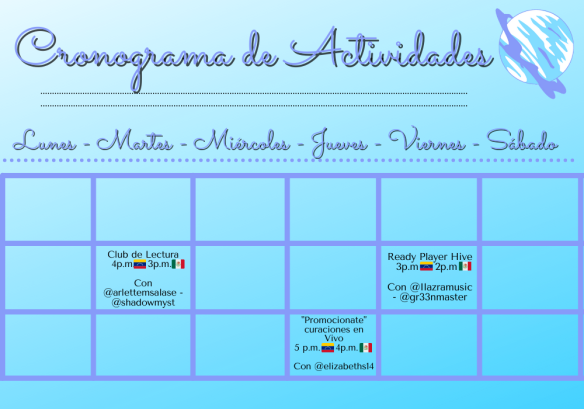 Diseño hecho por @elizabeths14
¿Creían que nuestro servidor de Discord iba a ser solo para compartir memes y curaciones a proyectos? ¡Pues no! El equipo decidió desarrollar algunas actividades que hagan que las personas de nuestra comunidad la pase excelentemente bien, así que, aquí les mostramos nuestras nuevas actividades semanales:
Club De Lectura: Para todos los amantes de la buena literatura, les traemos un espacio conducido por @arlettemsalase y @shadowmyst donde van a pasarla excelentemente bien mientras se dejan llevar entre líneas.

"Promociónate" (Curación en Vivo): Obviamente no podía faltar algún evento de curación, y en este caso particular tenemos un equipo de curadores muy épico como lo son @elizabeths14 y @josecarrerag quienes estarán encargados de llevar la actividad para valorar a los creadores de nuestra comunidad.

Ready Player Hive: Y por último pero no menos importante, tenemos un espacio dedicado a los amantes del mundo #gaming; este será un evento que tendrá muchas dinámicas pues, será como un podcast sobre actualidades de videojuegos, habrá curación de contenido netamente gaming y se realizarán partidas de juegos multijugador en vivo con premios, si quieren detalles, esperen los anuncios de nuestros conductores @ilazramusic y @gr33nm4ster.
Did you think our Discord server was going to be just for sharing memes and project curation Well, no! The team decided to develop some activities that make people in our community have a great time, so, here we show you our new weekly activities:
Reading Club: For all lovers of good literature, we bring you a space hosted by @arlettemsalase and @shadowmyst where you are going to have an excellent time while you let yourself go between the lines.

"Promote Yourself" (Live Curation): Obviously, we could not miss a curation event, and in this particular case, we have a very epic team of curators such as @elizabeths14 and @josecarrerag who will be in charge of leading the activity to value the creators of our community.

Ready Player Hive: And last but not least, we have a space dedicated to lovers of the #gaming world; this will be an event that will have many dynamics, it will be like a podcast about video game news, there will be a curation of purely gaming content, and there will be live multiplayer games with prizes, if you want details, wait for the announcements of our hosts @ilazramusic and @gr33nm4ster.
---
Palabras Finales | Final Words
Desde el proyecto @aliento deseamos que toda nuestra comunidad se sienta a gusto de formar parte de nuestro servidor de Discord y que de ahí puedan seguir surgiendo nuevas ideas que hagan que el proyecto siga creciendo de forma vertiginosa y exponencial como lo ha venido haciendo gracias al apoyo de todos los creadores, curadores y delegadores.
Queremos asegurar un buen futuro para nuestra cadena y sentimos que los pasos que estamos dando son totalmente necesarios para ello, ¡contamos con ustedes para seguir haciendo el trabajo de la mejor manera!
From the @aliento project, we want all our community to feel comfortable to be part of our Discord server and that from there, new ideas can continue to emerge that make the project continue to grow in a dizzying and exponential way as it has been doing, thanks to the support of all creators, curators, and delegators.
We want to ensure a good future for our network, and we feel that the steps we are taking are absolutely necessary for this. We count on you to continue doing the job in the best way!