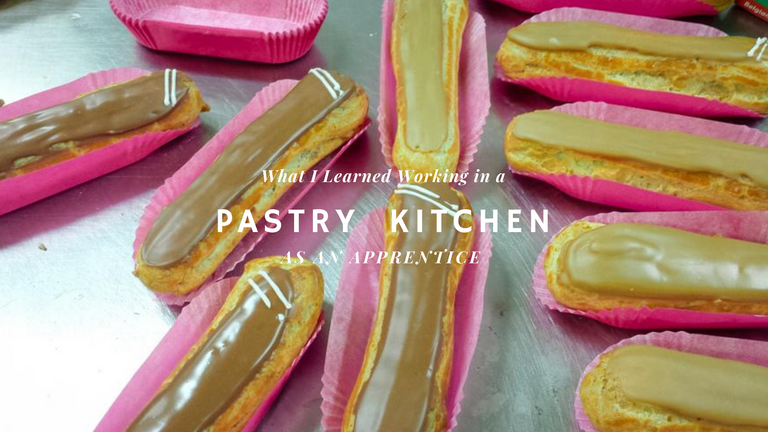 Pâtisserie is the French Art of Pastry Making. It is different from savory cooking due to its required precision. In France, the field of pâtisserie is extensive. Never have I ever imagined that I would one day experience being an apprentice inside a functioning boulangerie and pâtisserie.
Brief History
@iamyohann and I made a decision to quit our 12 year expat life in the Middle East five years ago. With this decision came a mission to re-invent our lives. I was convinced that a food business would easily flourish in the Philippines. I was skeptical that I would be able to successfully practice my interior-architecture profession back home.
During this transitional period, we decided to spend quality time with our french family for a long hiatus in France before embarking in a tropical island life.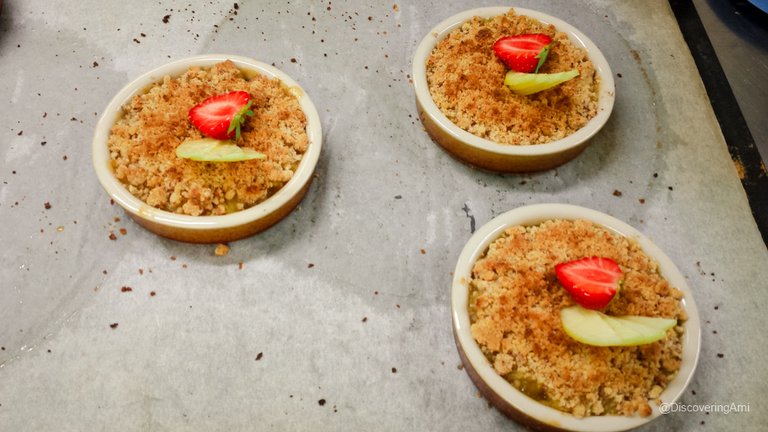 How it Happened
Throughout my life overseas, I enjoyed baking and making easy pastries at home. I wanted to learn the art of making french pastry so I toyed with the idea that being a pâtissière was perhaps something worth pursuing while living in the Philippines.
My brother-in-law, Max was a professional baker or a boulanger, while his wife, Alex was a self-taught pastry maker or a pâtissière. They ran a Boulangerie and Pâtisserie, a family baking business in the western region in France not far from Cholet.
A light bulb moment infused with my curiosity landed me an apron and a hairnet working with Alex. She spoke very little English, so she taught me entirely in french. Something that I was excited about since it was also an opportunity to expand my vocabulary and practice my grammar.
I had no formal training in cooking nor baking prior to this on the job stint. Imagine me as someone who watched online videos and followed recipe blogs while making ganache at home.
The Work Place
Work started daily at 4 am but I was not required to come in until 8 am.
The workspace was divided into 4 zones;
the shop where all baked goods were displayed and sold
the storage and delivery area
the baking area, whose walls were stacked with large ovens where baskets and trays of baguettes and bread were made everyday.
and the pastry kitchen which was a devoted space for making pastries.
At the far end of the pastry kitchen was the viennoiserie making corner. It was basically a large counter top next to a dough rolling machine. This was where the pain chocolat and croissants were made fresh everyday.
Before: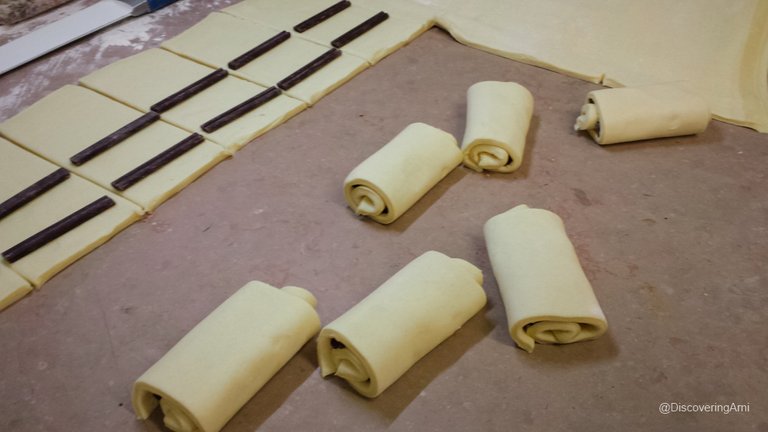 After: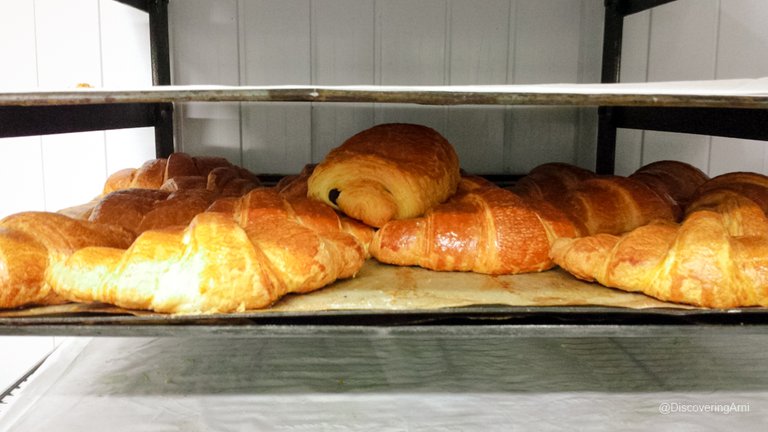 Max, the baker, was responsible for all of the breads and viennoiserie. He, together with a young baker apprentice were preoccupied from 4am to 2pm daily inside the baking area. It was distinctly separate from the pastry kitchen by a long corridor that led to the shop.
A Glimpse Into the Life Inside the Pastry Kitchen
The scent of espresso filled the air when I arrived. I quickly put on my apron and secured my pony tail inside a hair net. I washed my hands thoroughly.
I spent majority of my time washing pots, baking sheets, bowls, pans, molds and tools. This was my zone, right here in front of the deep industrial kitchen sink at the far left of the room.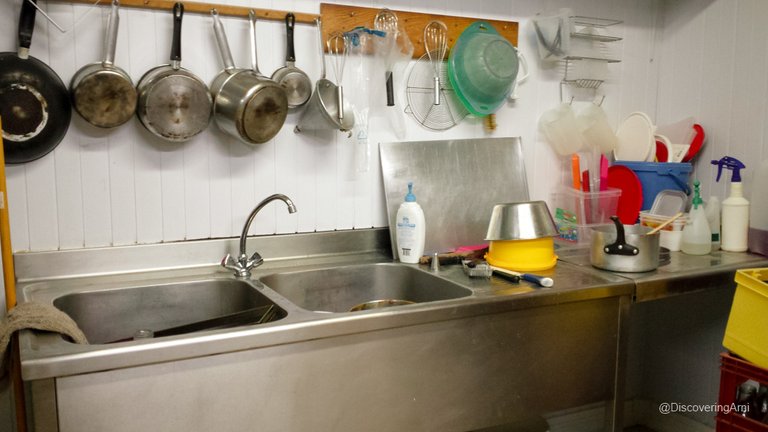 Industrial refrigerators stood against two sides of the walls. Each fridge was set to a specific temperature. A huge mixer with a floor stand occupied one corner. At the center of the room was an island with a large counter top equipped with the necessities- a stove, a stand mixer, thermometer, timer and a digital scale.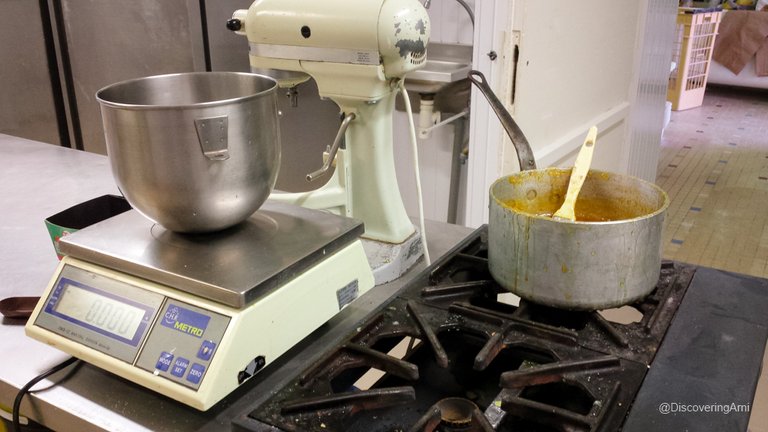 There was a huge white board on one side with a list of orders- custom cakes and tarts that needed to be made on specific dates.
Everything ran in the kitchen like clockwork. On my first day we were re-filling two kinds of pastry on the display . Chouquettes , Éclairs - Vanilla, Coffee and Chocolate.
First things first, we needed to finish a custom fruit tart which was going to be picked up at 10am.
We started with a cup of coffee, Alex placed a pot on top of the stove to create a glaze. While waiting for it to cool down to its desired temperature, she excused herself to drop the kids to school. In the meantime, I washed bowls, knives and spatulas.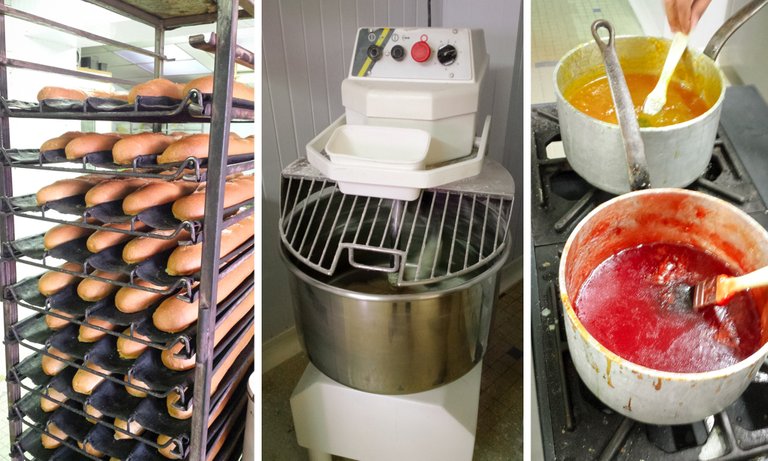 At the exact time Alex had mentioned, she was returning back to the kitchen, she swiftly pulled out a bigger tart inside the fridge. She stuck the thermometer inside the glaze and with a brush, gracefully applied it on top of the Tarte Aux Fruits which was then dusted with confectioners sugar.
We then moved on to making the choux pastry dough for Chouquettes and Éclairs. We squeezed the pipe log to make mini puff pastry and eclairs on the baking sheets. I followed her to the adjacent baking area and popped them in the large oven.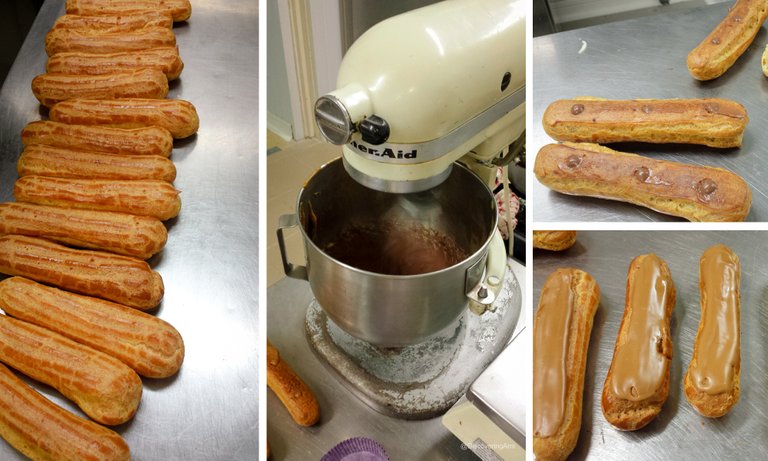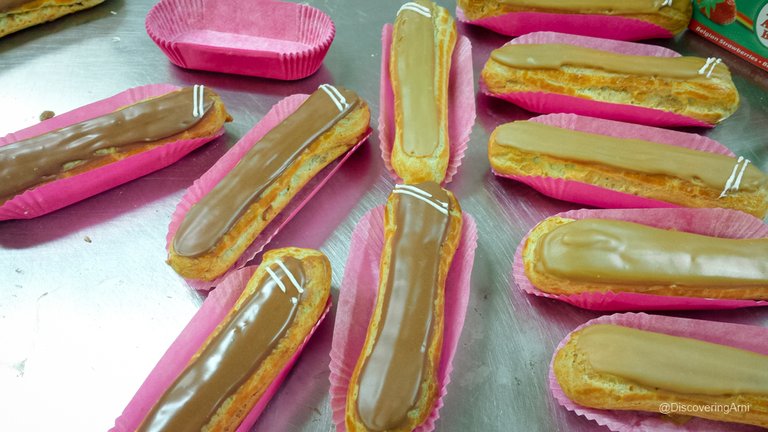 With no time to waste, we busied ourselves over the stove preparing for vanilla, coffee and chocolate pastry creams that would serve as éclair fillings. The timer beeped and the éclairs and chouquettes were ready to be retrieved from the oven. While waiting for them to cool down, it was time to prepare three different éclair glazes using fondant. Everything was precise. We used a digital scale, a timer and a thermometer.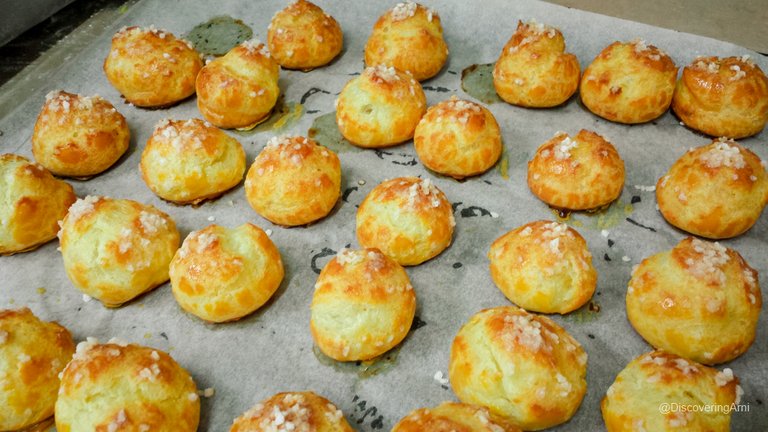 Chouquette is a smaller version of Choux-Pastry or a mini puff pastry with cream filling and sprinkled with pearl sugar.
Every time a customer would enter the boulangerie, the shopfront bell chimed. It could be heard from the pastry kitchen. At exactly 10 am, the shopkeeper popped in for the requested order of Tarte Aux Fruits. I thought, "One down", while we made holes on the sides of each éclair to fill it with the corresponding flavored pastry cream using a pipe log. For the final touch, we neatly coated it with the fondant and wiped off the drips.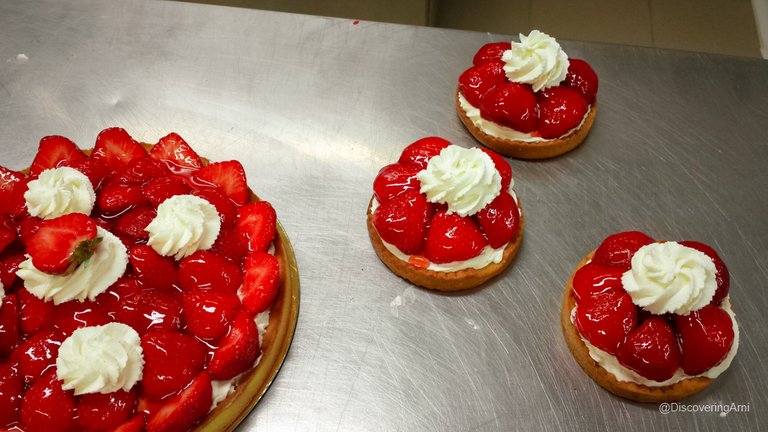 Tarte Aux Fraises - Strawberry Tart and Tartellettes Aux Fraises - Mini Strawberry Tarts
Whatever rejected work I did, I got to bring them home with me (Yay for me, not for Alex 🙂).
Alex left before 12 noon to pick up the kids from school while I took a coffee break. When she returned, we used the giant mixer to create dough for short crust pastry (Pâte Brisée) that would be used for the next day.
We finished the work day washing all of the utensils and cleaning the kitchen. By 2pm, we were famished and we ended the day with a sumptuous lunch. The couple lived on the two-storey home attached to the bakery. This allowed them to take care of the kids while they worked.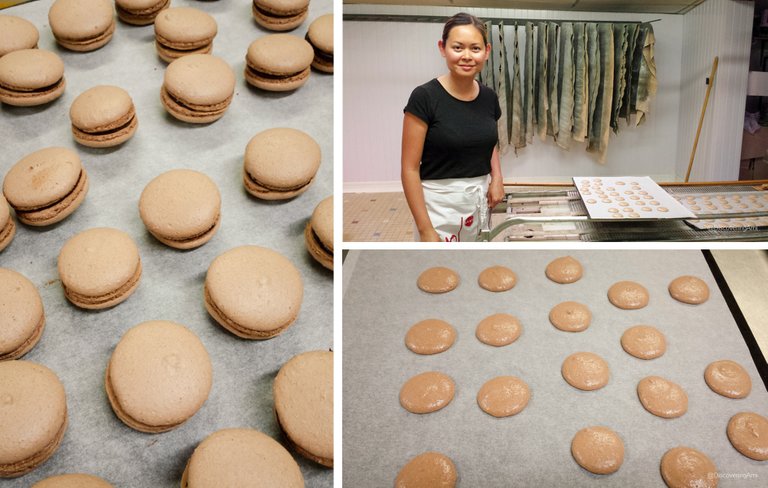 Making Macarons
After several days of working in the Pastry Kitchen, one of the highlights of my training was making macarons from scratch.
A Macaron is a sweet meringue and there are two schools in making macarons.
The French Meringue which is based on beating uncooked sugar into egg whites.
And the Italian Meringue which whips cooked sugar into egg whites.
The Parisian Macaron is a sandwich of two meringues with a filling.
We made the Italian Meringue version. Under the supervision of Alex, she instructed me to whip the egg whites well using a stand mixer. The sugar is cooked to 118 degrees Celsius, measured perfectly with a candy thermometer in order to create a syrup. The syrup was then poured carefully to the egg whites while being whipped until it cools down. The meringue was then folded into a paste of confectioners sugar, ground almonds, and egg whites.
The almond meringue had a food coloring tint that suggested the flavor of the filling.
The batter was transferred into a pastry bag attached to a 1/2 inch diameter plain tip, to pipe the macaron cookie into a flat mound. We excitedly loaded the sheet into the large oven. I rotated the sheet halfway through baking. When it was ready, I was like a child inside a candy store excited to pipe the filling using a 1/3 inch diameter tip.
I suppose it was a lucky try, because it didn't crack. I got to take some home!
---
My Take-away
We made many different kinds of cakes and pastries during my one week on the job but I'd have to say that whatever we made was just the basic of pastry making.
There were more intricate skills that Alex applied on a regular basis that I didn't get to try, such as making specialty chocolates, seasonal custom cakes and artsy creations.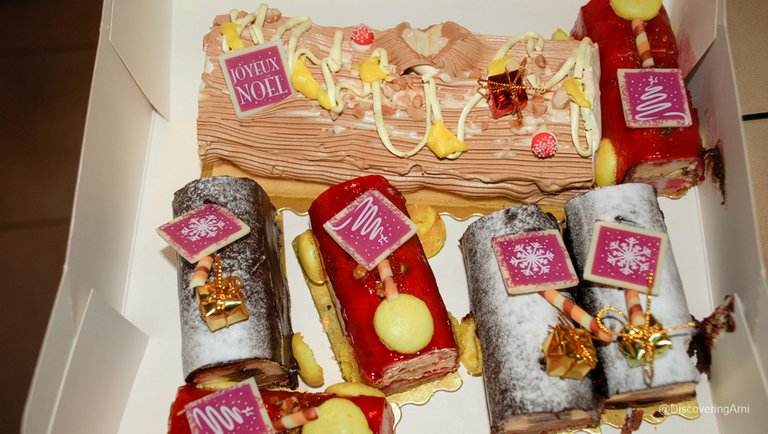 Seasonal Pastries : Traditional Yule Log Cakes or Les Bûches de Noël
What I enjoyed the most in pastry making was the level of precision while being playful and creative. One could never go wrong as long as a student doesn't deviate from the required standards, techniques and instructions. Once a certain level of mastery is achieved like in any artistic endeavor, creativity, style and flair elevate one's work.
However, the experience of being there inside the pastry kitchen with them was enough for me to say that as much as I enjoyed making pastry, it wasn't for me.
The lifestyle of managing a family run bakery is difficult. I didn't have the required level of passion in pastry making that would allow me to handle the stress of managing orders during the peak season and the lack of weekends and holidays. It also required a great set of time management skills and system to run everything like clockwork. My personality is definitely not suited to the daily routine and demands of working inside the kitchen.
Hence, I gave up on the idea of getting into the food business when we moved to the Philippines.
Throughout many years in the baking business, the owners were up at 3 am daily and had only one day off per week. They missed all holiday seasons and had to limit their vacations. The stress took a toll on the family until they eventually decided to sell the business.
I tried to convince them to move to the Philippines and set up a boulangerie-pâtisserie, but at present they're both happy to work as employees in an entirely different field.
Nevertheless, I still treasure the experience I have gained from them and would most likely use these baking knowledge into treating family and friends while entertaining at home.
Thank you for reading and wishing you all a happy weekend.