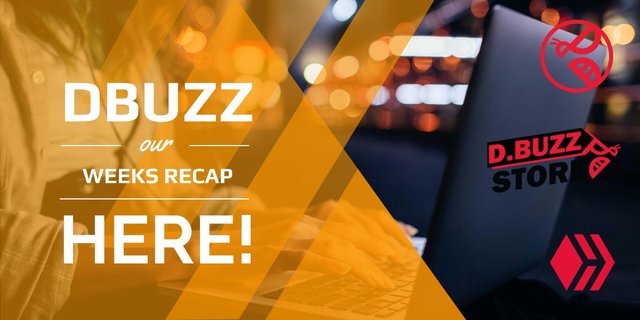 ---
Hello Buzzians,
As the weekend comes to a close, we want to summarize everything we did during the week if you missed it.
---
Monday:
We rolled out A new HIVE challenge:
Win a T-shirt or product from our shop. We will have a weekly challenge like this to get you rocking out some hot crypto gear.
( the 1st winner will be announced in tomorrow's #DBuzzMondays post )
Link here: https://peakd.com/hive/@dbuzz/monday-challenges-prizes-and-fun-from-d-buzz-round-1
---
Tuesday:
Announced our new online shop:
Fancy fresh clothing shop for you by crypto-based clothing and gear using high HBD
Link here: https://peakd.com/cryptonews/@dbuzz/announcing-the-d-buzz-online-cryptocurrency-e-store
---
Wednesday:
We highlight a member of our community who is being extraordinary!
Link here: https://peakd.com/hiveisalive/@dbuzz/community-highlight-iamraincrystal
---
Thursday:
We had coffee and slept in a bit.
Link here: (zzzzzzz)
---
Friday:
We had a pleasant ramble about 280 characters.
Link here: https://peakd.com/thoughts/@dbuzz/friday-thoughts-and-meandering-rambles-by-d-buzz-280-character-buzz-lets-think
---
Saturday:
We launched our Golden Buzz Awards series!!
The Golden Buzz Award is a weekly challenge for you to win a HOT 25 HIVE by finding the best BUZZ.
Link here: https://peakd.com/hive-148441/@dbuzz/saturday-contest-the-golden-buzz-award-a-weekly-contest-for-hive-and-fun
---
Sunday:
Well, we publish this here post. :)
Link here: (here, here)
---
The above will be our posting schedule that we will do our best to follow.
What are your thoughts on the above?
Do you have another suggestion for better content to provide more value to the blockchain?
Are you enjoying our posts and content this week?
Is there some way we can improve?
Thank you for reading our posts. We look forward to another exciting week of being on the block!
---