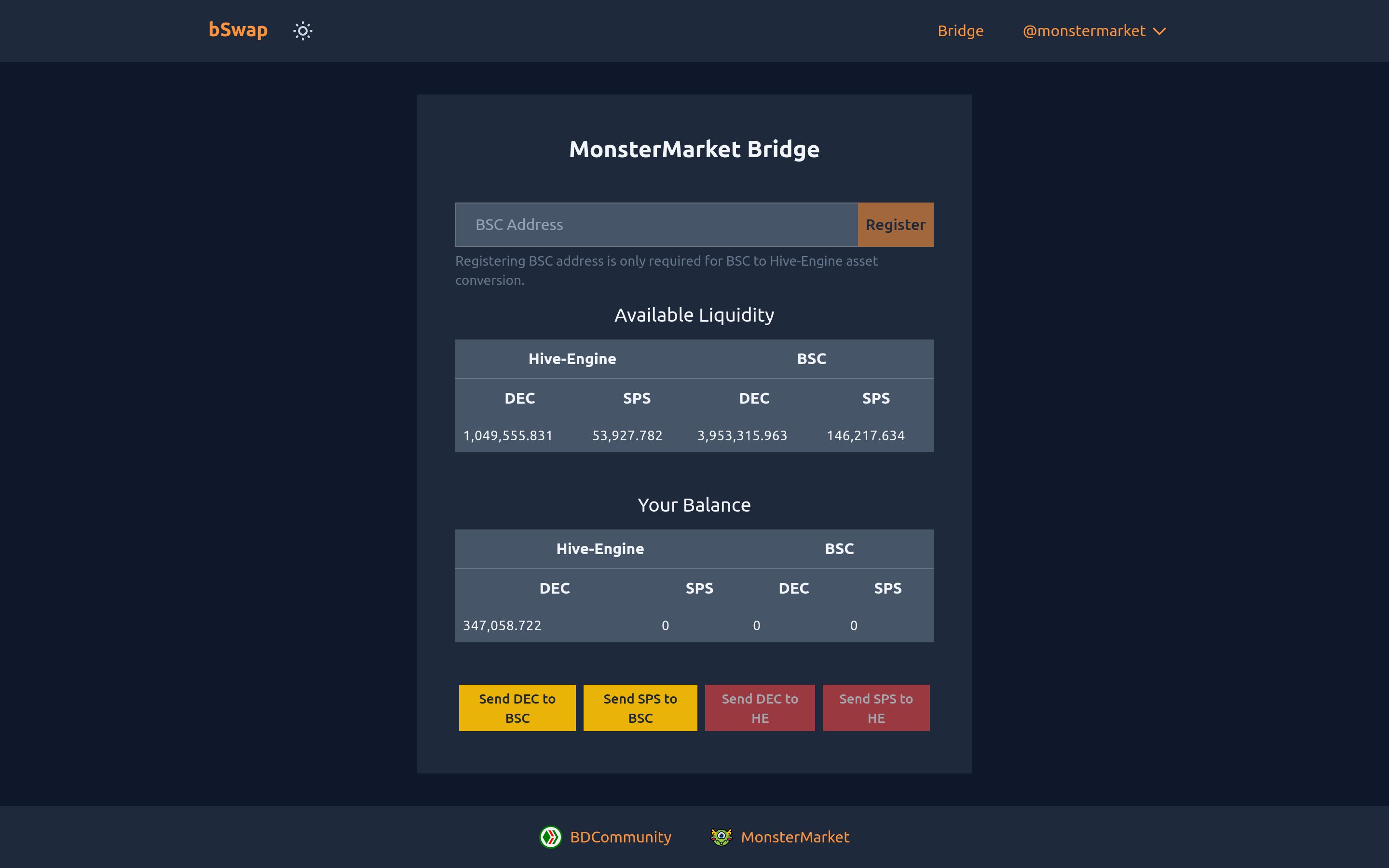 MonsterMarket has launched a Hive-Engine and Binance Smart Chain (BSC) bridge for DEC and SPS. It has started with initial liquidity of 5 million DEC and 200 thousand SPS. We have plans to add more as demand increases and the project matures.
How To Use
Go to the bridge interface at https://bswap.cc/bridge.
Log in with your Hive username using Hive Keychain.
If you want to transfer from Binance Smart Chain, you must link your BSC address with your hive username. You'll need MetaMask or other Web3 browser extension.
Check available balances on the bridge (refreshes automatically).
Click on the appropriate button to start your transfer.
There is a 0.25% bridging fee.
A minimum of 500 DEC and 100 SPS is required when transferring to the Binance Smart Chain, but there is no minimum for transferring to Hive-Engine. (Updated)
The bridge will automatically refund if it doesn't have the required balances. Refunds on Hive-Engine are free, but refunds on BSC will cost you the gas fee, which will be automatically deducted from your sent amount. For example, if you transferred 10000 SPS on BSC, but the bridge balance on Hive-Engine is lower than 10000 SPS, it will refund you 9999.03 SPS, 0.97 SPS will be the gas fee (determined by the market price of SPS against BNB).
We have chosen Hive-Engine over 'in-game' transfers because of the better traceability of the transactions. We might add support for transferring directly to in-game later. Another reason is we might add additional Hive-Engine tokens support in the future on the bridge.
We are updating MonsterMarket which will take some time to complete. As we wanted to get the bridge live as soon as possible, we have built the interface on the bSwap website. bSwap is a partner project of MonsterMarket. After the MonsterMarket update, monstermarket.io will feature an interface for the bridge.
If you have any questions or need support using the bridge, please reach out to us on our Discord.

Get instant 3% cashback for every cards purchase on MonsterMarket. MonsterMarket shares 60% of the revenue generated, no minimum spending is required. Join MonsterMarket Discord.