Help pick which NFT is created PLUS Enter to Win the NFT! Giveaway dPoll #4 Final Pick
---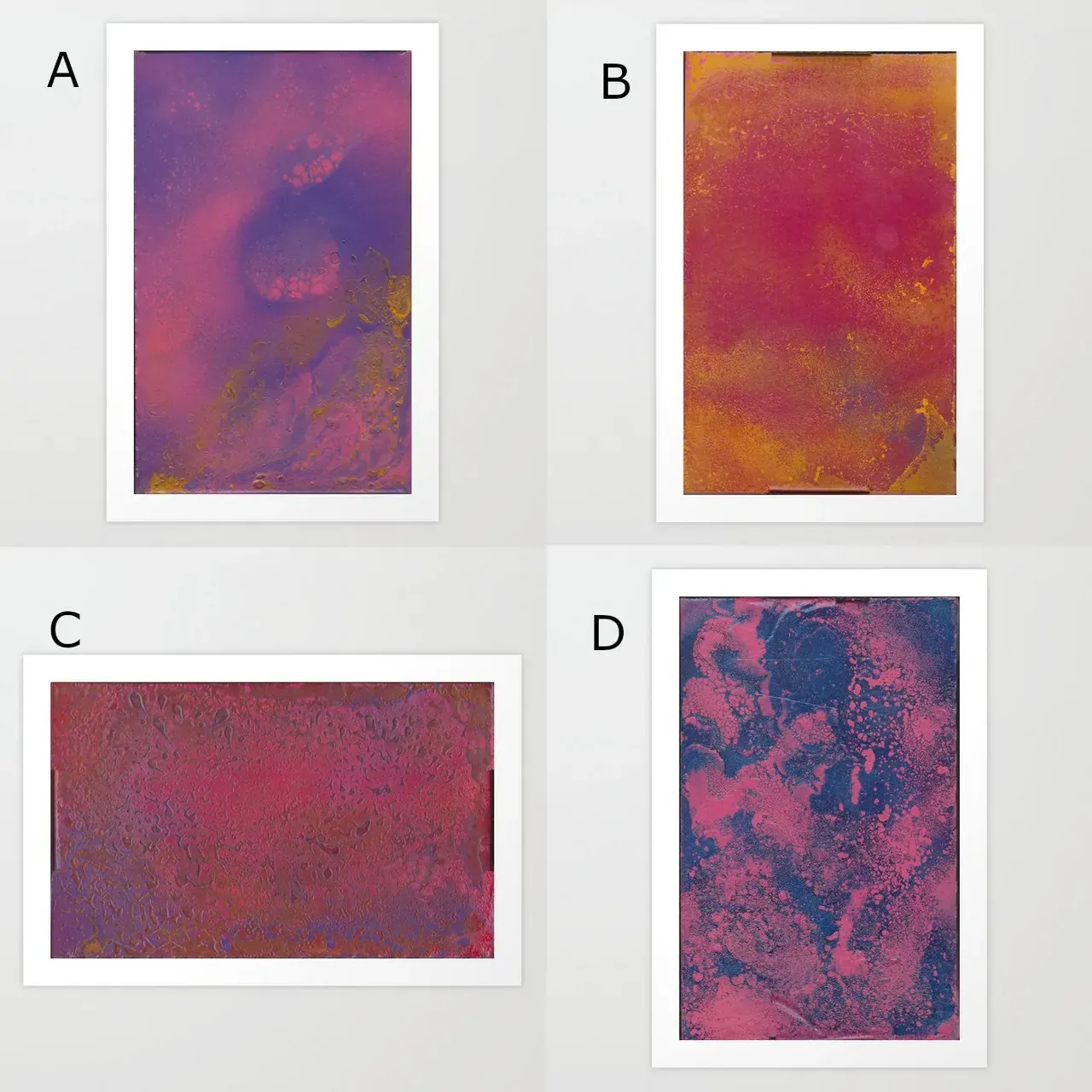 I am giving away an NFT I will be creating on @nftshowroom once the giveaway posts have earned enough for the NFT to be created.
It is down to A or D.
Now, out of A or D which is your favorite?
All upvotes from this post help create the NFT that will be given away. Thank you!
Read about the NFT contest, rules, and to comment to earn another entry : https://ecency.com/hive-158694/@jensenart/comment-to-enter-nft-showroom-3412b0c49142d
Entries received (from Comments and dPoll Votes) : @abbak7 (3), @akdx (3), @astrohive (3), @bluerobo (2), @badpupper (2), @darkflame (1), @cannabiscafe (1), @chunkysoupsvc (3), @cst90 (2), @d-zero (1), @erica005 (1), @hivecoffee (1), @julesquirin (3), @manncpt (1), @oadissin (2), @sadikulaziz (3), @suntree (3), @vachemorte(1)
Users who upvoted or commented on previous giveaway posts/updates. Please remember to comment if you'd like to enter the giveaway. I didn't add those I think/know are dapps/bots. If I missed your name please let me know. Make sure to comment if you want to win :
@abdul.qadir, @afukichi, @aamirijaz, @anikys3reasure, @arrrds, @astrohive, @avikz, @blacks, @bonfirepit, @cannabiscafe, @catharsis, @cconn, @cribbio, @curators, @dannychain, @darkflame, @darkpylon, @demo123, @frugalgamer, @gaottantacinque, @gasaeightyfive, @globalschool, @hivecoffee, @holovision, @jimmyrai28, @jlordz, @jnmarteau, @joedukeg, @juliakponsford, @julesquirin, @leoball, @limn, @lizanomadsoul, @manncpt, @manniman, @marconisnghtmr, @matfilar, @melinda010100, @minerspost, @motionkapture777, @nfthypesquad, @onartbali, @opt2o, @pablodare, @paragism, @patronpass, @paulmoon410, @payger, @peachymod, @photographercr, @photoman, @plusvault, @portsundries, @rootdraws, @royalmacro, @sayee, @suntree, @thehealthylife, @tomwafula, @trichomesnetwork, @vachemorte
Thank you!
Wanna buy some art? Click the link ---> https://linktr.ee/jensenart
Jensen 2021. All Rights Reserved. #giveaways #contests
---
---
---
Answer the question at dpoll.xyz.