Have You Delegated Your LARYNX Power Yet?
---
Theta Network has a marketcap of $1,017,429,502 and Theta Fuel is at $287,130,345 becoming #50 and #127 among cryptocurrencies. Even LBRY Credits are worth $13,321,497 after all the horrendous and baseless things SEC did to the project. There is a tremendous amount of value behind the niche @spknetwork is going after. We even have a working product in the form of https://3speak.tv that has been active on HIVE for years.
50% More SPK for Delegating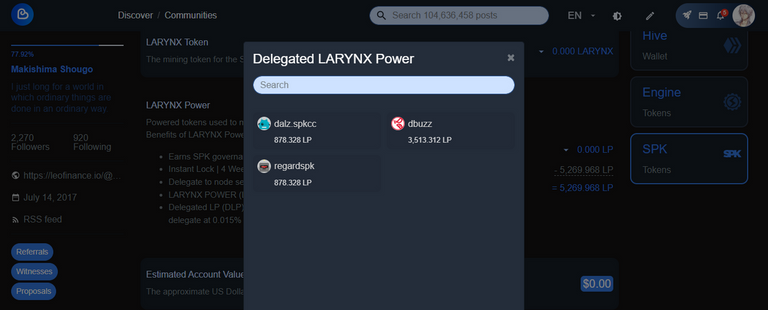 In order to encourage participation, Powered up LARYNX are given a 50% higher APR when delegated. This is a form of voting and it helps to keep the network more decentralzied. It is a good way to keep more people talking about the project and eventually help with SEO as well.
I have used @ecency as I already use it everyday for general HIVE activities. They are the first front end I know to allow users to manage their SPK account without leaving to some other website. Keychain login is available and @ecency even has a highly rated mobile app for those who want to that in their life.I remain with my desktop ways myself.
Expand Your HIVE Experience With @dlux-io

Visit the official website and login with Keychain. There are NFTs, DEX and even the ability to read HIVE articles through the interface. The wallet allows the management of DLUX, SPK and HIVE assets; but not HIVE-Engine Tokens such as LEO, SPT etc.
Keep in mind that there is a small delay between signing the transaction and changes reflecting on the front end you use. There is not need to panic if things are not instant .
---
I Have Delegated All My LARYNX
---
I Have Delegated Part of My LARYNX
---
I Have Not Delegated Any of My LARYNX
---
I Have Sold All My LARYNX
---
---
Answer the question at dpoll.io.