How Many of The Chaos Legion Airdrop Were You Eligible For?
---
There were 14 Airdrops and today was the release of the 14th Card for the investors of Chaos Legion Booster Packs. I bought 333 Booster Packs to be eligible for 6 Doctor Blight Cards and by the time the second Airdrop was ready, I had added 589 Booster Packs bringing the total eligible Packs to 922.
Guaranteed Airdrops As A Dolphin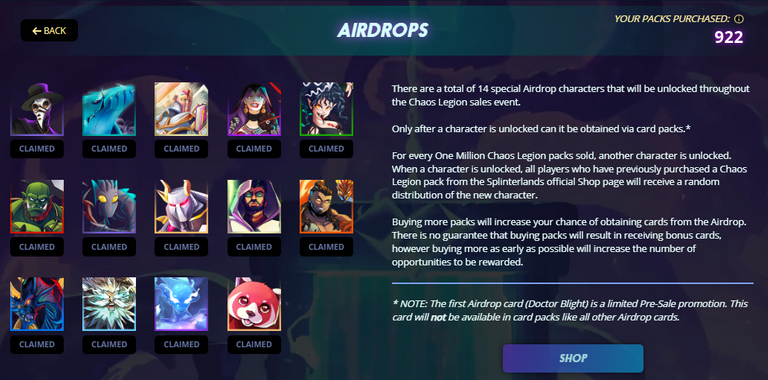 I am not a whale. Over time I have managed to create a large enough portfolio starting from humble beginings and now I can manage to purchase enough Packs to be guaranteed at least a single Regular Foil Card from each of these Legendary Monsters + Summoners.
Results of Lilly Shieldpaw Airdrop
I was expecting this notification to show up very soon. I was not in a financial situation where I could be buying more Packs. Hence the 25,000 daily Pack burns ended up being beneficial for me. I was not loosing out on an opportunity to buy Chaos Legion Packs because I did not have the means to do so in a significant quantity. Due to the burning, the supply of Chaos Legion Cards will be lower than expected which is good news for those who already own Chaos Legion Cards.

2 Regular Foil Cards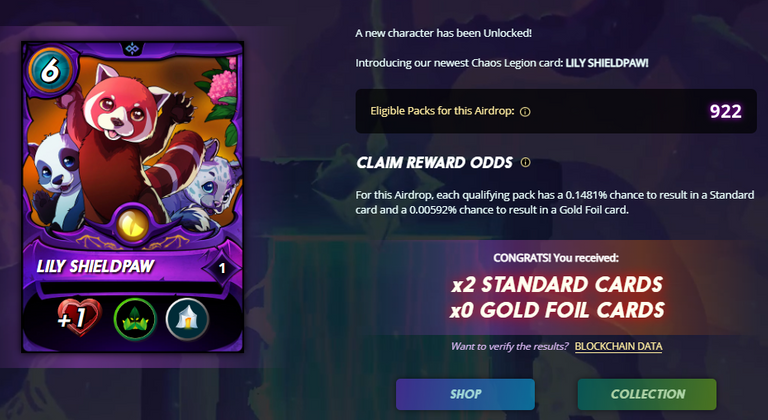 These are better than the the previous Airdrop which resulted in only one Regular Foil Card. 4 of the 14 Airdrops resulted with 1 Card received.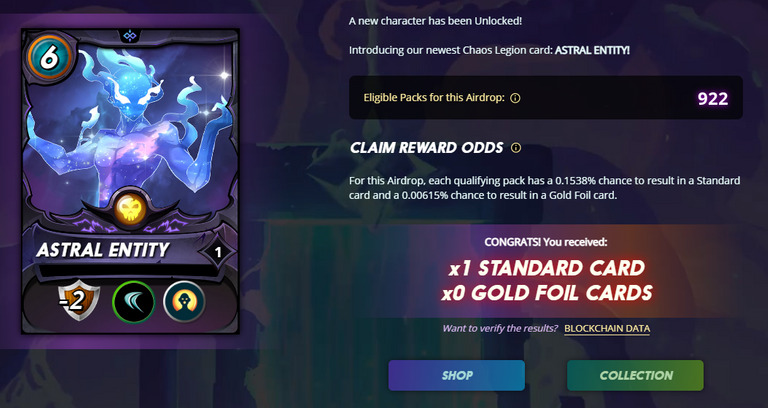 I need Level 3 or at least Level 2 Legendary Cards to have a significant impact in my Battles. These low Level Cards only have one place to go until the Land Phase 2 is released. I rent these to earn DEC while HODLing: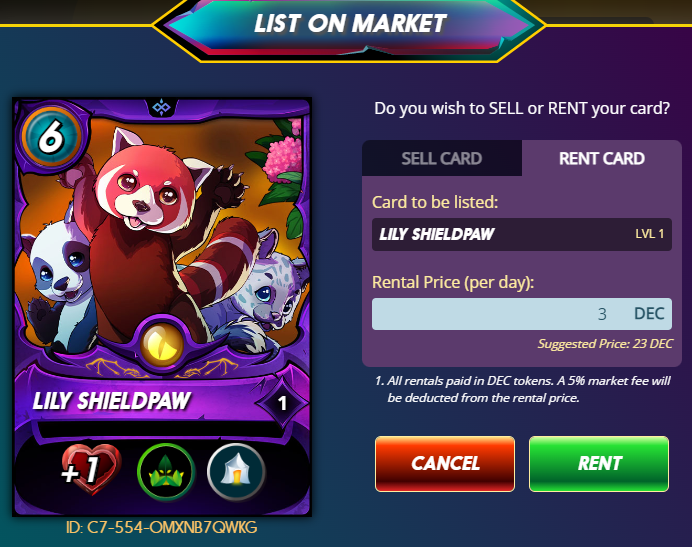 New player can visit the website and try out the game for free. The rewards will only come after purchasing Summoner's Spellbook.
---
---
---
---
---
---
---
---
---
---
---
---
---
---
---
I Had Bought Zero Eligible Packs
---
Answer the question at dpoll.io.