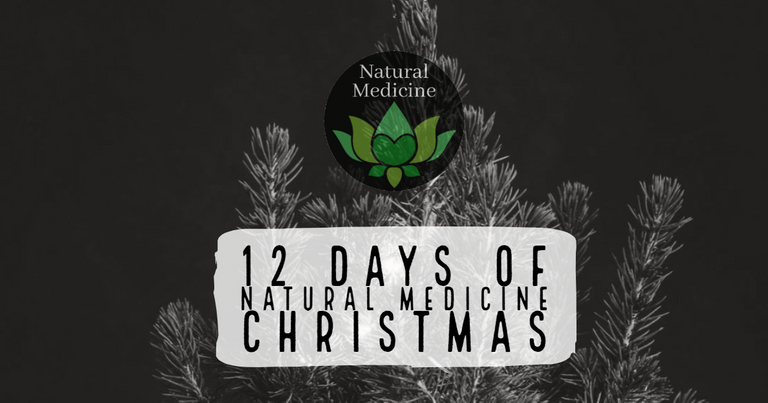 With only a few weeks to Christmas, we've decided to run a VERY special Christmas challenge that we hope you can all find the Christmas spirit to join in! Not only do we have a huge 200 Steem giveaway prize, but we are also going to be communally burning lots of LOTUS to light up the Christmas dark, especially for those in the Northern Hemisphere!

We asked in our Discord this week for the herbs and spices and plants that everyone associated with Christmas. Each of them has medicinal benefits too, some of which you might not be aware of as you sprinkle cinnamon and mace! Some we associated with Christmas because of their warming qualities, or the plants brought by the Three Wise Men, or have associations with Jesus. Whilst not all of us are religious, many of us celebrate this time with family, or celebrate solstice, which is just before Christmas, using many of these herbs in our cooking and our rituals.
Eventually, we narrowed it down to TWELVE seasonal plants, so we can have our own twelve natural medicine days of Christmas!
The plant medicines are:
Frankincense
Myrrh
Pine
Cinnamon
Cardamon
Turmeric
Lavender
Chamomile
Thyme
Rosemary
Cranberry
Orange
You can write whatever you like, as long as you refer to the medicinal properties of the plant in some way - no need to include everything, but you might have one thematic quality. Remember this is a #naturalmedicine post, not just a post about Christmas and cooking (although that can be included too!)
You can write your post from a historical viewpoint, a recipe, a creative story, a poem - anything you like, or even a combination of things! You can even combine plants that aren't on the list - cinnamon & cannabis cookies, anyone? Be creative! Just ensure it's quality, and original. We believe in raising the steem bar, conscious our posts could be seen by prospective new Steemians - so let's be amazing!
Rules and Guidelines
1. Entry Fee - 50 LOTUS
We've given hundreds of Steem away this year, as well as lots of LOTUS, and all of this is to benefit the community. This time, we're asking YOU to contribute to the LOTUS ecosystem by burning LOTUS for your entry. Simply send 50 LOTUS to @null with memo NATURAL MEDICINE CHRISTMAS BURN. You are welcome to burn more if you are a big LOTUS stakeholder. We believe that the prize is well worth it, plus you'll get resteemed by two accounts and upvoted by our team in LOTUS and STEEM and curated in a final post.
Please paste a screenshot of your burn to the post or message it in the Discord when you share your post link.
If you don't have enough LOTUS, it's super easy to buy some here on SteemLeo dex (just log in with your posting key) or on SteemEngine.
This will help raise the quality of the entries as well as reduce supply. Each entry will be matched by @lotuscoin, who will also issue 50 to @null.
2. Post from Natural Medicine
Please post from www.naturalmedicine.io - this is super easy, as all you have to do is log in with your steem key. This means the post will automatically appear in our Discord so we can all see it straight away! It also removes the need for you to come back and post the link under this post, but we'd also be happy for you to do that too!
3. Resteem & Refer
Please resteem this post if possible, and refer back to it somewhere in your own post.
4. Enter As Many Times as You Like!
You can enter as many times as you like, combine the plants (for example, you could write about three separately, or the use of herbs in combination)
Due Date: Dec 24th
We may not announce the winner/s until after the Christmas break, but you should get your entries in by Christmas Eve - that's 12 days from the publication of this post!

Our curators look at most of these tags and much more! Check out www.naturalmedicine.io for a full list of supported tags!
| naturalmedicine | health | healing | yoga |
| --- | --- | --- | --- |
| spirituality | herbalism | homesteading | innerblocks |
| vegan | meditation | wellness | cbd |
| qi gong | keto | tai chi | herbs |
Thinking about writing a #naturalmedicine post this week? We have upvotes to burn and will resteem the best of you to nearly 1,000 followers! Go you! We're also resteeming on our @uplotus account, so go give that a follow too! That's the one where you'll see the LOTUS rewards.
All the curation and author rewards in LOTUS for this post will be burnt to help the ecosystem.

We need YOU! Please consider delegating to help keep this collective going. The minimum entry for membership is 20SP (free for members under 150SP), and helps give YOU upvotes, contests, meditation sessions, an awesome discord support group, and so much more!
50SPII100SPII200II300SPII500SPII1000SP