We have toppings on icecreams, but rarely on soups, unless it's a limp piece of parsley, a dollop of cream or a sprinkling of black pepper. But toppings are a fabulous way to get extra nutrients from the seeds, nuts, herbs or vegetables you choose, making your meal more complete, and adding interest, flavour and texture. I can plonk soup in front of the husband and he'll say 'thanks', but if it's got toppings? I get 'wow' and 'this looks amazing!'.
Plus, it's lot of fun.
Two Soups, Two Toppings - Plus Some Options
The first is dahl - whatever you make it out of, spicey or not, dahl is a complete meal that's easy on the digestion, and tasty as well. I could live off dahl.
I never eat it without a squeeze of lemon. That really brings out the flavour, plus adds some good old vitamin c. You can make a dahl super simply by basically cooking up some red lentils with stock, or you could fry some Indian spices in coconut oil before adding your split peas or whatever lentils you choose, some stock and even some vegetables.
For this topping, I added red cabbage, pepitas, calendula and coriander. A few thinly sliced fresh jalapenos and some coconut yoghurt, and a sprinkling of red paprika finished it off. Simply to die for.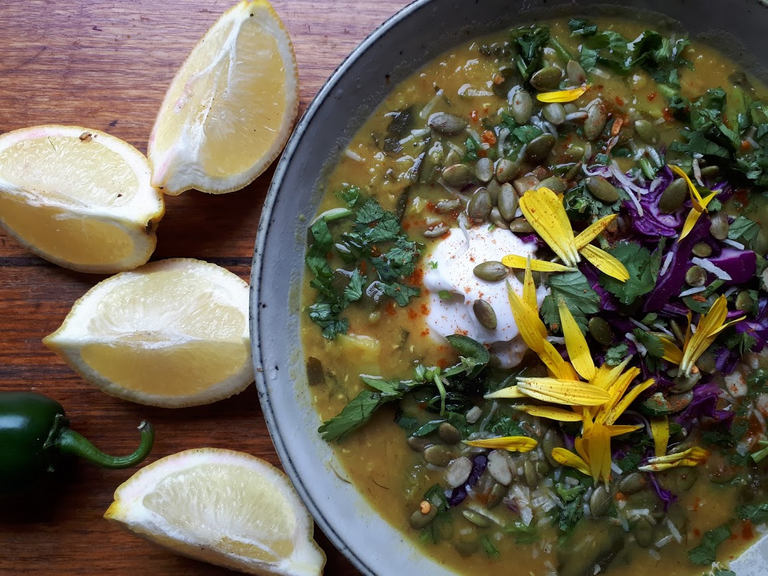 Other dahl toppings?
Fry onions til caramelised, add mustard seeds for a minute til they pop in the oil, and stir through with fresh mint.
Fried yellow capsicum with harrissa
A sprinkling of nigella seeds, a dollop of coconut yoghurt, parsley or coriander
Pan toasted pepitas and pan toasted coconut
The second soup is creamy celery and fennel. I would never add extra cream to a soup, as I just don't like it, but if you like it creamier a splash of vegan milk or coconut yoghurt can work well. For me, potatoes do the trick. This particular soup was made from one whole celery bunch, thinly sliced, two cloves of garlic, three fennel stalks and tops, half a zucchini and 4 potatoes. Oh, and the stock of course. Don't you just love how easy soup is? Soups like this are just basically an allium of some kind fried in olive oil, vegetables, stock and water, simmered til the vegetables are soft and run through a blender.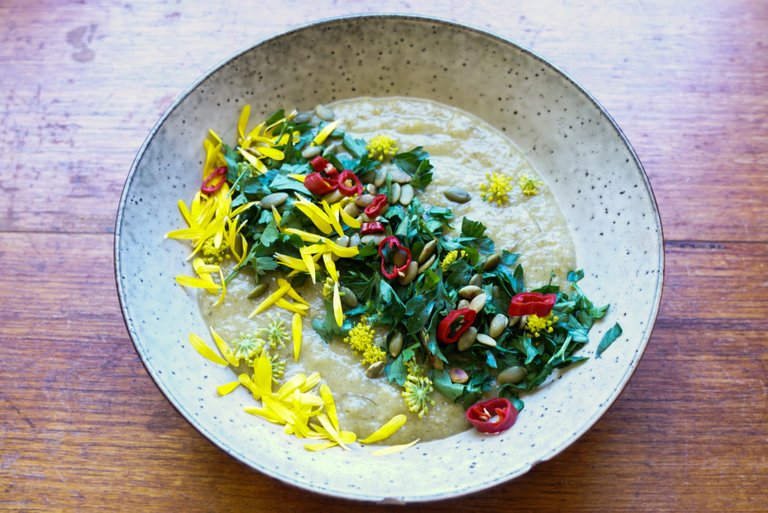 Today's toppings were fresh fennel flowers from the garden, pan toasted pepitas, thinly sliced mild cayenne chilli, calendula, and parsley.
Other Toppings That Go Well With Creamy Soup
Pan fried mushrooms with smoked paprika, thyme and garlic
Powdered black garlic and caramelised onion
Toasted sunflower seeds, nigella seeds and parsley
A drizzling of truffle oil and toasted slivered almonds
Sage fried in vegan margarine and drizzled on top
Crispy fried sage in olive oil
The trick is to use your imagination, and consider what flavours pair well together. It really does add an extra dimension to soup!
Do you put toppings on your soup, or do you prefer it plain?
With Love,




CommunityIIDiscord



Supporting Meditators on HIVE
---
---
Posted on NaturalMedicine.io