# Hawaiian Chicken

Hoy preparé algo para salir un poco de la rutina, un rico pollo hawaiano.
Today I prepared something to get out of the routine a little, a delicious Hawaiian chicken.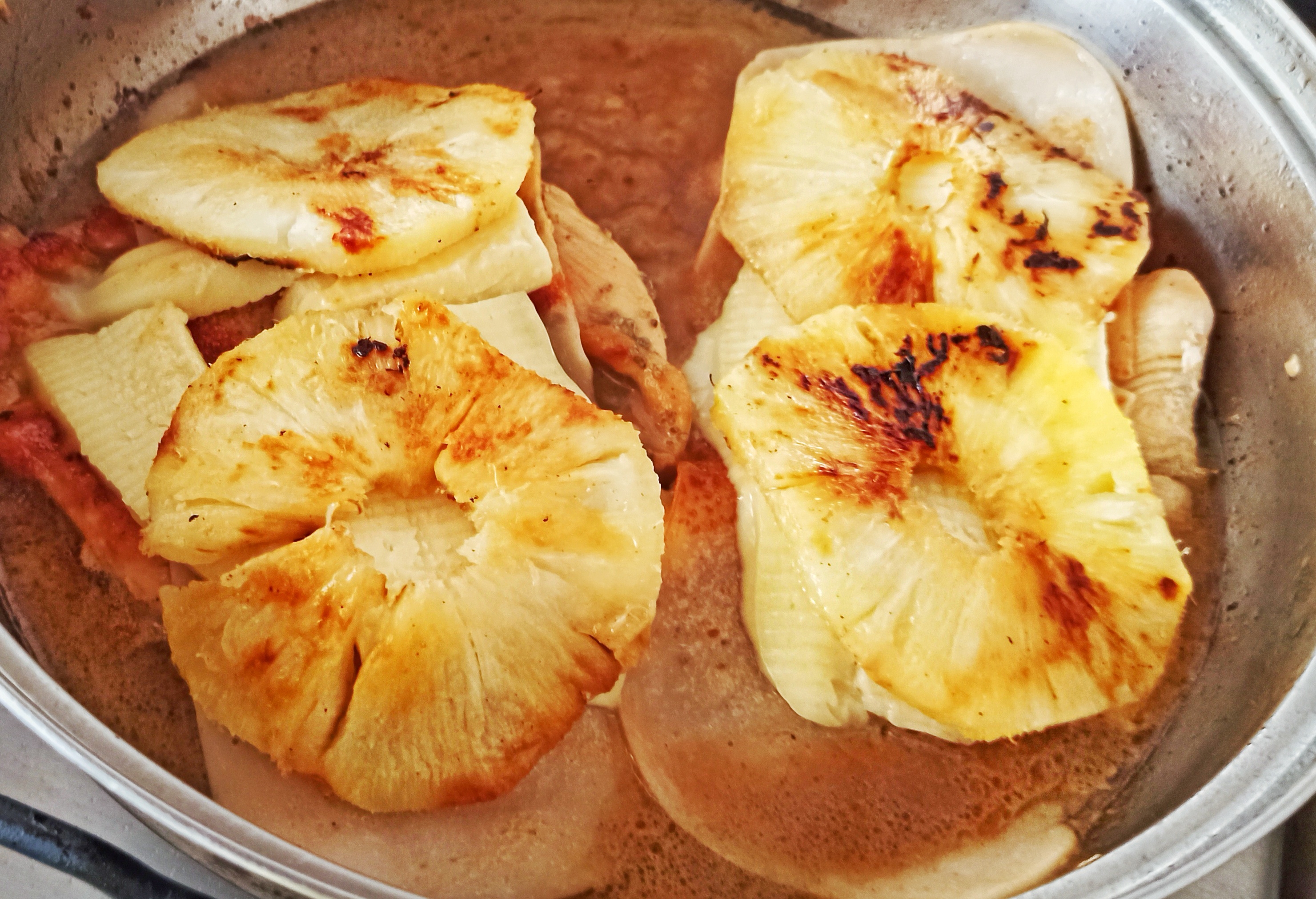 Para esta receta vamos primero a preparar el marinado del pollo
For this recipe we will first prepare the chicken marinade
En un bol vamos a agregar una taza de leche
In a bowl we are going to add a cup of milk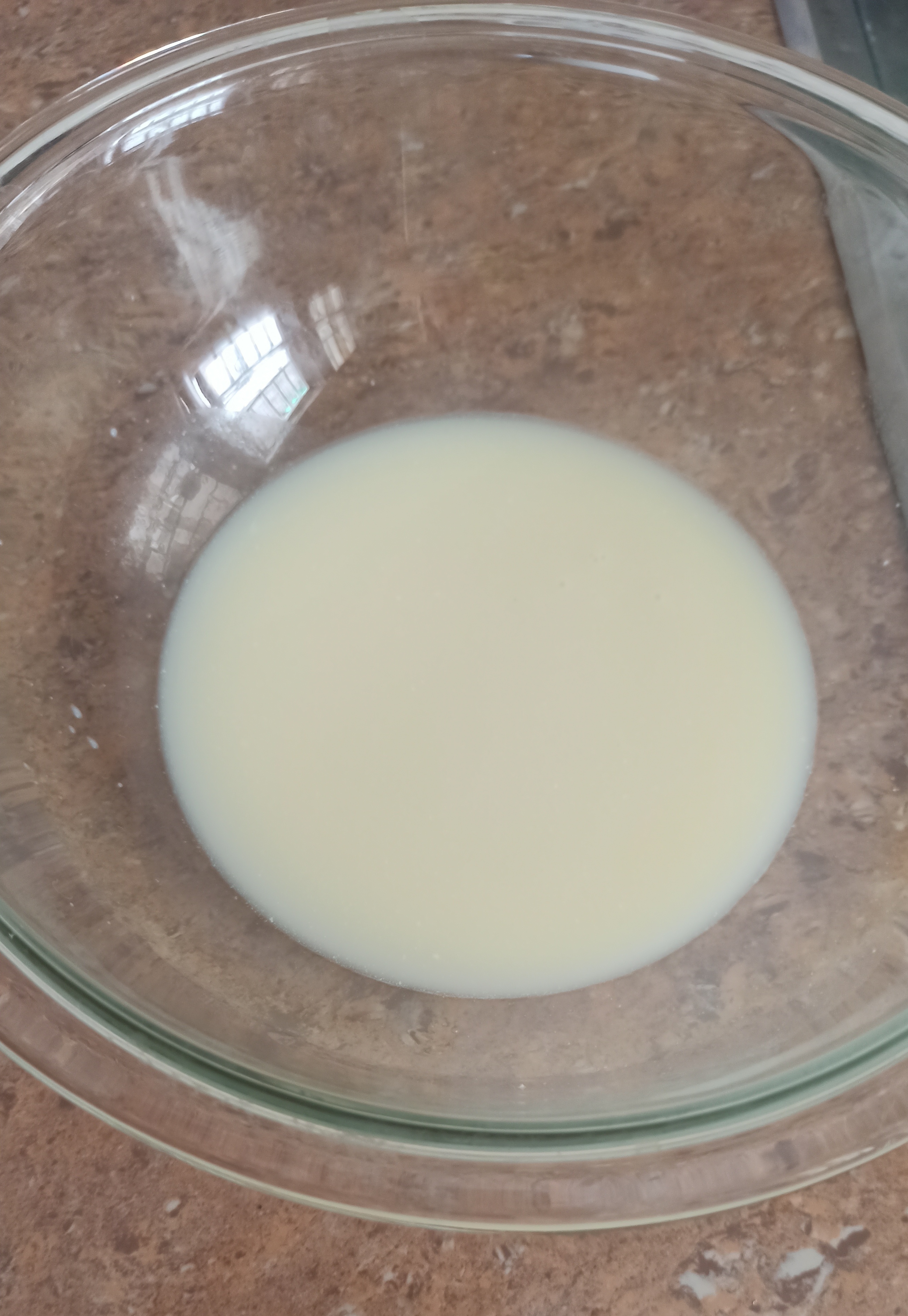 2 cucharadas de aceite
2 tablespoons of oil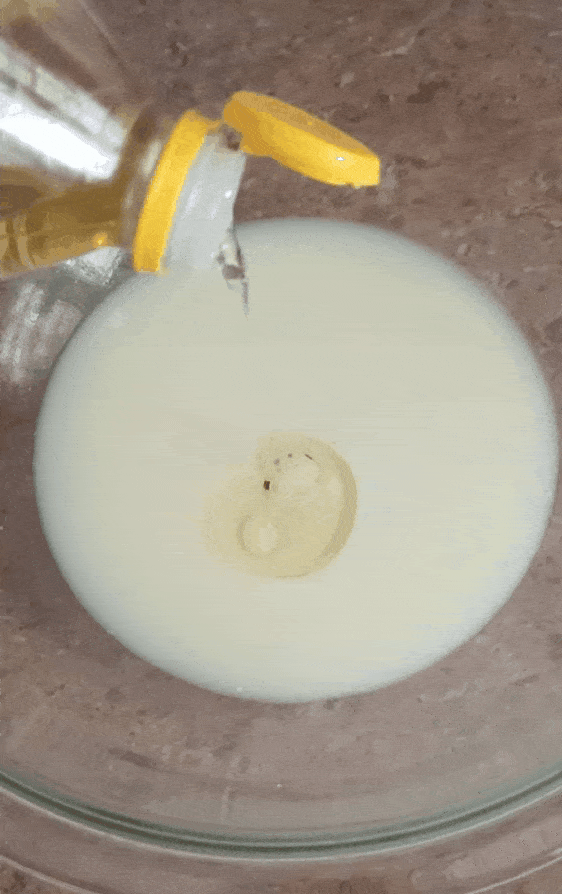 2 cucharadas de salsa de soja
2 tablespoons soy sauce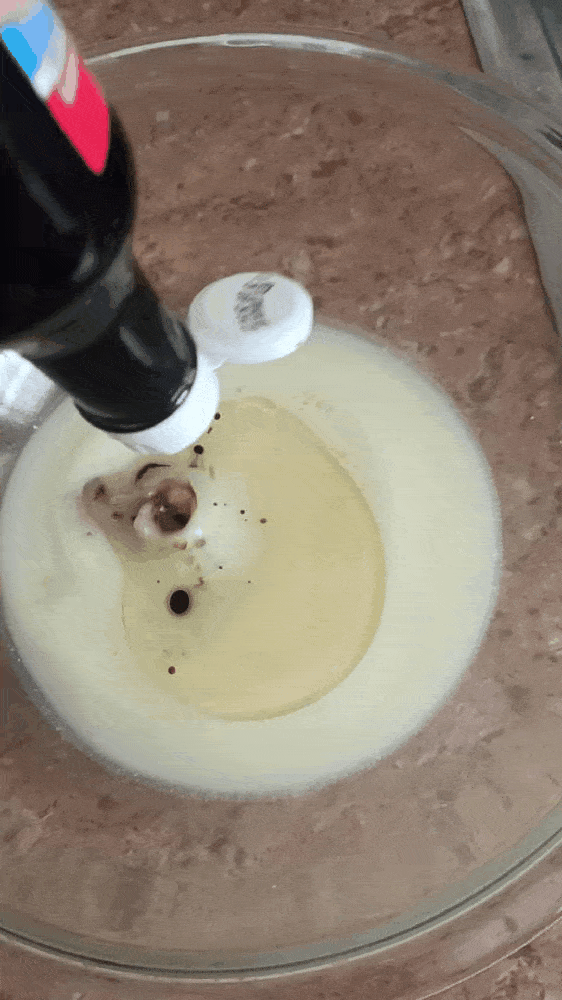 1 cucharadita de sal y pimienta
1 teaspoon of salt and pepper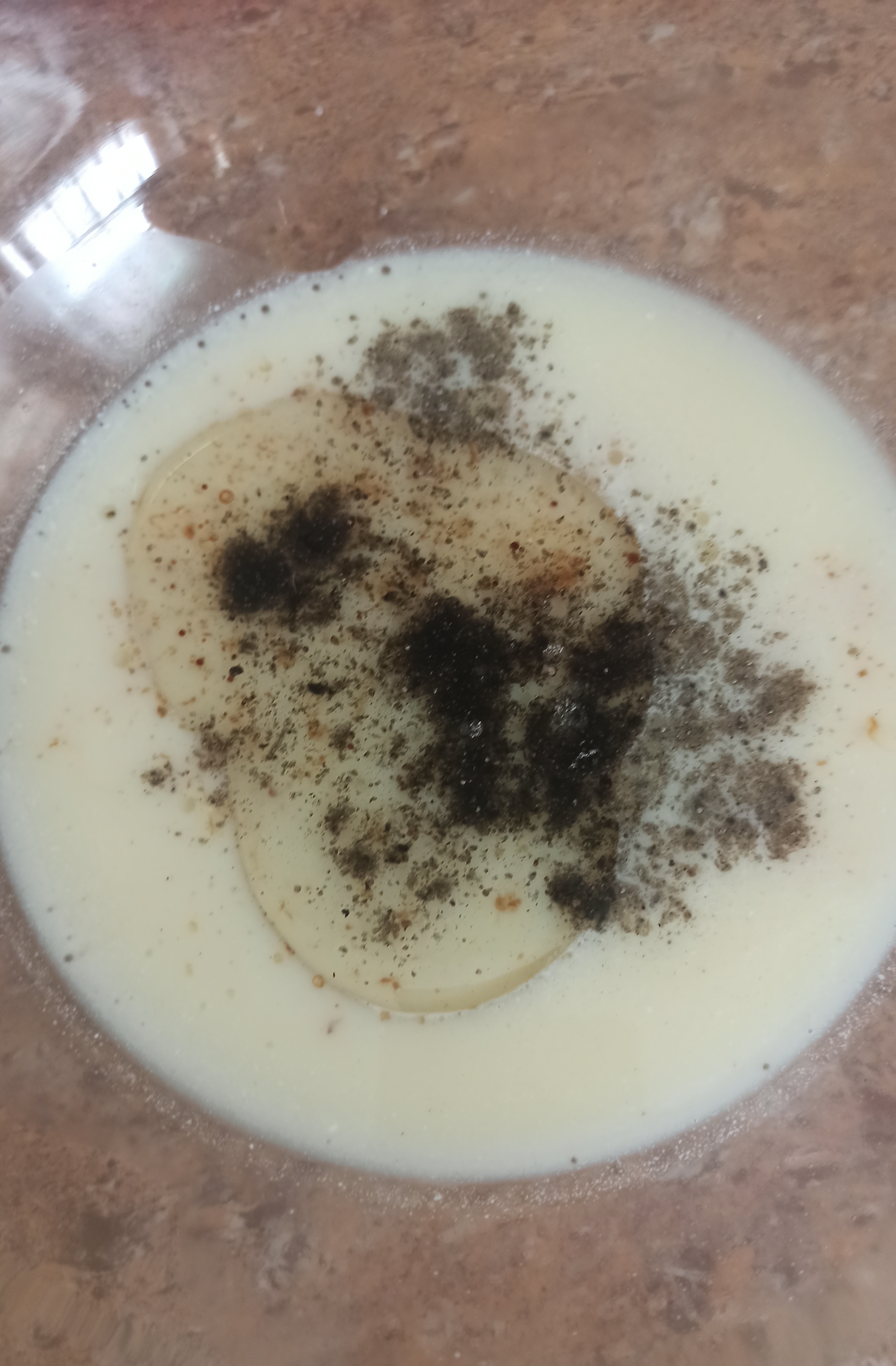 1 cucharada de maicena
1 tablespoon cornstarch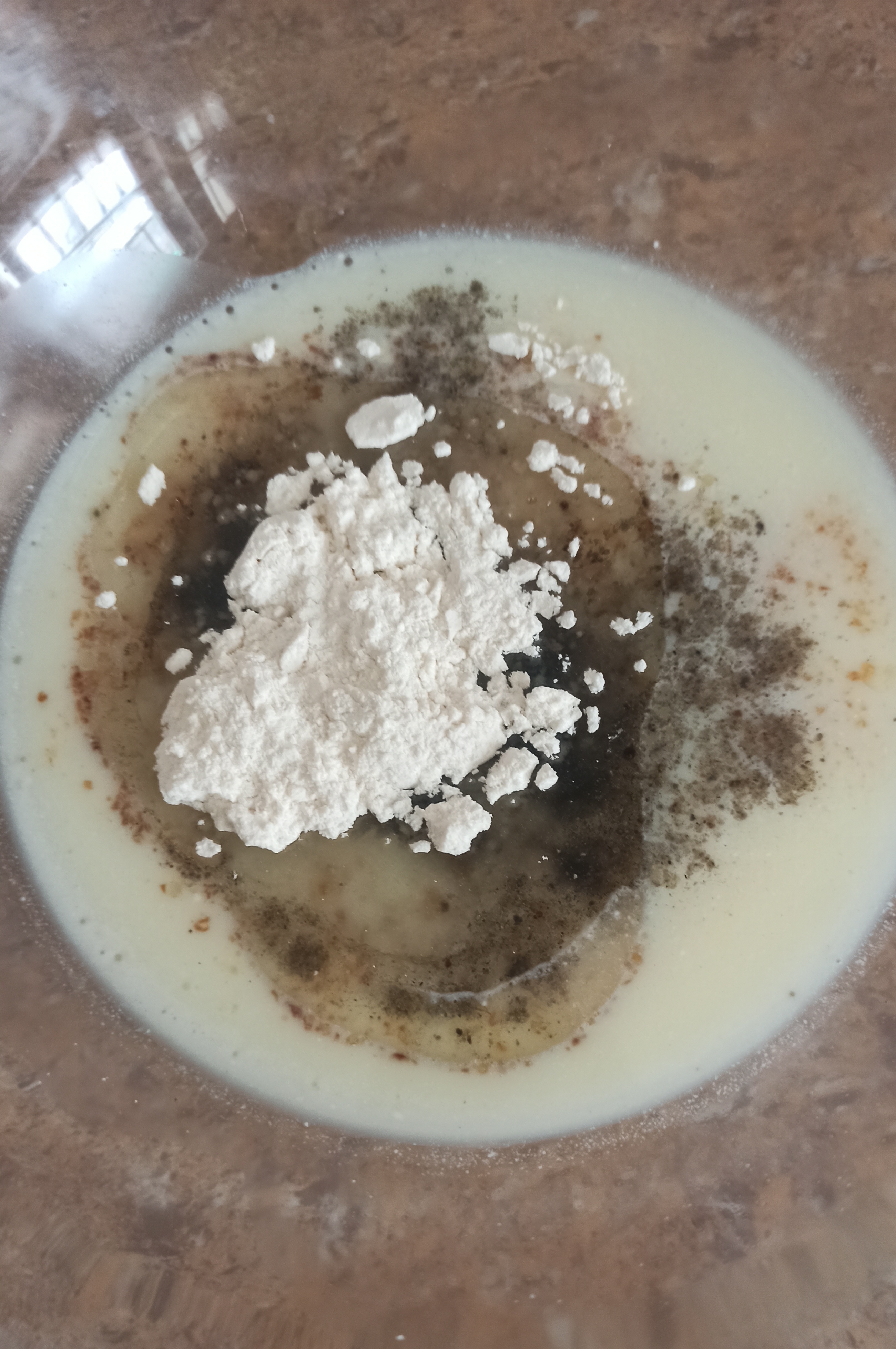 Vamos a mezclar esto muy bien
We are going to mix this very well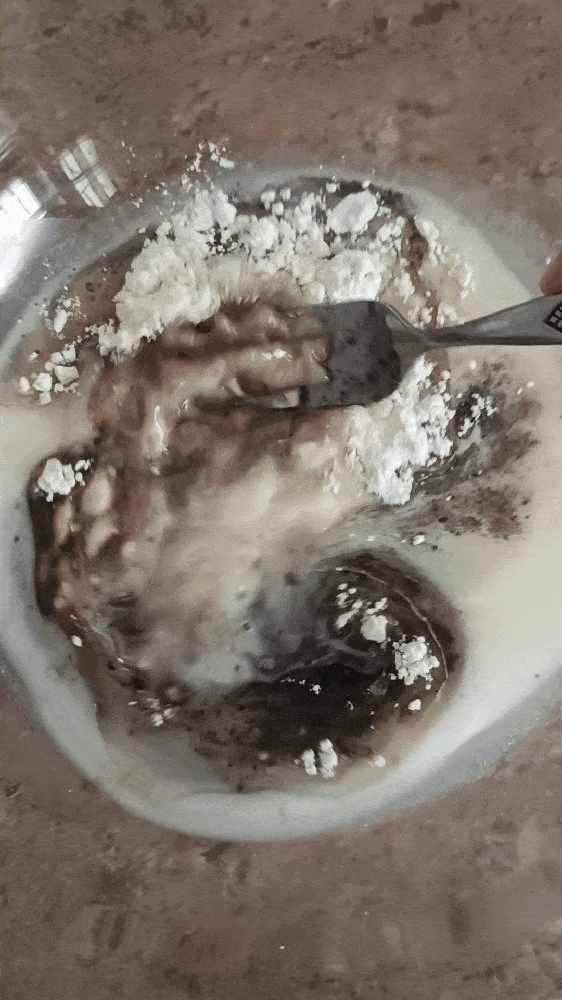 Vamos a utilizar milanesa de pollo y las vamos a sumergir en esta mezcla y lo dejaremos reposar mínimo 2 horas, si dejamos esto para el día siguiente el pollo tendrá un sabor muy delicioso, pero lo mínimo que lo estaremos dejando reposar son 2 horas.
We are going to use chicken milanese and we are going to immerse it in this mixture and we will let it rest for at least 2 hours, if we leave this for the next day the chicken will have a very delicious flavor, but the minimum we will be leaving it to rest is 2 hours.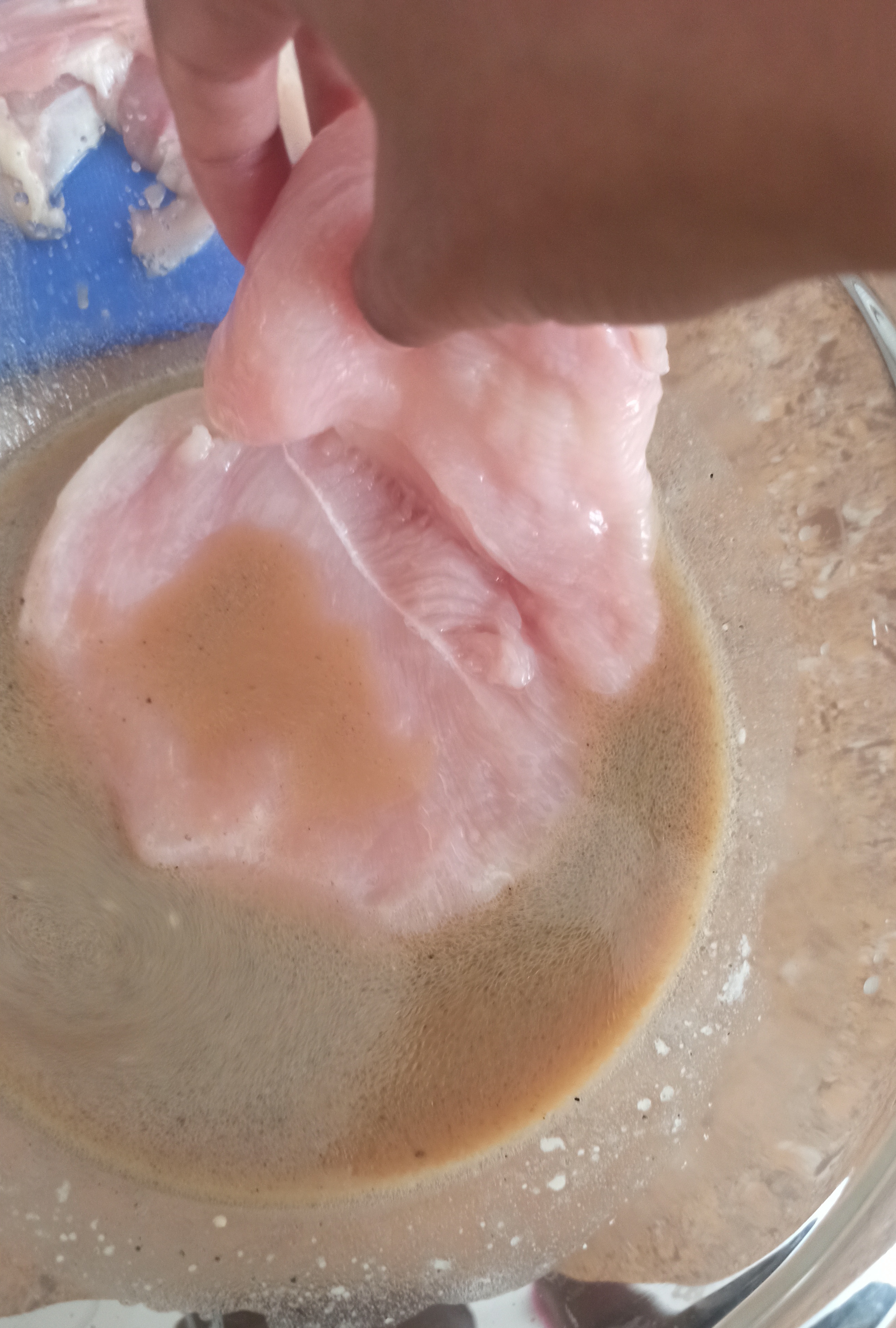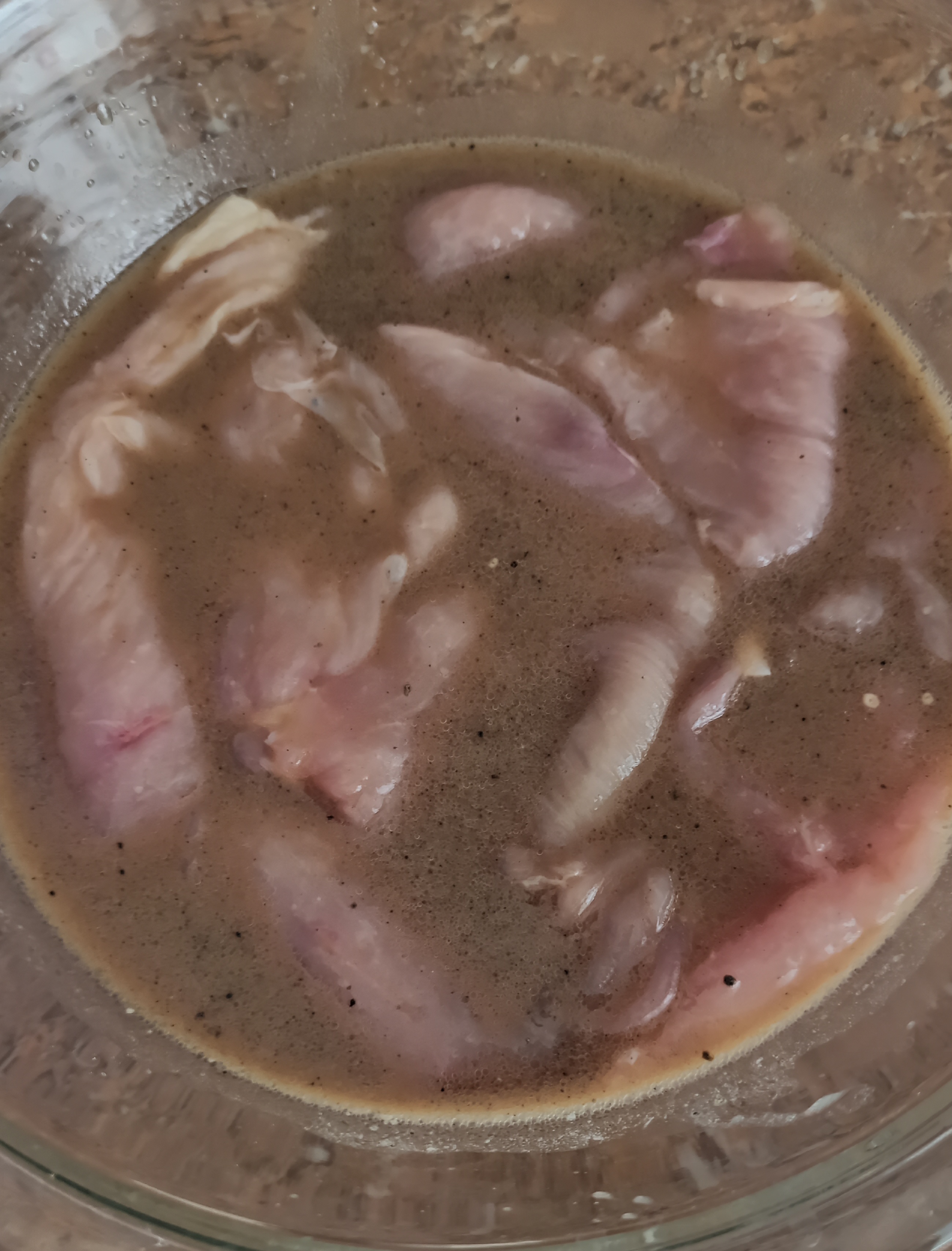 Vamos a cortar una cebolla en julianas
We are going to cut an onion into julienne strips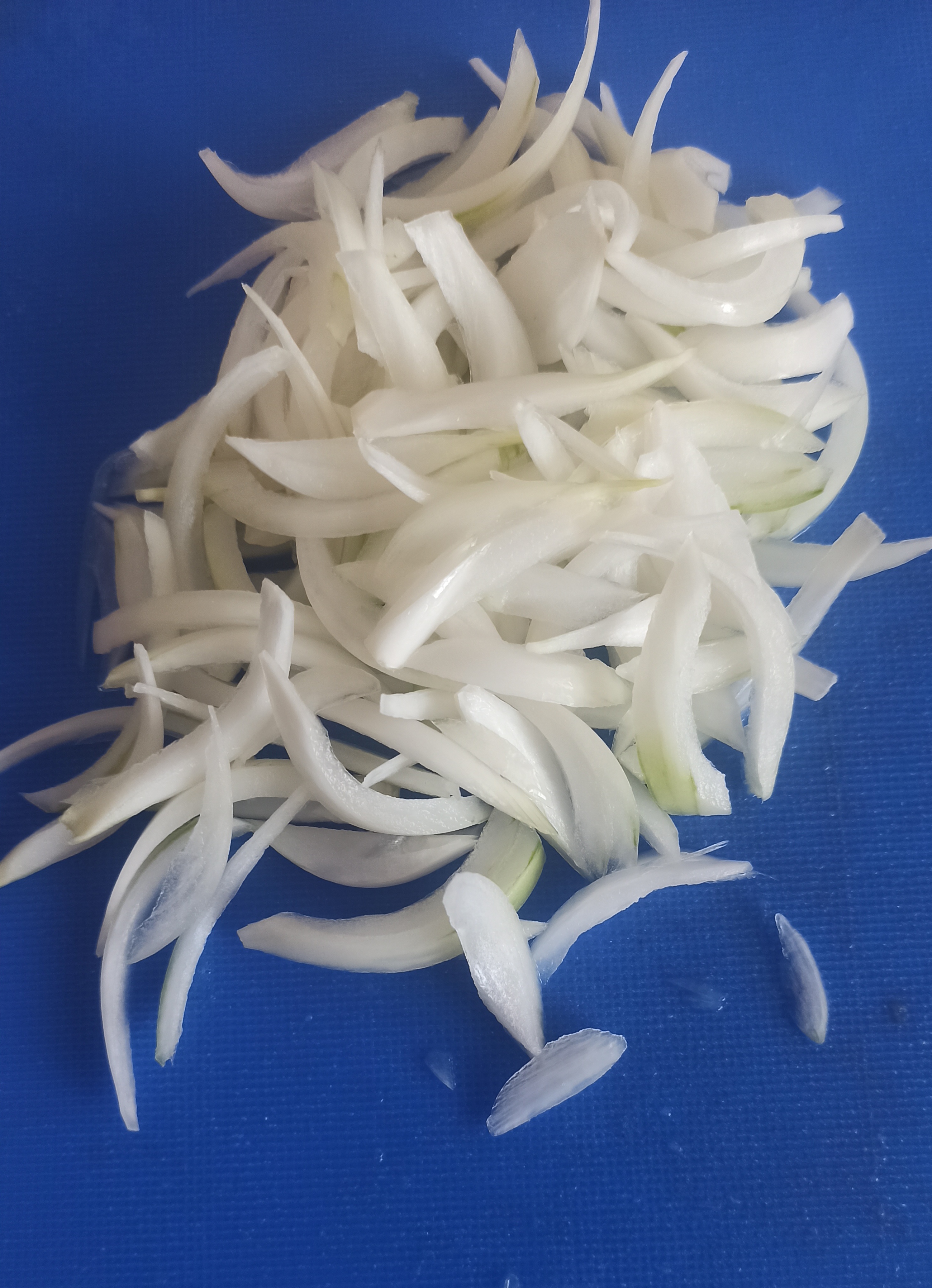 También vamos a utilizar jamón, y este lo vamos a dorar por ambos lados en la sartén.
Also we are goint to use ham, and we are going to brown it on both sides in the pan.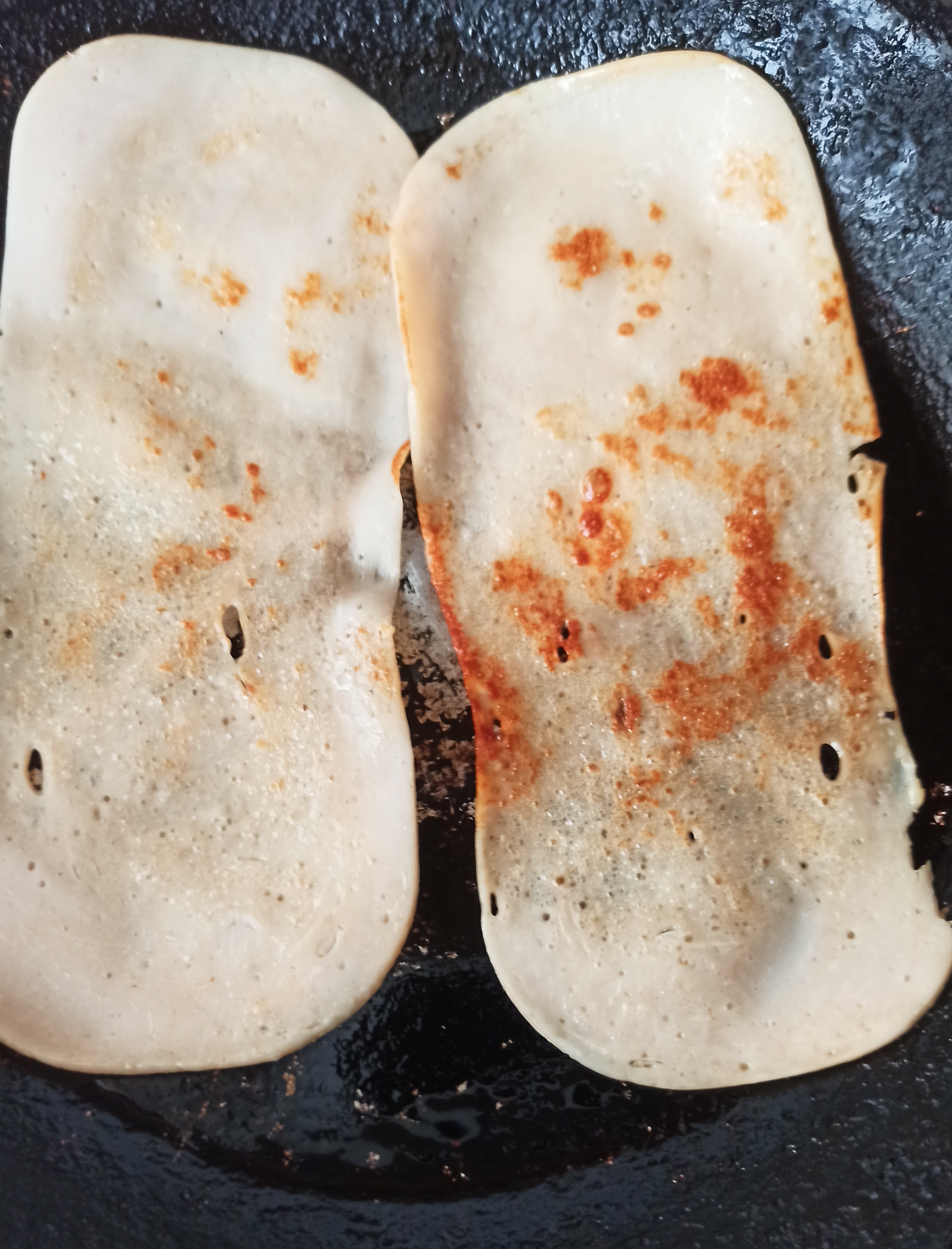 Vamos a ocupar unas rodajas de piña, estas las corté yo misma porque suelo comprar la fruta completa.
We are going to occupy some pineapple slices, I cut these myself because I usually buy the whole fruit.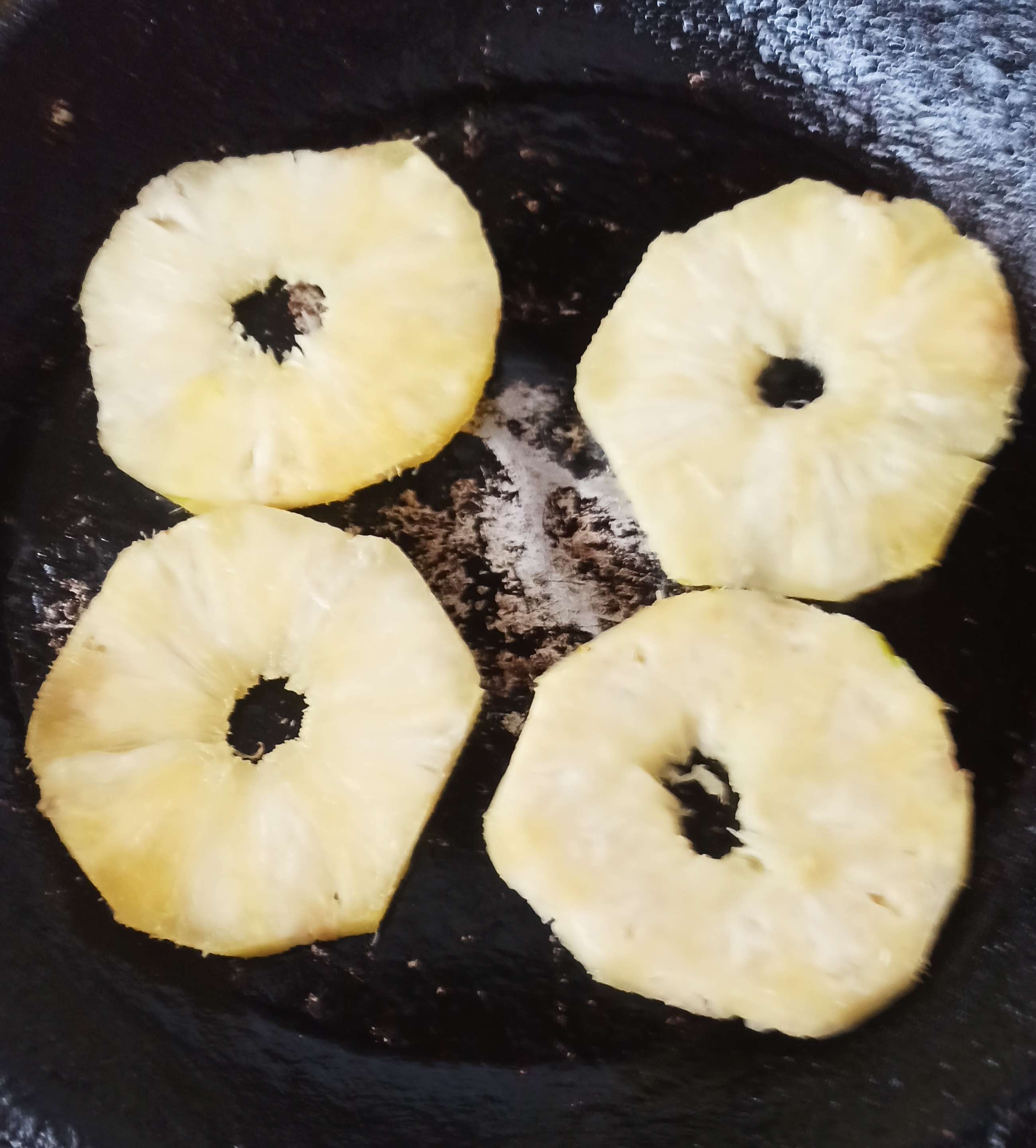 Estas rodajas también las llevamos a dorar en la sarten, por ambos lados.
We also take these slices to brown in the pan, on both sides.
Una vez que ya tenemos todo esto listo y el pollo reposó. Continuamos con la cebolla y la colocamos en nuestro sartén con un poco de aceite a dorar.
Once we have all this ready and the chicken rested. We continue with the onion and place it in our pan with a little oil to brown.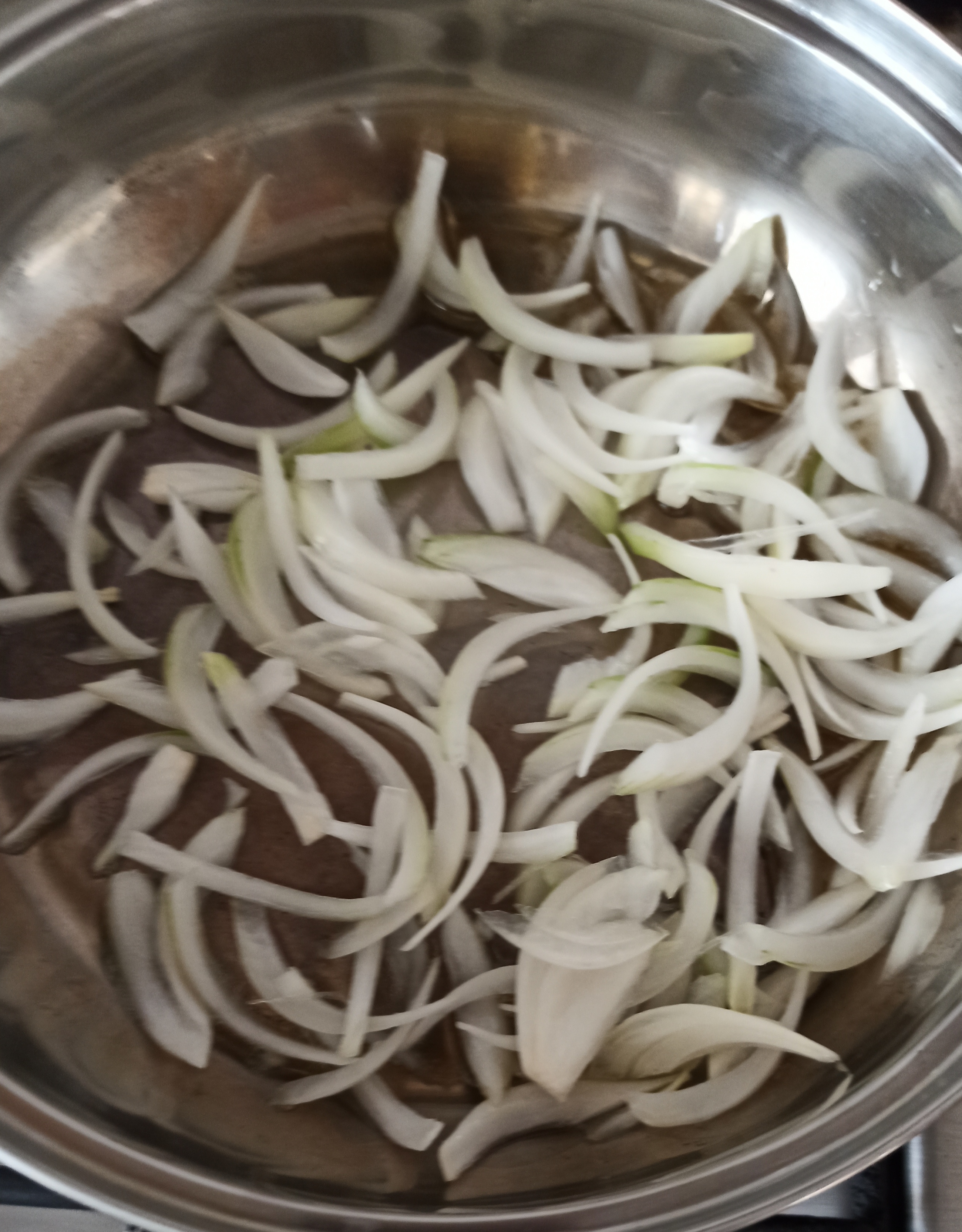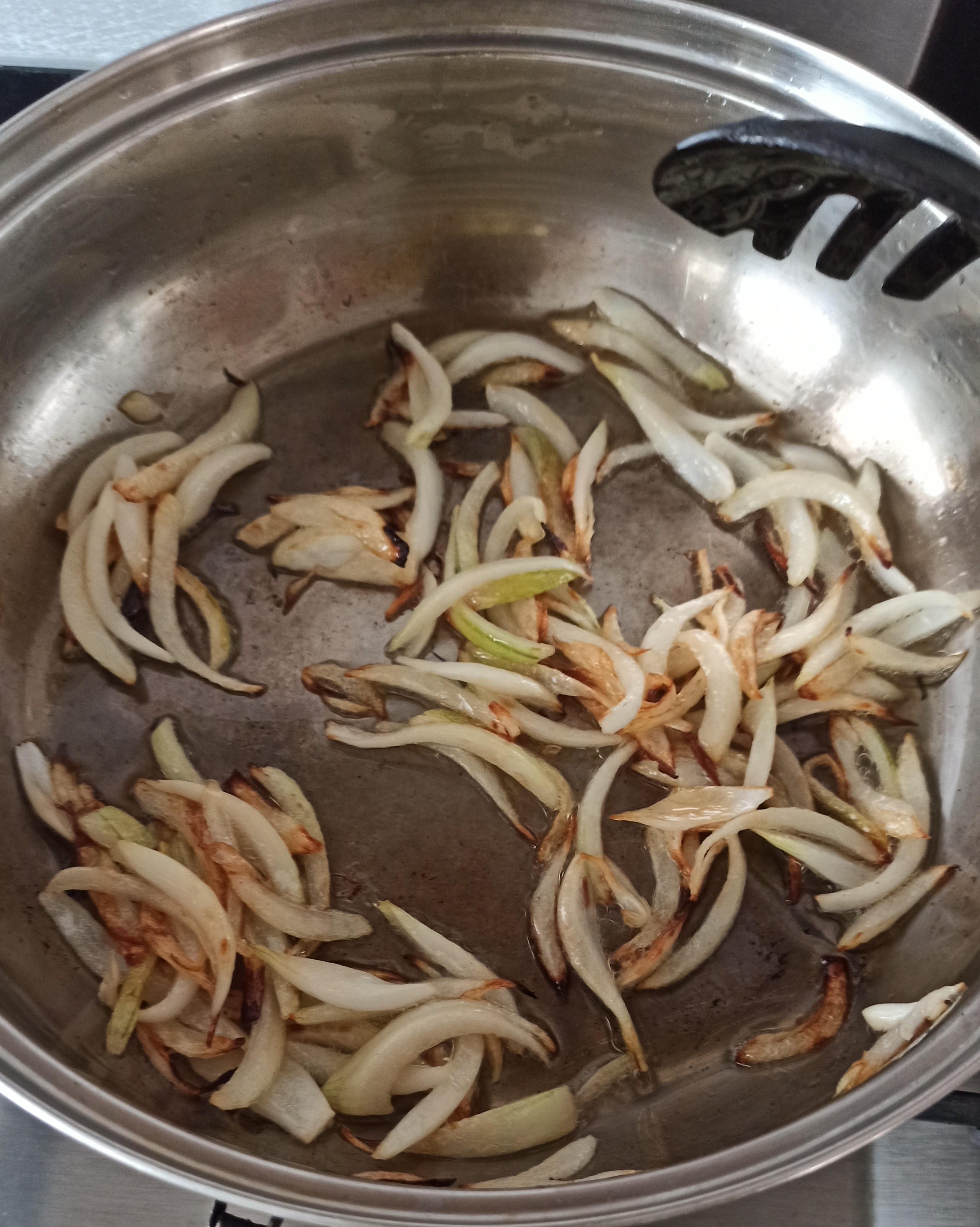 Una vez doradas as cebollas, las retiramos y las reservamos porque ahora es momento de freír la milanesa de pollo, el jugo de la marinada lo vamos a reservar.
Once the onions are browned, we remove and reserve them because now is the time to fry the chicken milanese, we will reserve the juice of the marinade.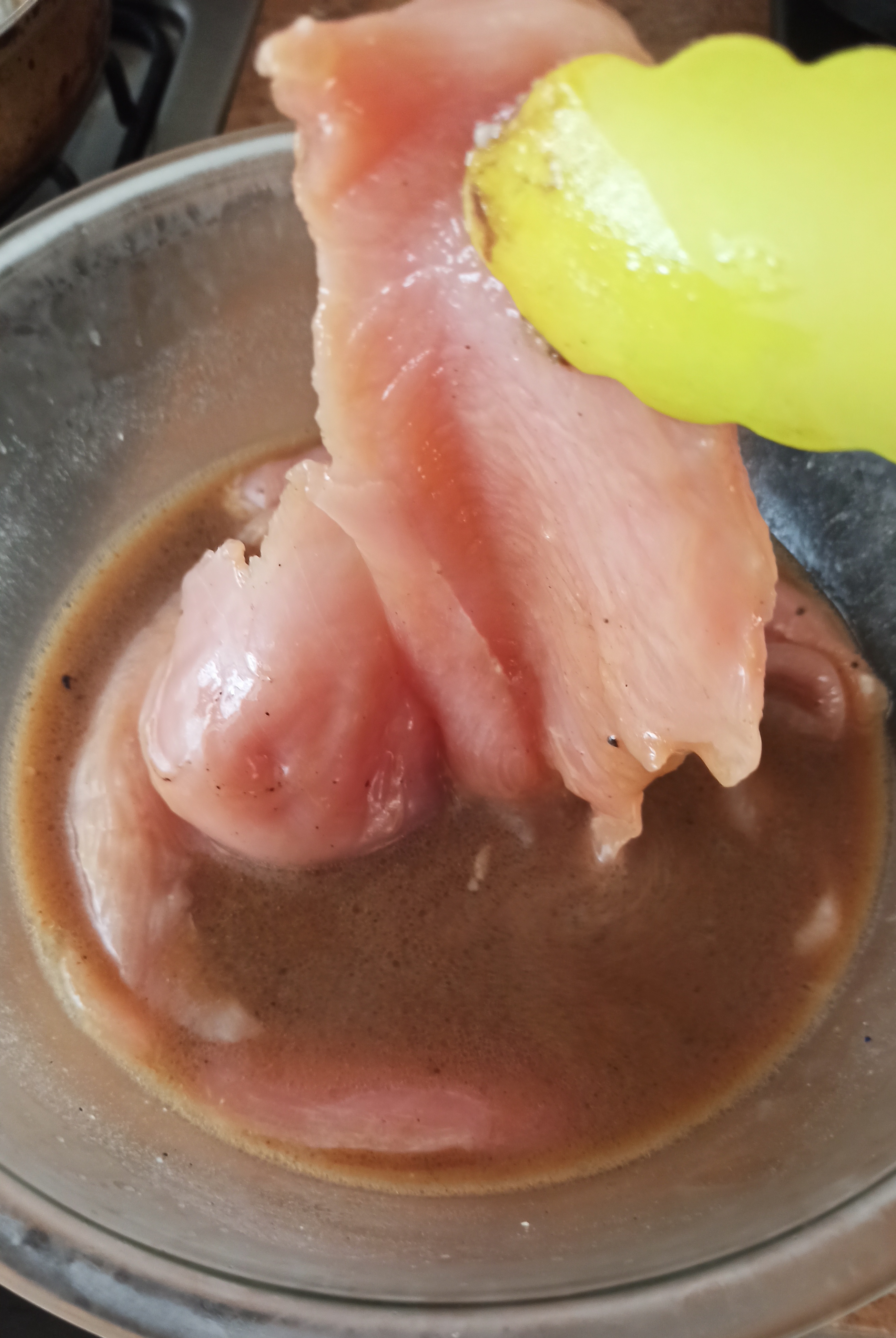 Ya con el pollo listo, procedemos a agregar el líquido de la marinada que habíamos reservado
With the chicken ready, we proceed to add the liquid of the marinade that we had reserved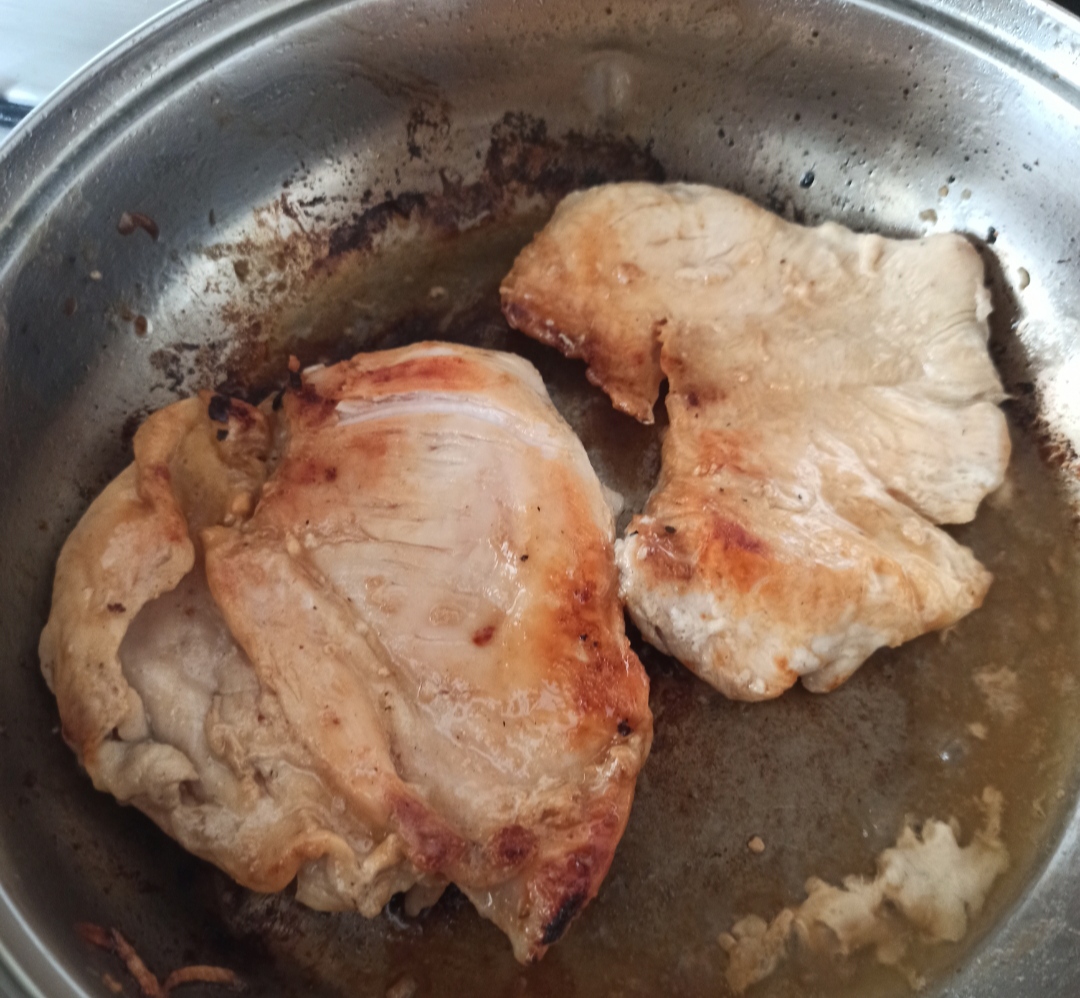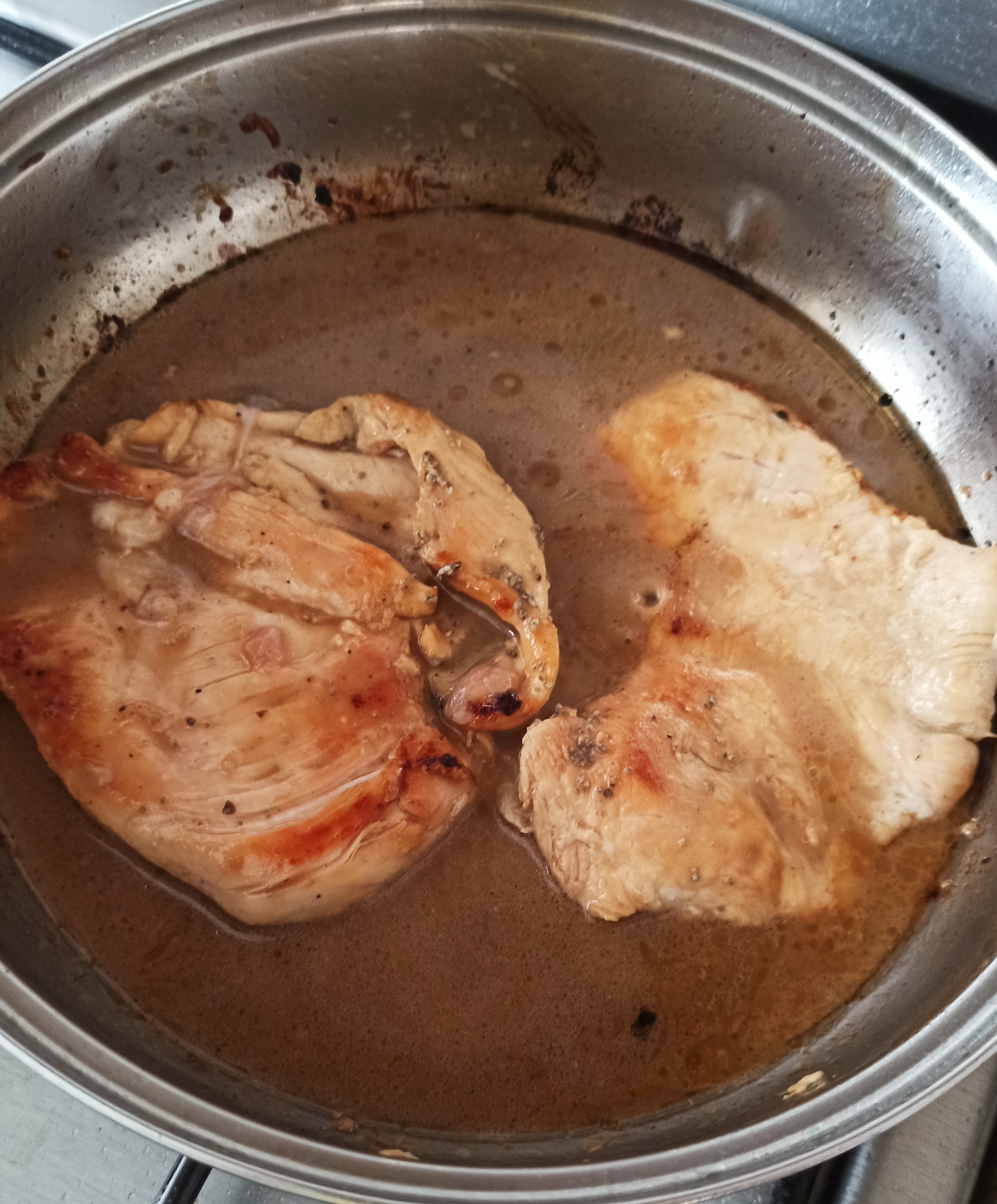 Encima del pollo vamos a agregar: 1 lonja de jamon, queso que se derrita, 2 rodajas de piña y esparcimos un poco las cebollas encima y también por la salsa.
On top of the chicken we are going to add: 1 slice of ham, melting cheese, 2 slices of pineapple and sprinkle the onions a little on top and also over the sauce.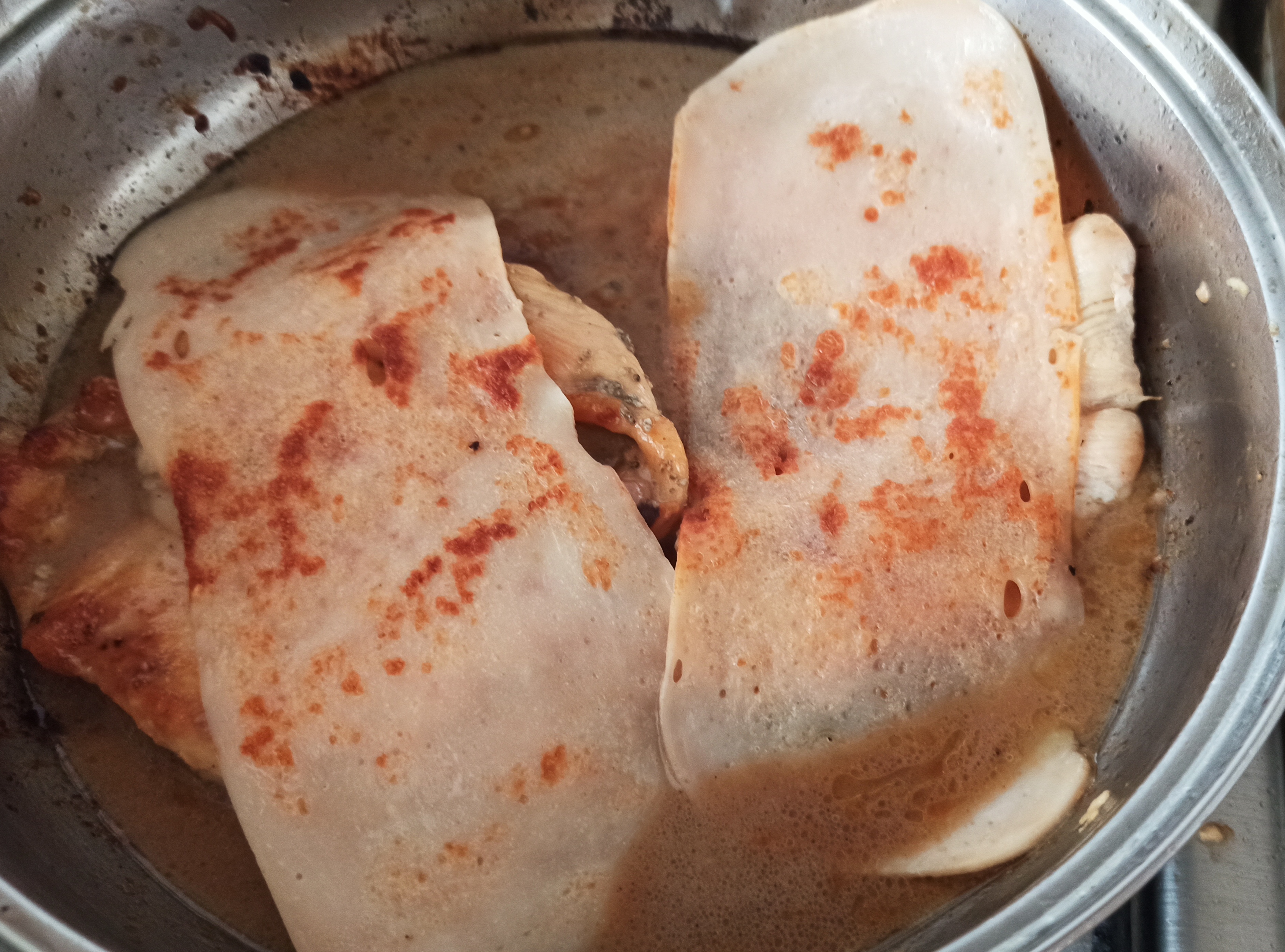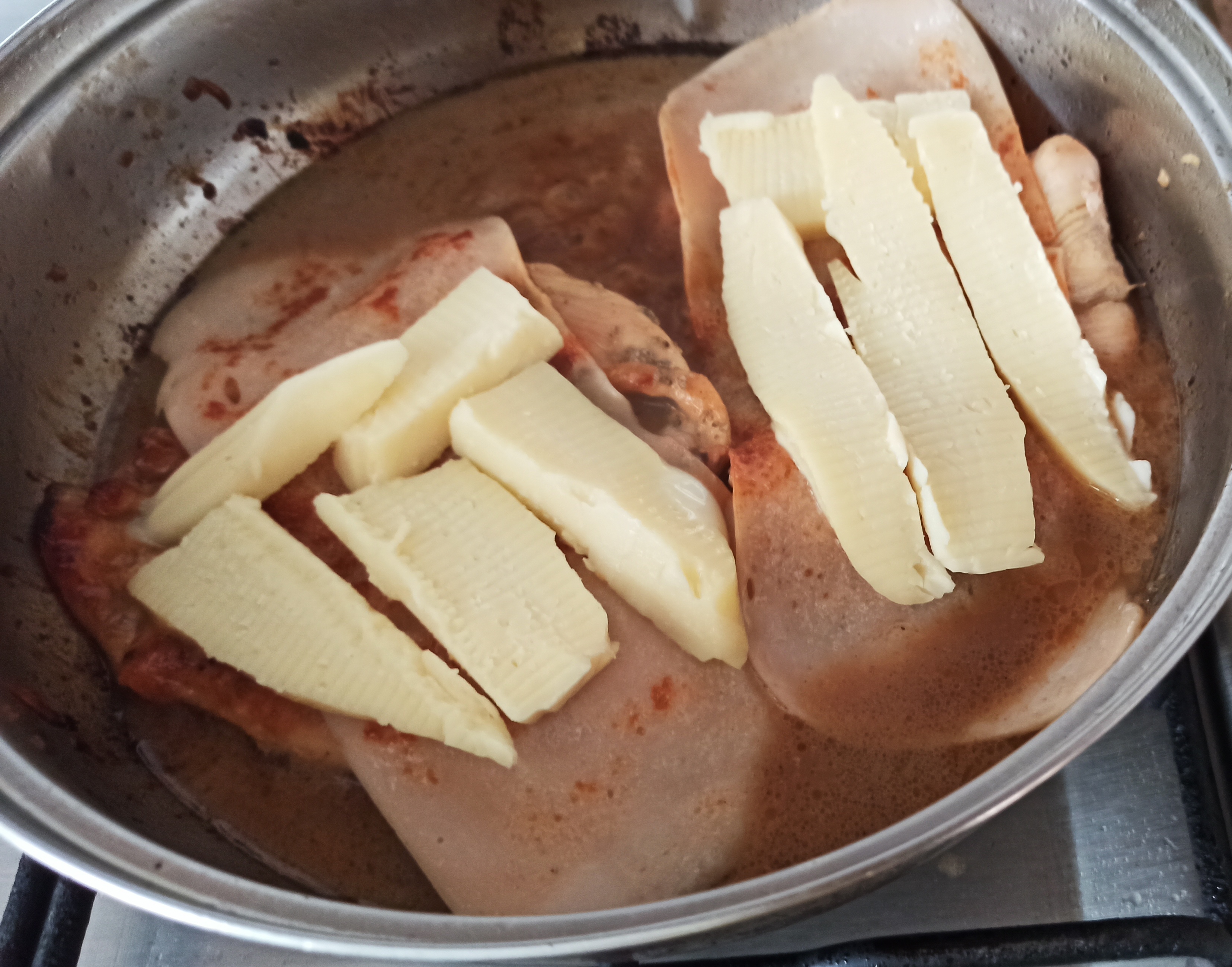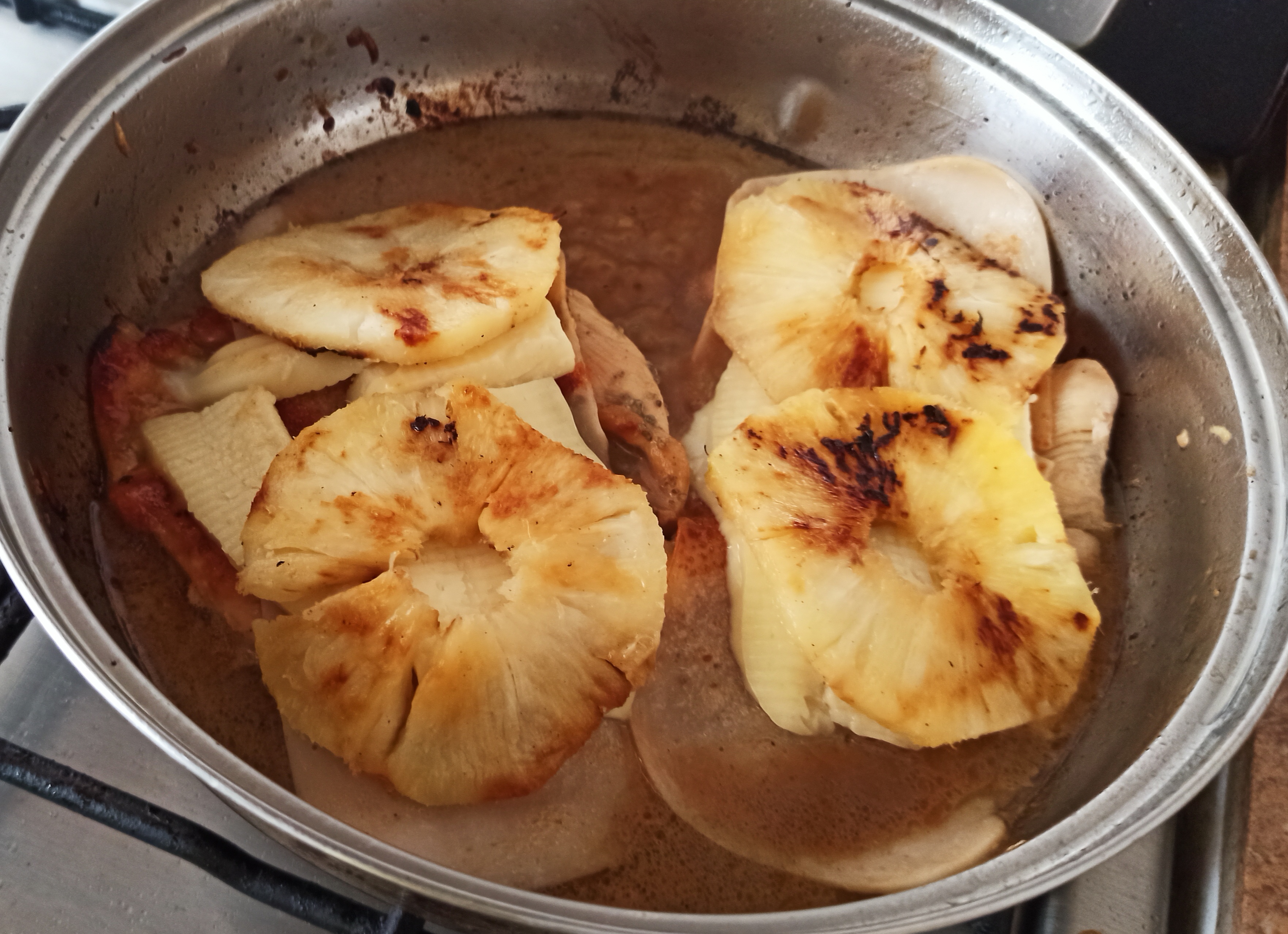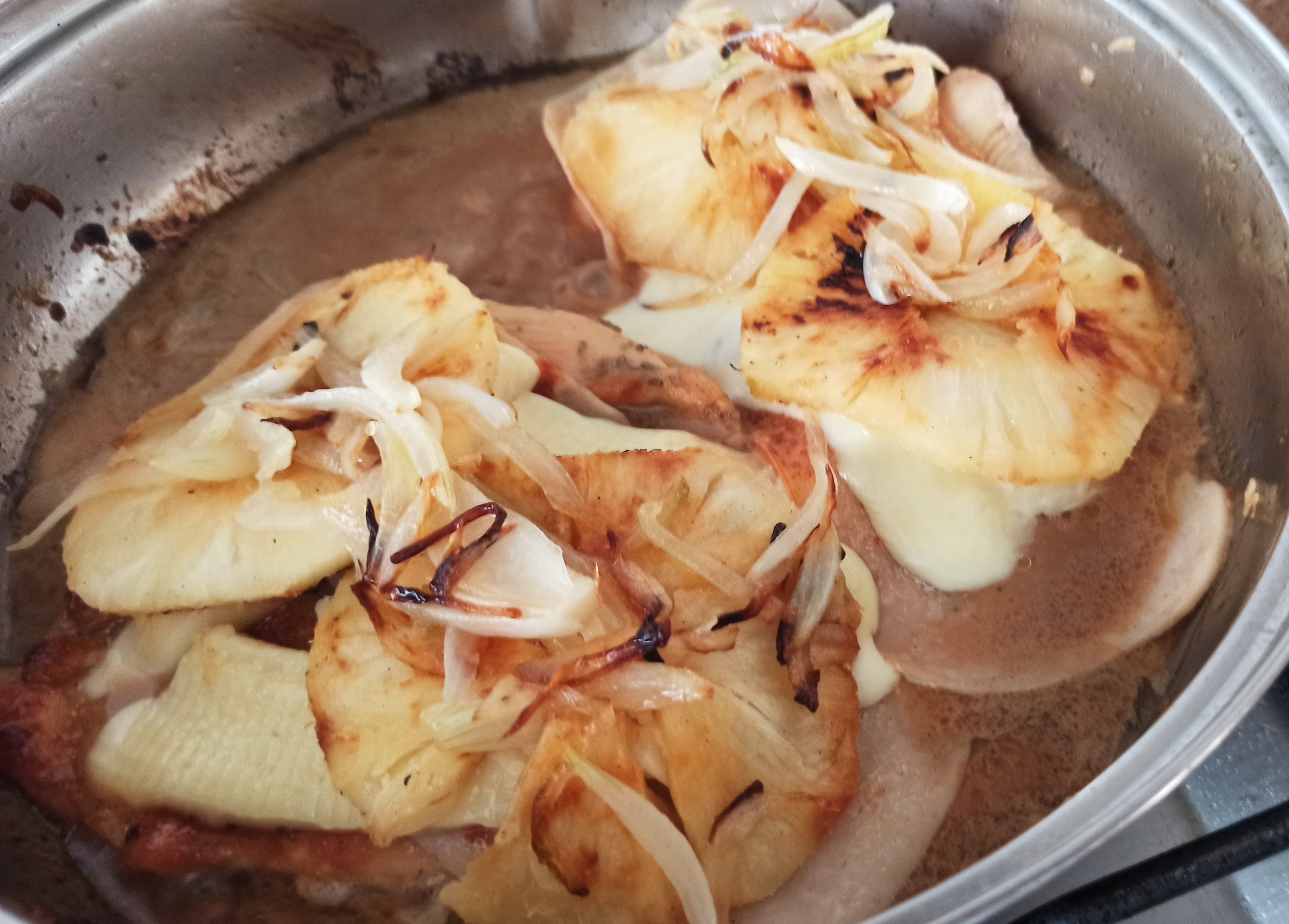 Yo preparé varias piezas, por lo que también estoy usando otra sartén al mismo tiempo, dejaremos esto cocinar unos pocos minutos hasta que el queso se derrita y estamos listos.
I made a few pieces, so I am also using another pan at the same time, we will let this cook for a few minutes until the cheese melts and we are ready.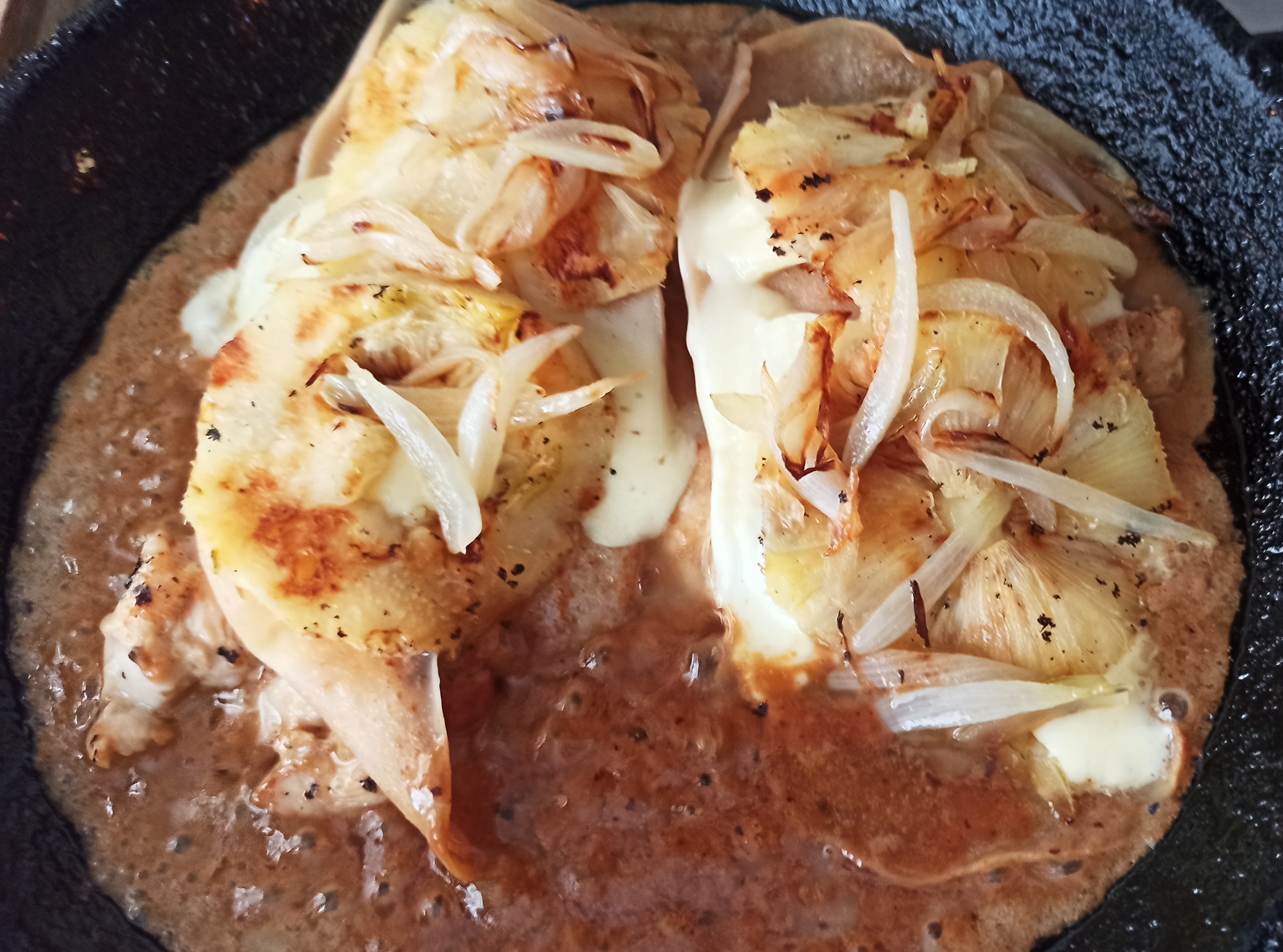 Pollo hawaiano
Hawaiian chicken