Hello, Hive Community, today, I will present to you, a Practical And Tasty Pizza, prepared quickly and with ingredients that are easy to get.
This delicious pizza, its preparation is very practical, because it does not have much work, it does not need to prepare dough, I made it, with Arabic bread and sauce, I bought it at the supermarket, especially for pizza, as for the ingredients, the main one is mozzarella cheese and the rest whatever you like, you can use the ingredients you have in your home and make several pizzas for your family members, according to each one's taste.
In particular, I made two versions, one with all the ingredients, which I mention in the post, and another, for my grandson (especially for children) that only contains cheese and ham. really, it is wonderful, spend an afternoon or evening of pizza and make them quickly, for a snack, a dinner, any visit and it will be to everyone's liking.
Next, he presented the ingredients and steps for its preparation:
Hola, Comunidad de Hive, el día de hoy, les presentaré, una Práctica Y Sabrosa Pizza, elaborada en forma rápida y con ingredientes, fáciles de conseguir.
Esta deliciosa pizza, es muy práctica su preparación, debido, a que no tiene mucho trabajo, no tiene necesidad de preparar masa, la elaboré, con pan árabe y la salsa, la compré en el supermercado, especial para pizza, en cuanto a los ingredientes, el principal es el queso mozzarella y el resto lo de su gusto, puede valerse, de los ingredientes, que tenga en su hogar y elaborar para los miembros de su familia, varias pizzas, de acuerdo al gusto de cada uno.
En particular, elaboré, dos versiones, unas, con todos los ingredientes, que menciono en el post y otra, para mi nieto (en especial para los niños) que solo contiene queso y jamón. realmente, es maravilloso, pasar una tarde o noche de pizza y hacerlas rápidamente, para una merienda, una cena, cualquier visita y será, del agrado de todos.
A continuación, les presentó los ingredientes y pasos para su preparación:
---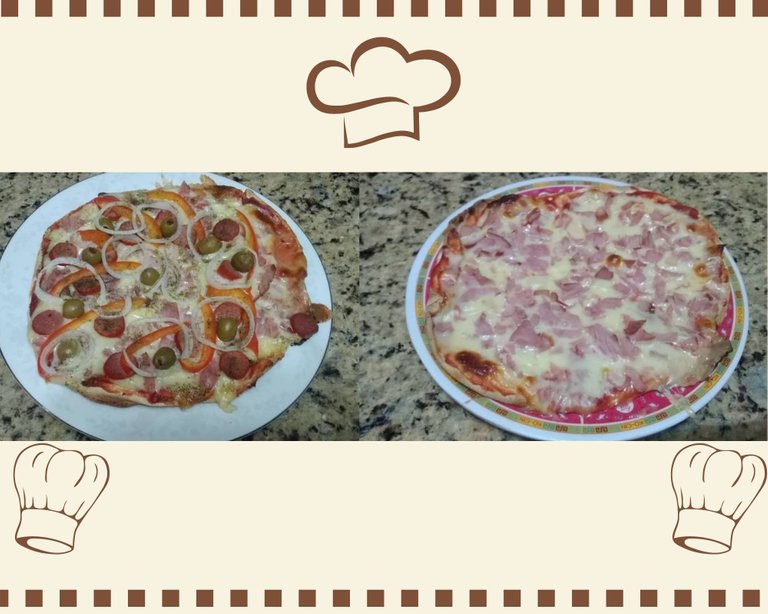 ---

Previously: preheat the oven to 180 °C and grease the mold, where it will be prepared, so that the bread does not stick.
Ingredients:
. Arabic bread
. pizza sauce
. Mozzarella cheese
. Diced ham (or whole, if you like)
. Polish sausage, cut into rounds
. Cut paprika, julienne (strips)
. Onion cut into rings
. olives
. oregano, powder
. Oil
Previamente: precalentar el horno a 180 °C y engrasar el molde, donde se va a preparar, para que no se pegue el pan.
Ingredientes:
. Pan árabe
. Salsa para pizzas
. Queso mozzarella
. Jamón picadito en cuadritos (o entero, si es de su gusto)
. Salchicha polaca, cortada en rueditas
. Pimentón cortado, a la juliana (tiras)
. Cebolla cortada en aros
. Aceitunas
. Orégano, en polvo
. Aceite
---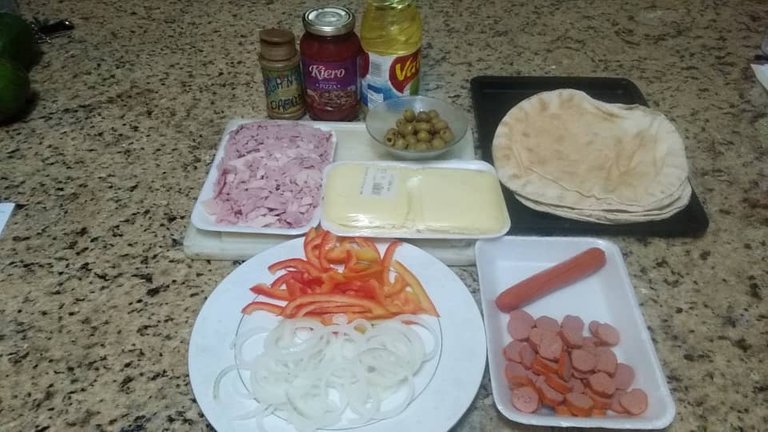 ---

Step 1:
Place the Arabic bread on the baking tray, add the pizza sauce and spread it all over the bread.
Paso 1:
Colocar el pan árabe, sobre la bandeja para hornear, añadirle la salsa de pizza y regarla por todo el pan.
---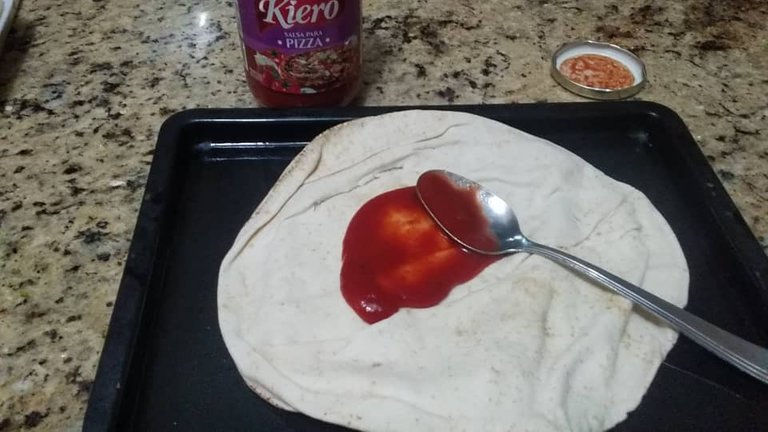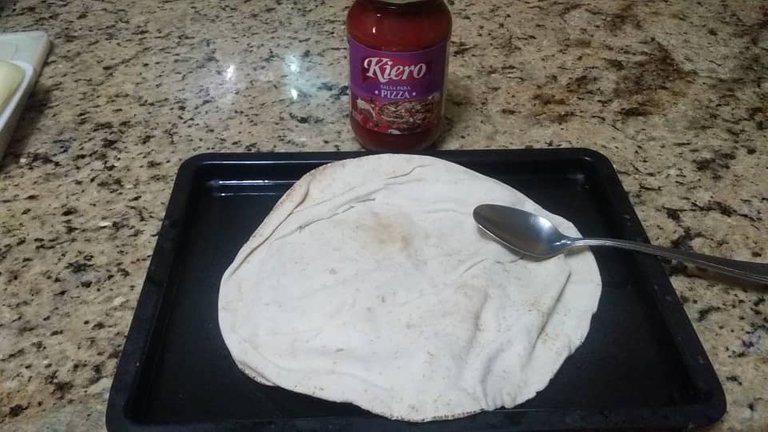 ---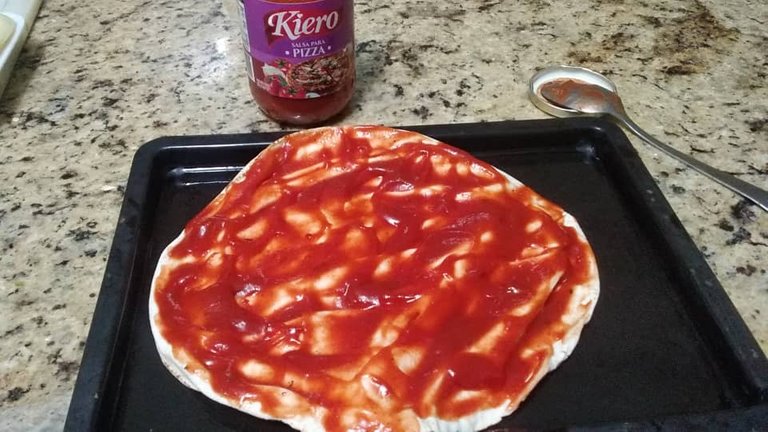 ---

Step 2:
Place the mozzarella cheese, filling the entire bread, then add the ham, the sausages, cut into wheels.
Paso 2:
Colocar el queso mozzarella, llenado la totalidad del pan, luego, agregar el jamón, las salchichas, cortadas en ruedas.
---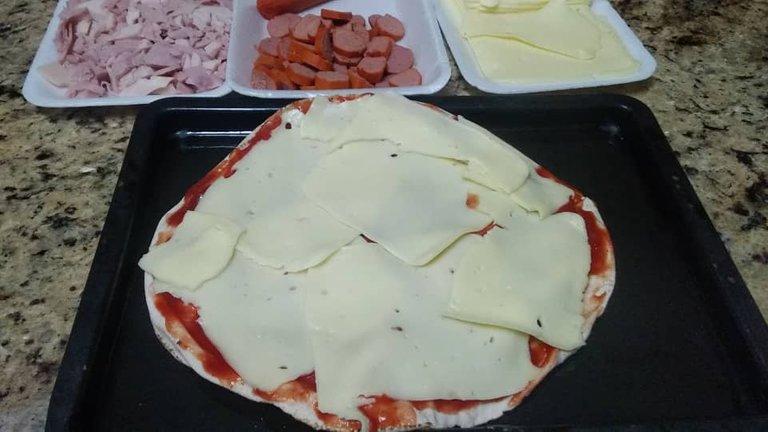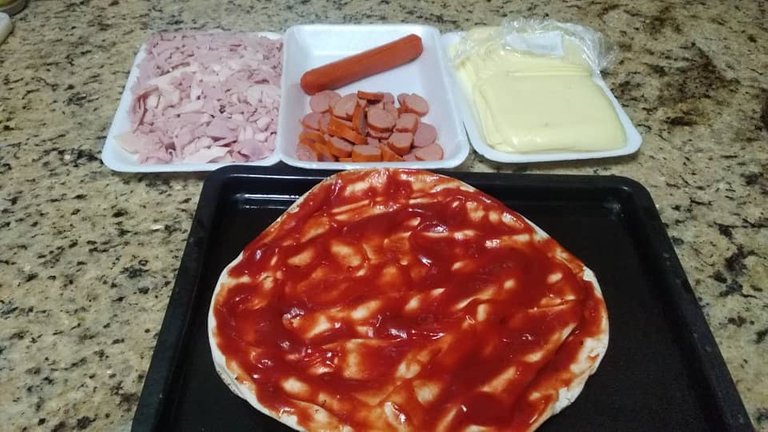 ---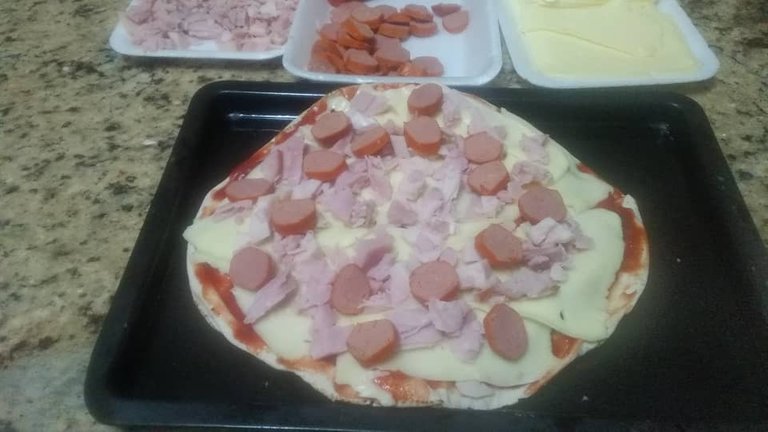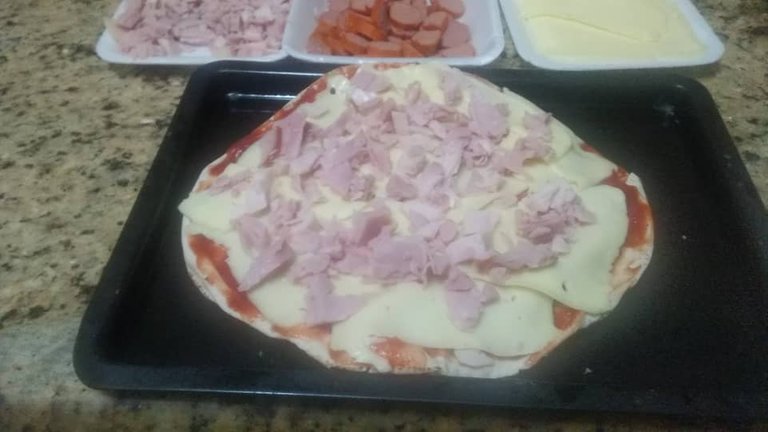 ---

Step 3:
Then add the paprika, onion, olives and sprinkle the oregano around the pizza.
Paso 3:
Luego, agregar el pimentón, la cebolla, las aceitunas y polvorear el orégano, alrededor de la pizza.
---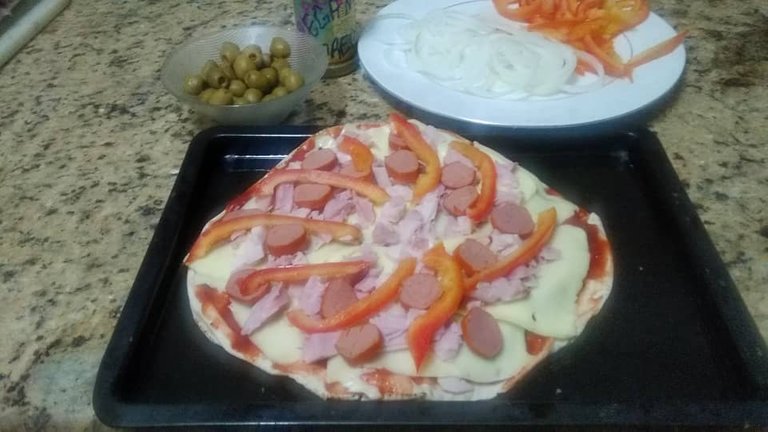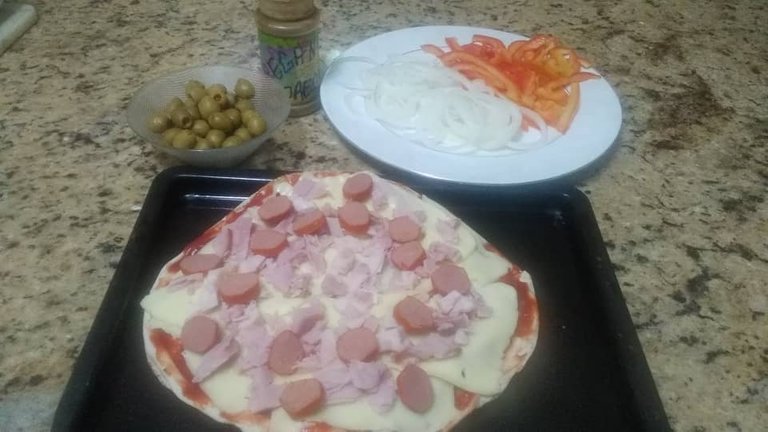 ---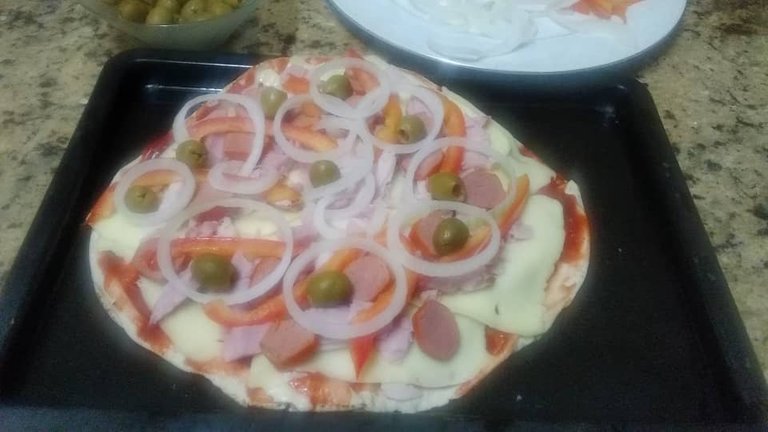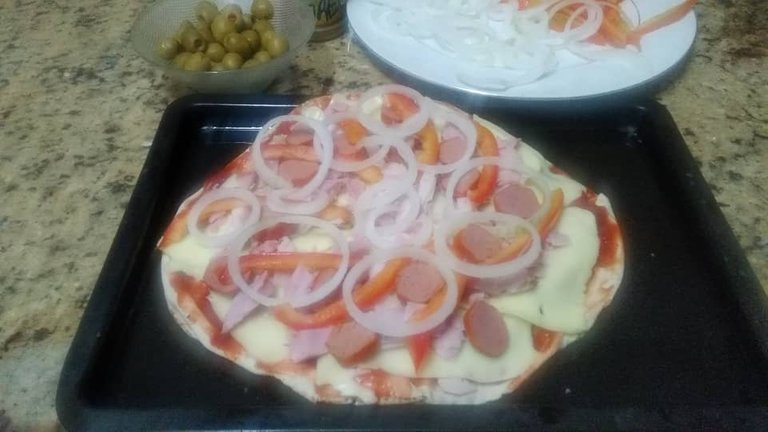 ---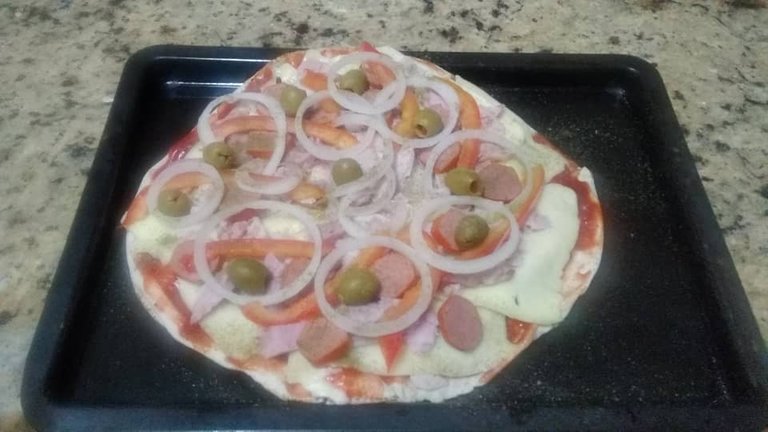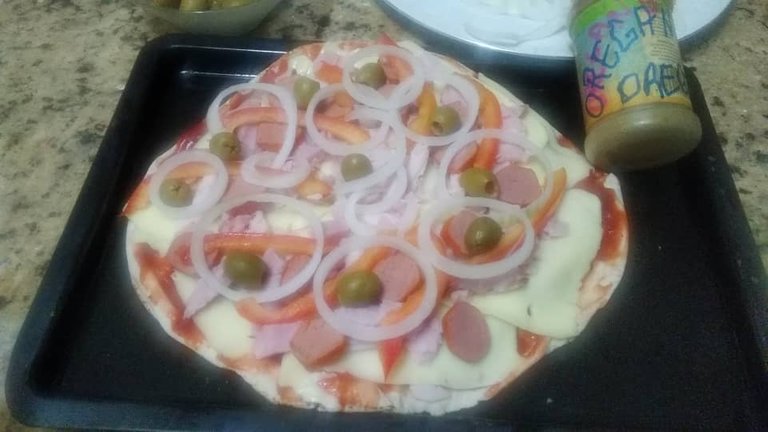 ---

Step 4:
Take to the oven, at a temperature of 180 ° C, for a period of 15 minutes (or when gratin)
Paso 4:
Llevar al horno, a una temperatura de 180 °C, por un período, de 15 minutos (o cuando se gratine)
---
---

Thus, this Practical And Tasty Pizza would be ready, to the delight of family and friends.
Two versions were prepared: With all the ingredients and only, with cheese and ham, for the children.
Así, estaría lista, esta Práctica Y Sabrosa Pizza, para el agrado de familiares y amigos.
Se prepararon dos versiones: Con todos los ingredientes y sólo, con queso y jamón, para los niños.
---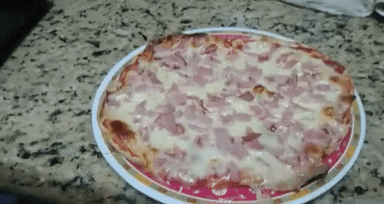 ---

Waiting, you can enjoy an afternoon or evening of pizzas, with family and friends preparing this practical pizza, for everyone to taste.
Thank you for taking your time to read my post. Cheers
Esperando, puedan disfrutar, de una tarde o noche de pizzas, con familiares y amigos preparando, esta practica pizza, para el deguste, de todos.
Gracias, por tomar de su tiempo, en leer mi post. Saludos
---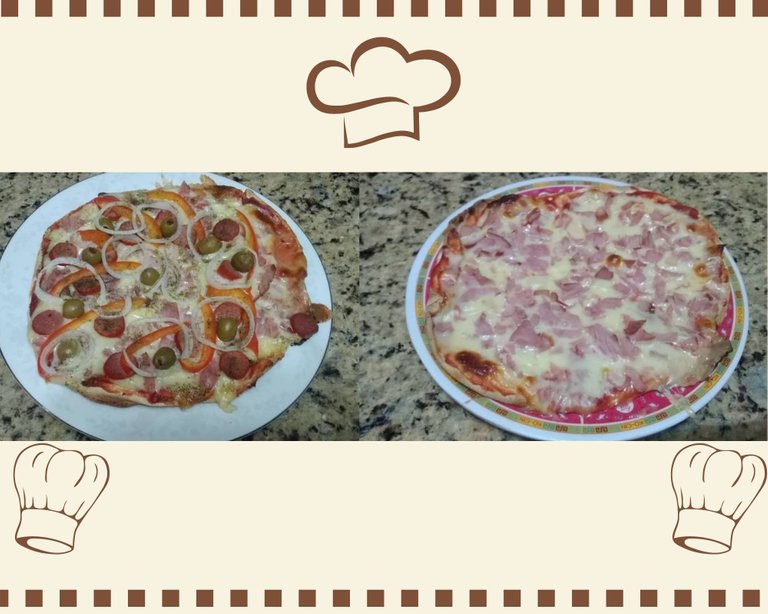 ---

Until next time/ Hasta la Próxima
---
---
All photos are my property taken with my Redmi Go smartphone
.All separators are my property, free to use.
.English it is not my native language, I help myself with translators to make these posts
............................................
. Todas las fotos son de mi propiedad tomadas con mi celular inteligente Redmi Go
. Todos los separadores son de mi propiedad, libres de uso
. El inglés no es mi idioma natal, me ayudo de traductor