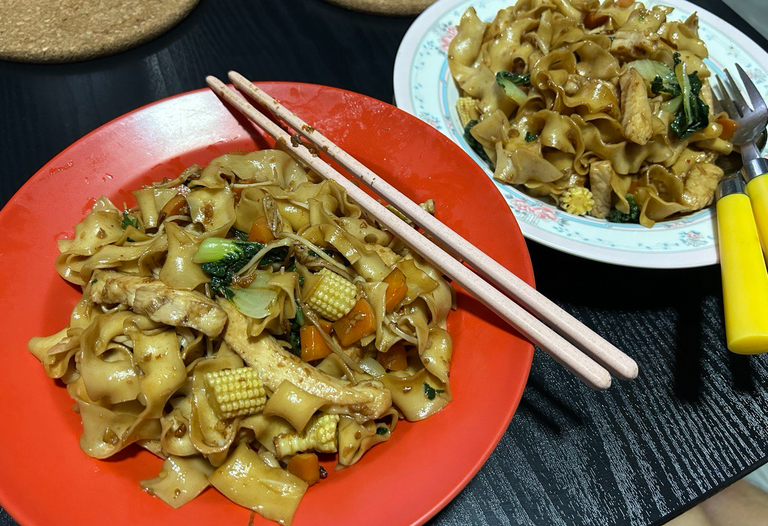 Hey Hive!
We're back with more of our home cooking! If you're unfamiliar with this series, it's where I showcase some of the food we've been making at home since we've been cooking a lot nowadays! Also I'm running out of content so yeah gotta make the most of it!
This is a recipe I've been wanting to try for a while, ever since I saw some videos recommended to me by Youtube. Apparently it's a new trend on tiktok or something, but I saw so many videos about this Garlic Chili Oil Noodles that can be made in 10 minutes and they looked really tasty and appetising! The base dish didn't need too many ingredients either, mainly noodles, garlic, chili flakes or pepper and oil. This was the video I first saw:
So in the video they used Gochugaru, which is Korean chili flakes. Unfortunately I could not find that in my local supermarket (and actually when we recently visited Korea I looked for it there too and it was nowhere to be found!), so I went with this other chili flake I came across since this is finer than the one I have at home.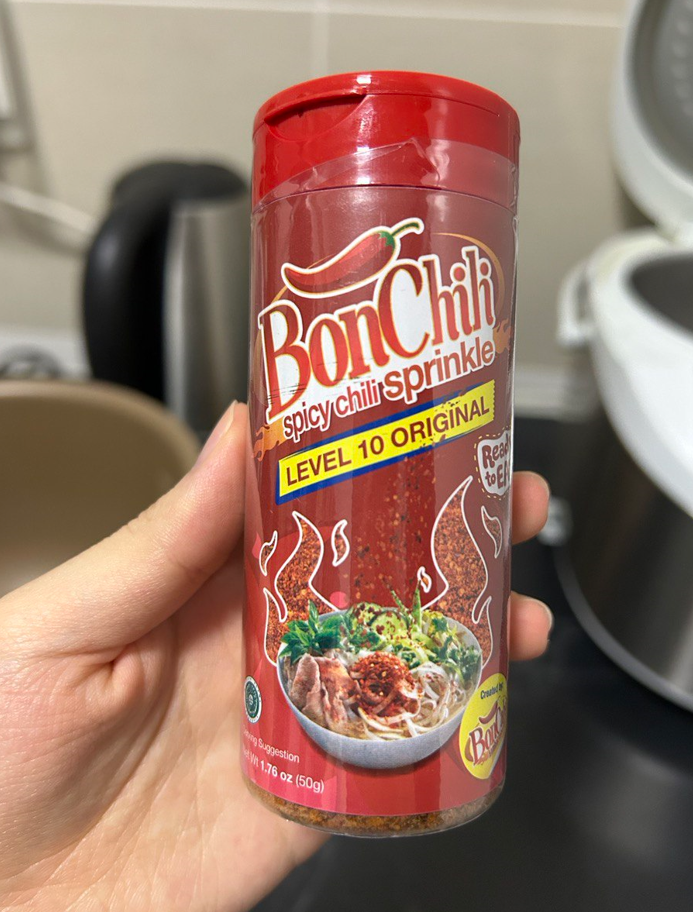 This one was from Indonesia, but it looked pretty legit and I know Indonesian spices can be quite spicy so I decided to give it a try.
These are the ingredients needed for the base dish:
5 cloves of garlic
spicy chili powder
knife cut noodles
2 tablespoons dark soy sauce
1 tablespoon oyster sauce
salt
vegetable oil
And these were extra ingredients I used in my version of the dish:
1 carrot
3 baby corn
1 pack enoki mushrooms
3 stalks of small bok choy (aka Nai Bai)
frozen chicken strips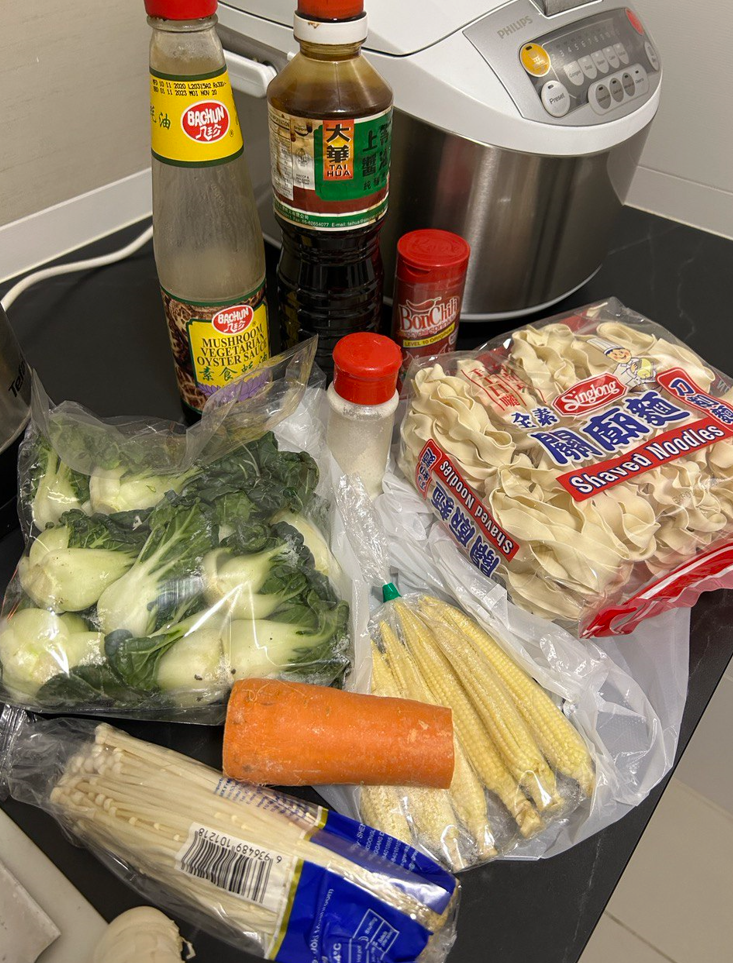 The video I referenced had stir fry tofu but I didn't have extra firm tofu on hand, so I opted to use some of this frozen grilled chicken breast strip we had in our freezer. It's ready to eat if you defrost it but I decided to just boil it with the vegetables and noodles.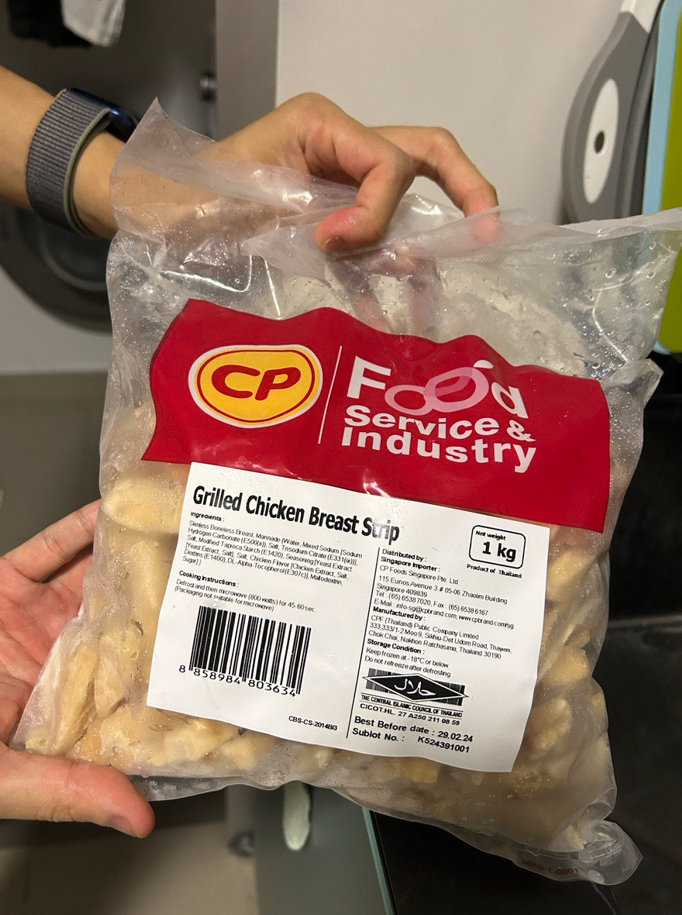 Speaking of noodles, all the videos I searched seemed to use this knife-cut noodles that are typically long and flat as they absorbed the chili oil flavours well. I've never cooked with these noodles before but we found this packet in the local supermarket for about 2 bucks so I thought I'd try it.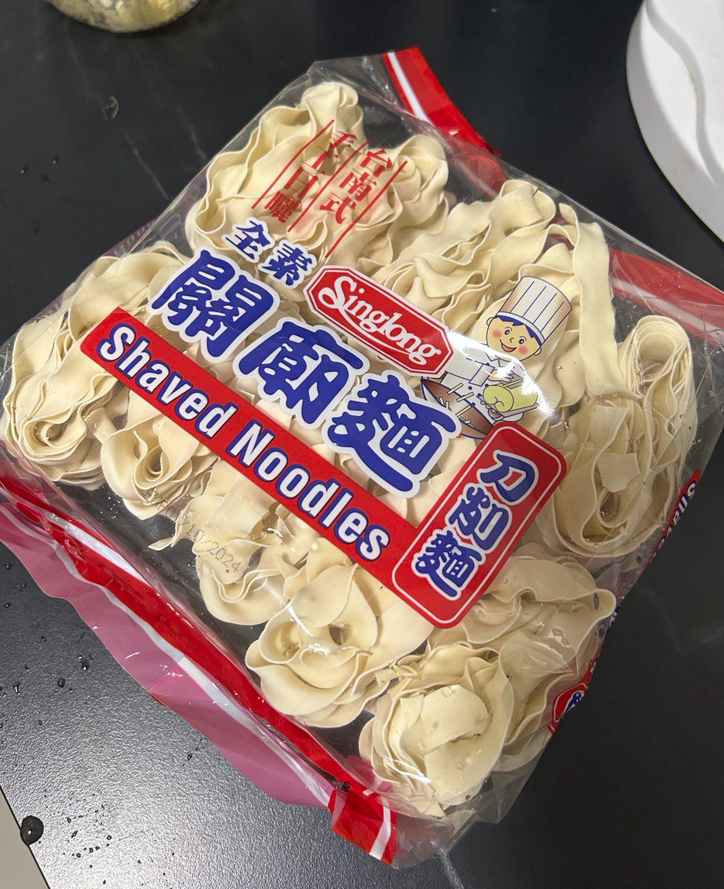 Step 1: Get a pot of water boiling, then chop and wash the vegetables. I diced the carrot, sliced the Nai Bai and baby corn before separating and washing the enoki mushrooms into smaller bunches.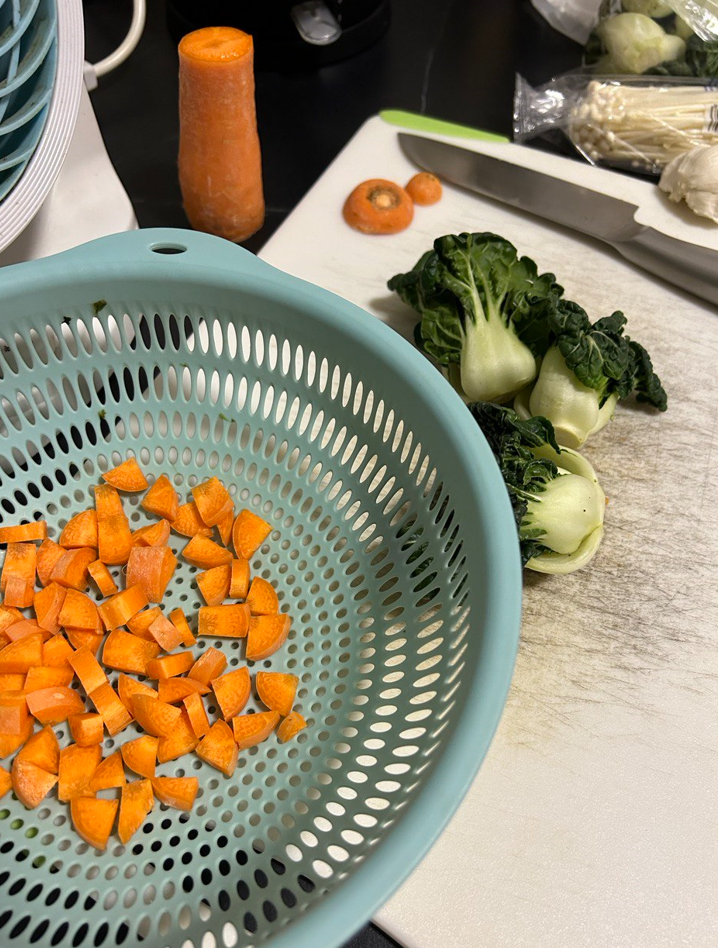 Step 2: Once the water has boiled, toss in the vegetables and after a few minutes, put in the frozen chicken strips. Of course you can use whatever meat you have on hand, but if you're using frozen chicken too I would recommend waiting about 3-5 minutes for the veggies to soften up first.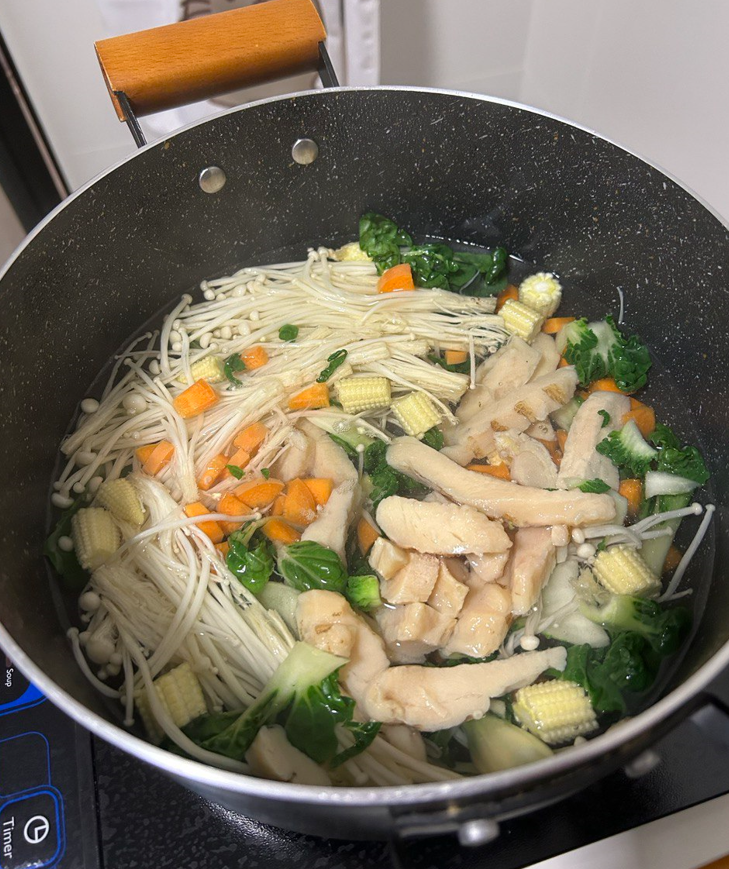 Step 3: While the veggies are boiling, chop up the garlic cloves. You can use however much you want, depending on how much noodles you're cooking but I would recommend at least 3 cloves to give it more flavour.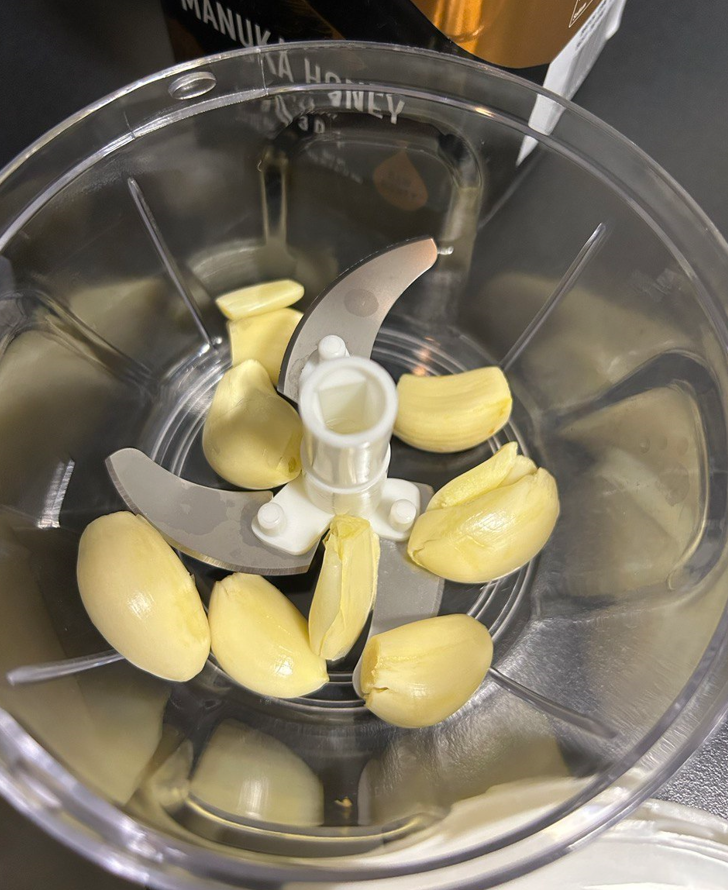 I used a garlic slicer so they would be quite fine and save me the trouble of chopping.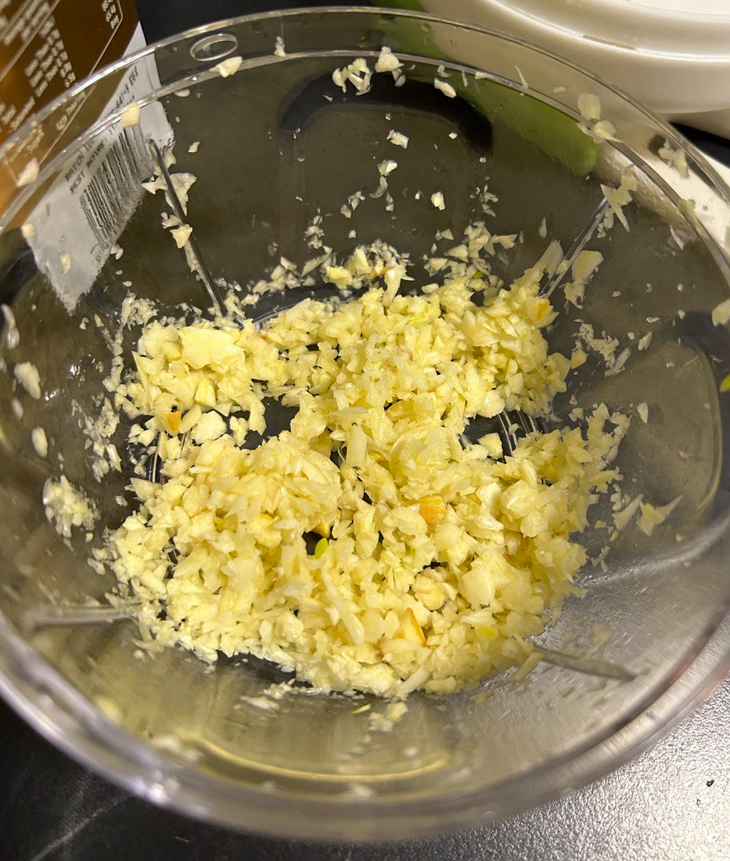 Step 4: Once the veggies and meat is soft enough, toss in the noodles. I took 3 bunches of noodles from the packet for the two of us.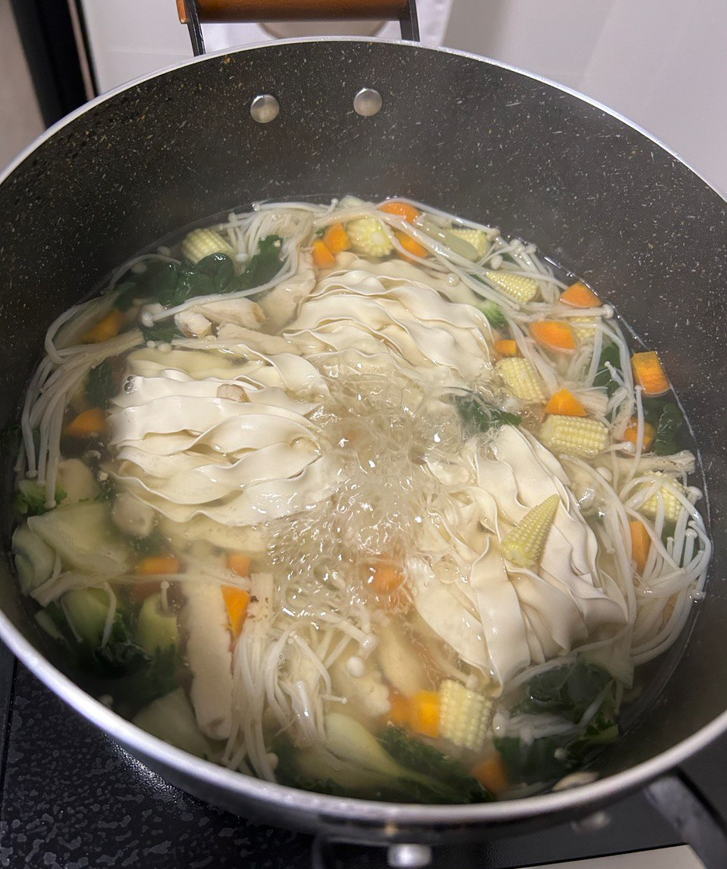 Step 5: The packet said to cook the noodles for 4 minutes, so I boiled them for that amount of time before turning off the heat and taking the pot off the stove.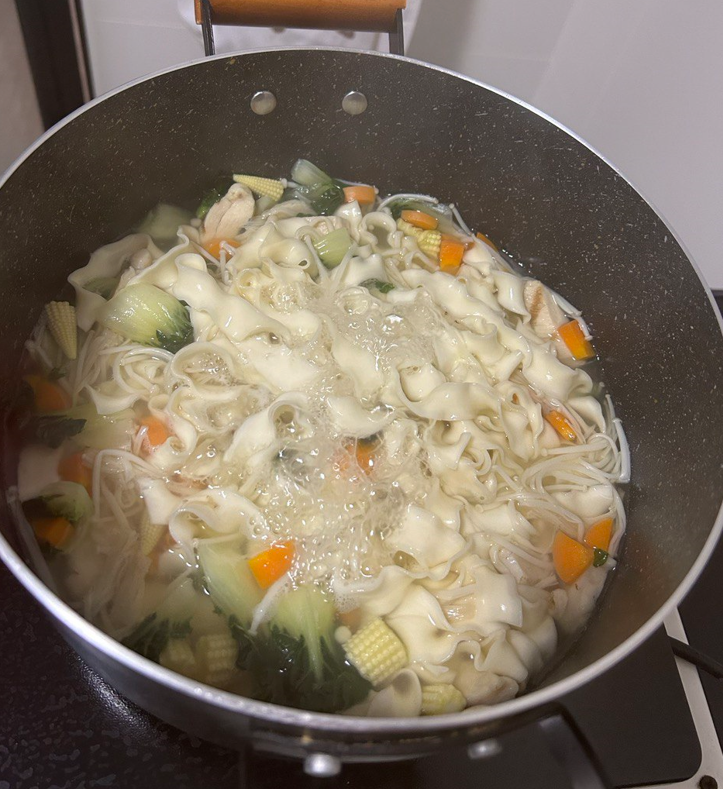 Step 6: Drain the noodles and put it aside for now. I think the videos commonly show to rinse them in cold water but that's up to you. Personally I didn't do this and it still turned out okay.
Step 7: Get a wok or pan and put it on medium-high heat. Pour about a tablespoon of oil and when it's heated, saute the chili flakes and garlic until lightly brown. I actually forgot to add in the chili flakes here, but since I was using a chili sprinkle it was fine.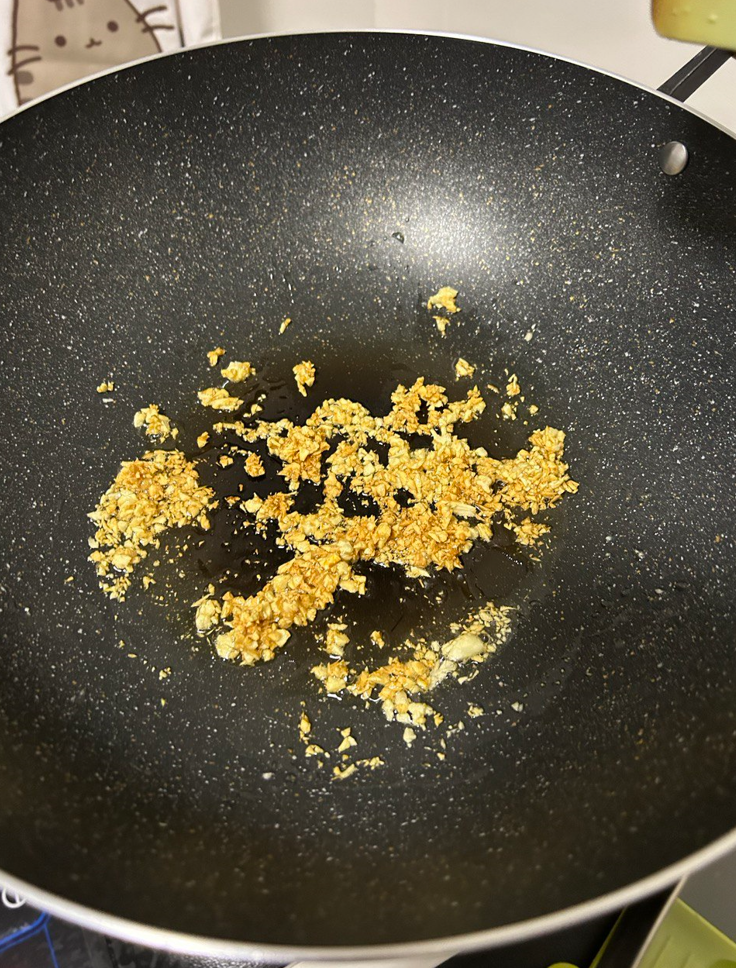 Step 8: Pour about 1-2 tablespoons of dark soy sauce and oyster sauce. I kinda just eyeballed this, you can put however much sauce you want, of course depending on how much noodles you're cooking.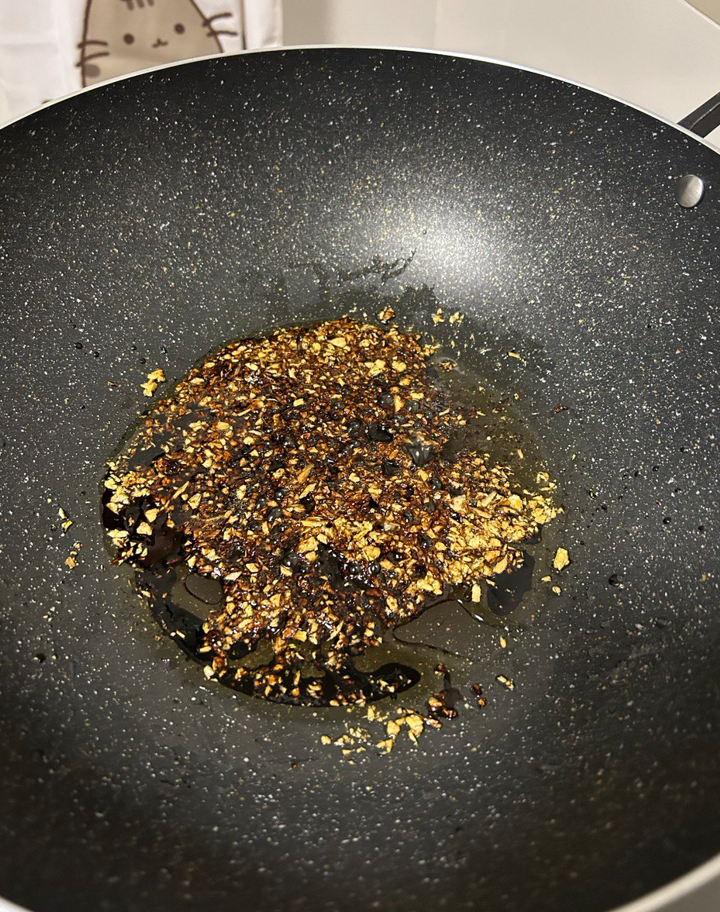 Step 9: Toss the noodles into the sauce and mix well until the noodles are completely coated in the sauce. Add more if necessary or desired. Of course you can also add more chili flakes or even chili oil if it's not spicy enough.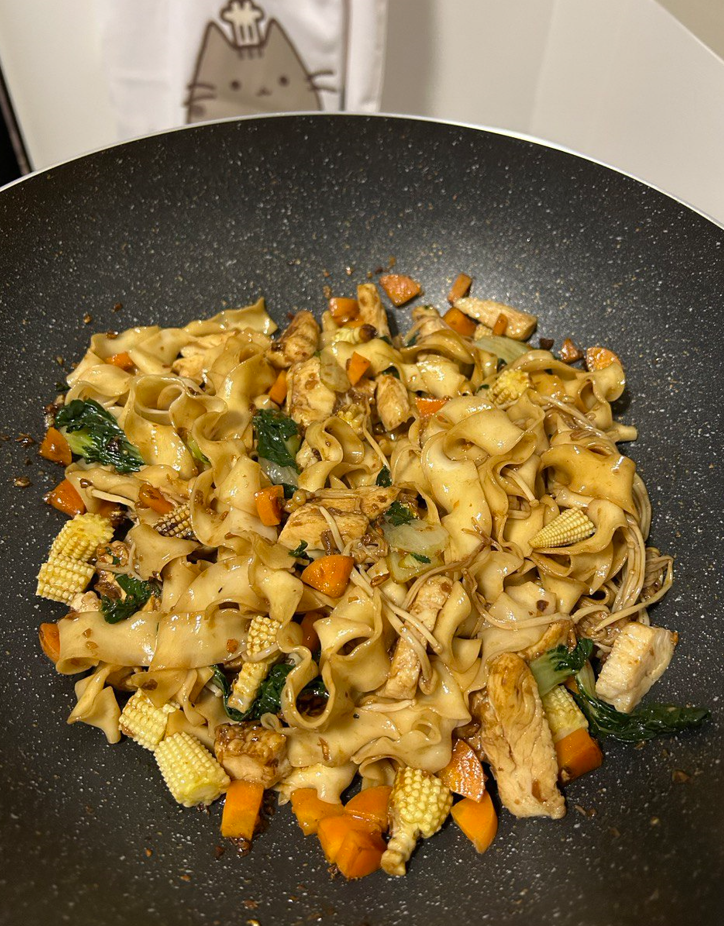 After sauteing for about a minute or so, it was done! Time to plate up!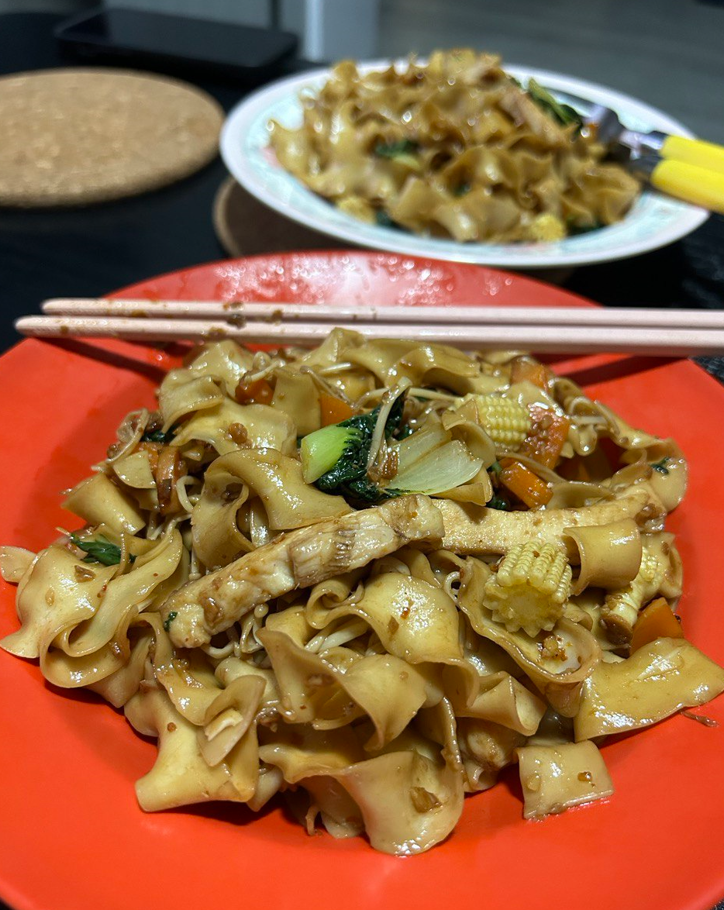 It looked and smelled soo good! I swear I dumped quite a lot of the chili sprinkle when I was mixing the noodles but I think I could've used more, so I added more chili oil to give it more of a kick. I guess the sprinkle wasn't as spicy as I thought it was going to be, but it tasted great! The chicken was a little drier than I would've liked though because I might've boiled it too long so I recommend waiting a bit before putting the frozen chicken strips in.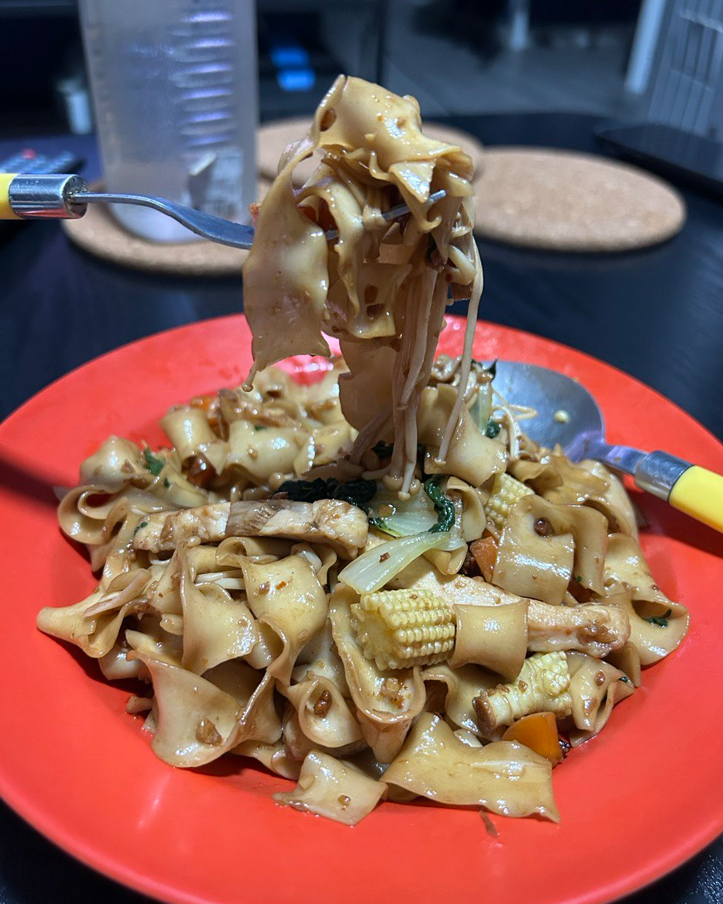 Overall, it was really delicious; Sean finished his plate in record time! I think the sauce was perfect even though mine didn't look as black as all the videos and it wasn't too oily either. The seasoning was just right, and wasn't too spicy so those who can't take spice can also enjoy this! The noodles have a nice slightly chewy texture and did absorb the flavours well. The enoki mushrooms also gave a nice contrast to the thick chewy noodles. If you can't find these specific noodles, maybe try something of a similar shape because they're definitely the highlight of this dish.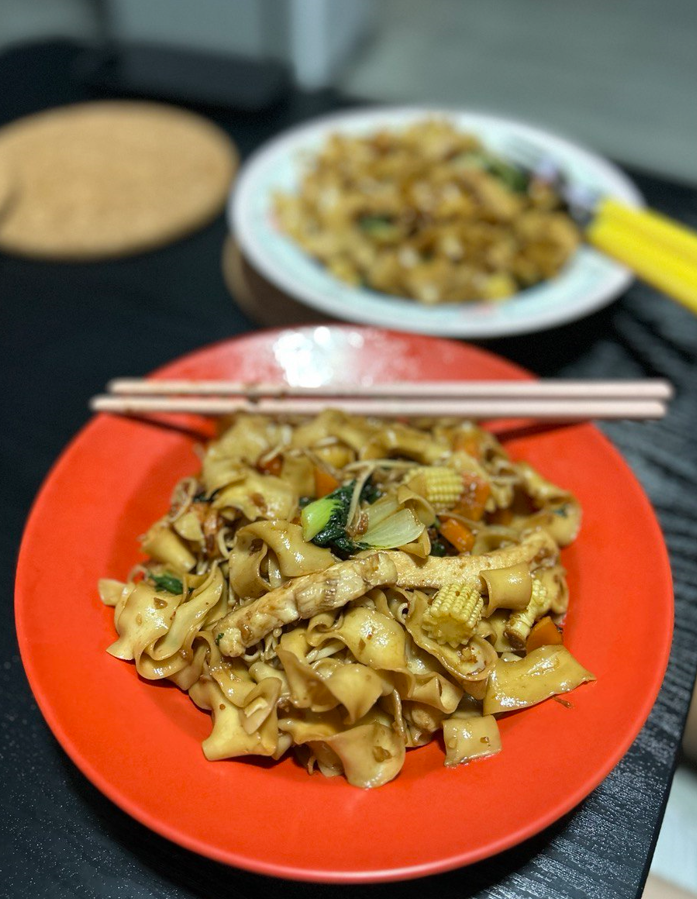 All in all, a very yummy and nutritious meal and a good first attempt! I highly recommend trying this dish out for yourself! I'm so glad I tried this myself and can't wait to make more!
Thanks so much for reading!

To find out more about me, check out my intro post here!
---
Check out my previous post in this series!
TacoCat (kinda) Cooks! #32: Tasty Spicy Chicken Curry 😋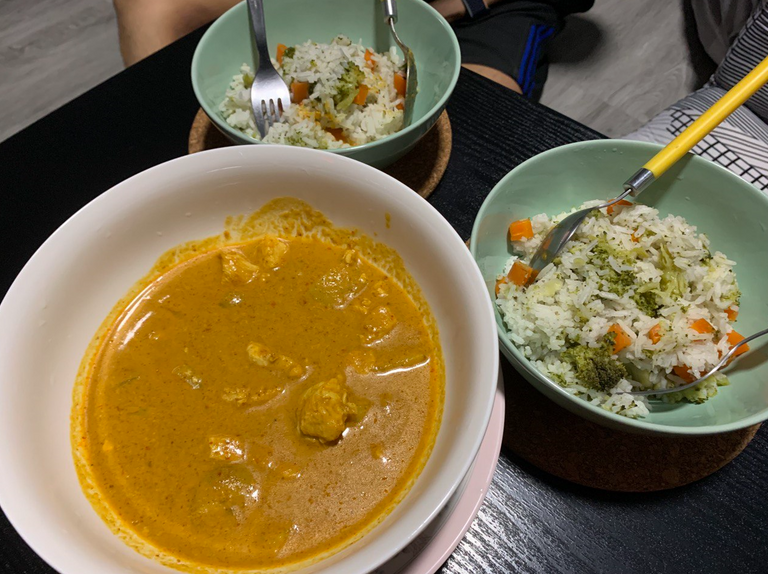 ---
Posted via foodiesunite.net